Creative Capital: The 19-year-old artist who captures the ocean in miniature
Cherise Lim uses resin to create beautiful little artworks, home accessories and jewellery that soothe the mind and soul.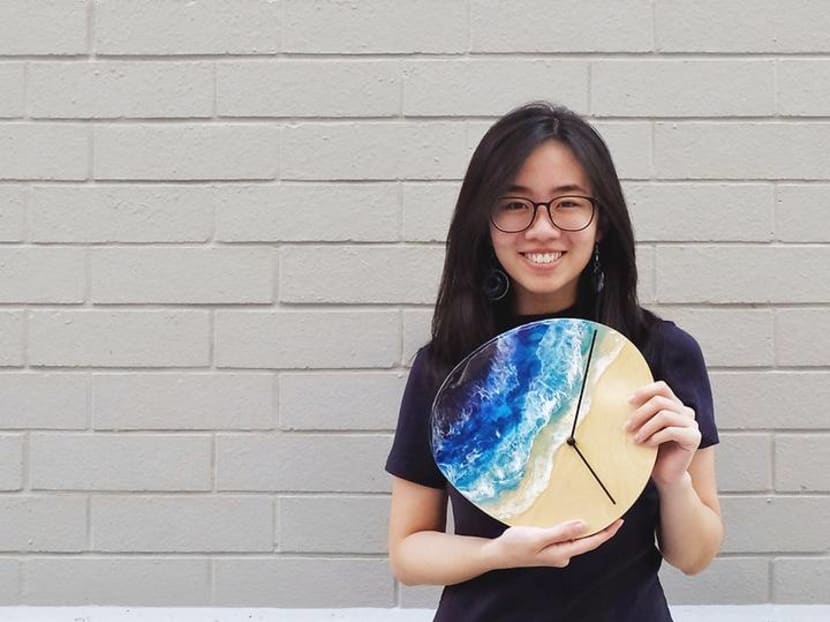 I am a habitual Instagram browser. That said, I don't browse aimlessly. When looking at new images and accounts, I'm usually in search of something, i.e. I've entered a specific search term. 
Recently, because I was trying to see if there were any local resign crafters here in town, I ran across an impossibly beautiful image of a tiny island surrounded by waves. Only it wasn't a photo. It was a resin artwork created by a young woman named Cherise Lim.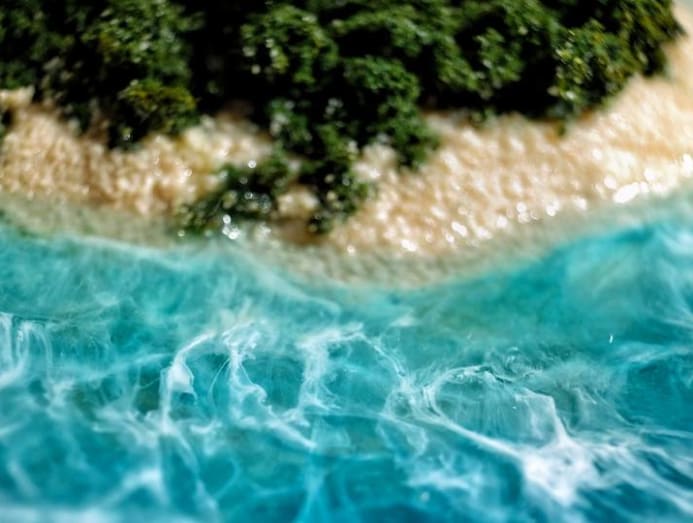 As I browsed Cherise's IG feed (@sincerelycherise), I discovered that this 19-year-old local Singaporean was crafting not just lovely little artworks but also home accessories and jewellery, all made with epoxy resin. Cherise opened her online shop only in December 2018. She sells primarily online but also takes part in local flea markets, especially Public Garden.
I liked her work enough to reach out for a quick chat.
IT'S BEEN GREAT TO DISCOVER YOU AND YOUR SITE. HOW WOULD YOU DESCRIBE YOUR WORK?
My work revolves largely around an ocean theme, though over time I've taken more liberty with that theme, doing some pieces with a different colour scheme other than just blue and white to spice things up a bit.
In general, my work aims to soothe the mind and soul with the serenity that a sea view brings, except in this case, portrayed through resin. The more you look at any one piece, the more engrossed you can get in the details, which are always the highlight for me. You could even say that my work is kind of therapeutic in that sense.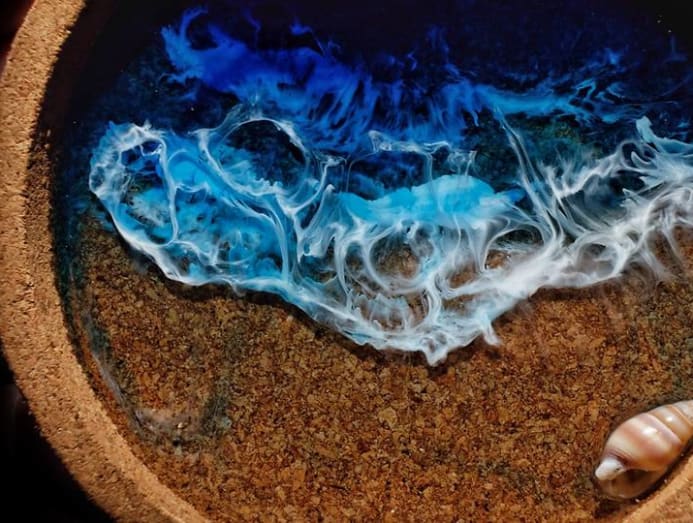 YOU MAKE ART PIECES, JEWELLERY AND FUNCTIONAL HOME ACCESSORIES. WHAT'S DONE WELL?
I'd say my earrings have been doing better for me in terms of sales. I think this is largely due to the recent growing trend in earrings, be it handmade or otherwise. I try to create them in a range of colours – blue, black, teal, pink, etc. – so that people have more options to choose from, though I must say that my seascape range has been the most well-received thus far.
HOW MESSY IS THE CREATIVE PROCESS? CAN YOU TALK ME THROUGH HOW YOU MAKE THESE?
To say that the creative process is messy would definitely be an understatement. Each of my pieces usually requires at least two layers, though oftentimes more, and each layer takes more than half a day to cure hard enough for me to pour on the next. I sand between every layer with sandpaper – a necessary evil – because this ensures that the next layer of resin will adhere smoothly.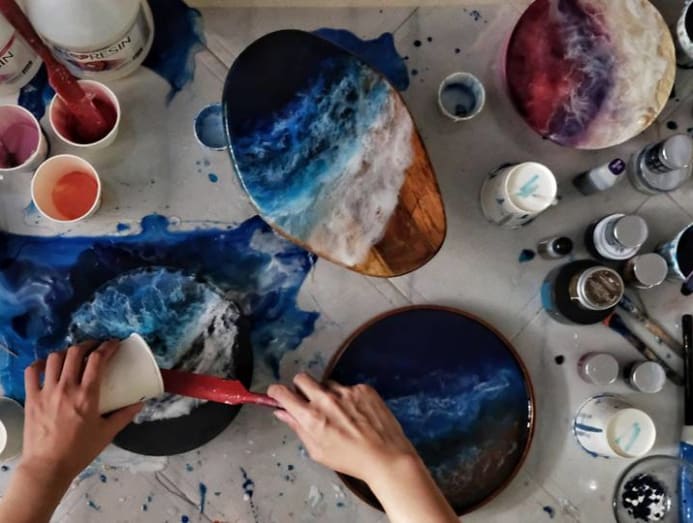 Once I'm happy enough with the coloured layers, I add a clear top coat of resin, which provides a glossy finish. More often than not, I end up having to do multiple clear coats, though, due to little imperfections on the surface due to dust and whatnot. I think one of the more annoying things about resin is that it is extremely sticky and also difficult to remove once it gets onto any surface, which makes the process a lot messier (even with gloves) since uncured resin is very fluid and tends to drip all over the place.
This, in combination with resin dust and the fact that I'm not a neat person, is probably why the room I work in is the messiest room in my house.
I LOVE THAT YOUR BRAND GENERALLY REVOLVES AROUND THE SEA. WHAT ELSE INSPIRES YOU?
I've found that the little, easily-overlooked things in life are what inspire me the most. From cracks on the walls to veins in leaves, I love how the whole is really greater than the sum of its parts, and how these miniscule details make up something so much more, breathing life into something that may appear dead on first glance.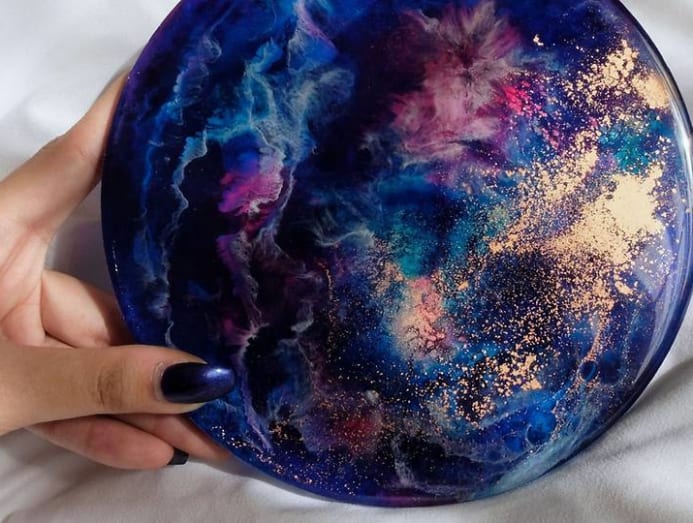 This is why I strive to create details in my resin pieces, to hopefully bring to attention that there's usually a lot more to everything we see, and that life and beauty exists in all things, we just need to know where to look and to look harder.
WHY DID YOU DECIDE TO OPEN A SHOP AND START SELLING THESE?
I think the main reason why I started doing so is because I find joy in being able to create, especially since I took up Art as a subject for my "O" and "A" level examinations. In fact, resin was actually the medium I used for my "A" level coursework last year. It took so much time and experimentation to figure out how to even roughly control this highly unpredictable medium, but the more I used it, the more I figured it out along the way.
HOW DO YOU DETERMINE THE PRICING OF YOUR PIECES?
I determine pricing based on material costs and the amount of time spent figuring out how to create each piece. Anyone who has ever considered trying out epoxy resin would know that the necessary supplies are definitely pricey.
And I think what some don't realise is that the costs and effort don't just come from whatever's required to make a certain piece, but in all the failed trials it took to even get there in the first place. I do however, try to make my works more affordable so that they're more accessible to more people.
WHERE ARE YOU FINDING CUSTOMERS FROM?
All of my customers either chanced upon my works via Instagram or at local pop-ups that I have every now and then. While my customers are mostly local, I have a small foreign customer base, too, which is surprising considering the fact that overseas customers need to pay quite a bit extra for shipping. It's heartening to know that some people out there appreciate my work and are willing to pay more for it, when many of those who can access it most easily may not be as encouraging.
TO ME, YOUR ISLAND PIECE IS REALLY SPECIAL. IT'S DREAMY AND BEAUTIFUL. WHAT INSPIRED YOU TO MAKE THAT?
I have this dream of going on a trip to different islands someday and, after coming across beautiful aerial photography of islands on Instagram, was inspired to recreate that.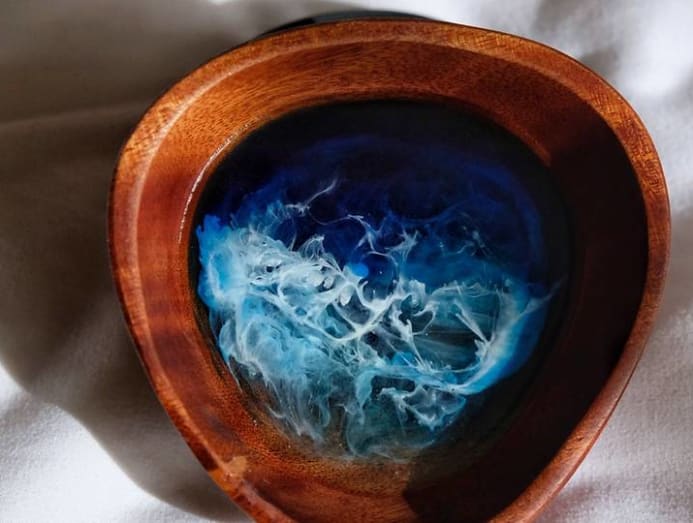 However, I created that piece without any reference because I would rather see where my imagination can take me. I gave it to an art teacher of mine as a small way of thanking him because I probably wouldn't even be here today if it wasn't for all the guidance he has provided and the belief that he has in me. If you read this, thank you Mr Chia!
WHAT ARE YOU WORKING ON NEXT? ANYTHING AMBITIOUS IN THE WORKS?
I've been wanting to incorporate more traditional mediums in my works for a while now and I think I might finally be going somewhere with it so I can't wait to show them on my Instagram. Hint: Blobs of paint!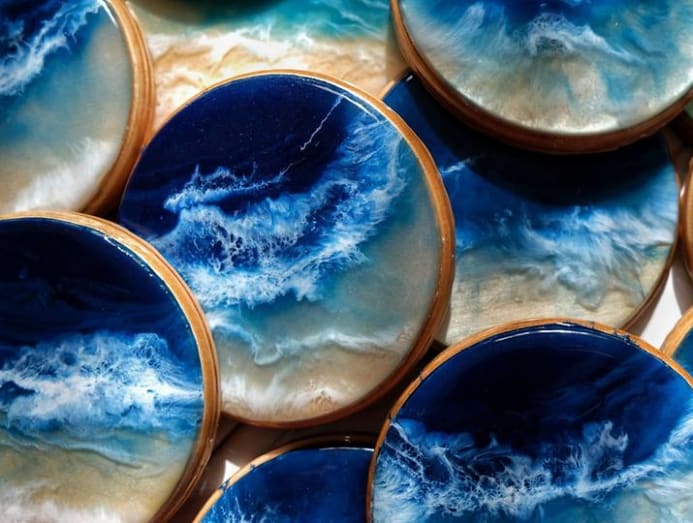 I've also recently launched my website (https://sincerelycherise.com). I figured that it'd be easier for people to take a look at whatever I have to offer through a more organised website rather than Instagram. Sales can also be collated and processed more efficiently.
YOU MENTIONED YOU DO OTHER KINDS OF ART WORKS. CAN YOU TELL ME MORE?
As mentioned to you separately, I took up Art for my "O" and "A" level examinations and as such, was exposed to a whole range of mediums. My works still generally revolve around similar ideas of bringing attention to little details in life, though in aspects other than just the sea.
For example, in 2017, I created an installation in a garden in my junior college using metres of self-dyed twine to bring "light" to the space. The work spanned from the fifth to first floor, with strings connecting different points in the garden to the railings on upper floors. A lot of running up and down the stairs was necessary to set it up but I enjoyed myself nonetheless and the effort was more than worthwhile.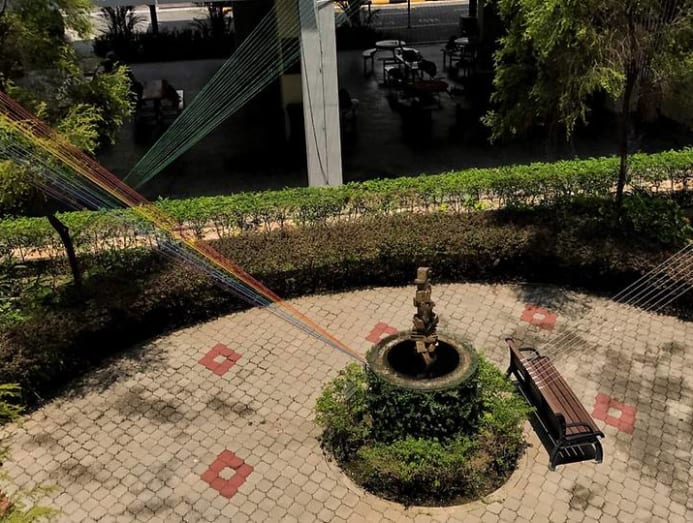 I think the mere scale of the installation did make people more aware of the space they were in, rather than just walking past or through it every day without really noticing it since it had become such an overlooked aspect of school life. Unfortunately, the installation has been taken down but I believe it has served its purpose.
YOU'RE ONLY 19. WHAT'S ON THE CARDS FOR YOU?
I just submitted my university applications a while ago so I'm presently just working on this business in my free time. I foresee having to slow everything down once I'm back in school though so I'm currently trying to enjoy working on all these while I can.