Creative Capital: The botanical architect in Singapore who makes preserved moss art
InOut Atelier's Chia Ming Kuang creates terrariums and preserved moss installations to reconnect people to nature.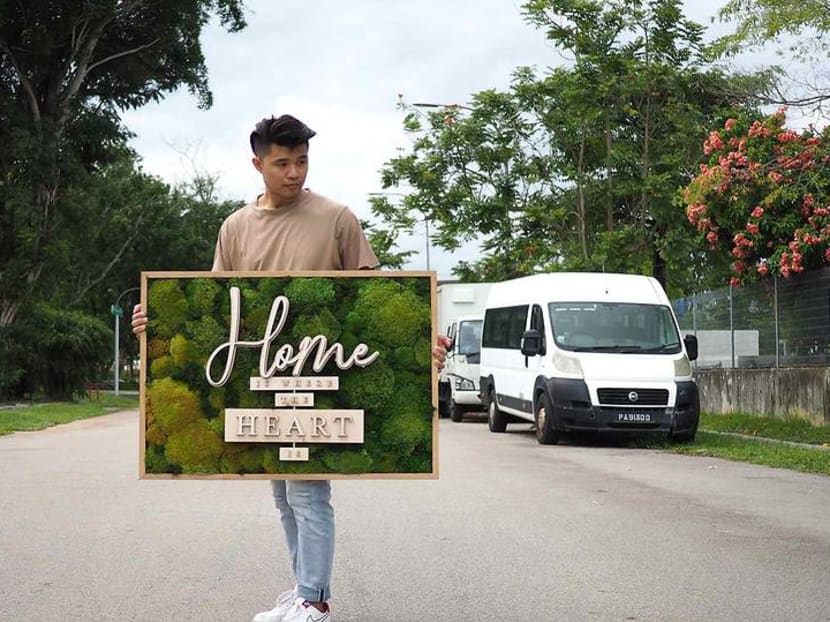 Twenty-nine year old local entrepreneur Chia Ming Kuang wants to add some greenery to your life. This affable, young architect-turned-biophilic-designer-and-artist runs InOut Atelier, a business focused on what he calls "mosstallations" or, for the rest of us, preserved moss installations.

A preserved moss installation, Ming Kuang explained to me, is a piece of botanical art that can fit into most indoor spaces. He has created A5-sized moss frames with personalised typography as well as three-storey tall mosstallations that are displayed as feature walls in landed houses. The mosstallation, he tells me, is great for both homes and offices.

The moss he uses is carefully handpicked from the forests of Northern Western Europe and shipped to Singapore. The mosses are then dried, preserved and laid individually by Ming Kuang himself.

Besides their aesthetic value, Ming Kuang believes that mosstallations bring about biophilic qualities in the space: They can help to increase productivity, enhance well-being and social relationships, and ease stress levels. The pole mosses used are also dense enough to absorb noise, which, according to him, makes them an effective and aesthetic way to soundproof any room.

WHAT DREW YOU TO BOTANICAL ART TO BEGIN WITH? 

I've loved plants, architecture and design since young. I mostly got my love for nature from my dad who kept pets such as fish and birds, and grew ornamental plants and fruit trees. I've always been intrigued by how plants grow and I find satisfaction in growing them well. 

I'm also inspired by creative and artistic design. I enrolled into Temasek Polytechnic's School of Design and, thanks to my training there, I've learned to marry the things that I love – botany and design.

Our preserved mosses are just like Captain America frozen in ice. 
Initially, I focused more on the design while the botanical aspect was merely a medium for experimentation. This changed when I entered university and learned more about biophilic design, and the health and economic benefits that it brings. I realised that I could use my botanical art as a medium for incorporating greenery into our everyday spaces and to advocate its corresponding biophilic benefits. 

WHEN YOU FIRST STARTED THE BUSINESS WITH FRIENDS, DID YOU EVER THINK THIS WOULD BECOME YOUR CAREER?

InOut Atelier was incepted as a pet project back in 2014 over a dinner with three friends. It was intended to be a weekend activity that we did for fun and as an outlet to try something hands-on. Our start-up capital was merely S$400, so never in our wildest dreams did we imagine that our initial effort and small capital could lead us to where we are today.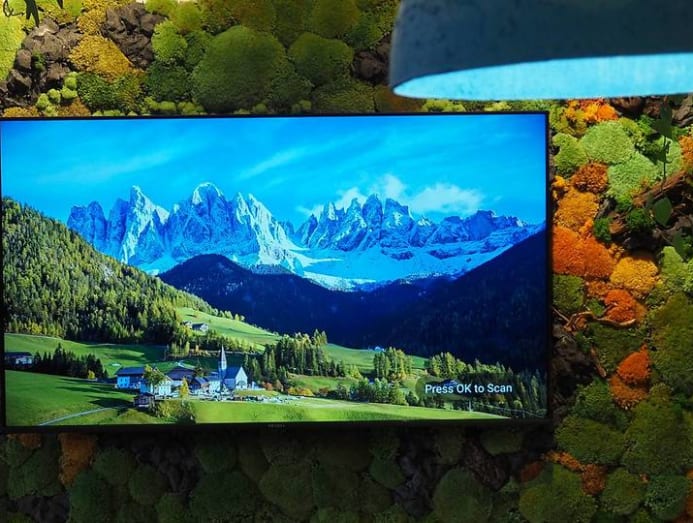 ARE YOUR FRIENDS STILL INVOLVED IN THE BUSINESS?

Yes, my friends Sunny, Izzwan and Meishien are still heavily involved in the business. I am the only one who has decided to focus on it full time, but each of them plays an important role, and are valuable colleagues and partners. Despite their commitments to their respective day jobs, they are constantly helping me on the side and are always there for me whenever I need advice on design or decision-making.

YOU FINISHED ARCHITECTURE SCHOOL – AND EVEN DID A MASTER'S DEGREE. HOW HAS ARCHITECTURE SCHOOL HELPED YOUR BUSINESS?

I think there are a few apparent traits in my craft which I brought over from my years of studying architecture. One of them is understanding that the functionality of a design is equally, if not more, important than the aesthetics of our products. Aesthetics may play a very big role as we deal with botanical art, but I believe that it is the purpose of the product that gives it its value.

Before we propose a design to the client, we will try to understand the purpose of our product in the suggested space. This is to ensure that our craft adds value to the space by meeting the needs and wants of our clients. 

It could be a mosstallation project that acts as a feature wall, to soften the interior space, or even serves as an acoustic barrier to a sound-sensitive room. Regardless of how big or small the mosstallation or terrarium project is, we need to view the space holistically and visualise how the product will interact with the other interior elements in order to create beautiful and meaning work. 

WHAT DID YOU LEARN FROM WORKING AT AN ARCHITECTURAL STUDIO THAT YOU HAVE APPLIED TO YOUR OWN BUSINESS?

I worked at an architecture firm for two years after graduating from the National University of Singapore, and before turning InOut Atelier into my full-time passion. 
I was groomed in my previous job to be independent, resilient and proactive, especially when it comes to problem solving and project management. 
A great chef doesn't mean he is equipped with the proper knowledge to run a restaurant. There is a commercial aspect in doing that. 

I learned people skills from observing my boss' interactions with his clients and how he managed to keep in touch with them even after the end of the project. This has led him to generate more businesses through word-of-mouth and enable the company to remain profitable. This is one of the biggest takeaways and something that I've applied in my own business.
WHAT IS THE BIGGEST MISPERCEPTION ABOUT WHAT YOU DO?

The biggest misconception that people have about our mosstallations is that they are dead plants on the wall, when in fact, they are actually preserved mosses. 

We try to educate the public and potential clients that there is a difference between dead and preserved. We have never used the word "dead" in our business because it does not reflect the actual state of the mosses, and it brings about a somewhat negative connotation to our products and what we offer.

The thing about live plants or mosses is that they grow, and when they are dead, they decay. We all know what a dead plant looks like and it definitely does not fit the description that people use when they see our mosstallations. 

The mosses are neither dead nor alive but merely frozen in time in a preserved state. A light-hearted analogy that I always use is that our preserved mosses are just like Captain America frozen in ice.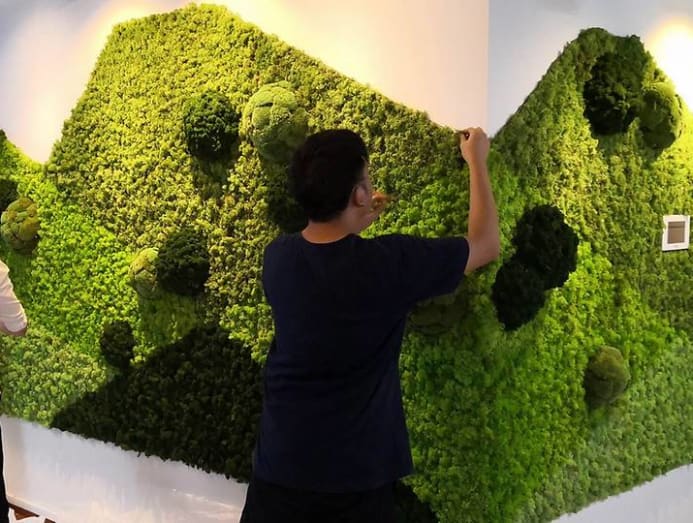 WHAT HAS BEEN THE HARDEST CHALLENGE IN RUNNING YOUR OWN BUSINESS?

The hardest challenge is to run it as a business and not a passion. I love to give this analogy to my friends: We are akin to a great chef who knows the best method to cook his dish and present his food. The taste is fabulous and everyone loves his cooking. But a great chef doesn't mean he is equipped with the proper knowledge to run a restaurant. There is a commercial aspect in doing that, and there is no use serving the best food if there are no customers to enjoy it. The restaurant will have to close down eventually, which is a shame.

Similarly, the four of us as designers did not have any prior knowledge in running any businesses. We did not have adequate capital funding and we did it without a mentor for guidance. We learned through trial and error, and from the mistakes made along the way. 
InOut Atelier has always been an outlet for us to express our creativity more than as a revenue stream. But now that it is my full-time gig, I need to make it a viable and profitable business. That means I need to sometimes make the hard decision to look at the commercial side of business more than the craft that we love. 

CAN YOU EXPLAIN THE VARIOUS SERVICES YOU OFFER?

Our services currently include building bespoke enclosed terrariums and preserve mosstallations. We also conduct workshops for terrarium building and preserved moss frames. These workshops are open for the public to book on our website, and are held on weekends in the afternoons. 

We also do corporate events and team-building workshops for many institutions and corporate companies.

WHICH OF THESE ARE YOU MOST PASSIONATE ABOUT?

I love everything that I do at InOut Atelier, and I truly believe that there is some truth to the saying, "love what you do and you'll never work a day in your life". 

To be honest, that is exactly how I feel since I took on InOut Atelier full time. The different things that I do here allow me to reap different rewards and experiences. So, it's hard to determine which aspect I am most passionate about. 
For example, when I'm building a customised terrarium for a client, I will visualise myself inside the landscape from a micro perspective, and appreciate the craft from the lens of a figurine from the inside out. 
When I've completed the terrarium, I take a step back and appreciate the landscape that I've crafted from the outside in. During that process and in those moments, I feel like I'm in a different realm while working on the intricate details. 

On the other hand, the process of building a mosstallation requires me to visualise the overall masterpiece from a macro perspective. I need to imagine myself appreciating the craft from a distance and see how the colours, textures and contrast flow. The experience is definitely very different compared to building a terrarium, but equally rewarding.

And for the workshops that I've done, I take every opportunity I have to advocate the importance of biophilic design and the positive impact it has on us. I enjoy sharing and teaching my craft. Seeing my students bring home a work that they have created through my teaching gives me a great sense of satisfaction.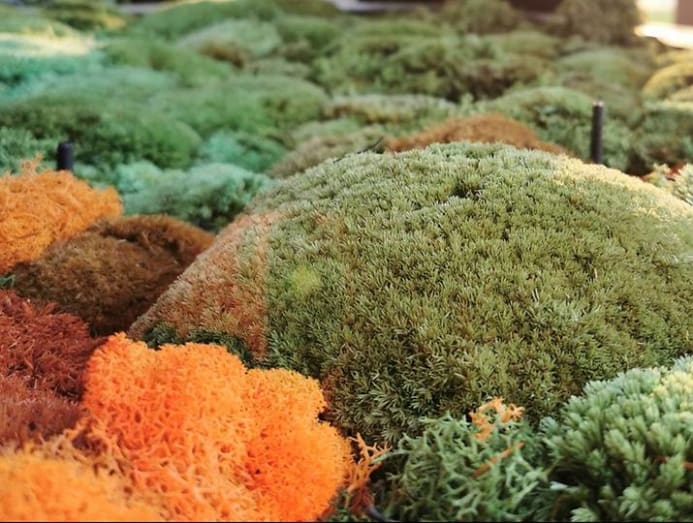 WHAT HAS BEEN THE MOST REWARDING PROJECT TO DATE?

We are blessed and thankful for all the opportunities given to us. There is a story behind each and every project that we have done. And each of them is rewarding in its own way. But if I have to pick one out of the many, I would choose the most challenging one, which was a mosstallation project for a corporate client. 

The client wanted an 8-metre-square mosstallation for his office. It was one of the biggest projects we had taken on at that point in time. The project brief was pretty straightforward – he wanted a statement piece and a conversation starter. We also began to understood that he wanted a mosstallation that helps to demarcate the space within the office. A space of focus and emphasis. 

The project took a few months to complete and we managed to install it before the lockdown last April. It was a rewarding and memorable experience, and it was our first large installation.

WHAT IS YOUR DREAM PROJECT?

My dream project is to collaborate with architects or developers on a biophilic architecture project. I hope to explore and push the boundary of biophilic applications in indoor and outdoor spaces. It would be a project with a value beyond just aesthetics, one that drives the biophilic trend and advocates the importance of incorporating nature and greenery into our lives.

WHAT'S YOUR VISION FOR INOUT?

We hope to establish ourselves as a proper biophilic design studio. Beyond botanical art and installations, we hope to offer interior, product, graphical and even landscape design – all with the intention of reconnecting people closer to nature by creating tranquil, calm and relaxing environments.