Creative Capital: The bar entrepreneur who's changing the way you drink
From launching a speakeasy bar in Bangkok to selling bottled cocktails during the "circuit breaker" period, Colin Chia is rolling with the trends – and punches from the pandemic.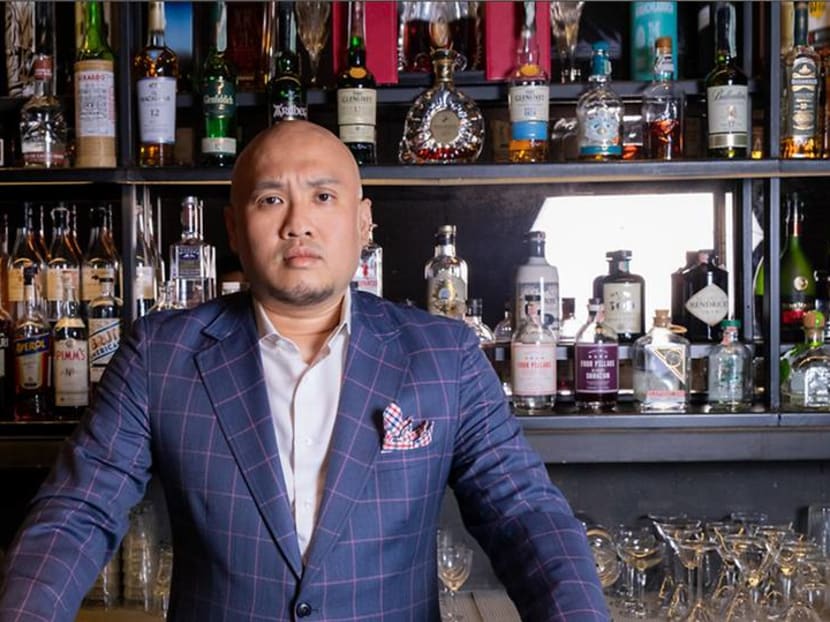 I first met mixologist and bar entrepreneur last year while filming Secret Delicious for CNA. The TV show was about secret, invitation-only, or unique drinking and eating experiences across Asia – and the one bar experts kept telling us we had to feature in Bangkok was #FindTheLockerRoom, founded by Colin Chia and four friends, all of them celebrated bartenders.

Colin was a joy to work with. He greeted us like old friends and went out of his way – on a very important night when he had to host industry guests – to accommodate all of our requests.

During the circuit breaker, I was very excited to receive some Nutmeg & Clove bottled cocktails as a gift from a friend – another Colin Chia brand. More recently, he has teamed up with another good friend of mine, Willin Low, to launch a collaborative modern Singaporean cocktail and food menu at Willin's Rocketto Izakaya.
HOW DID YOU START OUT?

My first job in the F&B industry was at Canto Club in 1995, one of the trendier clubs at the time. It was a part-time job after my "O" levels and I started as a bar-back. I wanted to work there because many of my good friends were there.  

Really popular drinks back then were Blue Lagoon, B52, Grasshopper and Rainbow. The most popular was Falling Lamborghini, which was a terrible flaming drink used to get people drunk.

Later, I got a diploma in hotel management with Shatec and worked for chef Susur Lee when he started Club Chinois and House of Mao with Tung Lok in the 90s.

YOU THEN LEFT THE RESTAURANT SCENE AND JOINED DIAGEO FOR 12 YEARS. WHAT WAS YOUR PROUDEST ACHIEVEMENT?

The motivation to join Diageo was solely the promise of being able to travel around the world. I joined them in 2007 as a regional brand ambassador. After a couple of years, I moved up as the Asia-Pacific commercial head for Diageo's Global Reserve Business – a luxury portfolio that includes Johnnie Walker Gold, Blue Label & above, Tanqueray No. TEN, Don Julio, Ron Zacapa, and Ketel One. I spent the next decade working there.

I was very lucky to have great mentors in Diageo, who were willing to take a chance on me. I took on many roles during my time with them, including the head of World Class Asia-Pacific and Southeast Asia commercial manager.

If I had to choose one initiative that I am most proud of, it has to be the launch of World Class South East Asia in Singapore in December 2008. I had always felt that bartenders were under-appreciated. Back then, everyone thought of bartending as just a part-time job. I wanted to help make bartending into a respectable career choice. I dare say that World Class has been instrumental in kickstarting many successful bartending careers in Asia.

TELL US ABOUT THE DIFFERENT STYLES AND LEVELS OF MIXOLOGY AROUND THE REGION.

Asia is probably the most dynamic cocktail culture region globally. Japan is all about the techniques and perfecting traditional classic cocktails. 
China and Taiwan are underrated, and I feel, have some of the best bars in Asia. They have the precision of Japanese techniques complemented with speed. Hong Kong is known for modernisation, and in recent years, bars like The Old Man and COA have really reinvented the cocktail culture.
Bangkok is probably the place to watch. They are growing at an amazing pace. The bartenders there are very eager to learn and there is no shortage of opportunities with bars opening at alarming speeds.

Finally, Singapore might just be the best cocktail bar city in the world. Here, we have a great blend of local bars and western influences. The standard of bartending is very high.

HOW MUCH OF MIXOLOGY IS SCIENCE VERSUS CRAFT?

There needs to be a good balance of both. The introduction of sous vide, centrifuge and rotovaps over the last few years has played an important role in the elevation of drinks today but we cannot disregard the importance of craft. 
Personally, nothing can replace the romance of a bartender stirring a dry martini for a customer in front of her. So while we welcome the advancement of provocative cocktails, let's continue to pay homage and not forget the roots of traditional bartending. I am a hopeless purist.

TELL US MORE ABOUT YOUR ESTABLISHMENTS.

Nutmeg & Clove opened in 2014. At the time, there were already many great bars like 28HKS, Tippling Club, Cufflink Club, Jigger & Pony, and Manhattan. 
We wanted to open a bar that was different, a bar that told the story of Singapore. Nutmeg & Clove is a bar that pays homage to the heritage of Singapore. All of our cocktail menus have been about celebrating our nation. I'm pleased that has led to collaborations with institutions like the Singapore Tourism Board and the National Museum.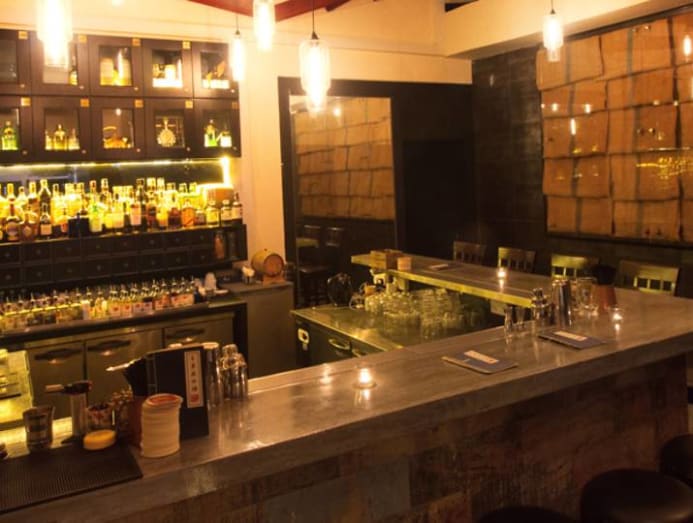 #FindTheLockerRoom (or #FTLR) Bangkok opened in 2017. It is a vanity project between myself and some good friends, including Hidetsugu Ueno of Bar High Five, Nick Wu of Bar Mood Taipei, and Ronnaporn Kanivichaporn and Chennarong Bhumichitr from Backstage Bar Bangkok. We decided on a true speakeasy bar that would be super difficult to locate and contact.

The original location of #FTLR was actually in the staff locker room of a Chinese restaurant. There wasn't a name, and we decided not to have any social media or online presence. 
The concept of the bar was about the past, present and future. "Past" being the classic cocktails, "present" being twists on the classics, and "future" meaning anything we could dream up. We decided on #FindTheLockerRoom as the bar's name after six months because this was the most used hashtag on social media for our bar.

For our opening night, each of us sent out invitations to just five or six friends via Line but things escalated and we were super packed. We were full almost every night for six months. We moved to our current location in our seventh month as the landlord sold the land and we had to leave.

#FindThePhotoBooth Bangkok opened in 2018 as a result of the success of #FTLR. Hidden behind a photo booth, this is a mini club along the infamous Soi 11. The cocktail concept here is an homage to life in the 80s and 90s, hence the popular cocktails like Blue Lagoon and Long Island Iced Tea.

Score Bar opened in 2018. This is a premium sports bar in which you can enjoy ice cold beer, simple cocktails and delicious Thai and Singaporean Food.

WHAT ARE THE BEST AND THE WORST THINGS ABOUT BEING A BAR OWNER?

People! The many different experiences range from amazing to awful. And this can mean both employees and customers.

I have had the pleasure of having worked with some of the best in the world. I have always believed in grooming my team and making sure that our people grow together with the company. 
There were tough times, too, especially how they part ways with us. There was this employee whom we sent to Paris, Cognac and Islay to learn more. As soon as he returned from his trip, he resigned.

As for customers, we have been blessed with many great regular customers, but there are always the ones we don't want but get anyway. I believe in standing by my team and when customers start to get aggressive or hurl insults, I waste no time in getting them out of my bar and banning them forever.

HOW ARE YOUR BUSINESSES COPING DURING THE PANDEMIC? 

We still cannot open and have to wait for Phase 3. Right now, we are doing a pop-up collaboration with chef Willin Low's Roketto Izakaya in a celebration of modern Singapore cuisine and cocktails. The response has been great and it feels super good to host guests in person again.

WHAT IDEAS HAVE WORKED AND WHAT HAVEN'T?

Bottled cocktails have been a great success. We've been selling bottled cocktails at Nutmeg & Clove since we opened in 2014, so it was very easy for us to transition into that business model. The response has been great – actually, beyond my imagination. We often do more than 100 orders during a good week. This has been very instrumental in keeping our business afloat.

We have done a lot of virtual masterclasses with corporate companies. We will prepare the cocktail ingredients and bar equipment, and host a workshop for them.

We also celebrated Nutmeg & Clove's sixth anniversary via Zoom with friends, guests and brand partners. It was one of the highlights for me. I think I talked from 8pm to almost 2am and finished a lot of alcohol along the way.

DO YOU THINK THE CONCEPT OF BAR SERVICE WILL CHANGE FOREVER DUE TO COVID-19? 

The one good thing that has happened is that bars are more serious about their hygiene. Cleanness and personal well-being are very important and that is a good thing for our consumers.

From what I have seen in Phase 2, food is more important than ever. Because the closing time is now 10.30pm, consumers will choose to go to a bar with good food. They do not want to waste their time travelling around from Point A to Point B. I know for a fact that despite closing at 10.30pm, some cocktail bars' revenues are even better than pre-COVID times.

HOW DO YOU SEE THE REST OF 2020 SHAPING UP? 

For Singapore, we need to be thankful that we are able to operate, even if it is only till 10.30pm. We just need to be inventive and find ways to make it work. The industry really needs to work together, play by the rules and make sure we play our part to prevent a second wave.

For me, I will be trying to open a new concept this year. I am also looking for a new home for Nutmeg & Clove. Yes, you heard it. We are looking for a new home and despite the uncertain pandemic, I am excited for Nutmeg & Clove 2.0.