Creative Capital: The expat who is bridging worlds through videos and kidswear
American Courtney Arcese manages a team of filmmakers from Singapore and the US, and uses her resort wear collection for kids to enable female designers and manufacturers. And she's also a mother of two.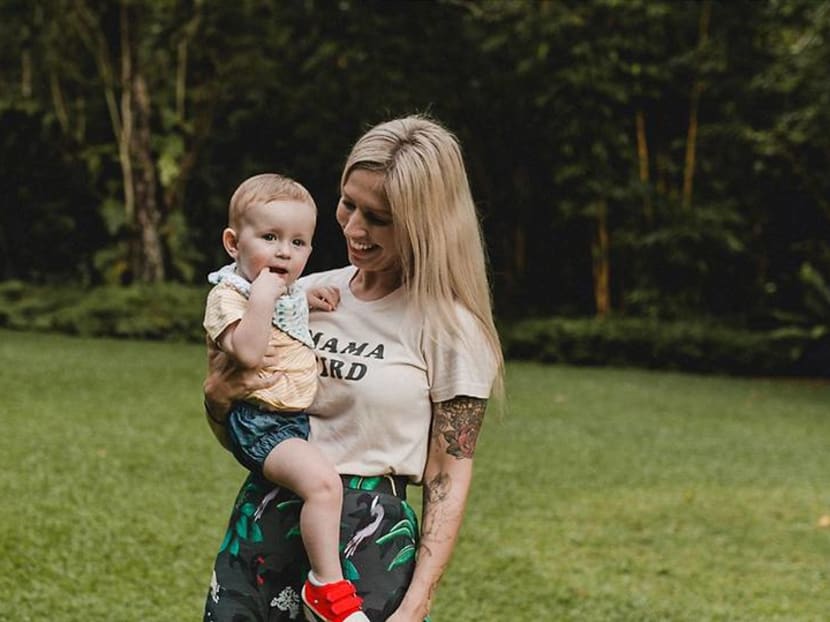 You would think running a transcontinental studio, and managing a team spread over two countries and three locations would be enough to keep anyone busy, especially someone with two kids. Not for Courtney Arcese, founder of Lovebrain Films. 
In 2018, she launched the children's clothing company, Wild Sundays, that offers cute and cheerful clothes for little ones three years and under. There are a number of things I really like about Wild Sundays. Firstly, the prints are adorable. Secondly, Arcese uses the business to enable other mums as well as female designers and manufacturers. Thirdly, she's made sustainability a priority in how she's both producing and packaging her products. And of course, they're well made.
Here's how Arcese is pursuing her creative journey.
TELL US ABOUT YOURSELF.
I am originally from Minnesota, but lived in New York City for six years before relocating to Singapore. I was always creative but I never connected my passion for video, content creation and fashion until much later in life. 
Before I found creative jobs, and ultimately a creative career, I was always expressing myself through my personal style. I coloured my hair pink, then blue. I got tattoos of artwork that inspired me, and wore vintage clothes that I felt represented my mood that day. Now, as a mother of two small boys, I have a lot less time to do crazy things to my hair, but I'm always trying to add a bit of my own flare to any outfit.
HOW DID LOVEBRAIN GET STARTED? DID YOU START IT IN THE US OR HERE?
I started Lovebrain Films right after I received my own wedding video in 2012. I was already creating video content for a travel web series at the time and when I got my wedding video, I said to myself, "ummm, I could have totally made this". 
From that moment on, I was on the hunt to find couples who would let me film their weddings to build my portfolio. Wedding videography was quite expensive in the US, so it was easy to find willing couples. After three weddings under my belt, I built a website and started marketing my services. Today, Lovebrain Films is a global brand with 12 filmmakers spread throughout New York, Los Angeles, and Philadelphia. My editing team and I are based here in Singapore.
DID YOU SPECIALISE IN WEDDING VIDEOGRAPHY BECAUSE YOU'RE A ROMANTIC OR YOU SAW A BUSINESS OPPORTUNITY?
I'd love to say I'm a romantic at heart, but in truth, I saw a massive business opportunity and wanted to capitalise on it. 
When I started in 2012, wedding photographers had already saturated the east coast in the US, but wedding videography was still quite new. I wanted to present honest, candid wedding films that captured the movement and energy of a couple's most important day. In short, no tripods, no directing – just fly-on-the-wall, handheld filmmaking that focused on natural smiles, laughs and moments from happy couples. Because there weren't many videographers doing this at the time, we saw a rapid response from referrals, and a lot of those were from the photographers themselves. 

HOW AND WHY DID YOU SCALE LOVEBRAIN?
In the first year, I filmed four weddings and by the second year, I'd jumped to 42 weddings. By the third year, we were hitting 70 weddings and have continued to hit the number each year. I had to grow Lovebrain because I wasn't able to single-handedly manage all the work that had landed in my lap. Bringing on freelance filmmakers during the peak wedding seasons, where we'd have three to six weddings each weekend, was paramount to monetising the inquiries flowing through the website. 
Adding on a full-time editor allowed me to step away from post-production and look at big picture plans such as expanding to other cities, bringing in non-wedding-related work and hiring filmmakers for other projects during slower months. The greatest challenge has been, and will most likely always be, finding filmmakers who are artists themselves, and adapting their filming styles to emulate the Lovebrain Films look we are selling to couples and small business clients.
WHAT HAVE BEEN THE BEST AND MOST TRAUMATIC MEMORIES SO FAR?
There have been some really epic moments for us, from Star Wars Stormtroopers at a reception to exotic destination elopement getaways. But I'd have to say, on a business level, there was a weekend in September 2018, when the entire Lovebrain crew – the east and west coast teams along with me and my two Singapore-based editors – was in New York City for six weddings. 
We went out and had a proper company outing to celebrate our growth and for everyone to formally meet each other. As an entrepreneur, I felt incredible pride in bringing all these people together in NYC for three days. Seeing their faces in one room, celebrating the time and artistry they've put into Lovebrain, and helping me build this company – that was a big personal moment for me.
I used to book back-to-back weddings in the early days. Once, I had scheduled a wedding in Nantucket, Massachusetts, and a wedding the following day in Brooklyn, New York. Because I wasn't familiar with New England flights, I didn't know that very often, flights to and from Nantucket got cancelled due to weather. 
After the Nantucket wedding, I laid in my hotel room with extreme anxiety, not sleeping a wink, and praying that I wouldn't miss the opportunity to fly back to New York City the following morning. I felt a year's worth of stress compounded into that one long night. Fortunately, the flight departed on time and I made it to Brooklyn. 
YOU ARE ALREADY RUNNING ONE CREATIVE BUSINESS. WHY START ANOTHER?
I am often asked where the motivation to start Wild Sundays came from. I have stepped away from filming and editing to focus on the operations and management side of Lovebrain. Because of this, it created an itch to flex my creativity. 
My first son opened my eyes to a whole new world of inspiration and opportunities focused around children. Using my child as my muse, I sought out illustrators to create prints that I wanted to dress him in. I designed pieces that I thought would be perfect for those tropical holidays my "mum community" took around the region with their families. 
I focused on working specifically with women and mothers for Wild Sundays endeavours. Today, we use only female illustrators for our customised Wild Sundays prints, and work with a mother-led manufacturing team in Bali to produce our clothes.
HOW DIFFERENT WAS SETTING UP WILD SUNDAYS FROM LOVEBRAIN?
I've always been a person with persistence and drive, so I'm not afraid of hard work. But I have heard so many no's along the way with Wild Sundays, specifically when it comes to convincing retailers to carry our relatively new brand. Retailers, especially small independent shops, don't like taking risks with new brands. So this has moulded our sales strategy to focus more on pop-up shops and B2C sales. 
I've also had to follow my gut instinct more and pass on a few opportunities that seemed very enticing. For example, an established retailer, which has several locations in the region, had recently approached us to carry our brand. But we decided to give it a miss because of the consignment requirements and payment schedule.
TELL US ABOUT THE DESIGNS OF THE CLOTHES AND HOW THEY ARE MADE.
As the creative director of the brand, my job is to seek out independent illustrators who can place special focus on the brand's "resort wear" aesthetics. I provide the art direction, but ultimately, the print is custom-made by the designer. In terms of production and manufacturing, I go to Indonesia to source fabric. 
I work as hard as possible to find organic cotton whenever available, while still trying to keep costs down. The prints are screen-printed and then checked for colour and quality. From there, the clothes are produced and shipped directly to Singapore and the US.
DOES SUSTAINABILITY PLAY A ROLE IN DESIGN, MANUFACTURING AND DISTRIBUTION?
Absolutely. One of the things we've focused on is to avoid single-use plastic as much as possible. This has been a priority for us since the inception of Wild Sundays. We have produced reusable totes for shoppers. So whether you purchase our collection at Boutiques Fair, a retail outlet or online, we always provide a free tote as an alternative to a plastic shopping bag. 
And we encourage kids to colour the bags and make each one unique. It's been so fun seeing our Wild Sundays totes make their way around Singapore. For the future, we are looking at ways to repurpose the fabric scraps into hair scrunchies and headbands.
WILD SUNDAYS CATERS TO CHILDREN UP TO AGE THREE. WILL YOU MAKE CLOTHES FOR OLDER KIDS?
Because Wild Sundays started out as a "project", it was too daunting to produce such a wide range of sizes initially. But we are currently expanding our collections to cover ages zero to eight. Also, the next most-popular feedback is that dads want to match their sons and daughters in our tropical, button-down shirts. So we're also working on that as well. Stay tuned!
WHAT'S BEEN THE BEST SURPRISE IN RUNNING WILD SUNDAYS?
Seeing our clothes worn on the streets of Singapore and beyond. Mum-friends also send me pictures of kids in Wild Sundays clothes. It absolutely brightens up my day seeing something that someone has taken so long to produce make its appearance in public. We've been tagged on social media a few times for a first birthday and the child is togged in the Bahru collection from head to toe. I really love it!
IS BEING AN ENTREPRENEUR EASY IN SINGAPORE?
Yes and no. Being an entrepreneur in Singapore is easier as the retail scene and creative services here are less saturated than in New York City. You can get a lot more traction here because there is a lot less competition. 
On the flip side, being an entrepreneur isn't as well received in Singapore as in the US. People are more brand focused and more cautious to work with expats as many are transient. So it's been a bigger challenge to acquire new customers. On the other hand, everyone in New York City is doing something and the demand for independent creatives, artists and business owners is much greater there. 
But at the end of the day, every city has its list of advantages and disadvantages; it's what you do with the advantages to help you overcome the challenges that will set you apart from the rest. That is what I tell myself every day.
WHAT'S YOUR SECRET TO JUGGLING TWO BUSINESSES AND FAMILY?
It's a lot of hard work, determination and fantastic time-management skills. Also, hiring reliable employees that are autonomous is priority No 1. I set aside designated work time each day for myself to focus on the businesses, but I've also hired a studio manager to handle many of the daily needs the businesses require. It allows me to use my time for the top level, macro needs, and not focus on the short-term tasks.
Also, when your kid is sick, you drop everything. At the end of the day, family comes first. One of the greatest gifts being a business owner is the flexibility to prioritise family.
WHAT'S THE DREAM FOR BOTH BUSINESSES?
I'd love to see Lovebrain continue to expand into new cities, and into other areas of film and content creation. We've recently begun taking on smaller commercial projects, and hopefully as we grow, we'll be able to take on even bigger productions and projects. The dream is to ultimately expand into a proper production company, creating branded content and commercials for companies globally.
For Wild Sundays, I'd love to participate in a children's wear trade show and spend more time exploring the wholesale market. We're still so small, but it'd be a beautiful dream to have the opportunity to sell our clothes in bigger markets within the region. Because we're a resort-wear brand, to distribute to a resort and hotel brand would be incredibly exciting. Additionally, collaborating on limited-edition collections with social-media-influencer mums is also something we'd love to try in the future.