Creative Capital: The actor who's also a photographer and creative director
Crispian Chan, a familiar name in the local theatre scene, also has his own photography business in which he captures other actors' headshots with flair.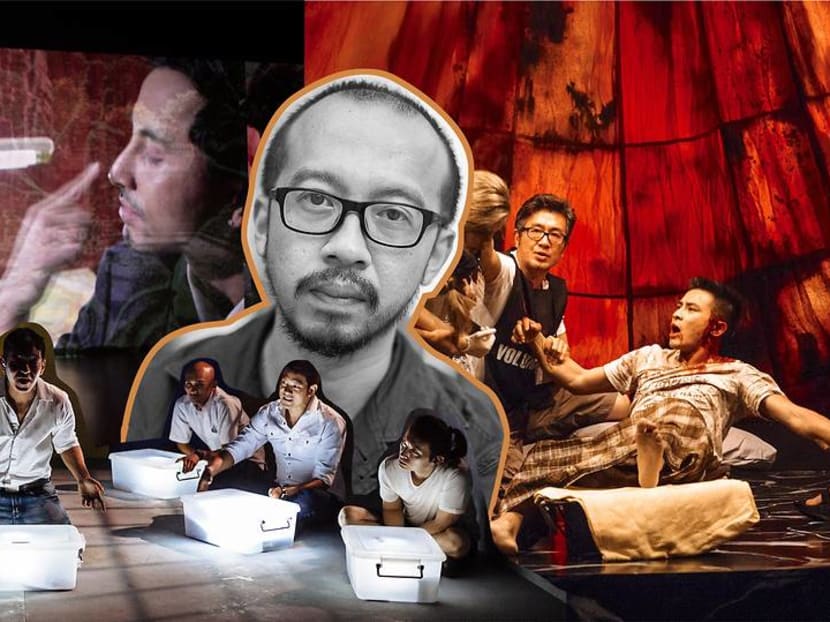 Crispian Chan, "Crispy" to his friends, is incredibly unassuming. But behind his sly smile and humble demeanour is a passionate creative who has contributed in multiple ways to keeping the local performing arts scene vibrant.
Through Crispi, his photography business, Crispian has supplied perfectly rendered headshots for a veritable who's who in our local film and theatre scene. He's also recognised as one of the best in the business at capturing live theatre and dance through photography – a talent that is informed partly through his own work as a performer.
Crispy is, to steal a theatre term, a triple threat: Photographer, performer and creative director. As a performer, he has worked with the Black Swan Theatre Company, Barking Gecko Theatre Company, Wild Rice, Pangdemonium and Teater Ekamatra; and has appeared in a number of festivals such as Perth International Arts Festival, Singapore Arts Festival, Brisbane Arts Festival and Kunstenfestivaldesarts in Belgium. Finally, he's the in-house Creative Director for local and beloved theatre company Pangdemonium, founded by award-winning director Tracie Pang and her equally talented husband Adrian.
WHAT BROUGHT YOU TO SINGAPORE?
Born and raised in Australia, I worked in Perth as a freelance actor after completing a theatre and film degree in university. At the time I felt the roles given to me in film and TV were limited and often played to my ethnicity rather than ability. Colourblind casting and diversity wasn't really part of the conversation in the industry at the time. I needed some new perspective. In 2003, I heard about the launch of a new BA (Hons) Acting programme at LASALLE College of the Arts. I saw it as an opportunity to do some formal actor training, spend some time in Asia and gain some work experience in Singapore's theatre and film industry.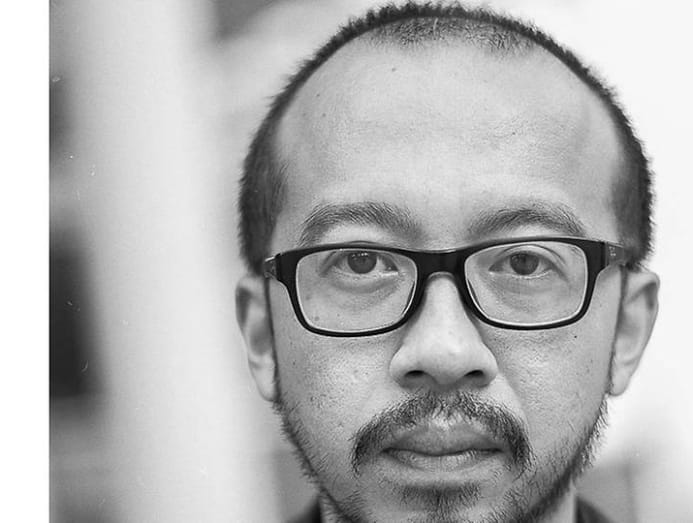 AND WHAT HAS KEPT YOU HERE ALL THIS TIME?
I've found an arts community and family that I really love. As an actor, photographer and creative director, I've had the privilege of experiencing a broad cross-section of works in theatre, dance, music and visual arts. We work hard and with heart. The work is nuanced with layers; it's contemporary but it doesn't forget its roots, either. There's also a diversity of Singaporean and international performances that you can access. For example, at the Esplanade – Theatres on the Bay, I can watch a ballet from Germany, see a new Singaporean work in the studios and listen to a traditional Gamelan orchestra performance in the outdoor theatre. I just can't get enough of that.
YOU'RE KNOWN AS A PHOTOGRAPHER, ACTOR AND CREATIVE DIRECTOR. WHICH OF THESE PASSIONS AND PURSUITS DID YOU GET INVOLVED WITH FIRST?
It was definitely being an actor first. That was my first love from my high school days: Telling stories on the stage to a live audience; to have that immediate connection and response.  
Photography comes in a close second. It allows me to be actor and director with the camera at the same time. Photography connects me to people, which I love deeply.
As the creative director for Pangdemonium, I try to bring together my experiences as an actor and photographer, and channel that into marketing their productions. We're not marketing an inanimate product – we're telling a story that we want people to come and connect with.
TELL ME ABOUT YOUR PHOTOGRAPHY BUSINESS.
I mostly shoot stage photography and actors' headshots. I love shooting stage photography be it theatre, dance or concerts because every show is different. The lighting design, sets, costumes, choreography and the performers themselves – every job is so different! Live performance is also temporal in nature – you rehearse it, stage it for the audience and then the curtain comes down. Stage photography is a way of preserving the performance that otherwise would only exist in our memories after watching it.
With headshots, as an actor, I know what it feels like to walk out of a session with crappy photos. I try to make sure every actor who shoots with me walks out with an authentic and natural set of images of themselves. We talk about how an actor has 'presence' or an 'X factor' – a headshot session can tell you very quickly if someone has it. It's in the eyes.
A MUTUAL FRIEND HAS RAVED ABOUT WORKING WITH YOU. WHAT DO YOU DO TO MAKE SUBJECTS COMFORTABLE?
I'm lucky that most of my clients are from the same industry as I so we have a lot that we can talk about together and that means we can build the rapport much faster.
With headshots, some clients are surprised or relieved when I tell them they don't need to smile. I don't look for a smile. I feel that will come in once they're comfortable with how the session is going and conversation starts flowing. For me, eye contact is the most important part of someone's expression. You immediately know if they're listening and engaged with you. It's a shared conversation through the lens. I think that puts most people at ease straight away knowing they're not trying to affect or impress me or whoever is looking at the photo. We're just listening to each other and I shoot those moments in-between.
DID YOU EVER CONSIDER GOING REALLY COMMERCIAL AND TAKING ON FASHION OR ADVERTISING GIGS?
No, not really. I never really wanted to be a commercial photographer. I need a personal or emotional connection in my photography work, which I don't find in commercial photography. I shoot stage because I connect with the performance or story, and I frame my shots accordingly. With headshots, I press the shutter when I feel I'm capturing something authentic in the expression of my client in my viewfinder.
Having said that, I have worked with local fashion label GINLEE Studio, whose designs I absolutely adore, a number of times. They're very supportive of the arts and they have used dancers and actors to model their gorgeous outfits, which I have shot. I enjoyed that process because it was capturing performers in their element as much as it was the about the clothes.
WHAT WAS THE CRAZIEST AND MOST FUN SHOOT YOU HAVE EVER ORCHESTRATED?
I think my craziest and most fun shoots have always involved one or more of the classic elements – wind, water, earth, fire – as an effect or prop. I did a publicity shoot for a theatre production called Oresteia, which is a trilogy of Greek tragedies. We created a triptych of posters based on characters from the plays. One character was covered in blood, another in thick black oil and the last in ashes. It was messy, wet, sticky and dusty all at the same time, but the results were horrifyingly beautiful!
DO YOU THINK BEING A PERFORMER YOURSELF HAS MADE YOU ABLE TO CAPTURE PERFORMANCE?
Absolutely. I think understanding stagecraft and being able to interpret what the director and creative team have staged is important in knowing how to capture performance. I think as a performer it allows me to anticipate certain moments of a scene and that allows me to respond accordingly when shooting.
TELL ME ABOUT YOUR WORK ON STAGE. WHAT PERFORMANCE HAS BEEN THE HIGHLIGHT OF YOUR CAREER SO FAR?
Oh this is hard because I have different highlights for different reasons! I think in recent memory, Wild Rice's The Importance of Being Earnest has been a sentimental highlight for me as it was my first main stage role in 2009. We staged it again in 2013 in Singapore before taking it to Macau in the same year; after that, we took it to the Brisbane Festival in 2015; and then at the beginning of this year we re-staged it in Wild Rice's new Ngee Ann Kongsi Theatre, which also happened to be my last stage performance before COVID-19 shut down the theatres.
WHAT'S YOUR DREAM ROLE?
I don't really have a specific dream role but my hope is that I get a chance to work in an Australian theatre company again and hopefully on new works involving Australian-Asian artists or stories.
YOU RECENTLY HELPED FILM THE PITCH. TELL ME MORE ABOUT THIS PRODUCTION.
The Pitch is a 20-minute short film collaboration involving Pangdemonium, Singapore Repertory Theatre (SRT) and Wild Rice, and directed by Ken Kwek. Starring their respective artistic directors Adrian Pang, Gaurav Kripalani and Ivan Heng as their heightened selves in the film, we follow their struggles as they try to create art during this uncertain time and keep their egos intact in the process.
It was a mammoth undertaking putting the film together. A script was written within two weeks I think. Then we shot it over four days before we spent another two weeks or so editing and marketing the film. It was all produced in less than six weeks with the production, marketing and fundraising teams from all three companies coordinating together in consultation with the artistic directors and Ken.
YOU WERE PART OF A THREE-PERSON CAMERA CREW. WHAT LIMITATIONS AND CHALLENGES DID YOU FACE IN CAPTURING THIS STORY BECAUSE OF SOCIAL DISTANCING AND OTHER SAFETY MEASURES?
This film took me back to my student film days at university! Not only were we a three-person camera crew, but half the film crew was made up of staff from the theatre company offices. We couldn't afford to use professional film crew for all the roles. So some had to be given on-site training. We also had to combine various roles together. One of our crew was not just the camera assistant and grip but also the film editor!
Budget constraints meant manpower was low but that actually probably helped us maintain the social distancing measures. We were basically a skeleton crew.
WHY SHOULD SOMEONE DONATE TO THREE ALREADY ESTABLISHED THEATRE COMPANIES?
I think there is a common misconception in the public that ticket sales cover the cost of the show and the running of the companies. That's not really true. The majority of ticket revenues cover the costs of the show itself only. We rely on funding, sponsorship and donations to cover the staffing and remaining overheads for running a theatre company. Pangdemonium, SRT and Wild Rice may be established but that comes at a cost. For example, all three have much higher staff headcounts than smaller companies. In the case of SRT and Wild Rice, they also have their own performance venues to upkeep. These established companies also provide regular work for the hundreds of freelancers who are involved as actors, designers, crew, front-of-house and in other roles. Donations are urgently needed to help these companies ride through this downturn.
WHAT ARE YOU WORKING ON NEXT?
With Pangdemonium, we're working on our first digital play written specifically for an online audience. We will be announcing it shortly so stay tuned for that! Photography-wise, work has been trickling back in again with headshots but I'm hoping we'll be back in theatres sooner than later.