Creative Capital: The food scientist whose drinks tap on Southeast Asian traditions
Ramesh Krish Kumar's beverage company, Asmara, combines herbs and ingredients from different cultures in the region to make its line of drinks.
Just the other day, a good friend told me the future of drinks is Jamu, the Indonesian herbal and medicinal tonic made from turmeric, ginger and other natural ingredients. That got me thinking about a drink I remember seeing and trying at last year's Boutique Fairs.
I remember meeting two very smart, very passionate young entrepreneurs selling beautifully packaged health tonics. I had tried one of them and it was really nice.
But that drink, once I looked it up, wasn't a Jamu. It was much, much more. Ramesh Krish Kumar and his partner Tho Pin Da are food scientists who started their own beverage company. Asmara produces four drinks currently, with a long pipeline of future products in development.
Asmara is quite unique. Through their products Ramesh and Pin Da are striving to create very Asian health tonics that combine elements of Traditional Chinese Medicine (TCM), Malay and Indonesian Jamu, and also Indian Ayurvedic medicines with real science to create drinks that are truly good for you – and that, as I said, taste great.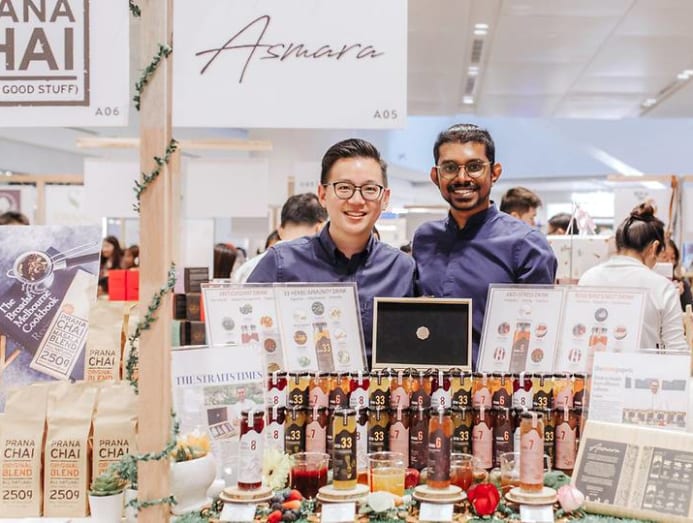 HI, RAMESH. TELL ME A LITTLE ABOUT YOUR LIFE. DID YOU DREAM OF BEING A BUSINESSMAN OR BEING IN THE F&B SPACE?
Food was a constant topic in my household because my father was a professional chef and my mother was a fantastic home cook. However, I felt that becoming a culinary chef was not my cup of tea.
When I was in primary and secondary school, I was a below-average student. I scored terribly. I didn't have an excellent track record of behaving well.
As time progressed, I took up a module called Food and Nutrition, and that was the first time I began to understand how our health is strongly influenced by the food that we eat. That was when my early fascination with food and herbalism came about. I became very interested in how the different types of herbs and spices that my father always talked about in the kitchen influenced human health. That's when I became interested in traditional Chinese, Malay Jamu and Indian Ayurvedic medicines.
As a young person, I always wanted to become a teacher or doctor. I wanted to make a difference in someone's life. But I realised my academic results were not good enough. What I eventually realised was that I could still make a difference in a person's life through nutrition and food.
I decided to pursue a diploma in food science and nutrition. In pursuing that dream, I had to travel two and a half to three hours by public transport from Choa Chu Kang to Tampines every day. My parents were extremely proud when I graduated with a Masters in Food Technology with Distinction, specialising in evidence-based herbalism.
When I was growing up, I never dreamed that I was going to be a businessman. I realised that I wanted to have ownership over what I did, and I wanted to make an impact, but I lacked the self-confidence and skills. What has become essential for me as I have become an entrepreneur is to focus on just a few key ingredients. Number one is passion. You have to be passionate about what you're doing. I realise that many people start a business because the first thing they want to do is become wealthy or to make money. There is nothing wrong with that. But if you lack the passion for what you are doing, it is not going to sustain you for a very long period of time. Although I did not have any knowledge or background in branding, marketing or business administration, my passion, along with an eye for details, perfection, design and creativity, helped me to start a business and to get to where I am today.
I LIKE THE FOCUS ON PASSION. TALK TO ME ABOUT STARTING ASMARA.
Starting a brand is not easy, especially with no support, no business background, no manpower and no funds.
Many people do not understand the amount of anguish, effort, time, brains, creativity, wits, patience, disappointment and burnout it takes to launch something new. We went to bed at 3am and woke up at 7am every single day. We managed exhausting full-time jobs to support ourselves while fighting to create a new brand.
Then we had to give up our jobs, and along with them, comfort, security, financial stability and peace, to grow the business further. Financially, emotionally and physically, by the time we launched, we were fully burnt out. Some did not understand what it takes to start a brand or even merely to run a start-up.
We are not sure whether Asmara will ever grow to become a big and successful brand. However, we are very proud of how Asmara has evolved from a small mustard seed to a beautiful young tree with strong roots and a great story. We will do everything in our power to ensure the tree flourishes and produces fruits of success for everyone to enjoy.
They say money and profit drive the success of any business. However, we firmly believe that passion, sacrifice and love for what you do are the most critical factors that determine the success of any brand, story or business. Within a year, Asmara grew from an unknown and unheard-of brand to a "proudly Singaporean" and "food scientist curated" brand that people say represents our unique multicultural heritage. That's a pretty great accomplishment, I think.
WHAT IS A FOOD SCIENTIST? HOW DIFFERENT ARE YOU FROM OTHER SCIENTISTS? AND HOW DIFFERENT ARE YOU FROM A CHEF?
This is one of the most common questions I am asked. What does a food technologist and scientist do? Do they cook? Do they work in restaurants? Are they considered a chef? Do they create new foods? What exactly do they do?
The job of a food technologist and scientist is as crucial as any other occupation in the world. We're the ones who work to ensure that mould does not grow on the bread that you consume every day. We're the ones who check for various toxic chemicals that may be contaminating your food supply. We're the ones who are developing new ice creams and chocolates that are sugar- and fat-free because of increasing obesity and diabetes rates. We're the ones who model and design new equipment that ensures that your juices can last much longer with minimum treatment. And most importantly, we're the ones who make sure your supermarket shelves are filled with a variety of food choices that are affordable, appealing, safe and nutritious. These are issues that most people take for granted. Food technologists and scientists are the ones who make these things happen.
One of the key roles of a food scientist is product development and food formulation, which is very different from preparing food in a kitchen or restaurant. It's a very scientific process. To create our drinks, we went through a 16-stage product development process that took an average of 12-18 months, before the drinks could be manufactured. Trust me when I say a lot of thought, work and real science went into perfecting Asmara's products.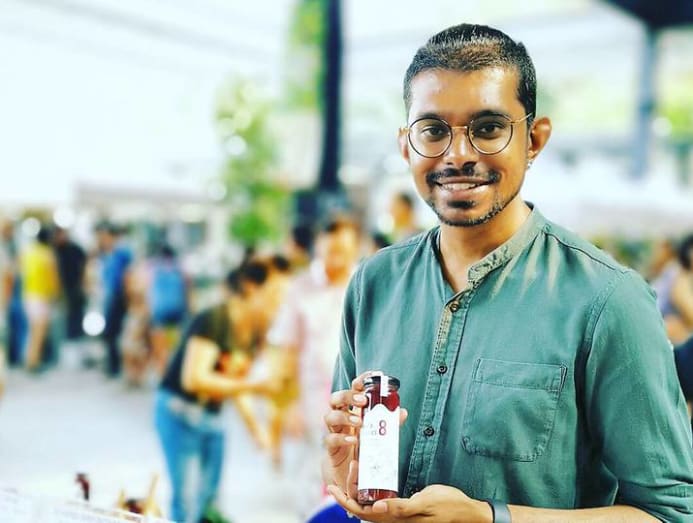 DID YOU AND YOUR CO-FOUNDER DECIDE YOU WANTED TO CREATE YOUR OWN BUSINESS AND THEN CHOOSE TO FOCUS ON HEALTH AND WELLNESS DRINKS, OR DID THE DRINKS COME FIRST AND THE BUSINESS AFTER?
I went to Massey University in New Zealand to do my Masters, and I was allowed to choose the area of research that I wanted to focus on, and that's when I decided to pursue my interest in health and traditional medicine. We know that there are many fascinating herbs and novel functional superfoods found in traditional medicine, but science and traditional medicine usually never get along. Therefore, one of my main aims was to bridge this gap, to introduce science back into traditional medicine and revolutionise the way that we actually consume food. That was the seed that created Asmara.
After I graduated with my Masters, I came back and worked in a local food manufacturing company as the R&D head. I spent almost three years  developing various food products for many external local companies – 40 different products in that period. It was interesting to see which products took off and which failed. The failures were usually due to mishandling the branding and marketing. That's when I thought maybe I should create a range of products and look after the branding and marketing myself.
I got my business partner and co-founder Pin Da on board and we put our thoughts together and started to take actions to build a brand.
HOW DID YOU AND PIN DA MEET?
We were university classmates in 2010, studying food technology. We went through lots of stressful and precious moments together as good friends. In fact, I would say we are more like brothers! We have been the closest of friends for the past 10 years and have been business partners since 2018.
TELL ME MORE ABOUT THE DRINKS.
Asmara harnesses the scientific elements from TCM, Ayurveda and Jamu along with clinical breakthroughs to curate our beverages using herbs, flowers, fruits, roots, and prebiotics. Our beverages are 100 per cent natural, high in fibre – the equivalent of four apples per drink – contain prebiotics and are manufactured in an ISO22000 certified facility in Singapore. Our tagline and mission is "redefining tradition, redefining nutrition, and redefining you".
We've been very fortunate to have won awards for two of our drinks, the Ashta Berries 8 (CLEO Body Award 2018 Winner) and the Asana Zen 6 (CLEO Hall of Fame Winner). Each drink has a stated purpose that helps our customers understand at a glance what they help with.  
Ashta Berries 8 for example, is labelled an "Antioxidant & Satiety Beverage". It is an antioxidant-rich beverage containing eight different Amazonian, European and Ayurvedic berries, and herbs. It contains ingredients such as acai, maqui, camu-camu, prebiotics, fruit fibre and garcinia indica (mangosteen family) extract.
We have three other drinks: Astri Herbal 33 "Immunity & Digestive Aid Beverage", Asana Zen 6 "Relaxation & Focus Beverage" and Asari Bird's Nest 7 "Skin Health Drink with Bird's Nest Concentrate".
THEY ARE NOT JUICES, RIGHT? WHAT ARE THEY? ARE THERE ANY OTHER PRODUCTS ON THE MARKET LIKE YOURS?
Our drinks are technically not juices. They are functional health beverages that contain a combination of unfiltered whole fruits, flower extracts, prebiotic fibres, Asian herbs and Western superfoods. Technically, cold-pressed juice usually involves the typical hand-crank citrus juicer, whereby fruits or vegetables are squeezed between two blades or plates to extract the juice. They are served fresh and have short shelf lives. They don't undergo heat treatments and usually don't contain added sugars or artificial ingredients. Therefore, it's claimed that they contain more nutrients than other juice products. However, like most juices, they contain a lower amount of fibre and high amount of sugars.
Similarly, regular juices are extracted in similar ways but usually contain added sugar, acids and natural or artificial ingredients. Some juices are diluted from pre-manufactured concentrates. Most regular juices usually undergo pasteurisation or ultra-high temperature heat treatment for good shelf life. The fibre and nutrient contents are low.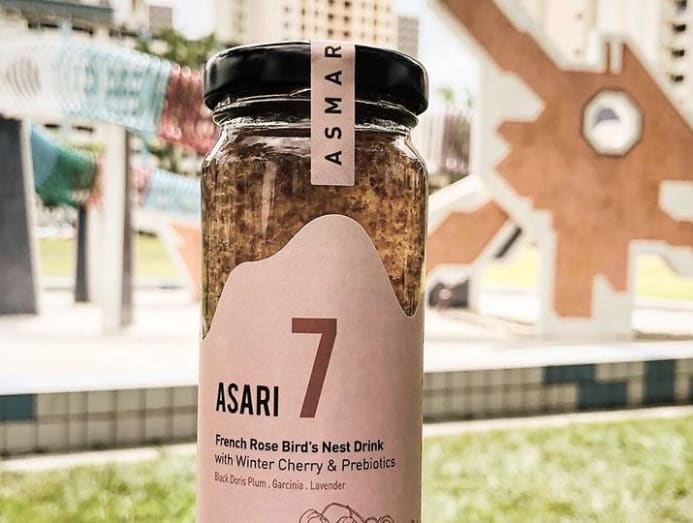 Asmara does not employ the juicing methodology. Instead, for example, our Ashta Berries 8 drink uses high amounts of whole organic acai berry, maqui berry, camu-camu berry, strawberry, blueberry and other natural ingredients. We do not use filtered or juiced berries in our products. Therefore, the natural dietary fibre content of the beverages is not filtered out. In addition to that, we also add in an Asian culinary herb called Garcinia Indica extract – it's a plant in the mangosteen family – to further enhance health and nutritional properties. The product is then further enhanced with scientifically researched prebiotic fibre from corn. Therefore, the product is a combination of Amazonian tradition (acai, maqui, and camu camu), Indian tradition (garcinia indica and amla), western flavours (wild berries) and scientific ingredients (prebiotic fibre).
Similarly, we have developed a second drink called Astri 33, which is our Asian herbal drink. It is what we call a uniquely Singaporean drink because it combines herbs from all the four different cultural groups that we have: We have used Chinese, Malay, Indian and Eurasian herbs in our product. It draws influence from TCM, Jamu, Ayurveda and western herbology.
One of my ambitions from the beginning was to offer options to Singaporeans that would be totally different from overseas products. The goal was and still is to create products that are formulated based on Singaporeans' taste preferences, health concerns and available ingredients. We conducted focus groups, consumer surveys and scientific sensory evaluations to carefully develop a suitable product to suit Singaporean concerns and taste buds.
As certified food scientists who have done research in the areas of herbs, polysaccharides, nutrition and product development, it was easier for us to combine tradition with science to create novel food products for Singaporeans. We felt strongly that we should revolutionise the way we see food, nutrition and traditional medicine in Singapore. We tend to rely heavily on the West, Korea, Japan, Taiwan and Australia for food and health trends, even though we have several hidden gems within the multicultural sphere of Singapore. Our main concern is that 90 per cent of food and beverages in Singapore are imported, making food security a prime concern. Singapore is heavily dependent on other countries for functional health products and trends. Therefore, we started Asmara R&D consultancy and the Asmara product brand line to spearhead and pioneer the development of high-quality and cutting-edge functional health products for Singaporeans and the global consumer market.
ARE YOUR DRINKS MEANT TO BE ENJOYED ALL DAY LONG, OR ARE THEY MORE LIKE TONICS THAT YOU ONLY TAKE ONCE A DAY OR AS RECOMMENDED BY A NUTRITIONIST?
The beverages are designed for anyone 12 years old and above. The drinks are infused with a very high amount of herbs and functional ingredients, so these potent shots are not recommended for people who are pregnant, breastfeeding or very young children. However, everyone else can enjoy our beverages as they are. They can be taken any time of the day. For example, we do have consumers who actually take our Asana Zen 6 during office hours because they want to be in a more relaxed state at work without feeling drowsy. At the same time, we do have people who take Ashta Berries 8 instead of a traditional snack or tea break because they want to have the satiety effect kick in.
OF THE FOUR DRINKS, DO YOU HAVE A PERSONAL FAVOURITE?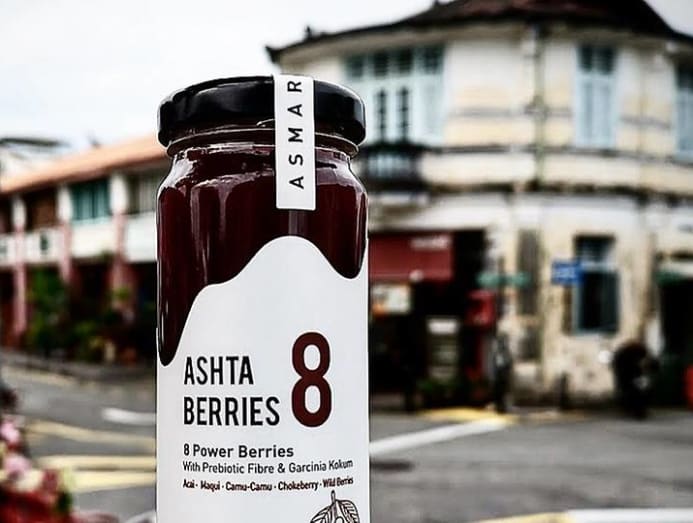 Both Pin Da and I like the Ashta Berries 8, which won CLEO magazine's Best Body Product Award for 2018. They rated it as the tastiest health drink. It is very easy to drink and at the same time it has this punch or kick to it. The moment you drink it, you feel perked up. It gives you a boost of energy and readiness to go as well. Most Singaporeans do not eat enough fibre, thus we specifically added almost four small apples' worth of fibre in the drink, which is about 12 grams of prebiotic fibre added to each of the products. It was also the first product that we created, so we have some emotional bond with the drink.
HOW ARE THE DRINKS MADE? DO YOU HAVE YOUR OWN FACILITY?
Each of the drinks is made in a very different way. All of our drinks are 100 per cent natural. They do not contain preservatives, yet have a shelf-life of 18 months. We use "hurdle technology" to naturally extend the shelf-life of the products. The hurdles involve natural ingredients like camu-camu berries, turmeric and the incorporation of vacuum headspace.
Each of the products is uniquely developed, brewed, crafted and bottled. For example, for the Astri Herbal 33 drink, the 33 different herbs require very specific ways of brewing. The way that we try to extract certain compounds from turmeric, compared to ginger, is very different.  
At present, we do not own our own facility; we contract manufacture here in Singapore. But we do all the research and development in-house.
ARE WE SINGAPOREANS ON AVERAGE HEALTHY? WHEN YOU LOOK AROUND, ARE YOU OPTIMISTIC OR PESSIMISTIC?
I would say that things have changed in recent years. We are becoming more health-conscious and increasingly conscious about what we put in our bodies. I slowly see a transition in Singapore whereby people are getting more active, putting more effort into reading labels and minding what they are eating.
Although as a society we are slowly trying to get healthy, the risk of chronic diseases is alarming. People always love to take shortcuts; they want a quick fix, something like a tonic or a detox or a cleanse – something they can drink and immediately lose weight or immediately feel better, or something that actually reverses a specific type of chronic condition. It is important to understand that no supplement, no food product and no special tonic is actually going to reverse or cure certain types of illnesses. A very holistic approach is required, with food in moderation, a very balanced diet, incorporation of healthy ingredients and foods, regular exercise, etc. All of these are very important modifications to reduce the risk of certain health conditions. The incorporation of specific types of herbs, "superfoods" and healthy ingredients is beneficial in boosting certain health effects and health properties, but they aren't cure-alls.
WHAT HAS STARTING YOUR OWN BUSINESS BEEN LIKE?
I would say that the whole process has been extremely tiring. I get very little sleep and to be very honest, it has always been a struggle. We do not have much business or marketing experience, so it has been a very rocky rollercoaster ride, and we had a lot of ups and downs. What I realised was that we need to be very proactive and very passionate.
It's either we're going to make it, or we're going to lose everything, so we have put everything that we have, every single cent, every single ounce of energy, every single effort, every single drop of passion, to make this happen. Starting this business has been extremely scary. I don't know whether Asmara will become a very big and successful company, but one thing's for sure: I feel a sense of satisfaction and fulfilment.
As I see Asmara progress, as the Asmara brand grows, as people come up to me and say, I have seen your products, I have bought your products, you have one of the most amazing products, your product tastes good, and you have redefined the way that healthy foods are being consumed – it puts a smile on my face. Those things make my day.
The scariest part was always wondering if I was doing the right thing. Am I making the correct decisions? Am I making the right move? Am I taking the proper investments? Is it the right thing for me to reject an investment? In this past year and a half, we have had more than 15 different entities approach us, showing interest to invest in us, and I always have doubts in my mind. We are proud that we had these investment companies approaching us, but we were also doubting our own abilities. That self-doubt was something that was holding us back. And this was something that we had to learn to overcome in order push forward.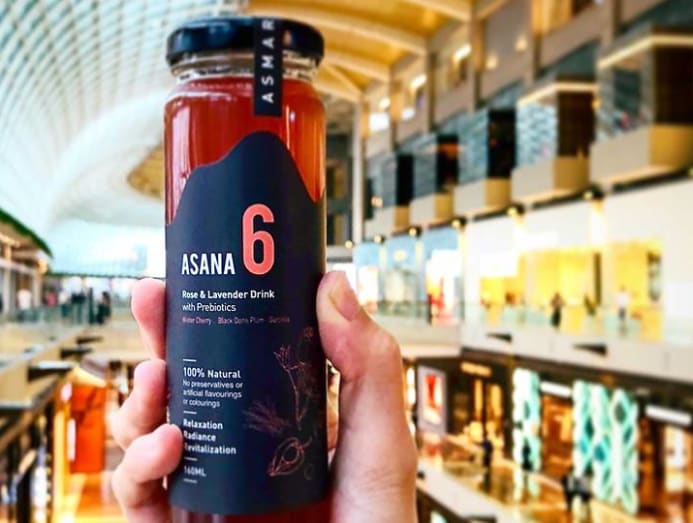 SO, DO YOU GUYS HAVE INVESTORS?
We were self-funded for our first year of business. Pin Da and I have put in a small amount of money from our savings. In that first year, the company was able to break even.
As I've mentioned, more than 15 investors have approached us after various trade events. We carefully evaluated all 15 investors, and we decided to say yes to an angel investor who had firm conviction and faith in us. Therefore, we took our first investment about 6 months ago.
As non-business people, investment, pitching, valuation and equity are things that we are totally unfamiliar with. We didn't even know what the definitions of certain business terms were. If you ask us what amino acids are, what are peptides, what is collagen, what are anthocyanins, we can tell you that, but when you ask us about various business technical terms, these are things that we are not familiar with.
I will never forget the first pitch that I gave. People asked a lot of questions on numbers, on the projections, on the equity, and I could not answer properly. But I told them very honestly what my vision was, what the current numbers were, and at the end, I still left the place with a smile because I knew that I tried my very best.
WHERE CAN CONSUMERS FIND ASMARA PRODUCTS?
Asmara beverages are available at Cedele, Redmart, Lazada, Mahota (Kitchener), Prime (Tampines), Scoop Australia (Tanglin Mall, Great World City, & Paya Lebar Quarter Mall), Bistro Gardenasia, Naiise (Changi Jewel, Wisma & Suntec), Veda Yoga (OUE Downtown), Goldhill Shopping Centre (Novena), TFX Gym (Funan, Millenia Walk, & Pacific Plaza), Functional Training Institute, Malayala Ayurveda (Fareer Park), Temasek Polytechnic (Blk 30), GrabFood, Deliveroo, Foodpanda, Shopee, Qoo10, Teapasar, FitLion, EAMart, Pristine Farm, OctoRocket and 99%SME.
WILL YOU BE LAUNCHING MORE PRODUCTS?
Yes, we have a very long pipeline of different products that we are going to launch soon. But our immediate plan is that we are going to launch six different types of herbal symbiotic powder blends. They are going to be versatile powders for food and drink usage. Each of them has different health functions and health properties, and they can be used in different applications such as milk, soups, confectioneries and as part of your daily meal.