Creative Capital: The food writer now baking sought-after wedding cakes
At Crummb, Teo Pau Lin makes every single spectacular cake herself, refining her unique architecture-inspired style.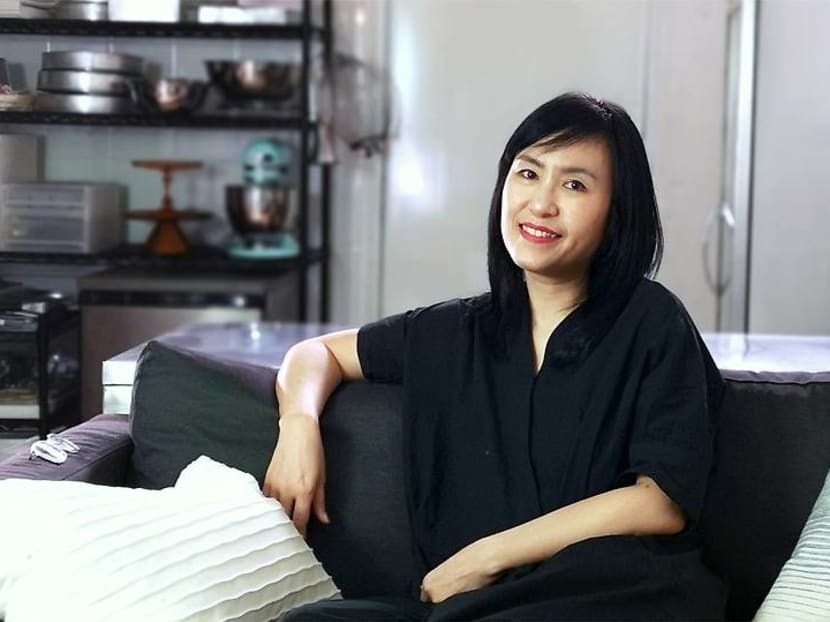 When I first moved back to Singapore, the food writers' circle was pretty small. There weren't that many publications that covered food, or at least covered food in depth enough, to have dedicated food specialists on staff. 
I wasn't one of these either, but I enjoyed eating out enough – and attended enough media tastings – to get to know these gustatory experts, so much so that I married one – who was when I first met her, the main food critic for 8 Days.
Another food writer I met back then was Teo Pau Lin, who wrote impressively and beautifully about our local restaurant scene.
Pau Lin worked in the media for 15 years, and then surprised us all. She retired from the media scene in 2013 to pursue a passion for baking. She started Crummb and has over the last seven years become one of the most sought-after wedding cake specialists in the country.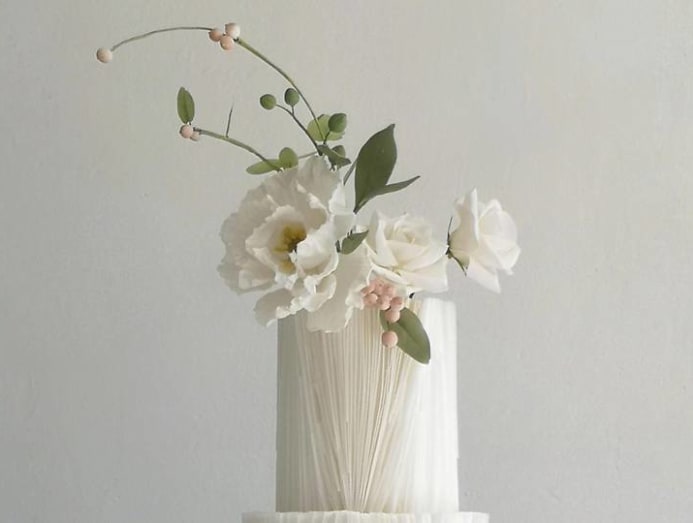 Her cakes are stunning. They eschew stereotypical wedding cake trends by focusing on and perfecting a unique style of architectural minimalism that transforms her confections into towering works of art.
With prices ranging from S$800 to a little north of S$3,000, each cake is made entirely by Pau Lin. And because she works alone, she is able to produce only a maximum of three cakes a week.
HI, PAU LIN. I LOVE THAT BACK IN 2008, YOU WROTE ON YOUR BLOG, "TEO PAU LIN IS A FORMER FOOD WRITER WHOSE REAL AMBITION IS TO BECOME A WEDDING CAKE MAKER. IN THE COURSE OF BAKING HER CAKES AND WRITING THIS BLOG, SHE NEGLECTS HER HUSBAND AND LEAVES THEIR KID TO THE IN-LAWS. ONE DAY, ALL WEDDING CAKES IN SINGAPORE WILL BE MADE BY HER." DO YOU FEEL YOU HAVE ACHIEVED YOUR DREAM?
I totally forgot I wrote that! But wow, it's amazing I'm actually making wedding cakes for a living, and still somewhat neglecting my husband. I don't mind that I'm not making all the wedding cakes in Singapore though – just three a week is killing me already.
WHAT GOT YOU INTO BAKING?
My mum baked a lot when I was growing up so it was always fun for me. I remember her sitting on the kitchen floor, pounding away on egg whites with those old-fashioned spiral wire whisks. Her chiffon cakes would sink one after another but she just kept trying. There's that element of cracking a secret code that's so mysterious and gratifying to me. Then, of course, you get to eat it afterwards. Best reward of all.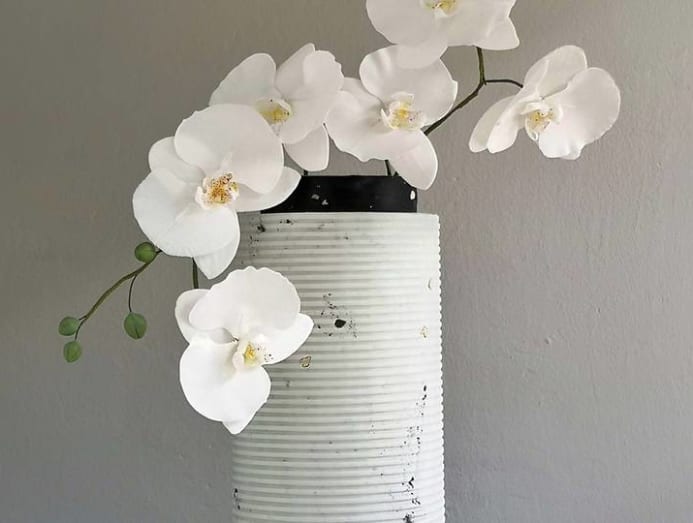 AND WHEN DID THIS PASSION TURN INTO SOMETHING YOU DECIDED YOU MIGHT ACTUALLY WANT TO MAKE INTO A CAREER?
When I got married in 2006, I was looking for a baker who could make me a super stylish wedding cake but couldn't find any. They were still making cakes with piped icing or cascading fresh roses. Very vintage and non-progressive. So when I quit journalism in 2010 after my second child was born, I thought maybe I could fill that hole. Surely there were others like me who liked cakes to look modern and more reflective of the times.
BACK IN 2013, WHEN YOU TOOK THE PLUNGE TO MAKE CRUMMB HAPPEN PROFESSIONALLY, WHAT WAS THE REACTION FROM FAMILY, FRIENDS AND COLLEAGUES?
My family was very supportive but I'm sure a few friends thought I was crazy. Most journalists move on to PR or teaching, not cake decorating. But to me, it wasn't such a big leap. They're just different forms of self-expression. When I was a writer, I expressed what I observed and felt about a subject, be it a celebrity profile or a food review. With cakes, I express what I feel is beautiful through the medium of fondant and sugar flowers.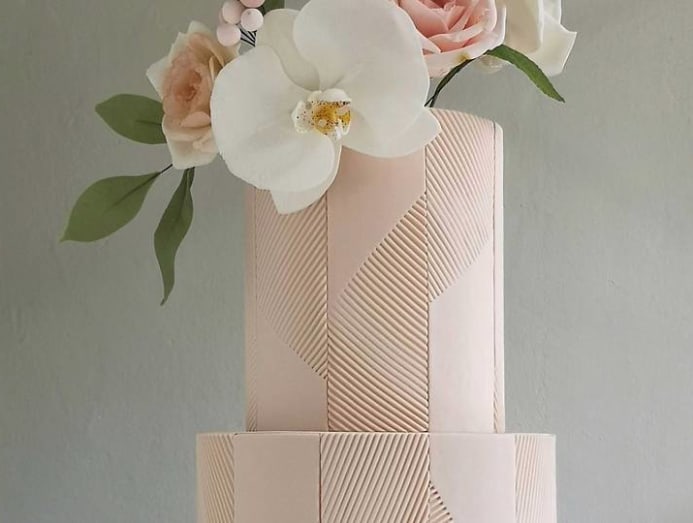 CAN YOU REMEMBER YOUR FIRST PROFESSIONAL COMMISSION?
It was a three-tier ganache birthday cake with colourful stripes and the finishing was terrible. I also left ugly scratch marks on the client's gorgeous stainless steel countertop because I insisted on finishing the cake on-site. The repair work I paid for was more than the price of the cake! I would give myself a D for workmanship and design, but A for effort.
YOU JOKE SELF-DEPRECATINGLY ABOUT BEING AN "ARTISAN". BUT YOU REALLY ARE, AREN'T YOU?
Yes, in that I work alone in some blink-and-you'll-miss-it studio out of town, and I obsess over details that no one really cares about. Like making sure my origami pieces are of a consistent thinness, or colouring the fondant a specific shade of mulberry blush. It's just that everyone and their grandma calls themselves artisans these days. The word is thrown about too much, which makes me mad when I'm holed up in my workroom cutting out my 70th petal to make one ranunculus.
YOUR CAKES HAVE A BEAUTIFUL ARCHITECTURAL MINIMALIST AESTHETIC. IS THIS A STYLE YOU CONSCIOUSLY DEVELOPED OR WAS IT JUST AN EXTENSION OF YOUR OWN NATURAL STYLE?
I love architecture and if it had crystallised much earlier in my life, I would've studied it at university. But it may be better that I can express this love through cake because I get a lot more freedom in executing my ideas without clients breathing down my neck. Plus, my works can be eaten.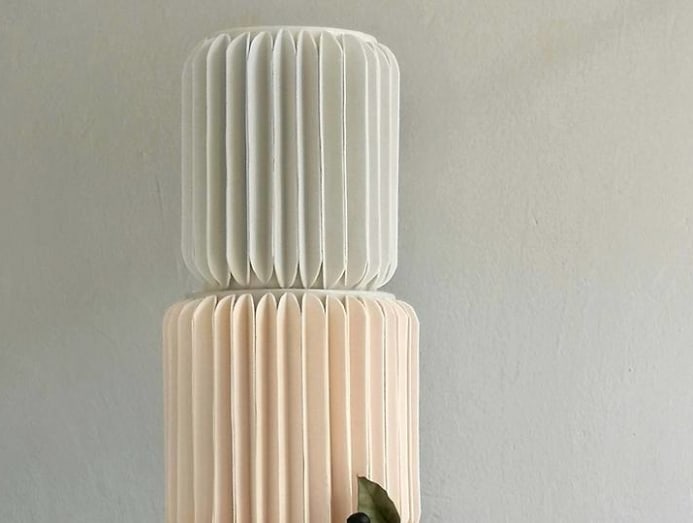 DO YOU DO PRIMARILY WEDDING CAKES? DO YOU TAKE ON COMMISSIONS FOR OTHER KINDS OF EVENTS OR CAKES?
I make wedding cakes 99 per cent of the time. I do get the odd anniversary or birthday cake but they tend to be for milestone celebrations because the minimum charge is S$800 – which I'm raising to S$1,000 from Jan 1.
I AM SURE YOU MUST HAVE A FEW BRIDEZILLA STORIES. CAN YOU SHARE SOME?
There's only been one. I had just started my business, and the bride was a young wealthy socialite. She was probably used to treating people like lackeys, because she insisted that I go to her house to pick up the payment deposit as she didn't know how to bank transfer. I ended up declining to make her cake, and she proceeded to tell me who her father was, where his business was located, and what a pity it was for me to miss out on making a high-profile cake. It was unpleasant at the time but quite a good story to tell now.
WHAT HAS BEEN THE MOST CHALLENGING PART OF RUNNING YOUR OWN ONE-WOMAN BUSINESS?
Learning how to say no when clients ask for discounts. Wedding cakes are a Western tradition and are only slowly being picked up as a wedding essential in Singapore. Most people don't understand why they should spend more than S$500 on a cake. So I have to explain that the product they're getting is a labour of love, time and skill, not some finished product on a shelf waiting to be marked up. Apart from this, I also find the washing up extremely painful.
AND WHAT HAS BEEN THE BEST?
Creating designs that have never been seen before. I try not to be too sucked in by social media, but some of the responses I get on my Instagram have been very encouraging.
LAST YEAR, YOU STARTED SELLING TEXTURED ROLLING PINS. THESE LOOK REALLY UNIQUE. CAN YOU TELL ME ABOUT THEM AND HOW THEY ARE USED?
It started with me wanting to create a texture on fondant inspired by suribachi, the Japanese ceramic bowl for grinding sesame seeds. To replicate the grooves inside the bowl, I used cheap agar agar cutters but they took ages to do. So, I decided to make my own grooved rolling pins that would do the job in a fraction of the time.
I've since sold them to bakers around the world and they've used them to texture fondant for all kinds of things, like rooftops and Captain America figurines. It's great.
OVER THE LAST FEW YEARS, THERE HAS BEEN AN EXPLOSION OF SEMI-PRO HOME BAKERS. WHAT DO YOU MAKE OF THIS TREND AND HAVE YOU TRIED ANYTHING FROM ANY OF THESE BUDDING ENTREPRENEURS?
I started out as a home baker too, so it's great to see more people allowed to do what we love and earn an income out of it. I haven't tried any of their stuff but I've made friends with some of them.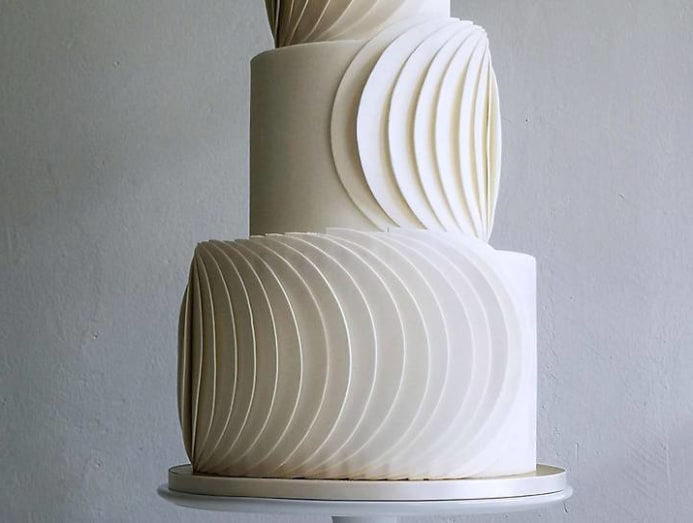 WHAT'S YOUR DREAM COMMISSION?
I've had a few and hope for more – commissions that allow me to create anything I want.
AND ARE YOU HAPPY WITH WHERE CRUMMB IS TODAY OR DO YOU HAVE LOFTIER DREAMS FOR THE BRAND?
I still pinch myself sometimes because I can't believe I'm really doing this for a living. But cake making is physically punishing and I can't imagine continuing in my old age. So I plan to phase out of making real cakes and into teaching new techniques through online tutorials. This way, I still get to be creative - and there will be no more washing up.