Creative Capital: The man who designs cutting-edge knives that sell beyond Singapore
Jefferson Ho gave up an almost two-decade-long career in advertising to set up Singapore's first artisan knife company.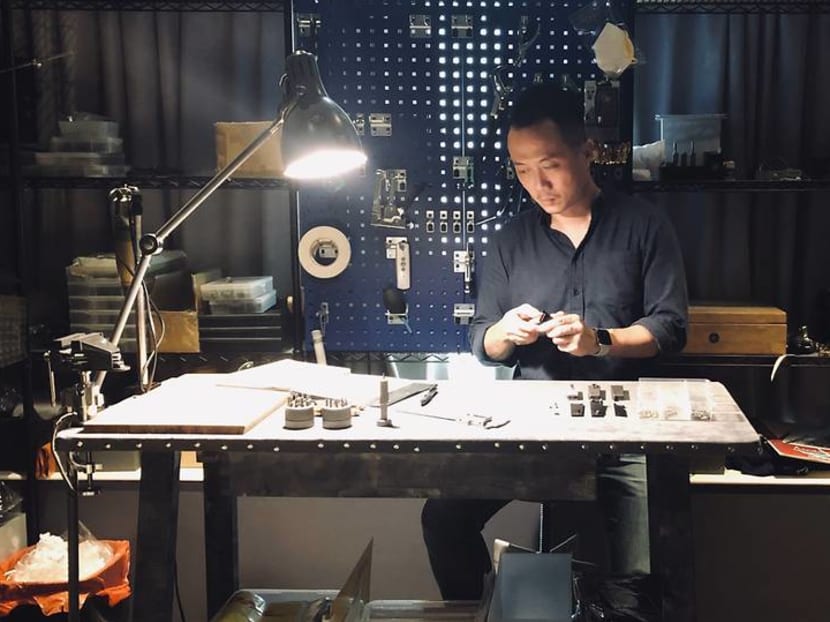 I've always been a knife guy. I think it's inevitable that anyone who loves to cook gets into knives. For me, a beautifully crafted and designed knife represents a fantastic confluence of craft and design.
My obsessive passion culminated in me enrolling in a professional blade smithing programme in Australia, learning how to forge knives and assemble them by hand. After my return, I thought I was the only knife maker in town. But then, my wife, always ready to politely burst my bubble, pointed me to the @JHOknives Instagram feed. The knives and other tools on the feed were dangerous, sexy, gorgeous – and did I mention dangerous?
The pieces were stunning, but naïve husband that I am, I didn't quite understand why Su-Lyn had pointed it out. I thought she was just sharing it with me for inspiration. But then, I noticed the feed was followed by a few local friends, notably friends with very good taste in design. And that's when the penny dropped and I realised that JHO Knives is local, and can very well lay claim to being the first artisan knife company in Singapore.
Of course, I had to get in touch with its founder Jefferson Ho as soon as possible. Jefferson is a former Creative Director who spent 17 years in advertising. Three years ago, this very successful ad man decided to embark on a new challenge – building a small artisan business around products entirely designed by him. He jokes that while he runs this business, sometimes it feels like a part time job – he says it sometimes feels like he spends more of his time looking after his baby boy, his dogs and cooking for his family.
I'm very grateful Jefferson took the time to speak with me and truly excited to have discovered his business.
CAN YOU TELL ME HOW JHO KNIVES WAS FOUNDED? WHAT WAS THE INSPIRATION AND WHAT GAVE YOU THE CONFIDENCE TO MOVE FORWARD WITH THIS BUSINESS?
It kind of comes down to the notion that I love to occupy my head with thoughts and ideas. Some three years ago, my brother-in-law, who is a fan of pocket knives, told me I should design some knives. He planted the idea in my head; he gave me something to think about. I started designing in my head, and then on paper. When I was ready, I contacted a bunch of manufacturers and eventually I got some of these designs produced. The process didn't take very long. With globalisation and the internet, everything is made easier.
I know that sounds simple, but you have to understand: I have been an artist all my life and spent years in advertising. I've been trained to visualise an idea and execute it. It's really a mindset – having the willingness to start something with the resources you have, being adaptable and tweaking it until you are happy with it.
DID YOU KNOW YOU WANTED TO DEDICATE YOURSELF TO JHO FULL TIME WHEN YOU STARTED IT?
I wouldn't claim that I dedicated myself to JHO full time. JHO Knives does fit into my life and schedule nicely. It's pretty enjoyable and running the business is now part of what I do every day. I knew from the beginning that this was the kind of business I wanted to own and run. The flexible hours and being able to run it alone is great. And the products are stimulating. There are many types of start-ups. I guess the secret is to create something that best suits your lifestyle, personality and interests; then it will become a part of your life.
HAVE YOU ALWAYS BEEN INTO KNIVES? WHAT WAS THE FIRST KNIFE YOU REMEMBER SEEING OR OWNING THAT REALLY EXCITED YOU?
I've always liked the idea of knives. Think about it. They are one of the first tools humans made. And if there were only one tool you could have, it would probably be a knife. After thousands of years of human evolution, the knife is still relevant. Maybe I am old-school or maybe I am just older. When I was growing up, playing with knives and setting things on fire was fun.
TELL ME ABOUT YOUR DESIGN PROCESS. WHAT INSPIRES AND INFORMS YOUR DESIGNS?
I don't really have a design process. But I do have a design philosophy. The designs and products need to have a place in the world. And they need to be unique. I feel that's the best way to cut through the clutter. I spend very little time designing and when I do, I reach a conclusion fairly quickly. I work very organically. I wait for an idea to come to me and I believe in my instinct. I also try to resist the urge to over design something. That is why my knives and tools are pretty recognisable. They are simple and clean. I am always on the lookout for well-designed goods, and the internet is a wonderful place to look at stuff. I do it every day. One of my favourite websites is Uncrate. And one of my favourite brands is Hardgraft.
DO YOU CONSIDER YOURSELF A DESIGNER OR AN ENTREPRENEUR FIRST AND FOREMOST? WHEN YOU STARTED THIS, DID YOU HAVE A BUSINESS PLAN OR WAS IT A PASSION PROJECT?
My definition of an entrepreneur is someone who takes on a financial risk in the hope of profit. In that sense I would consider myself a designer. I want to bring joy to people with my purposeful products. In my opinion, that is more rewarding than balancing the books all day and chasing profits.
Starting a business is one of the toughest things to do. There is no rulebook. You can basically do whatever you want. Some people get overwhelmed by the limitless options and possibilities. You do need a plan and a vision.
WHAT WAS YOUR WIFE'S REACTION TO YOU WANTING TO START JHO KNIVES?
My wife thinks that I am a little weird and crazy and she probably thinks that JHO knives is one of the more sensible decisions I have made lately.
AS FAR AS I CAN TELL, YOU'RE THE ONLY PERSON IN SINGAPORE MAKING THESE KINDS OF KNIVES. DO YOU THINK OTHERS WILL FOLLOW IN YOUR FOOTSTEPS?
Follow my footsteps in creating a knife brand? It's a little tricky. There are a lot of things to figure out, but I am doing it, so it's definitely viable. I would love to see more local brands and products, but the Singapore market is small, so marketing the products internationally is the way to go. That's the tricky part.
SO ARE MOST OF YOUR CUSTOMERS INTERNATIONAL THEN?
Almost ninety percent of my customers come from the USA and Canada. Some of my products are featured on websites, Pinterest and blogs. That's how most people got to know JHO Knives. I am pretty active on Instagram, with slightly over 10k followers. That's where I make all of my announcements and launches.  All of the social media and web viewers are channelled to my webstore (jho-knives.com) where customers can purchase my products.
WHAT'S BEEN THE HARDEST PART OF THE JOURNEY SO FAR? HAVE THERE BEEN ANY REAL LOW POINTS?
The hardest part has been figuring out everything alone. I try to learn from mistakes and setbacks. You have to believe that there are no low points, only lessons to be learned.
AND WHAT'S BEEN THE MOST REWARDING?
Being recognised for the work – receiving kind emails from customers, being featured on sites and in the media. That's really nice.
AS A FORMER CREATIVE DIRECTOR AND NOW A CREATIVE ENTREPRENEUR, WHAT'S YOUR TAKE ON CREATIVITY AS A WHOLE IN SINGAPORE?
I think truly creative people are those who often have opposing thoughts in their head. They are also very open-minded; they tend to ignore rules; and most importantly they are independent thinkers who are flexible when connecting the dots. You cannot create, teach or un-teach them. Only a small percentage of our population is truly creative. We have a small population so naturally we have a very small pool of creative people. One quick way to increase the number is to attract them. Look at London. Almost all cars are designed in London. And it's home to some of the best designers, creatives and artists – many of them are foreigners. As for creating the right environment for creativity, I think, for a change, we can learn something from China. Somehow, despite its strict censorship and control, like Singapore, there is an air of freedom, positivity and creativity (that is) slightly lacking in Singapore. That kind of atmosphere attracts creative people.
WHERE DO YOU SEE JHO KNIVES IN THE FUTURE? WILL WE SEE OTHER KINDS OF PRODUCTS UNDER THE JHO BRAND NAME?
JHO Knives is small and manageable; I'd like to keep it that way. As for the brand, I like how it is now: Understated and unpretentious. I don't think it will evolve. I like to move slowly and not diversify too much. If I do so, it will dilute the brand.
WHAT'S BEEN THE HERO PRODUCT SO FAR?
I must say they are all very unique but there are two knives that define the brand and have been very well received. They are The Nug and GS2.
WHAT'S NEXT?
JHO Knives is a work in progress. I don't think it's a success yet, so I will continue with the work. But I have to admit that I am also very impulsive, so if something interesting comes along, I will jump straight into it.