Creative Capital: The former chef who now designs edgy kitchen workwear
If you've wondered where chic establishments such as Nouri, Cloudstreet and The Lokal get their aprons – here is the woman behind those designs.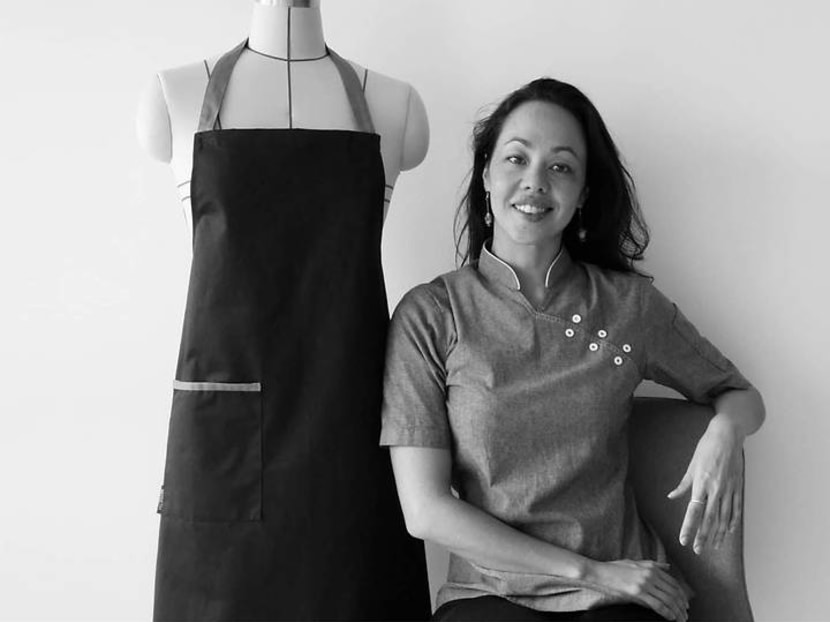 Jennifer Angela Lee first landed in Singapore back in 2011 to start Sarnies, an Australian themed cafe that she founded alongside her brother. Two years later, the then-32-year-old self-trained chef went travelling around the world, first to Sicily and then to Latin America, where she ended up living for the next two years. In 2015, she was lured back to our shores to open Vasco and take on the mantle of Head Chef.
While there, Jennifer soon built a following. People loved her food. And they also loved just how down-to-earth and charming this Aussie-Chinese Sydneysider was.
Jennifer's latest venture is Mizbeth, but, no, it is not a restaurant. Mizbeth is a uniform business that this fashion design graduate quietly launched last year. Using her academic training and the experience of working in the kitchen, Jennifer is making attractive, functional workwear for chefs and F&B professionals. And while the business was originally founded to cater to women, it has quickly evolved to cater to everyone.
HI, JENNIFER. TELL ME ABOUT MIZBETH. WHEN DID YOU DECIDE TO LAUNCH THIS BUSINESS?
It goes back to Vasco. When I was working in Vasco's open kitchen I felt too "cheffy" in the white jacket that I was originally expected to wear. I am not a trained chef and always felt a bit out of place wearing the professional jacket. It was also heavy and hot to wear behind the stove. The design was 'unisex' but even the smallest size was boxy and I just felt plain frumpy wearing it.
Being a head chef who was female when Vasco opened was really fortunate. I was able to land some fun events and gigs both in and out of Singapore. I wanted my chef jacket to look a bit different and funky at these events, and I guess that's how it all began. I first started covering my jackets' buttons in brightly coloured pieces of fabric. That led to me designing a personal chef jacket for various events that fit well and had a splash of colour.
The jackets were still a little hot to wear in the kitchen as my tailors had suggested proper 'uniform' fabric, which is standard twill – 65 per cent cotton, 35 per cent polyester. So I decided to design a lightweight chef shirt that I could wear to work with a pair of jeans – you know, something I could wear for prep and take home and throw in the wash like any regular shirt, but that also had the functional pockets and tabs of a chef coat. This is nothing new. There are companies doing similar items abroad. But if you add up the shipping for these items to arrive in Singapore, you would be paying up to S$150 for a short-sleeved chef shirt that would also be suited to larger western frames.
The idea of Mizbeth was originally to cater to female chefs in Asia. The thought was to create clothing for a market that was not catered for strongly in Asia.
But when I started off, I started receiving orders from friends in restaurants who needed aprons. When Nouri approached me, I was excited, terrified and I couldn't say no! This was my break, and I will be forever grateful for the opportunity and their trust in me.  Through each new client I have tweaked designs a little and learnt more about fabrics, trimmings and sourcing quality hardware around the world. Manufacturing has been the biggest challenge and I went through some not-so-honest ones until I found the right one.
I NEVER REALISED YOU STUDIED FASHION DESIGN. DO YOU FEEL LIKE YOU'VE COME FULL CIRCLE NOW THAT YOU'RE MAKING UNIFORMS AND APRONS FOR THE RESTAURANT INDUSTRY?
I guess I really have come full circle. But when I was fresh out of design school, I was actually fascinated with eveningwear and prioritised aesthetics in design. I now enhance design with functionality, comfort and fit. Honestly, it was never my intention to design and sew again professionally. Working in the food and beverage industry has always been such a big part of my life. But when I started working as a chef, I really wanted to wear something comfortable and not so 'chef uniform' like.  
HAVING BEEN A CHEF, ARE YOU BETTER ABLE TO DESIGN FUNCTIONAL UNIFORMS AND APRONS?
I think working in the kitchen and talking to other female chefs has enabled me to understand what is needed or wanted for a good chef jacket or apron. I have also gained so much knowledge from my different clients in terms of design, functionality and fabrics, depending on the style of the venue.
WHAT WERE SOME OF THE THINGS ABOUT EXISTING CHEF'S UNIFORMS AND APRONS THAT ALWAYS BUGGED YOU?
I think some existing chef labels are amazing and provide great traditional chef uniforms. These are more high-end brands from Europe that also have a high price tag. The other alternatives are cheaper jackets that are heavy and/or high in polyester.
As mentioned, at Vasco, I worked in a casual, open kitchen, which allowed me to jump on the floor and talk to the guests, and I always felt uncomfortable in my formal chef whites. I just wanted to create clothing for the kitchen that was both fashionable and most importantly, functional and comfortable.
DO YOU MISS BEING IN THE KITCHEN?
Yes and no. I miss the rush of service and talking to customers every day. I love the camaraderie of the kitchen and the bond you create with the people you work with. I will always love the creative aspect of cooking, which I still indulge in when entertaining friends or creating recipes and articles for a few magazines and my personal website.
But I think I was at a point in my career where I wanted to do more and explore a world outside of the service industry. I loved my job in the kitchen and the wonderful opportunities that opened up while I was there. It was difficult when I first left as the kitchen was my life, but now, I thoroughly enjoy the flexibility and freedom of running my own business – and there is no one to blame when things go wrong but myself!
WHAT ARE SOME OF THE SIMILARITIES AND DIFFERENCES BETWEEN RUNNING YOUR CURRENT BUSINESS AND RUNNING A RESTAURANT OR A KITCHEN?
Producing a garment and producing a dish are quite similar. You go through the design and research process, select the various ingredients and elements, and then put it all together. Adjustments are made afterwards and then thought needs to go into how the production line or service will work.
Organisation is key but in very different ways in the kitchen and in a clothing manufacturing process. Timelines in the kitchen were always set by when staff could prep, when the venue opened and closed, when orders and deliveries could be scheduled, and so on. Now, I have to set my own timelines and milestones for the business, which requires a little more effort because it's just a team of me. It's about being motivated and staying motivated.
In both though, mise en place saves your arse. When doing a production line for garments, all the pattern pieces must be cut and prepped to be constructed together. If things aren't in place, it slows the production down. This is the same in a kitchen. If you haven't done the preparation, it will be a very bumpy service.
HOW DID THAT FIRST COMMISSION FROM NOURI COME ABOUT?
I was extremely lucky, and I will be forever grateful that Nouri approached me to create their uniforms. They took a chance on me. Once upon a time, Vasco and Nouri were neighbours on Hong Kong street – that's how I came to know them.
It was Chef Ashlee (Malligan) who reached out to ask if I was still doing uniforms, and that's how it began. It was my first account and it gave me that street cred, which steamrolled into a variety of wonderful clients in Singapore and Thailand.
DO YOU ALSO SELL TO THE PUBLIC? CAN US HOME COOKS BUY AN APRON OR A CHEF'S JACKET FROM YOU?
Yes!  The last year I have been caught up in custom orders, but my retail range will be online within the next months. It will include jackets and shirts for women and aprons for both men and women.
IT WAS SO GREAT TO SEE THAT YOU WERE MAKING FACE MASKS AND SENDING THEM OUT FOC. HOW HAS THE CURRENT CRISIS AFFECTED YOUR BUSINESS?
The masks are a way for me to contribute to the current situation. All businesses are hurting at the moment and it pains me to see restaurants, bars and cafes struggling. As a small business there is only so much I can do and give, so the masks are a small way for me to contribute to the current situation. 
And yes, COVD-19 has completely impacted my business. As you can imagine, orders have slowed down. But it was always my intention to set up an online store and now I have some time to focus on designing the website and the production of the range. So, I'm trying to stay positive.
WHAT'S NEXT FOR MIZBETH?
I'm excited to launch our first collection online in the next few months. It will consist of shirts, jackets and aprons made from cotton-rich fabrics and Japanese denims. And some will have some cool, funky prints. I'm also currently prototyping some accessories made from the production offcuts.
AND WHAT'S THE BIG DREAM FOR THE BUSINESS?
Mizbeth is clothing for work and play, a uniform without really looking like a uniform. I also want Mizbeth to become a platform to showcase artists and designers in the region, to spotlight a variety of venues and personalities that inspire us, and to talk about mental health, fitness, work-life balance and other struggles this wonderful yet harsh industry throws at us.