Creative Capital: The ad man who inserts Singaporeans into classical paintings
Singaporean artist Hafiiz Karim also does mashups of contemporary art references, manga characters and even Disney princesses.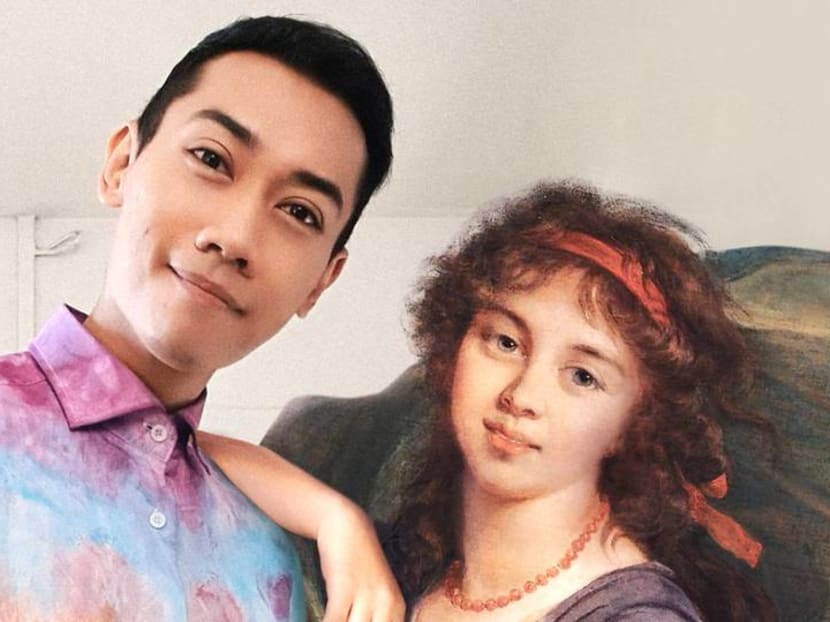 In a year in which we all needed something to make us smile, Hafiiz Karim's Instagram feed, @thenextmostfamousartist, is in so many ways, the perfect panacea to our pandemic blues. While this millennial artist has been posting for years, it felt like everyone discovered his brilliant, whimsical, and beautiful digital artworks only last year.

An advertising professional with a Master's degree in Asian art history, Hafiiz splices everyday life with references of historical artworks. The results are smart works that are eye-catching, memorable, often fun and just as often, imbued with social commentary.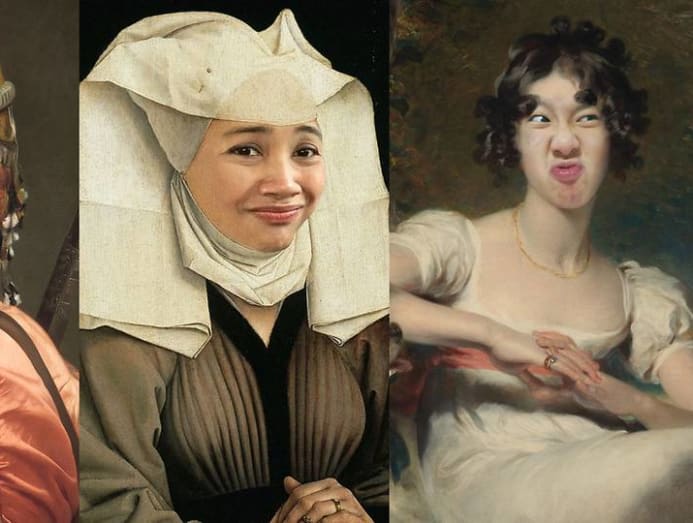 HI HAFIIZ, WERE YOU ALWAYS INTO ART EVEN WHEN YOU WERE YOUNG?

I was always very interested in the act of creating. As a young boy, I used to watch art-related television shows like Art Attack or Finger Tips on Kids Central, and I would always attempt to recreate their projects and learn new techniques from it. I remember my dad encouraging me to try out the projects and not just watch them on TV. 
In addition to the shows, my parents were also very influential in my interest in art. My dad was very skilled in woodwork and electronics, and my mum always found time to be creative like sewing, baking and painting. Even though they did not pursue any art-related career, there was always a creative vibe at home.

YOU RECEIVED YOUR MASTER'S DEGREE IN 2019 BUT YOU WERE ALREADY INVOLVED IN ART PROJECTS BEFORE THAT. WHAT PROMPTED YOU TO PURSUE THE MASTER'S DEGREE?

It all started from this project as a creative intern in an advertising agency. I had to edit a flyer for Lasalle that was promoting its post-graduate courses. At that point of time, I was still unsure of my path in life but I knew I didn't want to stop learning. 
I was immediately drawn to the Asian Arts Histories course as I wanted to learn more about what Asian artists did in the past, and how they used art to convey ideas and uncover issues that were important to their cultural spheres. 
It was an opportunity for me to learn from the best and pick new ideas for my own body of work. The thought of becoming an art historian or a curator for an art museum did cross my mind and that influenced my decision, too.

ARE YOU STILL WORKING IN ADVERTISING OR ARE YOU FOCUSING ON YOUR ART FULL-TIME NOW?

I am focusing on my art, and more importantly, my mental health as I try to reconnect with my joyful and creative self that I thought I had lost. Gaining confidence in my creativity and solidifying my identity have been a tough journey. But art has helped me a lot through that and more.

YOUR FEED BECAME POPULAR QUITE SUDDENLY LAST YEAR. HAS LIFE CHANGED IN ANY WAY OVER THE LAST HALF YEAR OR SO?

Having people take interest in my art is very flattering as it gave me the opportunity to work with other fantastic creatives from other industries like fashion, publishing and, of course, the art world.

YOUR WORKS JUXTAPOSE CHARACTERS FROM DIFFERENT MEDIUMS WITH REAL LIFE. WHAT WAS THE ORIGINAL CATALYST TO EXPLORE THIS MEDIUM?

Initially, I thought that my introduction to art history during my Master's degree programme was the impetus to my artistic style. While my education in art history and my experience in advertising did spark the idea to create the Visitors Of Singapore series, I have to give credit to a course I took at the National University of Singapore, Digital & Interactive Collage. It was taught by my professor, Anne-Marie Schleiner, who exposed me to the beauty of remixing and collaging. 
I fell in love with the idea of taking subject matters from juxtaposing sources and mashing them to create a new experience. For example, it could be taking a clip of a vintage Tamil dance and syncing it to Tchaikovsky classical music. Or taking an image and converting it into an audio file, distorting it and then converting it back into an image to produce a glitched visual. 
For my body of work, the process of collaging and remixing is an art form that should be valued far beyond the final aesthetics. It suggests that concepts like finality and binary are the enemies, while fluidity and multiplicity should be celebrated. This is why I love it when my followers re-narrate my artworks by reposting them and telling their own stories based on them.

HOW HAS YOUR STYLE CHANGED OVER THE LAST YEAR?

I have experimented with different kinds of pairings in my work over the past year. From superimposing classical works to real-life scenarios, I moved to mashing Japanese ukiyo-e figures with Disney classics. Then, I reimagined Disney characters as regular people living regular lives. 
While they are created with the same technique, each of these mashups communicates a different concept and triggers different emotions in the audience.

WHAT DO YOU HOPE PEOPLE THINK OR FEEL WHEN THEY LOOK AT YOUR WORKS?

I hope that people see my works as more than well-composed memes. Even though some of them are funny and beautiful, they go beyond to empower the viewer, and provide an incredible potential for communication among people from different cultures and countries on social media.

IS THERE A PIECE THAT HAS RESONATED THE MOST WITH THE PUBLIC?

The works that got the most engagement are the ones that poke fun at everyday situations that are frustrating and relatable. This could be the challenges of working from home, dealing with clients, or even the craving for bubble tea. 
The meme-able quality of some of my works offers my art a framework for understanding the power of social media art in its communicative, emotional and personal nature.

HOW LONG DOES IT TAKE TO THINK UP AND CREATE EACH PIECE? IS EVERY PIECE AVAILABLE AS A PRINT FOR SALE?

The conceptualisation of each piece takes longer than the actual creation. It's all about finding the right story and composition. Only my art history pieces are for sale as limited-edition prints. Consumers have the option of buying them in three sizes: 12 by 12 inches, 16 by 16 inches, and 20 by 20 inches.

WHICH IS YOUR FAVOURITE PIECE TO DATE? AND WHY?

It's hard for me to choose one but it would be the piece titled, When You've Done Enough Socialising For The Day. It depicts a scene of Ophelia in a bathtub of water recovering from an introvert hangover. It's one of my favourites because her expression and the entire context mirror my identity all too well! 
I also loved the pieces I created for my followers, who participated in this collaborative exercise I did on Instagram Stories. I asked my followers to send their ugliest or funniest facial expressions, and I turned them into classical portraits. 
It was a good opportunity for me to focus on building deeper and more authentic connections with my followers by turning them into works of art. And they also got a chance to know more art historical paintings.

DO YOU WORRY YOU WILL BE STUCK AS THE DIGITAL COLLAGE GUY? I WOULD IMAGINE YOU HAVE TONS OF IDEAS FOR OTHER KINDS OF ARTWORKS.

I do not worry about labels because I tend to ignore them. If viewers see the value of my art in its artistic, reflective and communicative potential, then I'm doing my job.

SOCIAL MEDIA HAS PLAYED A LARGE ROLE IN HELPING YOU REACH YOUR AUDIENCES. WILL YOU BE PURSUING THE TRADITIONAL GALLERY OR ART DEALER ROUTE AS WELL?

I've promised my artworks that I'd free them from the confines of the conventional museums and galleries they were once in for the longest time. It would be disrespectful to these classical figures to bring them back to the white cube. These figures have tasted freedom that favours multiplicity after being trapped in the clutches of art institutions. 
Having them roam around in social media or public spaces like the malls or bus stops creates an autonomous sphere, where the dominant position of the elites seems to evaporate, leaving room for the everyday viewers to encounter art in a less daunting way.

WHO ARE THE LOCAL ARTISTS THAT YOU LOOK UP TO AND RESPECT?

I really look up to Ezzam Rahman and how he fearlessly expresses his artistic style through various mediums.

WHAT CAN WE EXPECT FROM YOU IN 2021? 

You just have to follow my Instagram account and find out!