Creative Capital: The Singaporean brand builder selling yoga mats and more
Heikal Gani has built several brands, including Sugarmat for yoga lovers, Indochino for men's tailoring needs and most recently, Lasouk for contemporary Muslim women.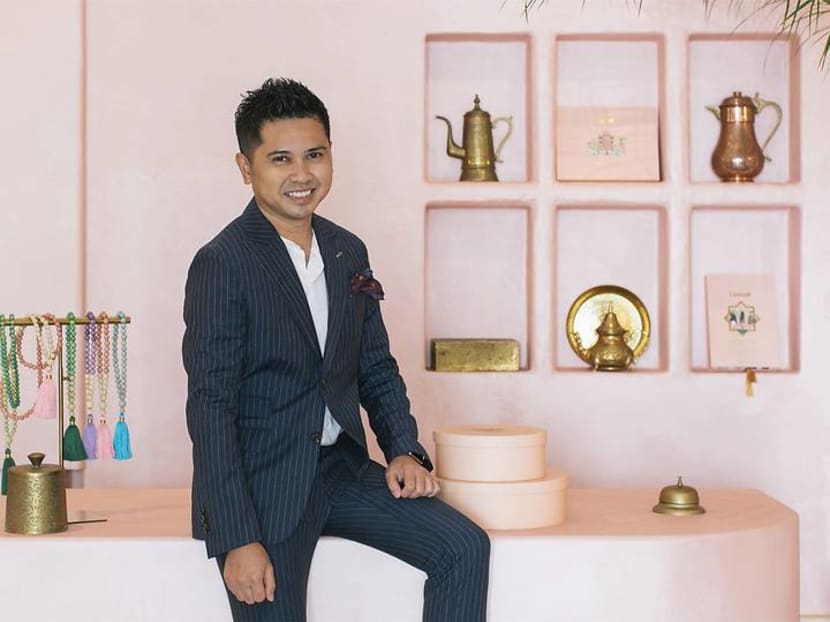 One of the fallouts of the pandemic that many of us forget is that it has displaced thousands of people – students, workers, business owners, etc.
One of those people is 39-year-old Heikal Gani, a successful Singaporean businessman who, until the circumstances of 2020, has been living overseas since his university days.  
Heikel usually shuttles between Montreal and Shanghai, but thanks to what was meant to be a quick trip home, he's been here since March, with no timeline on when and if he will leave.
As an entrepreneur, he has also kept himself crazy busy. Already the founder of a successful online men's tailoring company, three years ago he set up Sugarmat, a yoga and yoga accessories company, which was selling its wares primarily in North America and China.
Heikal has taken the time at home to set up a new Singapore office for Sugarmat and has been using this new base to service regional orders, expanding his market share tremendously.
And if that wasn't enough to keep him busy, he also, during Circuit Breaker, launched a new global company, Lasouk, which sells contemporary prayer mats, beads and robes for the modern, confident and stylish Muslim woman.
HEIKAL, WHERE ARE YOU NOW? ARE YOU STILL IN SINGAPORE?
I've been 'stuck' in Singapore since late March. I left China in February, where my office of 20 staff are based – I also have 5 staff in Montreal – just before Chinese New Year.
I came back to Singapore for a quick visit. I had planned to head off again to give a speech at an all-women's digital conference. When I was on the plane here, I received news that the event had been cancelled. Then my plane was delayed and landed in Singapore past midnight, the deadline after which all incoming tourists and returning Singaporeans needed to be placed under Stay Home Notice (SHN). That was a signal to me that I was in for a ride.
I am probably not travelling out for the time being. I feel like the way we've been working now, although imperfect, has been going quite well, especially with me and the three offices I have now in Canada, China and Singapore. Once it's safe to travel again, I am probably going to take a slightly lengthy vacation because this has been quite a year in terms of productivity, success and challenges.
YOU LEFT SINGAPORE AT A PRETTY YOUNG AGE. DID YOU EVER EXPECT YOU WOULD HAVE TO SPEND A BIG PART OF THE YEAR BACK IN YOUR HOMELAND?
I left Singapore at the age of 20, after my national service, for university studies in Victoria, Canada. I then left Canada to live in Shanghai for 12 years. This year has been the longest time I've been back in my home country, so it's safe to say I never thought I would be back home for this long.
HAS SINGAPORE CHANGED IN ANY WAYS THAT SURPRISED YOU?
I love the expediency and efficiency of running a business in Singapore, from setting up a new business, importing products and hiring expertise to help you run the business. What I fear is going away is the sense of resourcefulness and grit that I see in other countries, especially since I've been in China for over a decade. I've seen how China's cities have become truly cosmopolitan. They have a make-do approach and the highest sense of creativity in dealing with problems and difficulties, which can only be limited by their own imagination. This mindset has undoubtedly really helped me build my brands.
HOW DID YOU INITIALLY DEAL WITH BEING STUCK BACK HOME?
I have adequate staff in Shanghai and Montreal, but during the "circuit breaker" in Singapore, I had to work mostly on my own here. I became the logistics manager, marketer, packer, customer service officer, warehouse manager – you name it. It does remind me of my first year of Indochino – being in a foreign land, speaking little of the language, buying, stocking, cutting fabrics and thereafter sending them to the tailors, packing and sending the suits to clients all over.
So yes, I guess things were tough, but I would say I couldn't have been any more prepared or ready for this situation. I had enough tools and tricks to work through issues. It also laid the groundwork for expanding my business in Singapore.
ONE OF YOUR THREE BRANDS IS SUGARMAT, A YOGA MAT AND APPAREL COMPANY. DO YOU THINK THE ATHLEISURE MARKET IS REALLY CROWDED?
The athleisure field is definitely crowded, but it is also still a fast-growing market, and when I feel I have a unique point of view on the market, I like to tell that story. I think with existing brands like Lululemon and Manduka, these brands are inclined to be more serious, professional, and all about winning. Though there's nothing wrong with that ethos, I like to offer something more relaxed and happy, and I think a great deal of customers have a lighter attitude on their workouts. They want to have to fun working out. That's what Sugarmat embodies.
We launched three years ago and we've grown to the middle of seven digits in that time, with most of the growth actually taking place this year. We doubled our revenue compared to last year, selling about 150 mats a day. This growth has to be attributed to the pandemic, in which we see people working out at home. But the growth is also because I've also expanded to many new markets, including Singapore.
Setting up a regional office here has laid that ground work for us. We now have products warehoused in South Korea, Japan, Hong Kong, Malaysia, Indonesia and Germany, besides the ones we have in the States, Canada and Singapore already. In fact, Singapore became our fifth biggest market during the circuit breaker, which is huge because we've never done any marketing in Singapore at all.
I LOVE THE PACKAGING AND DESIGN FOR SUGARMAT. HOW INVOLVED ARE YOU IN THE ART AND CREATIVE DIRECTION?
I have a creative team that helps to design and source elements of the project, but every idea on packaging and product begins with me. I either sketch or give the team a rough design to be polished or sampled, and we work on a few iterations before we reach a final sample. During the process, we tend to take a holistic view, not only working out the design aspects but also exploring the messaging and the potential ways in which customers will interact with the new product. This process could be different, but over the years this way has worked out really well for me and the team, and ultimately benefits our customers.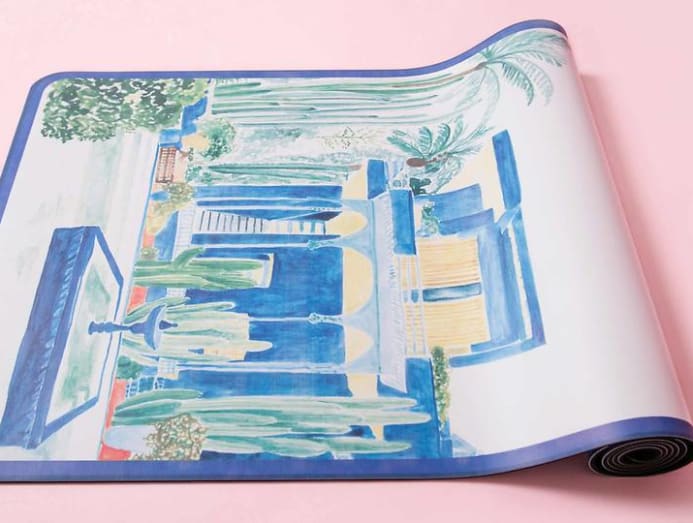 TELL ME ABOUT LASOUK. WHAT WAS THE INSPIRATION FOR THIS BRAND?
Over the years, I have travelled to Marrakesh, the main inspiration for the brand, many times and just love how culturally diverse the Muslim population is there. It is amazing to see the architecture and designs that meld Islamic architecture with a strong Andalusian and European influence. There are a lot of Sufi elements, which is the mystical dimension of Islam that emphasises introspection and spiritual closeness with God, and directs followers' attention inward. I like how progressive and contemporary that whole idea is, for a society that lives in devotion to God while living in such great and magnificent beauty.
I THINK THE YOUNG OR HIP MUSLIM MARKET IS A MYSTERY FOR MANY OF US. CAN YOU GIVE ME A LITTLE MORE INSIGHT INTO YOUR CUSTOMER BASE?
I did tons of research on who my ideal customer was, and there seems to be a consistent theme. We see the rise of the outspoken 'futurist' Muslim woman – one who is comfortable in her own skin, knows what she wants and stays firmly rooted in the values that define her. We are targeting millennial-spirited Muslim women from the age of 20-45 who are socially engaged, tech savvy and self-empowered. These are individuals who are fully engaged with the world. They are also consumers with increasing disposable income; they are brand conscious and loyal, and hold brands to account. These girls are well-travelled, cosmopolitan, spiritual and modern.
HOW HAVE YOU GOTTEN WORD ABOUT LASOUK OUT TO CUSTOMERS?
Digital marketing, social media and word of mouth are the go-to tools I tend to play with whenever I start a new project. While we are always trying to be creative in our marketing outreach with customers, the rudiments of digital marketing are always pretty clear: We have to make our ads appealing to our target audience, and this involves testing and constantly monitoring data.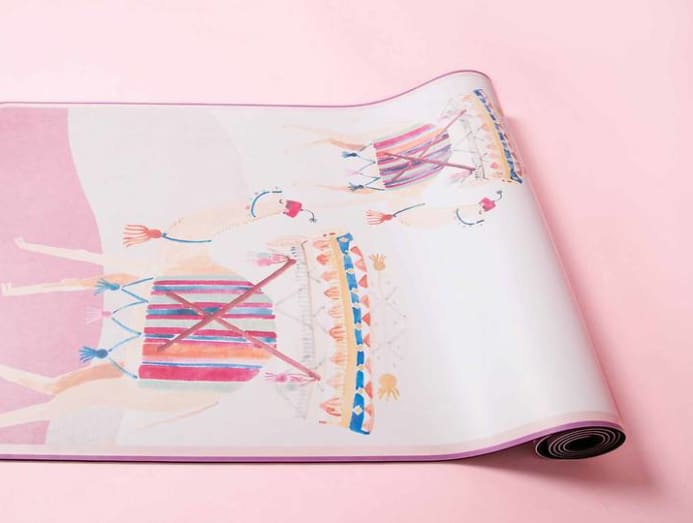 CAN YOU TALK TO ME ABOUT THE PRODUCT RANGE?
Moroccan-inspired all the way through. Our first prayer mat collection was so successful that all the subsequent product designs have stayed true to the idea of celebrating Marrakesh. That said, we didn't set out to be exclusively Marrakesh. But it would be foolish not to develop things that your existing customers love. I would say Lasouk's products are unabashedly contemporary and designed to pull at the heartstrings of our customers.
I LOVE THAT LASOUK HAS A PHILANTHROPIC ELEMENT TO IT. CAN YOU TELL ME MORE ABOUT THAT? AND DOES GIVING BACK PLAY A LARGE ROLE IN YOUR LIFE?
It really does. I've realised that no man, and ultimately no brand, can act in isolation, and that we are all related cosmically to the fate of others and injustices being done elsewhere. With Sugarmat, we felt the need to support Black Lives Matter efforts, speak out and have a non-performative point of view as a brand. I hope by raising issues through this platform, and collaborating with and promoting Black artists, we can contribute to conversations that help to move the needle towards social and creative equality.
Lasouk donates to Efamorocco, a charity that provides education and boarding for underprivileged girls living too far from an educational institution. I will personally vouch that both brand platforms will continue their work to raise awareness and show support. Changes are happening, but we must continue this work to ensure that the impact is long-term.
LET'S TALK ABOUT INDOCHINO, YOUR FIRST BRAND. WHEN DID YOU START THAT?
I was in my fourth year of university studies, and exasperated by the lack of jobs upon graduation, my best friend and I decided to play with a few business ideas. I came up with the idea when I heard from a friend about people coming back from Asia with an inexpensively custom made suit. This was late 2007. Based on an idea, I decided to drop out from my studies and move to Shanghai, with nothing but an empty pocket full of dreams.
WAS LAUNCHING YOUR NEW BRANDS EASIER THANKS TO YOUR EXPERIENCES WITH INDOCHINO?
Absolutely. I went through a tough yet exciting time with Indochino. We built a company out of college, with absolutely no experience, just naivete and pure ambition. We grew really fast right out of the gate, hitting eight figures in the third year. We were collectively managing more than 200 employees, with a board of directors from Silicon Valley. Our chairman at that time was Jeffrey Mallet, the former President and COO of Yahoo.
DO YOU FEEL YOUR THREE BRANDS TELL A STORY ABOUT YOU?
I'm sure they do, although there was no deliberate attempt to do that. My goal is to build disruptive companies that are focused on serving customers.
DO YOU CONSIDER YOURSELF A CREATIVE, A BUSINESSMAN OR A BRAND BUILDER?
I think to be a successful entrepreneur, one needs to understand and have all these characteristics. I wear different hats depending on the task at hand. I like to build emotive products that are commercially successful. That's a sure measure to check how much your brand has touched the lives of your customers through your creative endeavour. I can also put on my money manager hat and scrutinise balance sheets when the need arises.
WHAT HAS BEEN THE HARDEST LESSON TO LEARN AS AN ENTREPRENEUR?
Being an entrepreneur can be a lonely affair. There's no one to pat you on the back. No one knows how hard you have to work, and the emotional stress you go through. And even if people get what you're saying, there's no way they understand you to the level you want them to. Over the years, I think I've learned how to emotionally address these things, and make myself the priority. Being lonely also does not have to mean you're alone.
WHAT'S NEXT FOR YOU?
I would like to do something in F&B, an industry I once swore never to be involved in. But now I'm warming up to the idea of creating something experiential — that just sounds so exciting.