Meet Jerome Penafort, the Singapore chocolatier who only works with Asian farmers
Jerome Penafort, who launched his brand Mr Bucket earlier this year, worked in real estate and finance before getting into chocolate.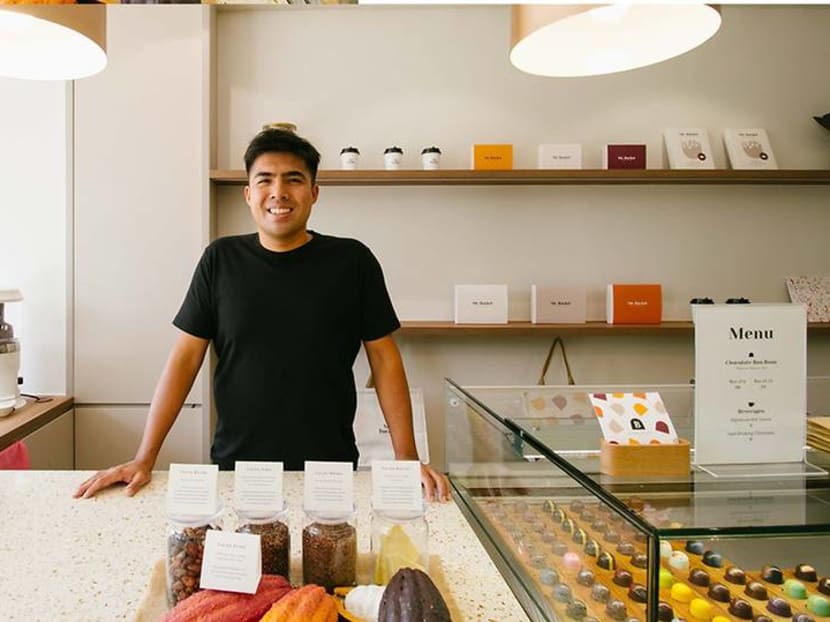 A few weeks ago, my wife brought home a chocolate that she wanted me to try. Let me caveat this by saying that I am not a chocolate person. My wife is, as is my daughter. The two of them are unabashed chocoholics as well as chocolate snobs, turning up their noses at lesser quality (or mass market) products. 
So, for my wife to ask me to try the beautiful little bon bon she placed in front of me was a tad odd. It also meant the chocolate was something special. Then she explained it came from a 32-year-old local chocolate maker who is doing two very exciting things.
Firstly, he only works with Asian farmers. Secondly, he is doing some really exciting collaborations with well-known or cult local brands. Case in point, the bon bon she had offered me had a caramel made with dark soy sauce from Kwong Woh Hing, our favourite local soy sauce maker.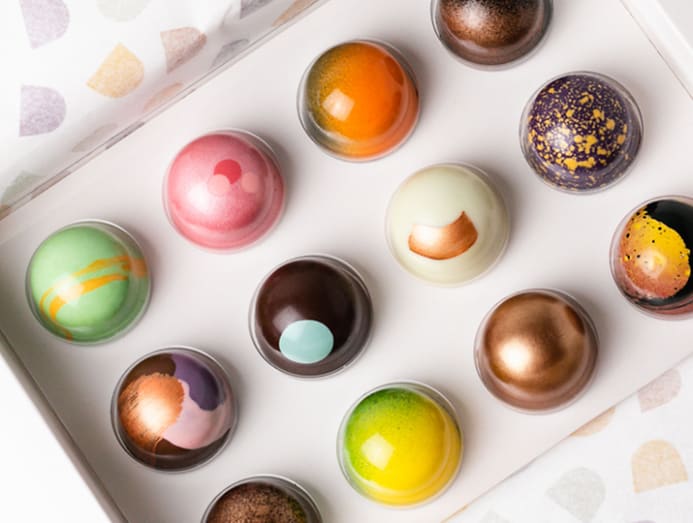 The bon bon was delicious and I immediately knew I needed to know more about Jerome Penafort and Mr Bucket – the brand he launched earlier this year. I was even more intrigued when I found out that he recently opened an open-concept chocolaterie in which we can watch his artisans at work. And of course, buy more treats.
YOU WORKED IN REAL ESTATE AND FINANCE BEFORE GETTING INTO CHOCOLATE. WHAT MOTIVATED YOU TO MAKE THE CAREER SWITCH?
About three years ago, my father invested in a chocolate manufacturing business in Malaysia. Back then, I was about five years into a real estate investment role and was at a crossroads deciding whether to continue down that path, or explore something new.
My father asked if I wanted to join him to help expand the business regionally. Coming from an investment background, I saw this business as a great platform with many possibilities. So I decided to join him.
WERE YOU A CHOCOLATE LOVER, EVEN AS A KID?
Growing up, my favourite book was Charlie and the Chocolate Factory by Roald Dahl. I read that book so many times and my daily staple was a cup of milo before going to school. That was something I looked forward to every morning.
To this day, that book still inspires me. At the end of the story, Willy Wonka passed down his factory to Charlie Bucket. Mr Bucket is our interpretation of Charlie all grown up, and how the story continues.
That said, my love for chocolate only really began when I was in Melbourne for studies and there were chocolate shops like Koko Black and Mork, and bean to bar chocolate makers all around. Chocolate was big part of the local culture in Australia.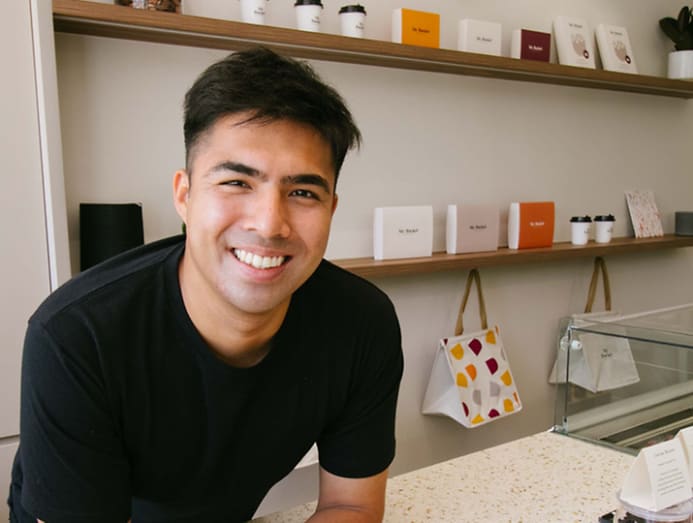 YOU HAVE DESCRIBED MR BUCKET AS PUTTING THE SPOTLIGHT ON ASIAN CHOCOLATE. CAN YOU ELABORATE MORE?
Most consumers are unaware that chocolate comes from a fruit called Cacao. The general perception is that the best chocolate comes from Europe, when in fact, no cacao grows there.
Cacao trees grow 20 degrees north and south of the equator, and there are many cacao farms found around Asia. The chocolate produced from Asian cacao is just as or even more delicious than those from other parts of the world. Asian cacao farmers have for the longest time been unnoticed and unappreciated. Chocolate brands were always the focus, not the farmers. This is something we want to change. We should all know and appreciate where our food comes from.
Through our sister company Benns Ethicoa, we work directly with farms from all around Asia, including Malaysia, Thailand, India, Philippines and Vietnam. We wish to be the vessel that shares the stories of these farms and farmers.
CAN YOU DESCRIBE THE DIFFERENT KINDS OF CHOCOLATE YOU MAKE AND SELL?
We make all things delicious – a wide range of chocolate treats including bon bons, bars and drinking chocolate. Every treat is made using only sustainably-sourced bean-to-bar chocolate from farms around Asia, and freshly made daily at our open-concept chocolaterie. Our chocolates are thoughtfully curated to provide a flavour experience.
For the purists, we have single estate chocolate bars and bon bons like a 64 per cent Dark Chocolate from Panchor, Malacca and 80 per cent Dark Chocolate from Anaimalai Hills, India. For those looking for something exciting, we have flavours like Double Soy Sauce Caramel, where we use both a light and dark soy sauce, from Kwong Woh Hing, in a caramel, and Mala, which we made using a mala spice mix sourced from a local zi char eatery, HaoZhangJi, to create a bon bon that is savoury, aromatic with a lingering warm spice finish.
FOR US LAYPEOPLE, HOW CAN WE TELL THE DIFFERENCE BETWEEN DIFFERENT KINDS OF CHOCOLATE AND DIFFERENT PERCENTAGES? WHAT SHOULD WE LOOKING FOR AS WE TASTE?
In broad terms, there are two main categories of chocolate, commercial and artisanal or bean-to-bar chocolate. The main differences are in the ingredients used and the intent of the chocolate.
For commercial chocolate, which are commonly found in your local grocer, you will notice a long list of ingredients on the label – some of which are long names you might not recognize – and the intent is to keep the chocolate tasting the same over time. These brands aim to keep the taste consistent as that is what their consumers are used to.
Artisanal or bean-to-bar chocolate on the other hand usually contains no more than 3 to 4 ingredients, and the intent is to highlight the flavour nuances resulting from the chocolate's origin or where it is grown. Just like wine and coffee, the environment cacao is grown in greatly affects its flavour and one of the goals of bean-to-bar chocolate making is to highlight that.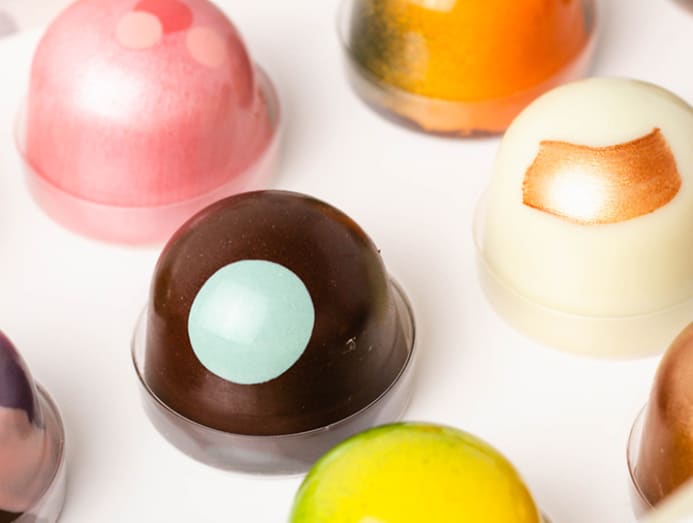 YOU'VE LAUNCHED WITH A NUMBER OF COLLABORATIONS RIGHT FROM THE BEGINNING. TELL ME ABOUT YOUR PHILOSOPHY TO COLLABORATIONS AND WHAT YOU HOPE TO GET OUT OF THEM?
We started on local collaborations earlier in the March and April period when the COVID-19 situation was starting to worsen. For us, it was part survival and part desiring to work with other like-minded local brands to create unexpected products that pique curiosities and create conversations.
Our philosophy is simple: the whole is greater than the sum of its parts. We believe that each collaboration should bring together the worlds of both brands in a complementary manner, to provide a unique experience to our customer bases through thoughtful curation of the joint product.
An example would be our collaboration with Brass Lion Distillery, where we created a series of three gin-inspired chocolate bon bons. For each bon bon, we selected different chocolates to complement the flavour profile of each gin, and added specific ingredients to highlight certain characteristics of the gin.
For instance, for the White Pea bon bon, we used white chocolate as a vessel to bring out the floral and aromatic lavender notes of the Butterfly Pea gin and paired it with an earl grey milk chocolate ganache for an earthy note to provide balance.
WITH REGARDS TO MR BUCKET, DO YOU GET INVOLVED IN ALL ASPECTS OF THE BUSINESS? WHAT DO YOU FOCUS ON AND WHAT DON'T YOU DO?
Since we are quite a new and small team, I am currently involved in all aspects of the business from the R&D and production to marketing our products and improving our consumer experience. Hopefully, as our team grows and gains more experience, some of these responsibilities will be taken over by other talented people in the team.
WHAT HAS BEEN THE BEST CHOCOLATE THAT YOU HAVE EVER TASTED?
In terms of a pure chocolate bar, I would have to say it was when I visited a local chocolate maker in Vietnam about two years ago. It was a 68 per cent dark chocolate bar which was made using cacao beans from Lam Dong estate. The chocolate flavour was rich, yet also had very distinct fruity notes reminiscent of dried currants.
If we are talking bon bons, I would have to say our Double Soy Caramel. The umami notes from the soy sauce make for a delicious twist on salted caramel, and pairs well with the honey and malt notes of the 64 per cent dark chocolate from Panchor, Malacca.
HOW DO YOU GO ABOUT DECIDING ON NEW FLAVOURS FOR BON BONS?
Our most interesting flavours have come out of everyday conversations with the people around us. Balance, depth and familiarity are three things we look out in our creative process. An example of this would be the Earl Grey Bergamot bon bon, which is part of our Christmas collection.
Bergamot oil is often used in the traditional Earl Grey tea blend so we thought what better way to make it work than to pair the Bergamot fruit in the form of a fruit gel with an earl grey tea-infused milk chocolate ganache.
HAVE ANY FLAVOUR COMBINATIONS THAT YOU WERE REALLY PASSIONATE ABOUT JUST NOT WORK?
Not yet! We have, thankfully, been able to make all the flavour combinations work, as we have done for seemingly unusual flavours like salted egg yolk and mala. We go through many rounds of R&D to ensure that our creations are balanced.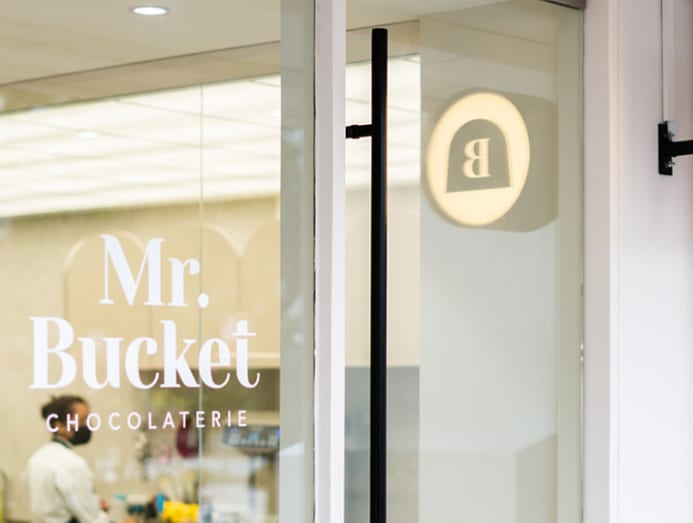 DO YOU SEE YOUR PRIMARY BUSINESS AS A B2C BUSINESS OR A B2B GIFT BUSINESS?
First of all, we are an omni-channel business, with focus on both retail and e-commerce. It's still early days but I see us as functioning well in both the B2C and B2B business segments.
We've only been open three weeks and we are already seeing good traction from both segments. Our goal is to build a strong brand which can provide a great experience for our customers and change the face of Asian chocolate, and if we do that well, I believe the right opportunities will present itself.
DURING THE PANDEMIC THIS YEAR, ONLINE SALES SOARED, CALLING INTO THE QUESTION THE NEED FOR BRICK AND MORTAR STOREFRONTS. WHY WAS IT IMPORTANT FOR YOU TO HAVE A BRICK AND MORTAR STORE?
It was during Circuit Breaker that we started our online sales for our bon bons. We received a positive response and were heartened by the feedback we got. As we carried on with more collaborations and demand increasing, we realised that we needed a bigger production space. 
At the same time, we wanted to have an avenue to reach out to our customers and share more about what we do. There was so much we wanted to share about our craft and the stories of Asian farmers that we felt was not possible online with limited interaction with our customers.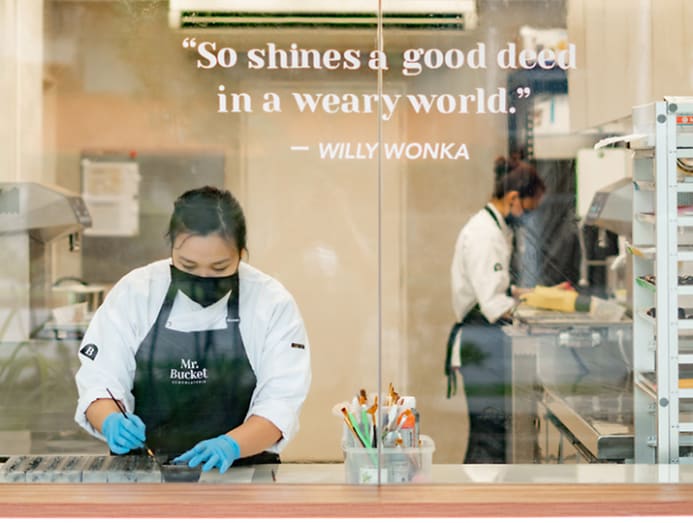 Our chocolaterie is intentionally designed to be open-concept so that customers can see our chocolatiers at work and gain an appreciation of our chocolate making process. So far, having a brick and mortar store has been very rewarding as we are able to have conversations with our customers and get immediate feedback from them.
ANY CHRISTMAS ITEMS THAT YOU HAVE HIGH HOPES FOR?
We have specially curated a set of Christmas bon bons, with flavours like Mulled Wine, Gingerbread, Earl Grey Bergamot and Black Forest.
We also have a DIY Drinking Chocolate Kit – great for an activity together with friends or family – and Chocolate Liqueur – a rich and velvety blend of dark rum and 72 per cent dark chocolate from Sungai Ruan, Malaysia – that was created in collaboration with Compendium.
We are excited about all our items. We really hope that with each product, our customers are able to taste the spirit and joy of Christmas, and are encouraged to share this joy with their friends, through our chocolates.
WHAT'S THE SHORT TERM AND LONG TERM VISIONS FOR MR BUCKET?
In the short to medium term, it would be to change the perception of chocolate from Asia, that it is just as good or even better than those found in other parts of the world.
In the longer term, we hope to revitalize the cacao industry in Asia where farmers start focusing more on quality knowing there is demand from makers like ourselves and thereby creating opportunities for themselves to improve their livelihood.