Creative Capital: This ex-hotelier keeps Singaporeans nourished with tasty broth
A conscious pivot led former director of F&B Justin Aow to find his true calling.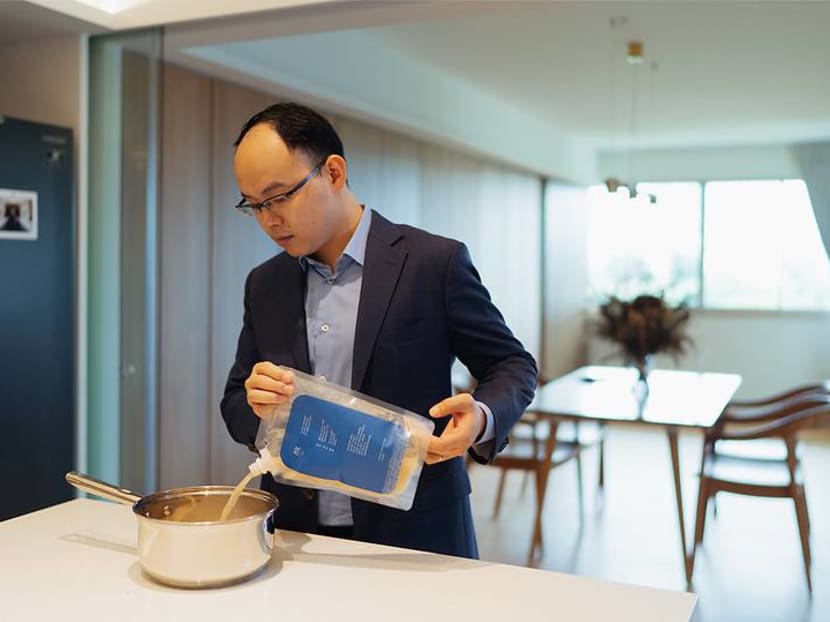 Over the last year, and as a direct result of the pandemic, it feels like the market for homemade broths that can be delivered to your doorstep has exploded. Every few weeks or so, I seem to hear or read about another new local entrant. 
Don't get me wrong. I'm not complaining. As someone who loves to cook but hates spending time making stock, these high-quality ready-to-use broths are great. The only issue is figuring out which one is best, in terms of taste, nutrition and budget.

Of course, taste is entirely subjective. But for my money, my favourite so far has been the broths from Ao Broth.

Started by F&B professional and hotelier Justin Aow and his colleague Elaine Heng, the brand launched middle of last year and offers four varieties of broth: Fish collagen, an unseasoned "kids" version, prawn and lobster broth, and clam and flower crab broth. All are great but the prawn and lobster broth in particular has become something I absolutely love.

I was excited to catch up with Justin for this column.

WHAT WAS THE CATALYST FOR AO BROTH?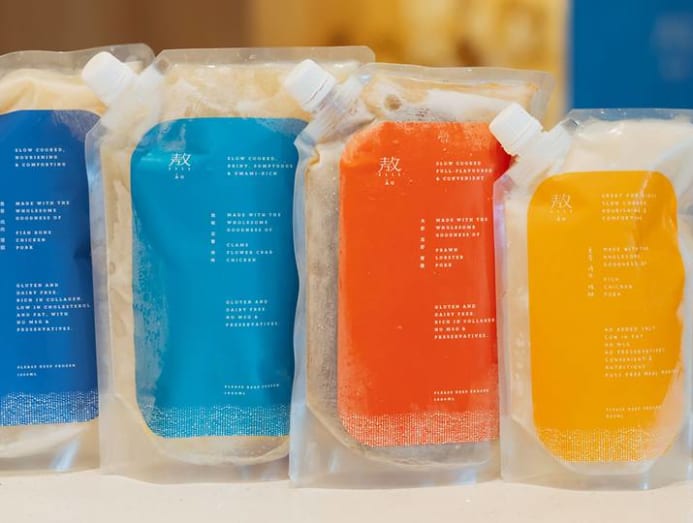 We were in the midst of the circuit breaker in April and May and most Singaporeans had turned to the kitchen to learn a skill, kill some time or experiment with food. As the weeks went by and the novelty of cooking for a couple of weeks wore off, many friends were finding it difficult to juggle working from home, looking after their children and needing to cook meals and thus started turning to ready-made products.

While most of the options were convenient to use, the high content of fat, calories and sodium was hard to ignore. Singaporeans tend to lean towards healthier and lighter dishes at home and we knew we could do better. Not all soup products out there are actually healthy. Some have more fat and calories than ice cream. Imagine trying to lose weight drinking that!

Our name is derived from the Chinese word 熬 which means "to brew" – often slowly and with care, Ao Broth's philosophy is simple; food that is served quickly need not be highly processed and unhealthy.

HOW LONG DID IT TAKE TO GET THE BRAND OFF THE GROUND?

We started recipe development in end May and this included getting a chance to try the various products that were out there. Everything was made in-house and our first few batches were given to friends and family for feedback.

In June, we had a version we were all around happy with and sent the broth out for nutritional testing. The results we got back from the labs were better than we expected. When compared with other leading brands, ours was lower in total calories by up to seven times, fat by up to 16 times and cholesterol by up to 11 times, all while preserving flavour and richness. Spurred on by those results, we were excited to get to market, but I was also nervous as I didn't have any idea how demand would be.

DID YOU HAVE ANY HELP?

We partnered with a reputable Singapore seafood brand to develop the broths, from sourcing the raw ingredients through development. Their culinary team's input has been invaluable and really reduced our setup time. We were also excited to have FARM, a multi-disciplinary, award winning design studio work with us on our branding and design.

AND HOW HAS THE RESPONSE BEEN?

We've been really encouraged by the feedback so far and this has really been a testament of the versatility and quality of the broths. We knew we were onto something when we started seeing regular bulk orders on a weekly basis.

WHO COMES UP WITH THE RECIPES AND WHAT IS THE PROCESS OF DEVELOPMENT?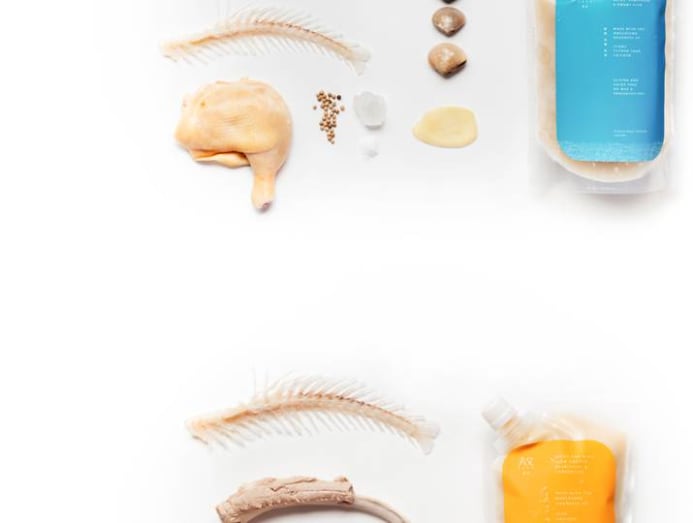 We have a long list of ideas and flavours that we want to make in the future, but for now, we're content with the four we have. We follow the same steps of making broth as they did back in the good old days – no powders, stabilisers or additives, nothing we can't pronounce goes into the broths. Just good old elbow grease, boiling, stirring, reducing and skimming as we go.

The prawn broth is the most labour intensive and time consuming to make. For every 60-litre batch we make, we use almost 25kg of prawn shells to get a really robust flavour. We're also really proud of the low fat and sodium content of our broths and believe it's a difference you can taste compared to others in the market.

I LOVE THAT YOU HAVE A STOCK DESIGNED ESPECIALLY FOR KIDS. WHAT GAVE YOU THAT IDEA?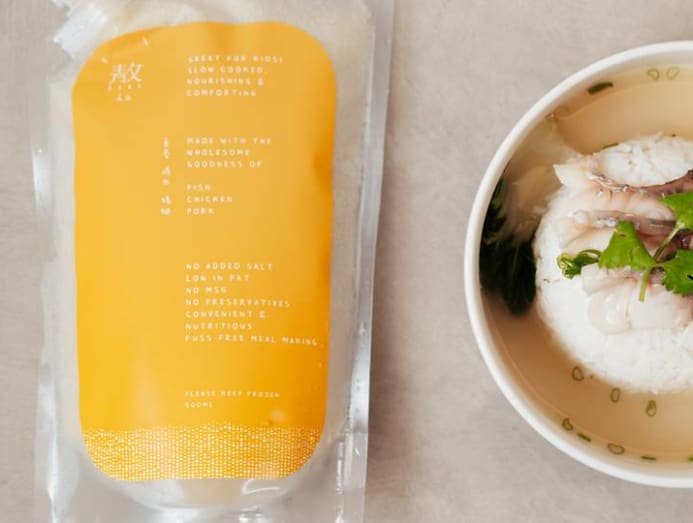 Our kid's broth came about quite naturally. In the earlier months, as we fulfilled the orders, we noticed that the majority of our customers were working mothers looking to prepare quick meals for their children and while our original fish collagen broth comes seasoned, we also started receiving requests from parents who wanted total control for unseasoned broth. Initially we made it only on a by-request basis, but have since made it permanently available.

With only four ingredients – grouper bones, chicken, pork and pepper, our kids' version is made in the same loving way as our fish collagen broth, boiled for over eight hours and frozen in smaller packs. It is our use of grouper in the broth which is different from most fish broths.

We've had many gifting this broth to nursing mothers, those recovering from medical treatment or with poor appetites as an alternative to sugar laden treats – its flexibility of use has been really well received. Our original fish collagen broth is what we're known for – although our prawn broth is getting some good traction especially amongst those more inclined towards a western cuisine application.

HOW DO YOU SEE YOUR BROTHS BEING USED MOST AND WHAT ARE THE RECOMMENDED WAYS TO USE?

The three broths are quite different on their own, our fish collagen is best used simply – noodle soup dishes, porridge, fish soup and better suited towards Asian flavours – we've tried it with miso paste, tom yum and it works really well.

Some of our customers have also taken a luxe approach – using them to double boil fish maw and abalone soup – they say it's got the same texture and flavour of a shark's cartilage soup – without the shark of course.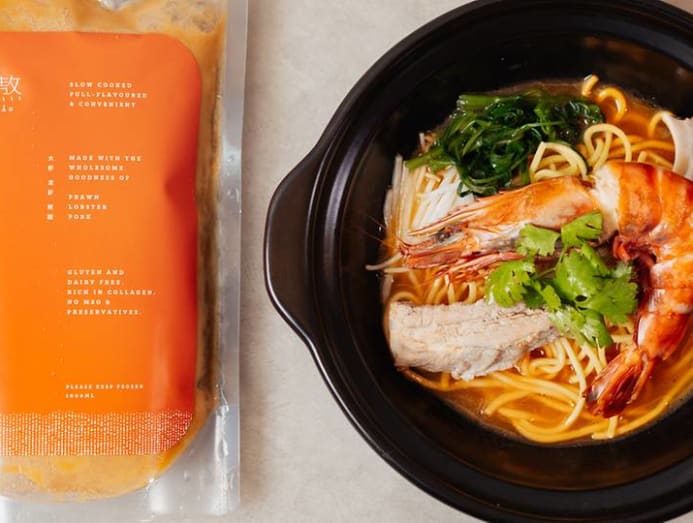 Our prawn and lobster broth is probably our most versatile. It makes a great prawn mee soup base and can also be adapted or reduced and used in pastas or as a starter stock for a bisque. Closer to Singaporean favourites, if you like crab bee hoon, the clam and flower crab one brings the dish together very well – it also works for seafood pastas and anywhere where you want a briny umami punch.

We've put a bunch of recipes together as a guide for our customers and are in the midst of getting some of them filmed, for those of us who don't like following recipes.

HOW IS YOUR PREVIOUS EXPERIENCE AS A HOTELIER DIFFERENT?

It's been very different. On physical space projects, all the senses need to be engaged. From the interior decoration to scent and music, physical spaces are much more complex – and we haven't even gotten to the food & beverage offering.

With our broths, our focus has entirely been on the broth itself – quality, consistency and taste. The common touchpoint of a physical restaurant and an online business is customer service and for Ao, we try to personalise interactions and provide a level of service which cannot be achieved through outsourcing.

WHAT HAS BEEN THE BIGGEST CHALLENGE SINCE LAUNCHING YOUR OWN BUSINESS?

For the most part, it's been challenges which, when we started, we couldn't control. For example, in logistics and fulfilment, the scale at which almost everyone has gone online to make purchases has really created a crunch on delivery teams and the costs of door-to-door delivery have really spiked.

Also, items which are sourced regionally have faced production and transport delays. We initially worked with delivery partners but have since had to make the decision to take fulfilment totally in-house. It's being able to control the end-to-end experience that we want and we've seen a dramatic improvement in the guest experience, perception and quality of our broths. To know that we take as much care in deliveries as we do in making the broths just brings everything a full cycle.

AND WHAT HAS BEEN THE BEST THING ABOUT THE JOURNEY SO FAR?

Seeing happy customers enjoy our broths. We know we're on the right track when we consistently get repeat orders and it really makes us happy to know that we're saving customers time and them knowing that they are giving themselves and their families food made with love.

THERE HAS DEFINITELY BEEN A RISE IN COOKING DURING THE PANDEMIC. DO YOU FEEL CONSUMERS ARE LOOKING FOR HIGHER QUALITY PRODUCTS TO WORK WITH AT HOME?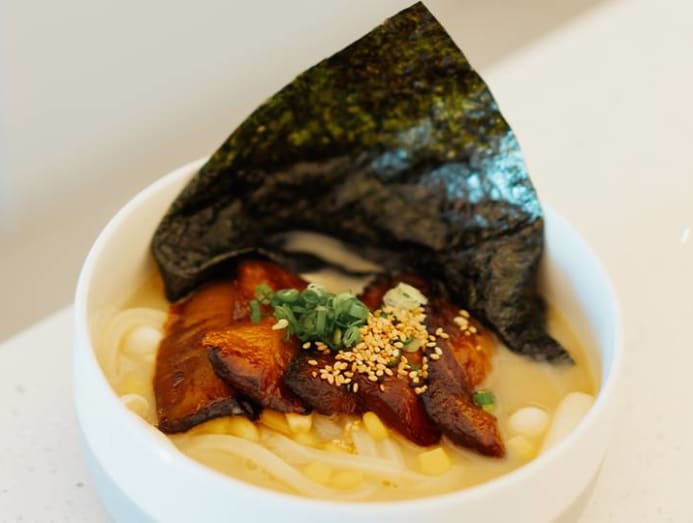 Absolutely. With Singaporeans often hard pressed for time, we want to make sure that the results of our labour will hit the mark, otherwise, they might as well just eat out right?

It's also about accessibility, first picks used to go to the food service industry, but as with many things that have gone digital, the ability to get good produce has also gone online and its now a matter of a few clicks to get regionally sourced products shipped right to your door.

We've been fortunate to find like-minded partners in this aspect – the team at Zairyo continues to be our only distribution partner and their range of high-quality products really complements our broths so we've been really happy about that.

AS SOMEONE WHO HAS FOLLOWED FOOD TRENDS AND IS A F&B PROFESSIONAL, WHAT TRENDS DO YOU PREDICT FOR THE FUTURE?

2020 was really a huge wake up call for the industry as so much of the way we consume food and beverage products has shifted. From gathering capacity limits, to restrictions on alcohol and dining out, many restaurants and bars are still feeling the full effects of the pandemic.

This, on-top of labour quotas and a shortage of transient workers from neighbouring countries over the years has made operating profitable full-service restaurants all the more challenging. That said, opportunities still exist and the quick rise in the food delivery market and cloud kitchens continue to be ones to look out for as the sector evolves.

Meal kits and also ready-to-eat food packs continue to be popular and development in packaging technology has come a long way from the default powdered and re-constituted food convenience food used to be known for. 
Start-ups such as Island Kitchen Collective which provides multi-cuisine menus built for delivery continue to provide restaurant quality in the comfort of home, also solves the challenge of having to order from multiple restaurants to get the variety Singaporeans have come to love.

WHAT ARE YOUR PLANS FOR THE BRAND?

We're continuing to expand production capabilities and will be looking to provide the broth to more food service partners in the coming months – so we're opening up b2b avenues for the business. We've recently also launched our packed rice puffs so everyone can enjoy 'Pao Fan' at home. We see ourselves taking out the legwork and inconveniences of cooking at home and replacing it with a convenient and guilt free product many would be proud to serve at home. We're also in the midst of planning for quick service restaurant concepts which would feature the broths.

HAVE YOU HUNG UP THE HOTELIER HAT FOR GOOD? IS THE BROTH BUSINESS YOUR NEXT CHAPTER?

I believe it is – it's a culmination of experiences, but has been a total change from the guest-facing roles I used to have. I've been very fortunate to still be in touch with many of my guests from hotel days and they've continued to support me in various ways. One guest even changed her traditional Christmas hamper gift and gifted our broths to friends and family which helped us through the Christmas gifting season. I'm excited to see where this will lead.

LET'S CHAT ABOUT THE HOTEL SECTOR. DO YOU SEE RECOVERY IN SIGHT ANY TIME SOON?

Amongst the toughest hit sectors during this pandemic, hotels and hospitality venues have had to pivot very quickly to adjust to the greatly reduced demand as well as capacity controls. The government moved quickly to support the sector, using many hotels as dedicated facilities for foreign workers as they recovered from COVID-19 and while this helped keep many employed, many in the industry were still affected – retrenchments, wage reductions or reduced hours.

I believe everyone is still hopeful though that with vaccinations things will improve quickly, we know the situation is still very fluid, and it does at this point seem that for the foreseeable future, international travel and the vibrancy it brings this city will likely continue to be muted.