Creative Capital: The couple who makes ceramic tableware for Singapore's top restaurants
If you've dined at Odette, Cheek by Jowl or Burnt Ends, you'd have eaten off the ceramic artworks of Loh Lik Kian and wife Debbie Ng.
You probably wouldn't recognise Loh Lik Kian and his wife Debbie Ng. But if you count yourself among the ever-growing local foodie community in Singapore, chances are, you have used his products.

Lik Kian is quietly one of the most in-demand ceramic artists in the F&B sector. He and Debbie have designed and made tableware for acclaimed eateries like Odette, Cheek by Jowl, Nouri, Burnt Ends, Restaurant Andre, Esquina, Pollen Gardens By The Bay, Salted and Hung, Maggie Jones, Empress Restaurant, Cure, and Rebel Rebel Wine Bar. This creative couple has also created works for restaurants in Sydney and London.
Lik Kian owes his specialisation in part to his cousin, famed restaurateur and hotelier Loh Lik Peng. But it is his and Debbie's talents that chefs and restaurateurs continue to seek, and commission amazing works of art on which to serve their own gustatory artworks.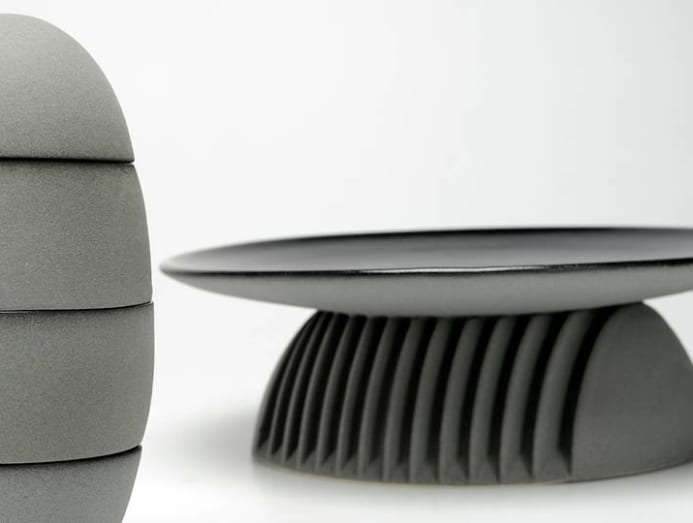 YOU WERE ORIGINALLY A GRAPHIC DESIGNER. WHAT INSPIRED THE SHIFT TOWARDS CERAMICS?

Our journey into ceramics was a natural progression and in certain ways, it was unplanned and uncharted. 
I was doing my undergraduate degree in graphic design in Melbourne – around 1998 – when I chanced upon a teapot from a shop called Made in Japan. It was love at first sight. 
The teapot exuded a character of its own in natural and raw beauty. Highlighted in its clay body were naturally glazed patterns and remnants from straw ashes, indicative of the process of a wood-firing kiln. It had no artist stamp or mark, and the handle was slightly imperfect. Which was perfect.

After returning to Singapore with Debbie as practising graphic designers, I wanted to learn how to make a teapot like that. But I could not find a place to learn as pottery classes were not readily available then. 
So I enrolled in a ceramics diploma course at Lasalle College of the Arts, under the tutelage of artist and lecturer Ahmad Abu Bakar. Debbie would meet me in the college workshop after work, and gradually picked up ceramic-making techniques while cleaning up after me.

We also spent time learning from the veterans of Sam Mui Kuang Pottery to further our wheel-throwing and handbuilding techniques.

My artworks were well received and I was soon selling them in galleries. I started to receive commissions for all kinds of ceramic applications, so we set up a small studio workshop. 
What started out as a passion for ceramics gradually became a full-time endeavour for us. And it wasn't too long before we were approached by restaurants to collaborate on making and designing ceramic tableware.
WHO DOES WHAT WHEN IT COMES TO COMMISSIONED WORKS?

Although we are both adept in all the ceramic processes, Debbie specialises in pottery handbuilding, brushing and dipping for the glazing process, glaze making, fettling the plaster models, and the clay casting processes. 
I specialise in pottery throwing, airbrushing glazes, and making models and moulds. We both do designing and we take care of the final stages of the ceramic processes, such as drying, kiln packing and firing.

MANY OF SINGAPORE'S BEST RESTAURANTS COMMISSION YOU TO CREATE CERAMICS FOR THEM. HAVE THERE BEEN IDEAS THAT WERE TOO DIFFICULT TO EXECUTE?

To date, I don't think we have refused any restaurant based on their design requests. We relish challenges. Perhaps we have never considered any design as too difficult to execute, but there have been some we would categorise as challenging. 
Technically, the Achilles heel of ceramics is shrinkage and gravity. Both of these aspects will cause the clay to behave in ways that deviate from one's expectation of the final design outcome. 
Other considerations are surface texture and colour. They are determined by glaze chemistry, which requires time and effort to concoct. Between the clay material and glaze, there needs to be a harmonious marriage. 
Mathematics and science is very much an integral part of the ceramic design and making process. In order for ideas to work, one requires knowledge and skills built up over time, and through learning and experience.

DID THE SPECIALISATION IN RESTAURANTS COME ABOUT BECAUSE OF YOUR COUSIN, HOTELIER LOH LIK PENG? 

Yes, we are always thankful to Peng as it was through his venture into the culinary world that we had the fortunate opportunity to work with so many talented chefs and restaurants. And have grown together with them. 
We are so thankful and very grateful to all of the chefs and restaurateurs that have supported us through word of mouth on our tableware in the culinary world.

WHAT WAS YOUR FIRST COMMISSION? 

Our first commission was actually essential oil burners for Luxasia in 2002. It was then a challenging task to wheel-throw so many identical items. It became very good practice in honing my throwing skills.

Our first commission for tableware was for the New Majestic Restaurant in 2006. We made several large serving vessels and many bowls with different cover handles and multiple glazes.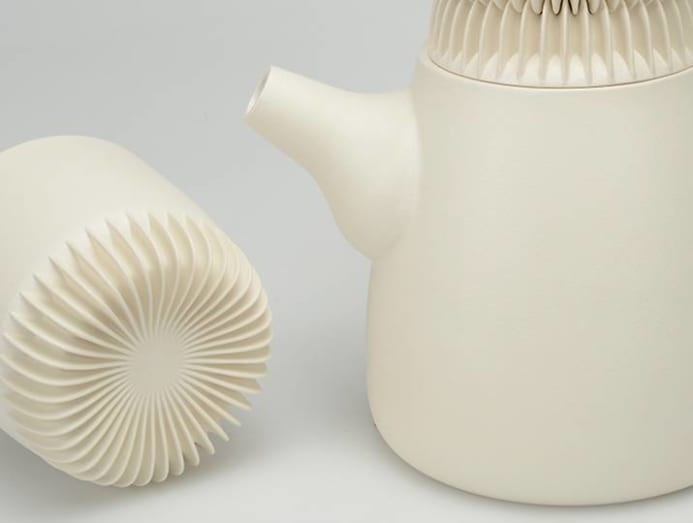 Perhaps our first tableware breakthrough was through our collaboration with chef Nuno Mendes in 2009. He was opening Viajante in London in 2010. Among the designs that chef Nuno requested, was a tableware that he wanted to look like a natural river rock. We had to create a new technique, for us, at least, to make it.

YOU AND DEBBIE UNDERTOOK MASTER'S DEGREES AND GRADUATED LAST YEAR.  WHY DID YOU NEED EXTRA TRAINING WHEN YOU ALREADY HAVE BEEN IN THE BUSINESS FOR ALMOST 20 YEARS?

We'd always wanted to further our studies in the field of ceramic-making for many years, but the timing was never right as we were too busy with work. A few years ago, one of the pieces we were making for chef Andre Chiang was in the shape of an inverted cone. 
That design required precision porcelain clay casting techniques and we had to make these in multiple numbers. It was really tough, and although we did manage to do it eventually, with difficulty, this sealed our determination to gain more ceramic knowledge and skills. 

We selected Staffordshire University in Stoke-on-trent, UK, as it has a long history in industrial ceramics.

WHAT NEW SKILLS DID YOU LEARN?

In our masters degree in ceramic design, we learned how to make models, plaster moulds and casting using clay slip and liquid clay. New technological processes were also introduced in combination to traditional methods of ceramic making. 
There was a glaze lab where we were able to do R&D testing with glaze chemistry. Through visits to leading European ceramic companies, we have also learnt from various experts who were very kind, generous, and willing to share their valuable knowledge and skills.

HAS YOUR WORK CHANGED BECAUSE OF THE MASTER'S PROGRAMME?

With our new-found knowledge, skills and techniques, I feel that there is a new-found sense of freedom and an increase in broadening our spectrum of new possibilities in developing more exciting ceramic works and ideas. It is important to keep an open mind as change is inevitable and one must always adapt to better oneself.

IN THE LAST DECADE, WE HAVE SEEN A RESURGENCE IN POTTERY AND CERAMICS APPRECIATION, AS WELL AS MANY HOBBYISTS. WHY DO YOU THINK THIS IS THE CASE?

I think this may be a case of some phenomena based on causal effect. We have, like other pottery instructors, been actively advocating and teaching pottery in educational institutions and many schools all over Singapore for many years now. 
Quite a number of schools also have pottery as their CCA and others have pottery for art lessons. MOE and NAC have been very supportive of ceramic arts. We started teaching in schools in 2003 and many of our students are now young adults who have had experience or were exposed to ceramics.

Another reason may be the exposure to the culinary scene, where plating on bespoke tableware has gradually become an important aspect in food presentation. People are beginning to appreciate personalised and handmade plates, and even aspire to make their own tableware, such as bowls, mugs and plates.

There is also that universal joy in creating something with our hands, especially the ability to make something three dimensional out of malleable clay. Many people see it as therapeutic.

DO YOU THINK IT IS HARD FOR CREATIVES TO SURVIVE FINANCIALLY IN SINGAPORE?

In general, yes. In my own opinion, space and rent are huge burdens to all who wish to practise creativity or pursue their creative endeavours.

Creatives should almost in certainty invest in some form of R&D, if innovation and growth are to take place. But this would naturally incur costs, which run the risk of no returns at times.

Our country has no natural resources, thus, all materials have to be imported and are subjected to availability. Our freight, courier and transportation services are very costly and are becoming even more so. There is an extremely high damage rate in ceramic items during transportation.

We are also lacking a skilled creative work force and audiences who really value creativity and good designs. If I may be honest, expectations of quality have also been on the decline as we are becoming a society that believes things are not meant to last.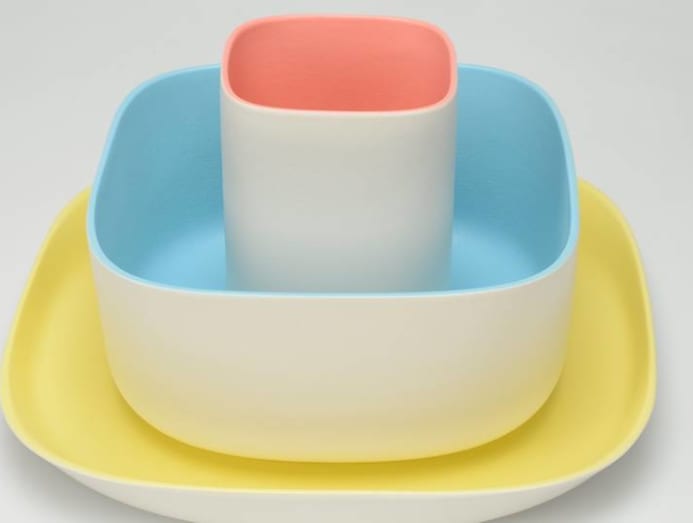 A creative culture needs to be cultivated in order for our future to flourish. I think we may be forgoing the wisdom of past creatives by eradicating and even forgetting past creative achievements.

In my opinion, with our well-planned infrastructure in place, Singapore can very well be a world-class creative capital and a R&D centre of the region. But there will always be issues we would need to iron out to make it possible.

ARE YOUR WORKS ONLY AVAILABLE THROUGH COMMISSION?

Currently, our works are only available through commission, though we are in the process of working out something to enable more people to get our pieces in the near future.

DID THE PANDEMIC AFFECT YOUR BUSINESS?

As we just came back late last year from a two-year hiatus, we used the "circuit breaker" period to upgrade our studio. We have had to customise and build some of our equipment ourselves to practise our new-found skills. 
In a way, it served as a gradual restart for our business. We are very fortunate and extremely thankful to receive support from our clients during this trying period. We have also resumed teaching in schools as well.

WHAT'S IN STORE FOR THE NEAR FUTURE?

We will be creating new ceramic possibilities with new techniques and technologies, and we will continue imparting our knowledge and skill in ceramics to future generations. We would really wish to see a regional ceramic centre in Singapore one day.