Creative Capital: The Singaporean who puts luxurious finishing touches to homes
Kenneth Fung of Lux & Beyond is the man to go to if you want fine, handcrafted Italian wood flooring, or bespoke door handles to match your chandelier.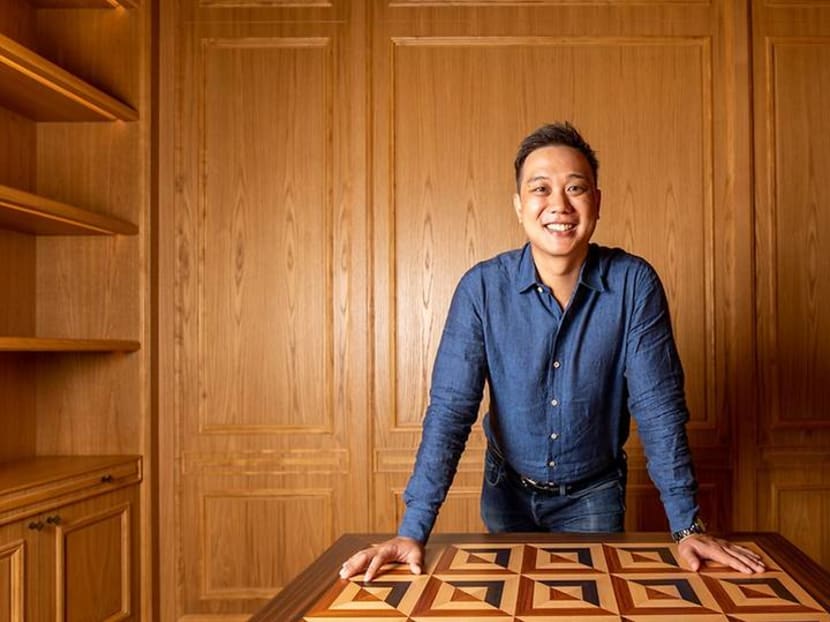 We're all spending more time at home these days, myself included. Whenever I have to jump on a Zoom call, which is a few times a day, I cringe when I look at my backdrop – a set of steel shelves piled with a random assortment of books, bags, files and other stuff that end up in our small home-office-cum-TV-room. I shudder to think what the people I am on the call think – that I probably live like a messy hobo.

It's no surprise then that many Singaporeans have started paying more attention to beautifying their interiors. Not only do we need to present ourselves better while working from home, we are also spending so much more time there than ever before. 
One business that has benefitted from this upswing in interior finishing is Lux & Beyond, co-founded two years ago by 33-year-old Singaporean Kenneth Fung.

WHAT DOES LUX & BEYOND SPECIALISE IN?

Lux & Beyond specialises in feature interior furnishings and finishes. Our in-house brand is Javier – a bespoke, fine interior furnishing manufacturer specialising in wood marquetry and hand-carved finishes. Javier's workshops are all based in Indonesia. 
We are also the sole exclusive distributor of two other brands: Serip – decorative lighting famous for their organic light sculptures from Portugal; and Foglie d'Oro – handcrafted Italian wooden flooring.

HOW DID YOU GET INTO THIS FIELD?

Ten years ago, my maternal uncle Raymond Tan engaged our current partners Andi and Martin Lim to furnish his newly built house in Singapore. Raymond was impressed with their creativity and attention to detail. 
After many years of hard work and success, the young, entrepreneurial Lim brothers decided to expand beyond Indonesia. When the opportunity for expansion presented itself, Raymond and I decided to join them in their venture into Singapore. This was in January 2019 and we've never looked back.

WHERE DID YOU GROW UP? WHAT WERE YOU LIKE AS A KID?

My dad is Macanese from Hong Kong. He moved to Singapore in the 80's and settled down in Singapore with my Singaporean Teochew mother. I was born in Singapore and my childhood was split between Singapore for study, and Hong Kong for the holidays. I moved to Vancouver for elementary and high school, but came back to Singapore for the "O" and "A" Levels.

Travelling and living in different countries have allowed me to quickly become comfortable in new communities. I believe I make new friends quickly.

DID YOU ALWAYS HAVE AN INTEREST IN INTERIORS? 

My paternal family ran a construction business in Macau and Hong Kong, and my grandad was a fanatic when it came to finding and keeping Chinese wooden antique furniture and art pieces. 
In Singapore, my maternal Teochew family also has great appreciation for Chinese furniture and art. So, intricate wood carvings and art have always been a huge part of my childhood memories.

I started my interior design journey in Singapore in an office design and build company. Over time, I realised that there were items that had to have the human touch to measure and finish by hand, like carpentry or specialty wall finishes. 
Unfortunately, the trend for hand-made features has been on the decline over the years and there are few skilled artists in Singapore to provide such services.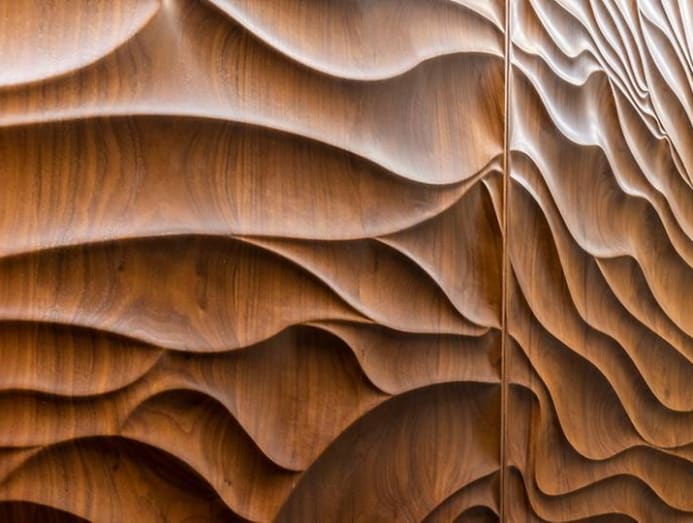 Once I was introduced to the modern designs and intricate finishes that Javier was producing, my interest in this area was kindled and I saw a great opportunity for them to be marketed in Singapore.

DOES LUX & BEYOND HAVE COMPETITORS?

Yes, Lux & Beyond does have a number of competitors in the luxury interior feature furnishing scene. However, each company specialises in its own niche design and style, so it is rare to have immediately similar products that are in competition with each other. 

In this day and age of mass production and the "buy and throw away" culture of symmetric, standardised design items, we differentiate ourselves by focusing on furnishings that are bespoke, handmade, unique, and organic.

HOW DO YOU IDENTIFY THE BRANDS TO WORK WITH?

We find like-minded partners who are highly specialised in their fields, and with a strong company history. It is important to have brand partners that are forward thinking, constantly looking for new ways to evolve their products, and willing to explore new designs and techniques with their brand partners internationally.

I LOVE THAT YOU SUPPORT FAMILY-RUN BUSINESSES.

That's great! We are very supportive of family-run businesses. The companies we work with are family owned and operated. That means we are in direct communication with the key stakeholders who are extremely dedicated to the company, and take great personal pride in each and every product they complete. 
Not only do we end up with beautiful products that are of high quality, we are also entrusted with the honour of customisation for each project.

For example, Serip traditionally specialises in light sculptures made out of bronze and hand-pulled glass. For a customised project, we worked closely with the designer to create customised bronze door handles for the entire house that exactly match the feature chandelier. 
Following the success of this project, Serip now has a new collection of door handles and staircase guardrails that are designed to complement their different chandelier collections.

HOW DO THE SERVICES OFFERED IN YOUR TWO SHOWROOMS DIFFER?

Yes, we have two separate showrooms that are connected on location. Our first showroom is Serip's mono-brand showroom, the third in the world. It showcases Serip's different collections in a showroom gallery concept. 

Our second showroom is a fusion of our three brands in various room settings to showcase what an entire room of customised finishes can look like: Javier's ceiling, wall panels, cabinets and furnishings to set the tone for luxury; Serip's feature lighting to accentuate the room's ambience; and Folgie d'Oro's wood flooring for the finishing touch.

The services offered across the showrooms are similar. Potential customers should come by for inspiration and see the finishes in person. From there, start the customisation process from our array of finishing options and develop the perfect feature for your home – be it a feature chandelier, a feature wall for a special space, or a feature room for that special someone.

HOW HAS THE PANDEMIC AFFECTED YOUR BUSINESS?

The most evident effect of the pandemic has been the delay of construction projects during the circuit breaker period. This has caused a chain effect on many projects being either delayed by months or completely put on hold.

The pandemic has also adjusted our customer profiles. We experienced a decrease in the number of internationally based customers, but at the same time, local demand spiked. 
Many people are spending more time at home, for work and leisure, and are taking their home-upgrading projects extremely seriously, focusing on quality and bespoke feature pieces that they can be proud of.

WHAT ARE SOME OF THE CHALLENGES THAT ARE AFFECTING YOUR SECTOR THIS YEAR AND IN THE NEAR FUTURE?

The pandemic has had a big impact on the manufacturing capabilities of our partners internationally. Many factories are working at a lower capacity to comply with COVID-19 safety measures and to maintain the quality of the product. 
Our supply chain has also been impacted with fewer options for freight routes, and an overall increase in freight prices. On the sales front, many clients are more cautious with their spending.

WHAT HAS BEEN THE BEST SURPRISE THAT HAS HAPPENED TO YOU WHILE RUNNING LUX & BEYOND?

So far, the biggest surprise to me is the reaction of the local market to our brands and products. Traditionally, one would assume chandeliers and handmade, customised furnishings to be confined to the realm of stuffy bungalows. 
However, we have many discerning clients who are young, first-time property owners who have travelled the world and are looking for inventive, luxurious furnishings and finishes to add that "oomph" to their homes. 
This has been extremely positive for me as it reinforces our value proposition and shows how daring, design-wise at least, we Singaporeans really are.

WHAT HAS BEEN THE HARDEST PART OF THE JOURNEY OF BUILDING AND RUNNING THIS COMPANY?

The hardest part of this has been the fact that the company is relatively new in the industry and it takes time to build trust from the market. This is especially apparent in the industry of luxury furnishings as we deal with objects that are personal to the clients. 
The brands we represent are family owned and operated, so even though they are well recognised in their domestic markets, they have not made their mark in Singapore yet. This issue is endemic and over time, I am confident that we will win over the hearts and minds of the people.

IS THERE A PROJECT THAT YOU ARE ESPECIALLY PROUD OF? 

My proudest project to date is a customised wall panel that is part of a high-end entertainment centre in a house. The entire wall panel design is 4m in length and 3m in height, and was delivered in two massive sections. 
The designer of the wall panel customised our signature Javier peacock finish for this. It is made up of tiny veneer strips individually painted in bronze glitter paint and installed onto the solid teak base strand by strand. 
It took six months for two artists to complete the entire wall panel piece. The panel's completed design, with its two curved wings on both ends, feels like a peacock's tail hugging the viewer.

IS WHAT YOU DO SOMETHING THAT ONLY THE HIGH NET WORTH CAN GET ACCESS TO? CAN "ORDINARY" SINGAPOREANS BE ABLE TO ENGAGE ITS SERVICES?

The "ordinary" Singaporean definitely can! Our products and services are not exclusive to the well off, and are designed for home-owners who wish to give their homes unique personalities. We have products ranging from a single table lamp to a gorgeous feature dining room with exotic wooden wall panels and tables in ornate shells.

WHAT'S NEXT? WHAT DO YOU HAVE PLANNED FOR THE COMING YEAR?

Next year will be an exciting one as we have various programmes lined up. We will be focusing on reaching out to like-minded young architects and designers for collaborations to integrate beautiful, customised design features into local projects. In addition, we will be rolling out our reseller programme to build a stronger marketing presence locally.