The Singapore-based wellness creative who wants to help you heal yourself
Mae Kwan White is an artist, fashion entrepreneur, yogini, feng shui expert and singing bowl therapist, who wants to improve your life aesthetically and spiritually.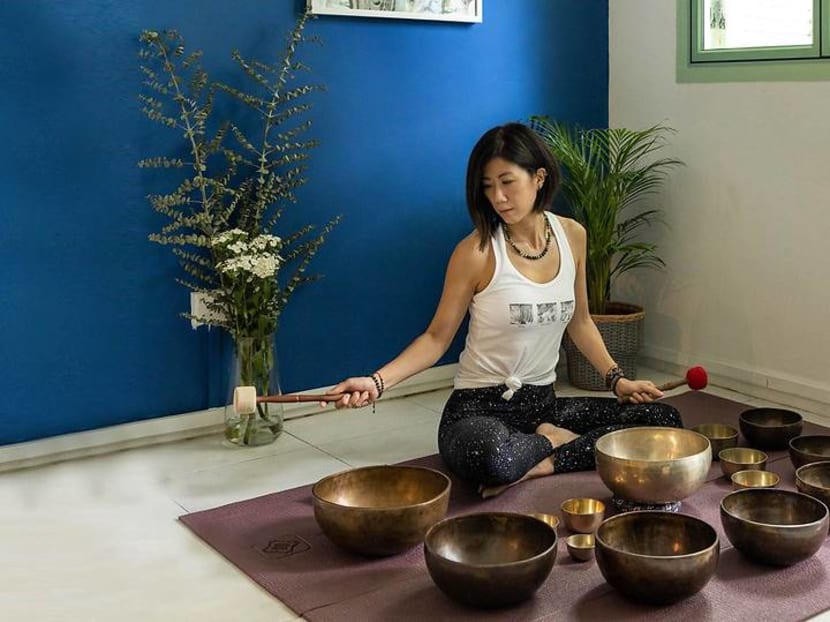 Former architect and interior designer, Mae Kwan White, wears many hats. She is an artist, fashion entrepreneur, yogini, feng shui expert and singing bowl therapist. Through her two related brands, MASE and MASE LIFESTYLE, she wants to make your life a little better, aesthetically and spiritually.
Having moved here five years ago, Mae, who ran a successful interior design business in Hong Kong, has been focusing not on how to improve one's surroundings, but how to improve oneself. 
Through her practice, she offers a range of services, including energy-balancing yoga, singing bowl meditation, feng shui, and healing through crystals and essential oils.
HI MAE, YOU DO SO MANY DIFFERENT THINGS. TELL US ABOUT YOUR LIFE.
I was born in London. I grew up in Hong Kong and returned to the UK when I was 13, where I attended a boarding school in Hertfordshire. I studied architecture at Cardiff University, then moved to London to pursue my dream as a singer-songwriter, before completing my professional training at a London-based architecture firm and became a qualified architect.
Whilst working as an architect in London, I started to lose touch with my creativity as the work did not provide the creative freedom that I craved. In 2009, I decided to use most of my redundancy pay on a master's degree in interior architecture. 
It was then that I began to feel creatively challenged as the course had a huge focus on creative thinking. 
On the day of graduation, in 2010, I got a phone call from my uncle in Hong Kong, who offered me a job as an apprentice at his friend's furniture and art gallery, Le Cadre Gallery. 
Without hesitation, I took the opportunity to relocate to Hong Kong. I spent the next two years working for my mentor Paul Lau, who helped shape the artistic flair I now possess.
It was during this time that I set up my interior design business, Mayella Limited, providing high-end interior design services as well as creating bespoke artwork for my clients. 
In 2012, I was invited to teach creative thinking and conceptual design in architecture at HKU Space. I found a great deal of enjoyment and satisfaction helping my students find passion and confidence in what they do. 
In 2014, the year I became pregnant, I started my passion project MASE, an art-inspired fashion accessories and lifestyle brand that promotes a colourful way of living. 
MASE began as a creative outlet for me to express my love for nature and architecture, as well as my passion for creative art. My intention was to help others to be expressive and creative with the way they dress.
WHAT BROUGHT YOU TO SINGAPORE?
Shortly after my daughter Amelia was born, my husband got offered a great career opportunity in Singapore. I was reluctant to relocate at the time as I was very happy with how things were going in my career. 
It was an extremely challenging decision for me to leave that all behind, not to mention my family and friends.
The first two years living in Singapore were a little tough for me. I no longer had my mum to help look after my daughter, who had only just turned one, when we left Hong Kong.
In the end, I made the decision to focus most of my time on looking after Amelia and MASE, and put the interior design business on the back-burner. 
In 2017, though, inspired by an interior design collaboration with renowned feng shui masters, Chow Ho Ming and his daughter Thierry, I took on a diploma in feng shui design. 
Then, after spending most of 2018 playing and getting certified as a singing bowl practitioner, I decided to launch MASE Lifestyle, a wellness brand dedicated to mind, body and space.
YOU BEGAN EXPLORING WELLNESS IN THE EARLY 2010S. WHAT PROMPTED YOU TO START THIS JOURNEY?
I have always been a sensitive soul and with that level of sensitivity, one can go haywire without the right guidance and spiritual practice. I'm very blessed to have a few very close friends who have always been there for me when I need their support. 
One of them urged me to attend Hindu philosophy classes with him at an ashram. He told me that with my empathic sensitivity, it's easy for me to become emotionally drained and overwhelmed, which could easily lead to depression. 
That was my first wake-up call, the need to find balance in life, and to learn about myself and my destiny.
TELL US ABOUT YOUR TRIP TO BALI IN 2013.
Bali will always hold a special place in my heart. The energy there is incredible and you feel it the moment you step off the plane. 
In March 2013, I decided to take a two-week holiday in Bali, mainly to visit the holy water spring at Tirta temple for mind, body and soul cleansing. One of my signature bags, Falling Water, captures my first visit at the temple.
Unbeknownst to me, Nyepi – the Balinese Day of Silence – which falls in March, is a day reserved for meditation and self-reflection. The whole island shuts down on that day and most Balinese Hindus would spend the entire day fasting and meditating. 
I was advised to stay in my hotel room in respect of this sacred tradition, and since I had already started to meditate regularly at this point, I decided to do that and tune in to the collective healing energy.
This was when I had the vision of creating a business that would be entirely driven by all aspects of my creativity; at that point, the business was about my art prints. 
I never doubted what came to me that day in 2013, and in fact, the first MASE bag collection was created within a month upon my return to Hong Kong.
WHAT ARE THE DIFFERENT ASPECTS OF YOUR BUSINESSES? IT SEEMS LIKE A LOT OF DIFFERENT THINGS.
As of last summer, MASE is a Singapore-based fashion accessories label that specialises in leather and fabric handbags featuring my vibrant art prints. All MASE handbags are now available online and at Design Orchard in Singapore.
MASE Lifestyle was also relaunched in summer 2020 as a wellness creative brand that offers wellness services and products created and designed by me. 
In addition to the restructuring of my business model, a TU-LA Wellness series was added to the list of wellness services I provide under MASE Lifestyle. 
The idea is to create a full, sensory experience that can help people find balance in life. A typical programme comprises energy-balancing yoga, singing bowl meditation, healing crystals and essential oils.
WHICH BUSINESS OCCUPIES MORE OF YOUR TIME?
Most of my time is spent on the wellness services these days. Although I seem to be working most of the time, including the weekends, it doesn't really feel like work since I enjoy what I do and most importantly, the work I do is equally therapeutic for me as it is for my clients. 
When you have your own business, you don't really get to switch off completely, but it makes a huge difference when you have a passion for it.
HOW DOES ONE BECOME A SINGING BOWL PRACTITIONER? WHAT CAN SINGING BOWL THERAPY ACCOMPLISH?
I got certified at the Singing Bowl Gallery after an intense course learning how to conduct singing bowl therapy and sound bath sessions. Due to my musical background, playing singing bowls came naturally to me. I'm definitely an intuitive player whereby I play according to the energy I feel from my participants.
The sound and vibrations of the singing bowls can help us reach different states of consciousness. The sound can actually slow down your brain waves to make you feel relaxed, from beta all the way to delta, which is associated with deep sleep. 
Apart from using them for meditation practice, singing bowls can be used for easing pain such as headaches and migraines, improving circulation, releasing tension or blockages, opening the energy flow and stimulating the immune system.
YOU DO SO MANY THINGS. WHEN YOU MEET SOMEONE FOR THE FIRST TIME AND THEY ASK YOU WHAT YOU DO, HOW DO YOU USUALLY ANSWER THE QUESTION?
I've always found it quite challenging to explain what I do as a profession, mainly because it would take me hours to explain absolutely everything! 
However, what ties them all together is that everything I do is creative-based, entirely driven by my intuition and life experiences. 
So if someone is expecting a simple answer, I would say I'm a wellness creative, but that usually prompts the person to ask more questions as it's not exactly a straightforward answer. That just sums up everything I do – it is never straightforward. 
I've always liked to challenge the status quo. I've never been someone who would blindly accept information that is fed to me. I definitely wasn't an easy student at school!
WHAT IS THE BIGGEST AND MOST FREQUENT MISCONCEPTION ABOUT WHAT YOU DO?
In the recent years, a lot of my clients refer me as their "healer". Personally, I think it's a huge responsibility to call myself a healer. 
What I do is use my gifts to help others find balance, so that they can activate their own healing ability. We can all heal ourselves; we just have to know how to get there.
YOU'VE LIVED IN LONDON, HONG KONG AND SINGAPORE. HOW DIFFERENT ARE THESE CITIES AND WHAT ARE THE THINGS YOU LOVE AND ALSO DRIVE YOU NUTS ABOUT LIVING HERE?
The UK will always be my home. I spent most of my adulthood there and had the most amazing time living in London. I miss the art and music scenes the most. I miss going to the concerts, music festivals, art galleries, museums and the list goes on.
Hong Kong is also my home because that is where my family and childhood friends reside. Hong Kong is a fast-paced city, so it's easy for people to get stressed and feel out of balance. 
I was definitely affected by it when I moved back in 2010, but thanks to my spiritual teacher's guidance and support from close friends and family, I eventually found my feet and created a great work-life balance. I started hiking on a regular basis, especially the hiking trails that end with an infinity pool, such as the one in Tai O.
I think it's difficult not to like Singapore due to the amount of greenery it offers. My favourite thing has to be the colonial shophouses. 
I feel extremely lucky to have found my current showroom in the beautiful row of shophouses along Petain Road, above Yoga In Common, where I host most of my TU-LA Wellness series. 
If there is one thing I'm still trying to get used to, it is the heat and the lack of distinct seasons. I miss autumn!
WHAT OR WHO INSPIRE YOU?
I find a lot of people very inspiring but here are some significant people who have inspired me the most: My great grandfather and grandfather. 
I was born into a very artistic family. My great grandfather was Kwan Wai Nung, also known as the Calendar King in Hong Kong, who famously did the Twin Girls artwork for Hong Kong cosmetic brand Kwong Sang Hong, and the posters for Tiger Balm. 
My grandfather, whom I was very close to as a kid, was also an artist. I still remember him telling me that there's no such thing as black in this world, only very dark shades of blue.
My dad, his siblings and his cousins are all very artistic. One of them is my uncle, Bing Kwan, an award-winning architect, whom I became very close to when I moved back to Hong Kong. 
He taught me the importance of understanding the poetics of space and the art of interior styling that is both practical and aesthetically pleasing.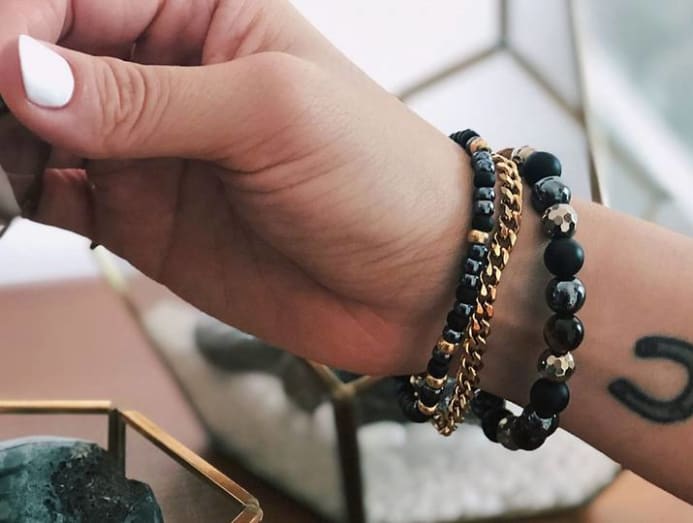 The greatest influence of all has to be my mum's career in fashion. She was the merchandising director at Versace Hong Kong and China for over 20 years. 
I often reminisce on my time spent in her office at The Landmark. The room was filled with colourful sketches and photos of Gianni Versace's signature vibrant prints; it's not surprising that my work is so colourful!
Apart from my family, the two years I spent working at Le Cadre Gallery, under owner Paul Lau, has greatly influenced my taste in art and interior design. 
Paul is very well respected in the design industry in Hong Kong due to his effortless yet eccentric way of styling an interior space with bespoke furniture and artwork.
WHAT IS THE BEST THING THAT HAS HAPPENED TO YOU SINCE STARTING MASE LIFESTYLE?
After years of learning and fine-tuning my skills, I've finally found my happy place with MASE Lifestyle. The brand encapsulates every single talent I possess, with the intention of making wellness accessible for all.
AND WHAT HAS BEEN THE HARDEST OBSTACLE YOU HAVE HAD TO OVERCOME?
I have always been aware of the expectations that society has upon us. Social conditioning is something that I've done a lot of research on as I've learnt to think outside the box and live beyond the limits imposed by society. The downside is, that life can become a little challenging when you are not following the rules set by others. But once you have found your unique self-expression and formed your own ideals, life becomes so much more interesting.
THIS IS A SUPER ASIAN QUESTION: WHAT DID YOUR PARENTS THINK OF YOUR CAREER SHIFT?
It took them a while to accept the changes I have made in my career throughout the years but at the end of the day, they just want me to be happy. 
My dad is a very traditional man. He wanted me to become a doctor when I was in high school. But I remember asking him, "Dad, do you really think you can trust me with a needle?". I'm terrified of needles!
HOW HAS THE PANDEMIC BEEN FOR YOU AND YOUR BUSINESS?
Meditation is more important than ever during the global pandemic. One of the common causes for unhappiness is the idea of not being in control of your life. 
With all the uncertainties we are facing right now, we must learn to tune in to our intuition for guidance, and find calm and peace within ourselves. 
We can always control how we feel but we can never control what happens around us. The key is let go of all the fears and worries and accept change as it comes.
ANY EXCITING PLANS FOR THE REST OF 2021 YOU CAN SHARE?
There's a lot to be excited about! My brand strategist and I have been spending a lot of time planning the TU-LA Wellness series, which will hopefully kick-start again in July at Yoga In Common. 
There are several exciting projects in the pipeline, such as my exclusively curated TU-LA events at the Mandala Club, a private members' club formerly known as the Straits Clan, which will be launched in 2021. Stay tuned!