Creative Capital: The steel artisan making space for metalwork collaborations
Twenty-five-year-old Matthias Yong of Baremetalco overcomes dyslexia to carve a living out of metalwork. And he wants fellow aficionados to join him in co-creating a space he is setting up.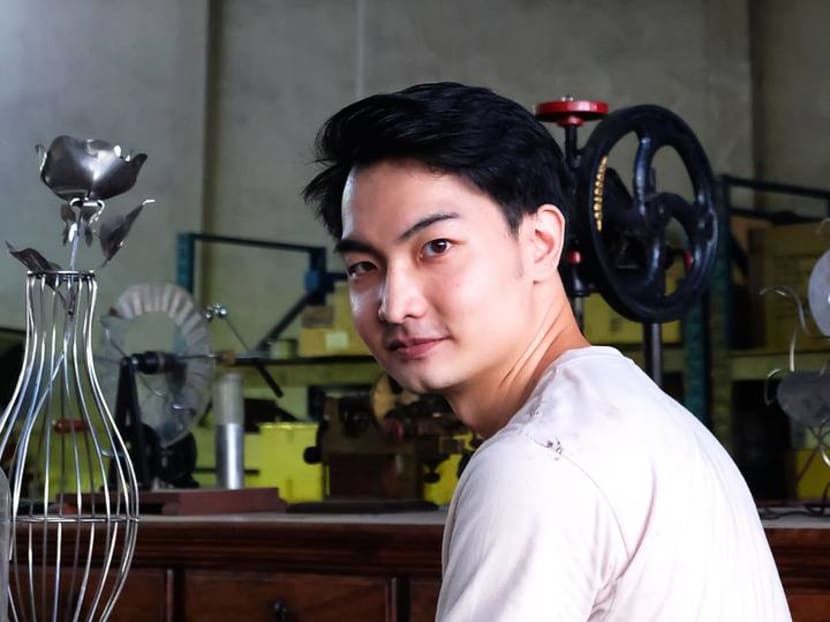 Over the last few years, I developed an interest in metalwork. Two years ago, I trained to make knives, learning the fundamentals of forging, stock removal, grinding and polishing, and handle assembly. 
That led me to Matthias Yong's company Baremetalco on Instagram. The first few images I saw were exciting. Matthias wasn't making just functional works but beautiful works of art. And all by hand! One video he posted showed how he bead-rolled a cougar head into a piece of sheet metal. After watching that, I became a fan. 
I was also envious. This young steel artisan seemed to have quite an amazing workshop to make his wares. As it turns out, Matthias comes from a steel-fabrication background; his family has been running the business since 1992 and he works out of their premises.
Although Baremetalco began just two years ago when he was 23 years old, he wants to convince his parents that there is a market here for creative steel fabrication. I hope he succeeds, too.
HI MATTHIAS, TELL US ABOUT BAREMATELCO. 
We fabricate customised metalwork, mostly one-off projects to suit our clients' needs but also random stuff I build for fun. Baremetalco is about discovering the creative possibility of metal fabrication and giving others a fresh perspective on metal. We stand out because of our willingness to attempt intricate works most sheet-metal companies would turn down. 
It's still the early stages for Baremetalco and there have been jobs we are unable to take on. But I hope to gain more experience and confidence, be able to take on more challenging jobs in the future, and live up to the trust given to me by my customers.

DO YOU CONSIDER YOURSELF A METAL ARTIST, A CRAFTSMAN, OR AN ENTREPRENEUR?
Definitely not an entrepreneur! I don't enjoy the business aspects of the job; I hate working on numbers. I wish I could just focus on the making and not worry about running the business. But I have to since this is now my rice bowl. I guess I consider myself a craftsman because I'm practising the trade of metal fabrication but also a metal artist in terms of the stuff I try to create.
YOU'VE MENTIONED THAT YOU ARE DYSLEXIC. WHAT WAS IT LIKE GOING THROUGH THE LOCAL EDUCATION SYSTEM?
I didn't enjoy school. Dyslexia is a learning disability that affects each person differently. It was harder for me to spell, read and speak. My brain works a little differently and I tend to be more of a visual or picture thinker. I would definitely urge parents to give their kids an avenue to build their creativity. Normally, I wouldn't share that I'm dyslexic but as I grew older, I started to embrace it. 
WAS STARTING THE COMPANY DIFFICULT?
My family runs a metal fabrication business in Toa Payoh Industrial Park. Our roots are in making stainless-steel kitchen equipment but now, we do just about anything stainless steel such as letterboxes and worktables. 
Even so, the learning curve was very steep and there were so many things that I had to figure out on my own. I'm very thankful for the people who have helped me along the way.
In the beginning, when there were no projects for Baremetalco, I would draft, operate machines or make deliveries for the family business. I still do some of that today. As I got more jobs, I carved out more time for Baremetalco. There isn't a line drawn between the two businesses and we help each other out. 
It has also been complicated when it comes to my family's philosophy in business. My parents have very traditional mindsets and are not open to change. I branched out with Baremetalco because I wanted to focus on the craft and not be an option for their clients. I still need to prove to my family that I can succeed. Maybe when they read this, they will have more faith in Baremetalco?
WHAT HAVE BEEN THE MOST REWARDING AND DISAPPOINTING SO FAR?
The most rewarding is definitely when I finish a job. The whole process from idea to product can sometimes take months. It's always a roller-coaster ride with mixed feelings. For example, there's excitement during the ideation stage, anxiety during the planning stage, stress when meeting timelines, and nervousness when you first show your finished work to your client. 
There have been some disappointments along the way, too. My work is handcrafted and imperfections do show at times. I still have much to learn. But experiencing a client's smile and satisfaction always makes me feel I've done something good and it makes me feel great.
The most worrying issue for me is sustaining a metal-fabrication business in Singapore. Metal fabrication requires a large working space and that makes it difficult to operate as a one-man show. Additional machinery and manpower are also required. All of these don't come cheaply in Singapore. That affects the pricing I quote for jobs. Clients then have very high expectations because of the higher price I charge, at least in comparison to something they can buy online.
WHAT'S THE PROCESS OF FABRICATING SOMETHING LIKE?
I first speak with the clients to get a better idea of what they want. After that, I'd work out the fabrication method, the materials and tools needed, and how I would create the work. From there, a quote is derived and once agreed on, we'd start on drafting and fabrication drawings. Jobs can vary from a few days to a few months.
DO YOU WORK ONLY WITH STAINLESS STEEL OR A FULL RANGE OF METALS?
I personally like stainless steel because of its resistance to rust. It can be bare but still exhibit different finishes. That's how I came up with the name "Baremetalco" actually. I like my metals bare and natural, without a layer of paint. 
But I do also work with other metals such as steel and aluminium, and occasionally brass or copper. It really depends on what the job requires and which metal and finish make the most sense. 
WHAT'S A MAJOR MISCONCEPTION SOMEONE MIGHT HAVE ABOUT WHAT YOU DO?
That I have things easy and live the towkay life because of my family's background. Sometimes, people don't understand how fabrication businesses have it really hard in Singapore. In fact, a lot have closed down recently. I'm fortunate enough to have the support of, and be able to tap into the existing space and equipment from the family business to do what I'm doing now. But it's still incredibly difficult to make a living in this industry.

WHAT INSPIRES YOU?
I would say fellow crafters and metal artists on YouTube and Instagram. And sometimes, just about anything in my daily life. 
There aren't any local courses or workshops teaching what I want to learn; most of my skills are picked up from watching YouTube and through trial and error. I spend quite a lot of time watching videos on fabrications and craftsmanship. I like watching people make things.
HOW DO YOU SEE BAREMETALCO GROWING OVER THE YEARS?
At the moment, it's very uncertain as there's a lot more I plan to try. Like my very own designs or conducting classes. I'm definitely also looking for more collaborations, be they one-off, customised designs or off-the-shelf items. I'm excited to see where those could take me and the business. 
I'm currently setting up a co-sharing workshop. It's what I envision the future of a co-creators' area to be: A big space where you can go crazy and not be afraid to get things dirty. That's what I feel is lacking in today's scene. I want to create this space for people to build, experiment and develop their own works. I hope to develop the place into a fabrication-and-design hub, where we can then move on to collaborate on bigger projects together. 
Shout out to anyone interested!