The 'mumpreneur' who started her own range of muslin bed linen for young ones
Kim Tan juggles a full-time job with running her own brand, but mothering is at the heart of what she does.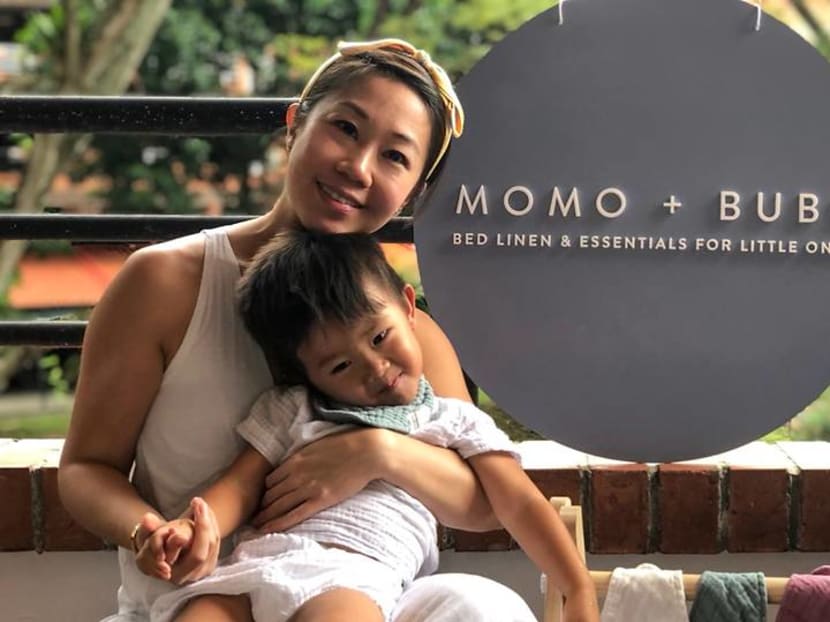 Entrepreneur Kim Tan admits that sometimes, after a long day at work as a B2B Marketing Director for Asia Pacific at Mastercard, all she really wants to do is crawl into bed and watch Netflix.
Add parenting duties to that job – her son Eli is two this year – and you might imagine that any free time she has is devoted to self-care.
But Tan is one of a growing number of "mumpreneurs" who are making our local retail scene ever more exciting. Her company, like those of many mumpreneurs, was born out of a real market gap that she encountered in her parenting journey. A quest for high-quality, affordable muslin bedding led her to establish MOMO + BUBS in 2018.  Kim launched her first collection during Boutique Fairs in March last year. And since then, she's been slowly, steadily and smartly growing her business.
MOMO + BUBS specialises in muslin bedding. It also sells bibs and a small collection of clothes for infants. Personally, I love the bibs. I picked up a set for my youngest and they've proven to be the best we've used – comfortable, easy to wash and stylish. Parents will know that's a surprisingly hard combination to find.
After meeting Kim, and becoming a MOMO + BUBS customer, I wanted to speak to her more, to learn about her and her business.
THE LEAP FROM SEARCHING FOR AN AFFORDABLE PRODUCT TO ACTUALLY LAUNCHING A BUSINESS BASED ON A PERCEIVED MARKET GAP IS A PRETTY BIG ONE. TALK ME THROUGH THE EVOLUTION OF YOUR SEARCH FOR BEDDING UP TO MAKING THE DECISION TO LAUNCH YOUR BUSINESS.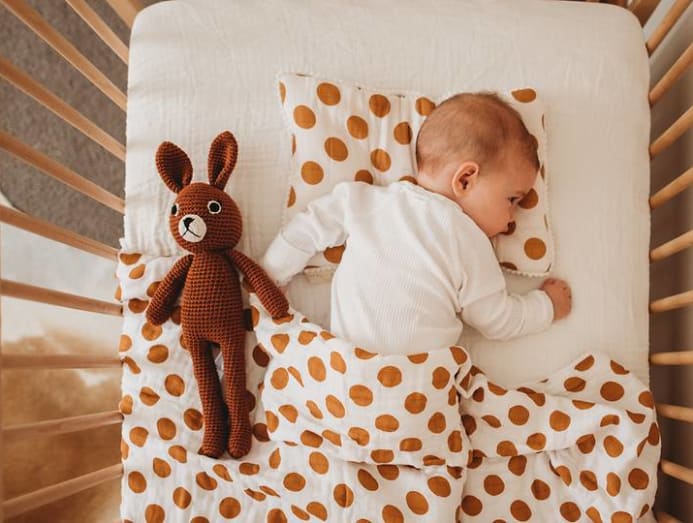 Eli is a rainbow baby so in those early months of my pregnancy, we didn't dare purchase anything for fear our hopes would be dashed. Before we knew it, we found ourselves three months away from the due date with an empty nursery to fill. I'm more than a little obsessed with home decor, so I took to the task of doing up Eli's nursery with much excitement. His cot was the first big furniture item we purchased. The search for bedding came next, which stumped me. As a first-time mother, I looked in all the usual places, but found that choices were limited – I wasn't a fan either of the material, the prints or both. One day, a friend who lives in Australia and is a two-time mother recommended I look at muslin sheets. I fell in love immediately with the soft wrinkly material that evoked summer-holiday-in-France vibes. I wanted muslin everything for my baby – sheets, quilts, cot bumpers, bibs, swaddles, clothing. The lot!
Muslin is an ideal fabric for little ones because it is delicate on skin and soft to the touch. In addition, the open weave allows for airflow, which is perfect for our warm weather. But as I shopped around, I found the options for muslin weren't plentiful, and the nicer ones were often pricey. The thought of starting a business to fulfill that niche briefly crossed my mind, but I quickly put it away because the idea of starting a business seemed preposterous when I had a good full-time job and a new baby to think about. Still, each time I shopped for textile products for Eli – whether it was bedding, cot bumpers, blankets, clothes or bibs – I always found myself trying to seek out muslin options.
Becoming a parent has changed me. It's made me more acutely aware of happenings in the world, and their impact on future generations. It's made me want to do better, to be a better person. To pursue my dreams, and in turn encourage Eli to pursue his dreams. So it was on one such night when I was alone with my thoughts about Eli and the future that the idea to start MOMO + BUBS was born.
YOU CHOOSE TO GIVE PART OF YOUR REVENUE TO A CHARITY. IS THIS SOMETHING YOU KNEW YOU WANTED TO DO FROM THE VERY BEGINNING?
Starting MOMO + BUBS wasn't a Eureka moment where I felt I had chanced upon a niche that would make me a lot of money. It was a thoughtful decision that felt right for where I am in my life because it would allow me to fulfill a few things: Creative outlet – the ability to create things that people would like. Dream – the opportunity to pursue a dream and show Eli that anything is possible with a bit of hard work. Give back – the ability to help families in need. The decision to give part of my revenue to charity is something I knew I wanted to do from the very beginning. As a new mother doing my best to provide my son with every opportunity I could, it broke my heart to know that there were many families out there in need of help for their little ones to have those same opportunities.
WHY DID YOU CHOOSE TO WORK WITH SINGAPORE CHILDREN'S SOCIETY? HAD YOU VOLUNTEERED OR DONATED TO THEM PREVIOUSLY?
I knew I wanted my business to help families and children in need, and after doing some online research I picked the Singapore Children's Society. The Society, which was established in 1952, helps more than 78,000 children, youth and families each year, regardless of race or religion. They have a comprehensive programme, offering services in the four categories of Vulnerable Children and Youth, Children and Youth Services, Family Services, and Research and Advocacy. I'd like to help them continue this meaningful work.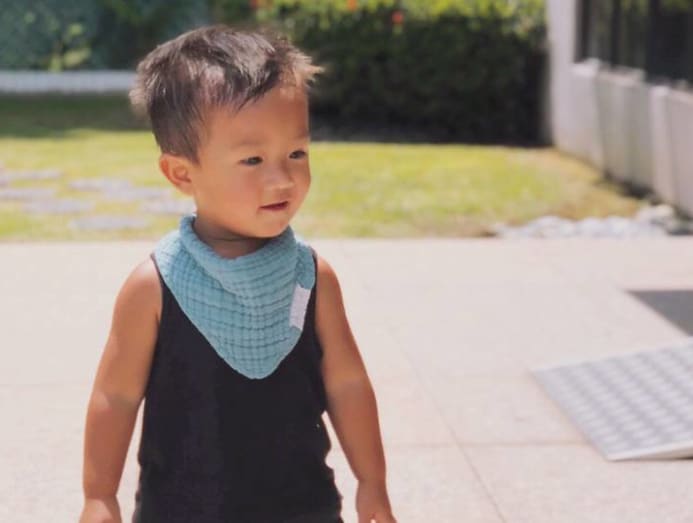 ONCE YOU DECIDED THIS WAS WHAT YOU WANTED TO DO, WAS SOURCING THE PRODUCTS YOU WANTED TO SELL EASY OR DIFFICULT?
This was a challenging process tackled over many late nights. I applied all the powers of my internet sleuthing skills – honed in a past life through years of digging into a cheating ex-boyfriend to catch him out in his lies, and I mean that in the least crazy way – to finding factories to work with.
I contacted many factories and had countless samples made before deciding on the first factory that I worked with. They produced the bulk of what I sell now – my cot sheets, blankets, swaddles and bibs. I picked them because the quality of the muslin they used was the best amongst all that I had sampled. The actual process of working with them was challenging though, because I was a small fish in a big pond – they produce for much larger companies – and I faced many delays in receiving my order, with periods of unresponsiveness. As a larger factory, they also have high MOQs (Minimal Order Quantities) for bespoke designs.
I now work with a smaller factory based in India that is also Fair Trade and GOTS (Global Organic Textile Standards) certified. They produced my clothing collection of onesies, tops and bottoms, and we're currently working on some new items for the Boutiques fair in March.
WAS THE PROCESS OF SETTING UP AND LAUNCHING THE BUSINESS EASY OR DIFFICULT? WHAT WAS THE HARDEST OR SCARIEST PART OF THE PROCESS?
Making the decision to start the business was the easiest part. All paths from there have generally been filled with obstacles that I do my best to navigate with a can-do attitude and a lot of grit. I'm proud to say that I do it all, from website design and management to photography, product design, sourcing, manufacturing and logistics, and marketing. My business is 100 per cent funded from my savings, so I cannot afford to be laissez-faire about anything.
A brand is made up of a series of many small, thoughtful decisions. The decisions made at every point of interaction determine how cohesive your brand identity is, and define what people know you for. I want people's interactions with MOMO + BUBS to always feel comfortable, easy, warm and a little bit special. Every online order that I send out includes a handwritten note either from myself – or my house elf, also known as my husband, if I'm travelling – because I want my customers to know that I appreciate their business. I want them to know an actual person dances each time she hears the beautiful sound of 'cha-ching' from the Shopify app when a new order is received. Sometimes, I also include little extras in the packages to surprise and delight.
One of my earliest obstacles was developing my logo and other creative collateral like name cards, thank-you cards and carton mailing boxes. I looked on Fiverr for a designer as I had zero ability to use design software. After paying four designers, I quickly learned that this was a skill I needed to bring in-house – i.e. do myself. So I signed up for an Adobe Creative Cloud license and embarked on my journey with Illustrator. I thought it would be similar to PowerPoint. (Laughs) It is so not. It takes me five times as long as a professional to produce artwork because I'm not well versed in the software. But this is where the can-do attitude and grit comes in.
Picking a Pantone shade for my logo was another shocker. I used to work in an advertising agency, and we always had Pantone swatches lying around so I assumed they were free and easily available – until I needed one and realised they cost hundreds, even thousands, to purchase. Thankfully, I have a friend who runs a printing business and he very kindly loaned me his Pantone swatches. I spent three days poring over the swatches to pick out just the right shade of bluish-grey that would henceforth come to represent MOMO + BUBS.
The most nerve-racking memory I have to date was on set-up-day at Boutique Fairs in March 2018. It was my very first pop-up event. It was the first time I would be showcasing my baby to the world, and I remember asking my husband as we were on the way there, "What if people hate it?", "What if they tell me to my face that they hate it?". I think all the butterflies in the world had gathered in my belly for a party that day. But as soon as we pulled into the carpark, and we got to work carting our goods and decor up those flights of stairs at the pit building, those feelings dissipated. At that moment, surrounded by other small businesses all working hard to pursue their respective dreams, I felt comforted and proud to be able to say that I was a part of that community.
TELL US ABOUT THE DIFFERENT PRODUCTS YOU SELL. DO YOU HAVE A HERO PRODUCT?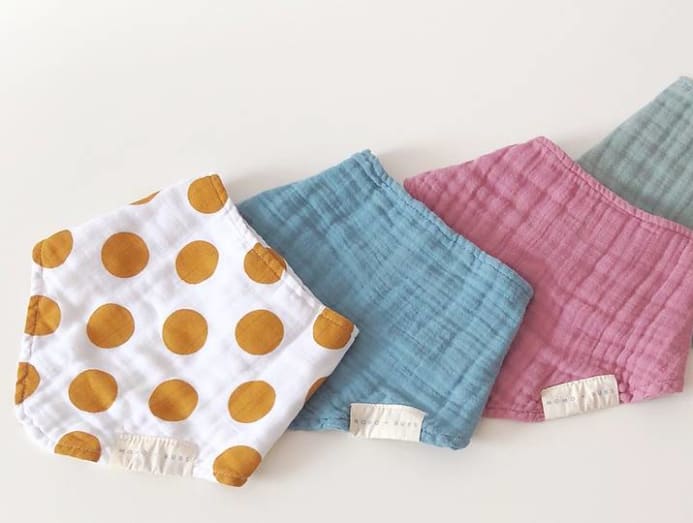 Our tagline is, "Bed linen and essentials for little ones", so I consistently exercise discipline to stay in this lane because there's always temptation to expand into other items.
We sell muslin fitted cot sheets, quilts, swaddles and bibs. Our cot sheets, which started it all, are different from most other muslin sheets in the market because we've made them in 4-ply (most muslin sheets in the market are 2-ply). I opted for 4-ply because the thickness made them feel more luxurious, and more importantly, I wanted a product that would be able to withstand frequent machine washes. We change Eli's sheets sometimes four to five times a week because of spit-up, diaper leaks or vomit when he's unwell.
Our cot sheets and blankets come in a matching drawstring bag, which are great for packing spare clothes, diapers or wipes when you're out and about. They're also handy for keeping your little one's school bag organised for daycare.
A couple of months back, we launched a small collection of clothing for little ones. We're not a fashion brand, so our designs do not follow the trends of the day. They're thoughtfully designed wardrobe staples for everyday wear – we have a kimono-style onesie so parents do not have to struggle to pull clothes on over their little ones' heads, with snaps on the bottom for easy diaper access; a boat-neck weekend top in white and coral that goes with everything in your wardrobe; and bubble shorts that are easy to pull on – no buttons or zippers – and roomy enough for little ones to run around in.
All of our muslin is made with 100 per cent organic cotton, and of a high yarn count for extra softness. In addition, no formaldehyde is used in our prints and dyes so you don't ever have to worry about baby snuggling up to our products.
Aside from textiles, we also carry a set of milestone wood cards that were designed to celebrate the journey that is parenthood. It is a journey that is sometimes trying and often tiring, so the best thing you can do as a couple is to laugh through the madness and cherish the moments. I admit, this isn't an absolute essential – but I wanted to create something that would resonate with new parents, and also be a keepsake that they can look back on.
I don't know if we have a hero product, but our bibs are definitely our best-selling item! Made with 6-ply muslin, they're soft and thick enough to mop up drool, food and dribbly noses. They also wash well – my customers have told me they can get all sorts of food on them from pumpkin to pasta sauce, and they don't stain. I spent a lot of time on the size, shape and curvature of the bib so it sits just right, and bunches just the right amount when you put it on.
AS ELI GETS OLDER, WILL YOU EXPAND THE BRAND TO CATER TO OLDER KIDS OR DO YOU THINK YOU WILL STICK WITH THE CURRENT NICHE YOU'VE IDENTIFIED?
I've had lots of requests to make larger sheets and blankets, so it's definitely something I've been looking into. But two things stand in my way at present. First, the market for standard sized bedding is extremely saturated with larger players that have the volume to produce variety. Second, the cost price for producing those larger sheets is exponentially higher so I wouldn't be able to price them competitively. As MOMO + BUBS grows though, this is something I'll continue to explore, but not right now.
My clothing collection currently fits kids from newborn to four years, and I'll be expanding this to six years.
HAS THERE BEEN SOMETHING YOU'VE DESIGNED THAT YOU THOUGHT WOULD BE FANTASTIC BUT THEN IT FAILED ELI'S "SNUGGLE TEST"?
Plenty! I used to carry pillows, but I stopped after I sold out because the factory wasn't able to produce them well. It was a great product when they got it right that sold really well but I was only able to sell 50 per cent of the pillows I received from the factory – the other 50 per cent had varying levels of defects which didn't pass our test. And I had to absorb the loss for the products I couldn't sell.
I also explored making cot bumpers because I didn't fancy most of what was in the market, but we couldn't get the firmness right. After three failed attempts, I parked that in my bank of items to explore later.
Another item that I thought would be brilliant was an all-in-one sleeping bag. Eli goes to daycare, and has to bring with him a sheet for his mattress, a blanket, a pillow and a bunny. I had samples made, but again, they didn't pass the "snuggle test" – he didn't look any happier in them than he did with what he already had, so it wasn't an essential I needed to add to my inventory.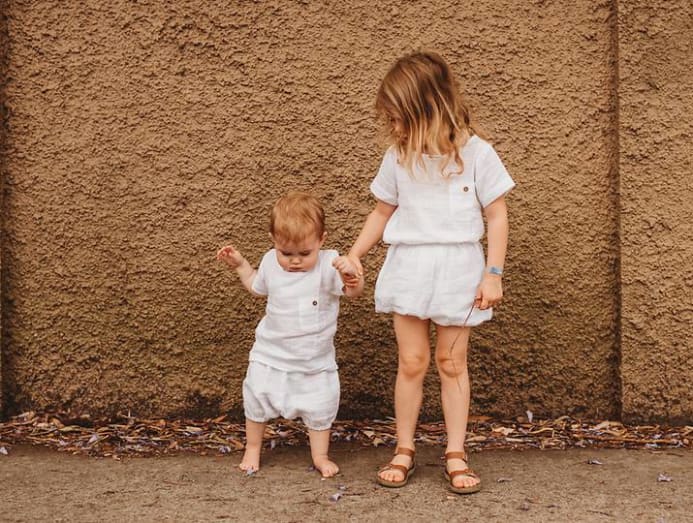 DO YOU THINK THE KIDS' MARKET HERE IS CROWDED? THERE SEEM TO BE A LOT OF PEOPLE WORKING TO CREATE PRODUCTS FOR YOUNG PARENTS AND KIDS.
About 40,000 babies are born here each year. A lot of new and existing brands in this segment are mumpreneurs like myself who have identified niches through their personal parenting journeys that they believe they can fill.
We're all pursuing a dream to build something of our own. So as long as you are earnest about producing good quality products that cater to the needs of parents and kids, I believe there's room for us all to coexist. As a mum and small business owner, I also like supporting other small businesses when I can because I know I'm supporting a dream.
WHAT'S THE DREAM FOR MOMO + BUBS?
My dream for MOMO + BUBS is to have a small space where all my stock can live! I'm very house proud. I get that from my mum, the perennial host. She always has a basket of little hand towels in the guest toilet, cold towels in the fridge and plenty of food ready to feed anyone. So when I got married in 2015, I wanted to build a home that people would feel comfortable coming to, because laughter and chatter over good food are what makes a house feel like a home.  
In the past year since I've started MOMO + BUBS, our home has been turned into part warehouse and it really pains me. I love my products, but I'd also love if they lived elsewhere so I can reclaim my living room and have people over again.
On a more serious note, my dream for MOMO + BUBS is to be the go-to brand for good quality bed linen and other nursery essentials like swaddles, bibs and wardrobe staples. Thoughtful products designed to make life simpler for parents, and that don't follow the trends of the day.
WHAT CAN WE EXPECT FROM YOU IN 2020?
I plan to continue growing visibility and awareness of MOMO + BUBS through pop-up events like Boutique Fairs – we'll be there again for our third time this March, and launching a new collection of items in Seafoam – community engagement and pitching to the press.
 
I would also like to continue finding ways to give back beyond donating a portion of my revenue from our swaddle sets. I've just donated 50 cot sheets and quilts to Singapore Children's Society's Yishun Family Service @ Children's Society, and I'd like to do more. One of the things I'm looking into right now is the possibility of providing sterile birthing kits to mothers in developing countries. There's a foundation in Australia that does this, but nothing similar in Singapore. A simple and inexpensive kit with gauze, a plastic sheet, soap, cord ties, a sterile blade and gloves are all it takes to prevent death related to pregnancy and childbirth. If possible, I'd like to provide the birthing kits and a swaddle to provide hope and comfort to these mothers.