Creative Capital: They've made ceramics for Queen Elizabeth and Singapore's top restaurants
A return to simpler pleasures is one of the changes that the pandemic has resulted. And Michelle Lim and Ng Seok Har of Mud Rock Ceramics have just the wares to complement cooking and eating more at home.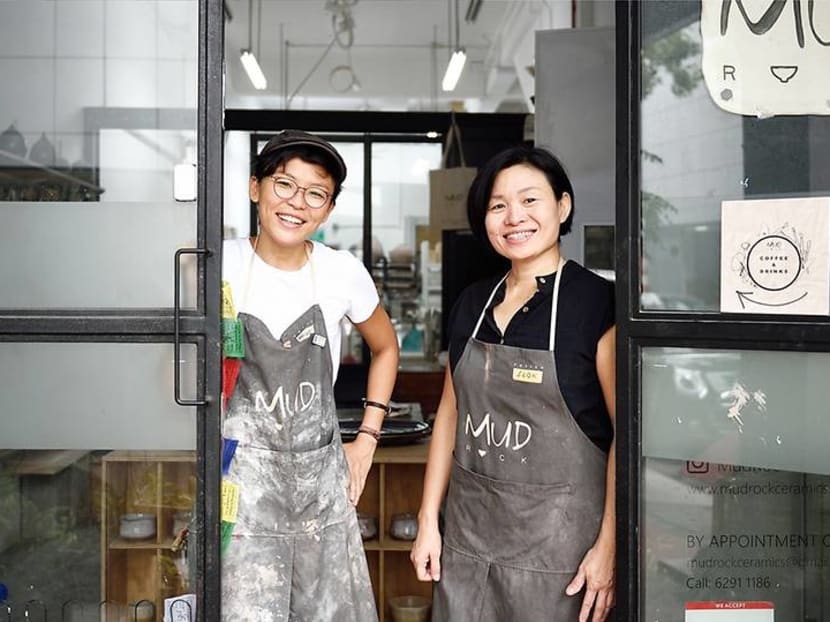 The first time I knowingly handled a Mud Rock Ceramics bowl was at a pop-up dining event organised by chef Jeremy Nguee at Mud Rock's studio-cum-showroom. 
He fed each guest a delicious local dinner, served in a gorgeous, high-lipped bowl that was designed for eating rice with sauces, gravies and curries. As part of the ticket price for the event, I got to keep the bowl. It is, to this day, my favourite bowl and one that I photograph food in the most.
Since then, my wife and I have become devoted fans of Mud Rock Ceramics, a studio started in 2013 by Michelle Lim and Ng Seok Har. And I am not alone in my fandom. 
Many of our country's best restaurants, such as Meta, Lerouy, Morsels, Burnt Ends, and Le Bon Funk, have commissioned work from these two energetic and enthusiastic potters.
HI MICHELLE AND SEOK HAR, HOW DID YOU BOTH DISCOVER POTTERY? 
Seok Har: In my early years, through books and museums. My innate interest in the arts got me reading and trying out all sorts of craft I could get my hands on. But it was only during my seven years living in Japan that I first touched clay. 
Michelle: Mine started in the muddy fields of primary school when I was a child. Every time it rained, I would stay back to play in the fields, making forms with the mud. No one introduced me to pottery but it seemed intuitive as a child to mould mud into everyday objects. 
TELL US ABOUT YOUR PREVIOUS JOBS
Seok Har: I worked in the foreign exchange market. It was dynamic and fast paced, and I had a lot of opportunities to travel. But ultimately, there is nothing like doing what you really love for a living. My career switch is the best risk I have ever taken. 
Michelle: I was an industrial designer, designing mobile phones, pagers and MP3 players. Can you even remember when we used pagers? I was also teaching industrial design to youth at risk in ITE for a couple of years before leaving to study ceramics full-time.
WERE YOU ALREADY FULL-TIME POTTERS WHEN YOU MET? 
Michelle: I was a full-time lecturer at Singapore Polytechnic, organising exhibitions as well as Awaken the Dragon, a three-day ceramics festival designed around the last two remaining dragon kilns in Singapore. 
Seok Har: Yes, you could say that. I had completely left my job by then and was putting all my time and resources into pottery. 
HOW DID YOU MEET AND HOW DID MUD ROCK BEGIN? 
Seok Har: In 2011, I met Michelle when I heard she was organising the ceramics festival. I had begun working as an independent artist out of Jalan Bahar, where the dragon kilns were, and also where the festival was held. 
I became part of her volunteer team and through those late nights working together, we realised we shared a rare dream of using clay to make functional wares and reintroduced ceramics back into Singaporeans' daily lives. 
ARE YOUR STYLES AND TRAINING SIMILAR OR DIFFERENT? 
Seok Har: I think our styles are very similar despite the very different training we got. I was trained the old school way, initially picking up the craft in Japan when I lived there. 
I was also under the tutelage of master potters such as Somluk Pantiboon in Thailand and Jaqueline Low in Singapore. Master Somluk is a living treasure, and I was thrilled when he took me under his wing and let me work in his studio, Doy Din Dang. 
While there, I was able to observe the discipline and creativity of an entire team of crafts people who were nothing but humble and skilled. I consider myself very fortunate to have had that experience, which has been an inspiration to Mud Rock. 
Michelle: Unlike Seok Har, I had more formal training. I ventured into ceramics professionally through a degree in ceramics at The Australian National University. 
I chose the school also because of its bauhaus roots, in which every medium in the arts is taken seriously enough to have its own independent department. 
With ceramics, I learnt everything from the history, theory and science of ceramics to the emotions, human rights and evolution of the craft. All this was only possible because of the professors and artists the university brought in to teach us. 
I was incredibly lucky to be there during the time when Janet DeBoos and Greg Daly headed the department. It was one of the most generous and supportive environments I have ever been in, and my teachers' approach to the craft and education changed my worldview beyond the material. 
YOUR WORK IS USED BY SOME OF THE BEST RESTAURANTS IN TOWN. ARE RESTAURANTS AND HOTELS YOUR TOP CLIENTS?
Seok Har: Yes, in terms of turnover projects, restaurants and hotels are the highest. 
But we also have other interesting customers who commission on a smaller scale, such as the Ministry of Foreign Affairs, which will occasionally commission us to make gifts for their VVIPs. We've made gifts for the Vatican and Queen Elizabeth II. 
On the other end of the spectrum, we have individuals who will commission us to furnish their homes with dining sets. 
Including our big annual studio sale turnout, I reckon sale figures for corporate versus individual are actually quite balanced. 
HOW MUCH OF YOUR TIME IS DEVOTED TO WORKSHOPS AND TEACHING? 
Even though each class does not exceed three hours, there is a lot of preparation and back-end work that goes unseen in teaching the workshops. So it takes up about five out of our 12-hour work day. 
WERE THERE ANY MOMENTS WHEN YOU WANTED TO THROW IN THE TOWEL? 
Seok Har: I am thinking really hard. It took me such a long time to finally do what I love that I have embraced all the challenges with great optimism. I am constantly amazed that I get to do this for a living! 
Michelle: Financially, never. Emotionally though, there have been times when I nearly broke down. I'd neglected my own health by pushing my body and mind to their limits in order to meet deadlines. 
You couldn't apply for leave or take a day off. When you work for yourself, no one can cover you. So those early years were tough when we had to sacrifice time with friends, family and even self-care. 
WHAT HAVE BEEN THE HAPPIEST MOMENTS FOR YOU? 
Michelle: We are always super happy and emotional after any of our major events, like a Mud Rock party or annual sale because of all the support from the community and people who appreciate our work. I literally cry tears of joy at the end of those nights, and say a prayer to thank those souls. It's mushy but true! 
WHAT HAS BEEN THE BIGGEST SURPRISE IN THE JOURNEY THUS FAR? 
Seok Har: That Mud Rock Ceramics has grown beyond the shores of Singapore! 
HOW HAS MUD ROCK CERAMICS EVOLVED AS A BUSINESS AND BRAND SINCE YOU STARTED IT? 
Michelle: The evolution of the brand has been a rather organic one but what has kept us authentic is that we are very clear about why we started this: To bring locally handmade ceramics into homes of Singapore. 
We work hard so things can be affordable and inclusive, and the brand and business just evolved around this philosophy. We are also careful not to do work just for airtime, money or at the expense of our values. Working with like-minded folks has helped keep Mud Rock Ceramics on track, too. 
IS IT DIFFICULT TO BE A FULL-TIME CRAFTSPERSON AND ARTIST IN SINGAPORE?
Michelle: Yes! While we have the enormous support of the community, we find that, even seven years on, we still encounter clients who ask why our prices are so much higher than those on Taobao or Amazon. 
It is not fair to say the value of a factory-made item is less because it is machine-made. I know because I have worked in a couple of factories in China. The actual "machine" we are working against is the economy of scale that is used by the CEOs of factories to exploit factory workers and craftspeople. 
Then, there's another issue that is probably even more concerning: The intentional misappropriation of "craft" and "artisanal" by companies, big or small, to market their imported mass-produced wares. 
WHAT MORE SHOULD AND CAN BE DONE TO FOSTER THE CRAFTS SCENE?
Seok Har: For individuals, using local handmade ceramics and sharing the story of their makers can never be undervalued. For institutions and the state, to always choose locally made products and not just settle for "designed" in Singapore. 
WHAT IS YOUR FAVOURITE PIECE TO PRODUCE?
Michelle: The kind that, upon looking, you want to hold; and upon holding, you want it to be a part of your daily ritual. 
Seok Har: That tea set for the 90th birthday of Queen Elizabeth II was an unbelievable honour. 
HAS THE PANDEMIC BEEN TOUGH FOR YOU GUYS?
Michelle: Yes and no. Since the start of pandemic, we have had to reduce or cancel our pottery classes. Our production for commissions has also slowed down because of the hit that restaurants and the events sector have had to endure.
Our saving grace, however, came from our community that was happy to buy and share their use of our plates. The amazing word of mouth via Instagram really helped with our online sales during this time. 
Also, one of the good things that have come out of the circuit breaker is how everyone has started to appreciate gardening, cooking and eating at home more. And this, in turn, means using more pots, plates, bowls and mugs, so much so that we actually achieved record-high sales! 
More than the income, however, is the satisfaction we get knowing that people everywhere are using our ceramics to complement their daily life.
WHAT'S IN STORE FOR THE REST OF THE YEAR?
Seok Har: We will focus on two things that we have always wanted to work on. One, a more comprehensive online store and retail catalogue so that collectors in Singapore and overseas can make orders without too much hassle. 
Two, the pandemic has exposed long-worn injustices in our society that have been swept under the rug. So as we move into a new normal, we are taking the extra time to work on small community projects to help lift our society. Mud Rock reading club for the kids-at-risk in Jalan Besar will be set to launch in the second half of the year.