Creative Capital: The Singapore mumpreneur who custom makes wall decals and cake toppers
Urban Li'l is a local interior products company set up by 35-year-old Rachel Tan.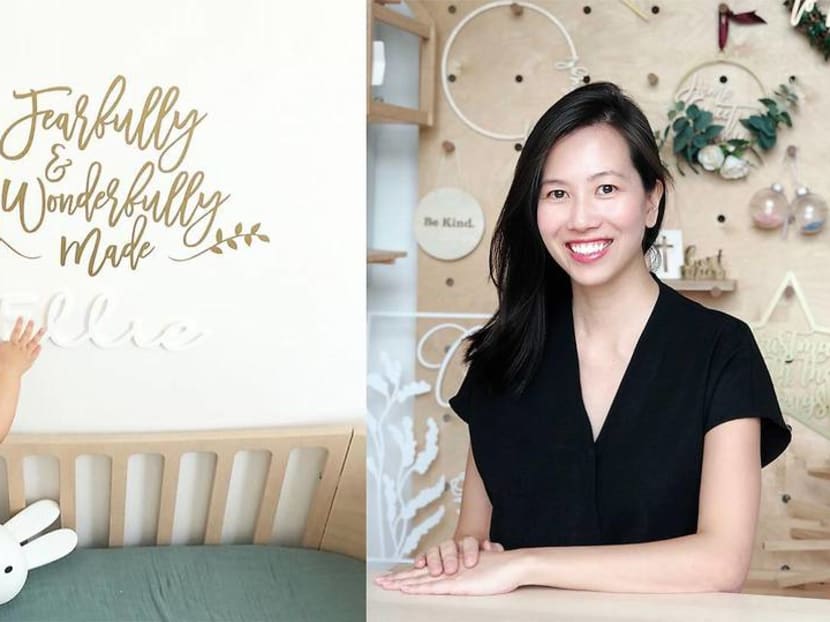 Just the other day, my wife asked me to set up a car track for our two year old son. I had assumed she meant a Tomica track – since becoming a dad, I have spent so much time setting up these modular, motorised tracks. She told me it was already in his room. When I went in, I didn't see a box of plastic pieces anywhere. Instead, there was a poster tube with the cutest fabric decal car track.

When we were installing it, I noted that the drawings on the decal were Singaporean landmarks. There was the Merlion, and MBS, the Esplanade, and Changi Airport's original iconic air traffic control tower.
This was clearly a local product. So I asked my wife who she got it from. When I found out that it was from the same people who also made the custom laser-cut Chinese New Year family plaque with our family name in Chinese, I wanted to know more about Urban Li'l, a six-year-old interior products company set up by 35-year-old mumpreneur Rachel Tan.
WERE YOU A CREATIVE OR ENTREPRENEURIAL CHILD?
I loved interior design, even when little. One of my childhood hobbies was to read the Ikea catalogue and imagine how, when I grew up, I would transform my own room. At 13, when we moved to a new place and I was allowed to design my own room and style it as I wanted – with items from Ikea, of course. I guess I have always had an interest in well-designed spaces and products.
My only ambition as a kid was to be an entrepreneur, like my dad. In our teenage years, my brother and I would buy items from Bangkok and bring them back to Singapore and sell them via a rental push-cart. We didn't make much money but we were able to learn business skills such as sales, pricing, and marketing at a young age.
TELL US ABOUT YOUR CORPORATE CAREER BEFORE URBAN LI'L.
I was working in the field of financial planning and analysis in various MNCs for a decade after I graduated with a Master's degree in Finance from Monash University. I was actually en route to becoming a CFO but when I become a mum in 2015, I realised that I wanted a career where I could have greater control of my time so that I could have enough time for the kids. That's when I really found my passion in design and started Urban Li'l, but it took me four years to be confident enough to take the plunge to run the business full time.
IT MUST HAVE BEEN TOUGH TO JUGGLE A FULL-TIME CAREER AND A START-UP, ALONG WITH MOTHERHOOD.
Juggling a full-time job, business and the family was an enormous challenge. I felt that I wasn't 100 per cent at anything as I was constantly multi-tasking and finding it difficult to push myself harder on any front. I was constantly sleep deprived with four hours of sleep per day and it was extremely detrimental to my body. I finally had to take a step back on my corporate career to care for myself and the family.
My proposal to leave the company was countered with an offer of a part-time scheme by my bosses. It was the perfect arrangement for me. I worked three days on the job and two days on my new business. I had new-found energy, walked with springs in my steps and spent quality time with the family. That all changed again when the second baby came along. That's when I finally left my corporate job, started an office, hired a team and grew the business.
WHAT GAVE YOU THE CONFIDENCE TO RUN URBAN LI'L FULL-TIME?
Urban Li'l was the first in the market in the custom interior decor sector and there was so much potential to grow into. I had a target to earn at least 75 per cent of my corporate income before leaving. I left in 2018 when I met that target and I was confident enough to maintain my income and meet my personal and business goals with plans in place.
WHAT WAS THE FIRST THING YOU DESIGNED THAT YOU CONSIDER TO BE THE CATALYST FOR URBAN LI'L?
Our family plaque and the products that were inspired by it were the catalysts that helped propel the business to a new level. We designed and made our first family plaque almost five years ago when Elizabeth Soh-Teo who is a fellow mumprenuer, requested a custom plaque for her home that said "Home with the Teos".
It went viral when she posted it on her Instagram account and our orders for Family Plaques shot up. In fact, they still grow month on month to this day. We have since created many plaques and signage for kids, home, businesses and events that have brought the business to where it is today.
TELL ME ABOUT THE NATIONAL DAY MILESTONE STICKERS. I UNDERSTAND THOSE WERE THE FIRST OFFICIAL PRODUCTS FROM URBAN LI'L.
Urban Li'l was founded on Aug 1 when my SG50 child was about six months old. That inspired me to create our first product – a SG50 National Day edition of milestone stickers for babies to mark this special milestone in their lives. These milestone stickers were customised with the baby's names that says "XXX's First SG50 National Day" in a shape of a ribbon for girls and a tie for boys. They were meant to be pasted on their onesies mainly for photo-taking purposes.
Our debut launch was very well-received and that motivated me to create more themes and designs to expand our range of milestone stickers that includes charting the weeks and months of a baby's growth and the major milestones that they have reach. Examples include "I can sit" or "First solid food", "First word" and "I can walk".

WHAT HAS BEEN THE TOUGHEST LESSON TO LEARN ABOUT BEING AN ENTREPRENEUR?
Not to try to do it all! I worked such long hours during the founding years of Urban Li'l, on top of being a mum, that I was pretty much burnt-out at times. Realising that I have limited capacity, I have learnt to delegate and empower my team to have freedom to create and own projects.
Stay focused. There are many distractions that could affect my focus on achieving my business objectives. You have to remember things like popularity based on number of Instagram followers and the numbers of likes on posts do not define the success of a business. To build a sustainable business that promotes creativity and community growth is the main objective of the business and we have to sometimes remind ourselves to stay focused.
Also manage your cash flow. Having a strong finance background, I understand the importance of keeping cash flow in check. There were times when cash flow was low due to multiple big projects that we were working on at the same time. This presented a big risk to the business but fortunately we have been able to manage.
WHAT'S BEEN THE BEST MEMORY SO FAR IN YOUR URBAN LI'L JOURNEY?
For me, I love the idea that I am playing a role in transforming houses into homes and empty spaces into meaningful playrooms and celebration spaces through our unique product offerings.
Last Christmas, we also had our first retail store – a Christmas store at Cluny Court where we showcased and sold our Christmas collection and ran Christmas craft workshops for kids and adults. That was a fantastic experience. 
WHAT ARE YOUR BEST-SELLING ITEMS? 
Cake toppers, family plaques, nursery name signage, fabric decals and Christmas wreaths and ornaments. That makes up 70 per cent of our consumer sales. Apart from consumer sales, we have corporate projects in which we work with businesses to design gifts for their clients. This together with other design projects made up for almost half of our total annual sales last year.
DO YOU DESIGN EVERYTHING YOURSELF?
All our products are designed in-house. I used to work and design everything on my own as the business was not big enough to justify any hires. When sales grew to a significant amount, I hired a team.
The business was able to achieve so much more with me less involved in operations and more focused on business development, sales and marketing. I'm blessed with a very strong and dedicated team of designers and an experienced production team that helps me achieve all of my business goals.
WHAT ARE SOME OF THE WAYS FOR BRANDS TO GARNER ATTENTION THAT YOU HAVE FOUND TO BE SUCCESSFUL?
Be original. We have had many copies of our work floating around over the years, locally and internationally. Perhaps some business people lack the understanding that by copying an idea and a product, that is not ethical in the design world.
For every product that we create, we would typically review five concept ideas before finalising on the final design. The process involves creativity, time and effort and I do believe that our clients see the value in what we do and therefore choose us when looking at decor and gift shopping.
Also be current and relevant. You need to create products that are useful for people today. During the circuit breaker, events and parties were non-existent. We changed our marketing focus to home décor like fabric decals and small party items like cake toppers. We tweaked our communications to emphasise how our products help people make their homes cozier to live in now that they're spending more time at home.
Another way is to offer good and reliable services. As many of our orders are date-sensitive, we ensure that all orders are being delivered in time for clients' events and gifting. All customers enquiries and emails are typically replied to within 24 hours. We deal with our clients with kindness and place their needs as our priority.
We also value clients' feedback. Our customers inspire us to do better, make changes and create new products to make our clients' shopping experiences richer each time.
And be involved in community. We are part of the CRIB society that is a great networking club for women entrepreneurs in which we share ideas and collaborate to help one another grow. We are also involved in charity work. One that I am involved with has been the founding of HappyTee where we convert children's drawings into t-shirts and donate a portion of the sale proceeds to the elderly in need.
HOW HAS THE BUSINESS FARED RECENTLY?
Business has slowed down since the start of the pandemic, but we made plans fast enough to keep the business running. We brought machines home to continue operations during the circuit breaker period. We bulk-produced our fabric decal which was launched at the peak of the pandemic to ensure that we have enough stocks to fulfil our orders.
We have created free printables for pre-schoolers to meaningfully fill their time at home as part of an initiative to give back to the community. We saw thousands of downloads on the first day of launch which was also the first day of home-based learning. That brought increased footfall to our site that also translated to sales.
We have been and are constantly creating new designs and products with weekly launches to keep our followers interested with our work and keep our products relevant to the dynamic market. We have focused more on home decor items rather than events or party decor as this pandemic has shifted clients' needs. Throughout the circuit breaker period, our team worked harder than before, and we've seen the results of our hard work coming to fruition now.
WHAT'S IN STORE FOR YOU AND URBAN LI'L FOR THE REST OF 2020?
Urban Li'l will be expanding our sales channels locally and overseas. I had plans to expand operations overseas but due to COVID-19, I've decided to delay setting up a new factory but will continue with expanding sales channels overseas. We are also beginning to plan for our biggest annual launch, our 2020 Christmas Collection that will be launched in Oct 2020.