Creative Capital: The woman helping to feed children through spice boxes
Namita Mehra is the founder of Indian Spicebox, which offers quality spices in well-thought-out packages. She pays it forward by partnering with organisations in India to feed hungry kids.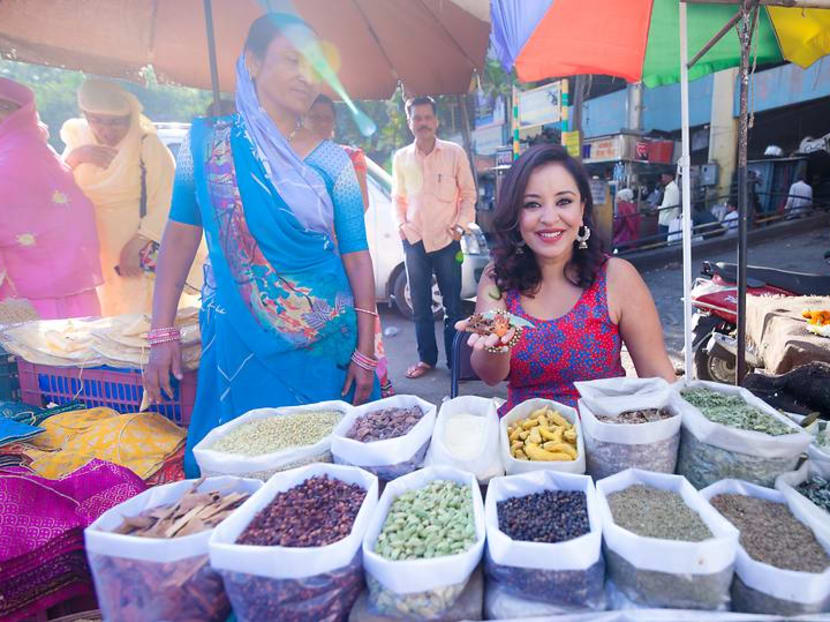 Namita Mehra moved to Singapore eight years ago. Back then, she was a high-flying creative marketing strategist with Facebook. Today, though, Namita is an entrepreneur and has put her skills to use promoting greater awareness of Indian cuisine through her company Indian Spicebox.
A lifelong foodie and third culture kid, Namita is inspired by a vision to fill bellies with nutritious and delicious Indian food, while giving back to children in need. She has published two cookbooks and, alongside running Indian Spicebox, also finds the time to write for Sassy Mama, the Michelin Guide, the Finder and the Huffington Post. She is an advocate for healthy, homemade cooking and the benefits of spices.
The spices themselves are of the highest quality and are beautifully packaged. My own pantry has several small tins of her products and her larger sets make for wonderful gifts.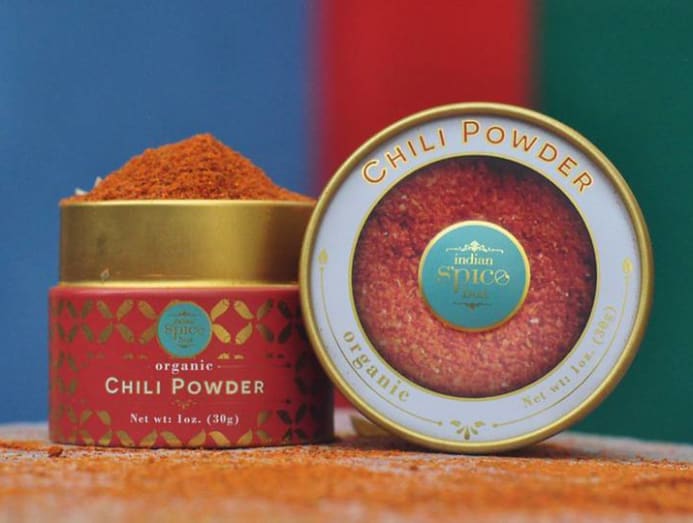 HI, NAMITA. YOU'VE LIVED IN NIGERIA, THE UK, INDIA, THE US AND SINGAPORE. TELL ME A LITTLE ABOUT YOUR CHILDHOOD AND HOW THIS SLIGHTLY NOMADIC UPBRINGING HAS GUIDED YOUR LIFE TO DATE.
I've been travelling since I was six weeks old and haven't stopped! That said, I had a very fun, secure and adventurous childhood. We moved around a lot as my dad was studying and working in different places. My father is a doctor and a very ambitious, disciplined, self-made, extremely hard-working man. My mother was hugely committed to her family and a very dedicated mum. She also loves to cook and is quite fantastic at it. My parents have had a great and very positive influence on me. I'm only just realising this now that I'm older, and now that I've become a parent and entrepreneur.
I think all the moves and travel from my childhood definitely had a huge impact on me. I have this constant desire to see new places, experience new cultures and foods, and try new things. At the same time, I also really cherish stability. I love that my parents have finally stopped moving and I get to visit the same home they've lived in, in India, for the past 25 years. And now that I have made Singapore my home, I dread the thought of having to move!
GIVEN THE NUMBER OF PLACES YOU HAVE LIVED IN, CONTRASTED WITH A BUSINESS THAT CELEBRATES INDIAN CUISINE, DO YOU FEEL VERY INDIAN OR MORE A GLOBAL CITIZEN WITH A GREAT INSIGHT INTO INDIAN CULTURE?
I am definitely more of a global citizen with great insight into Indian culture and food. But I'm also Indian, if that makes sense! My family is Indian; my husband was born and raised in India and even though I've only lived in India for a quarter of my life, I feel very connected to it and its culture. It's also nice that since moving to Singapore, I've able to visit India more often.
WHAT'S YOUR EARLIEST FOOD MEMORY?
I was about five or six years old when we lived in Somerset in the UK and I have vivid memories of running to the fish and chips van that would drive up about a five-minute walk from our house. We would walk briskly there every other week to pick up our dinner and then do a light jog home with the warm, crunchy fish and chunky chips rustling about in the white paper they would wrap it in. The smell of vinegar and fried food made my stomach rumble the whole way home! The weather was always cold and we would want to get home as quickly as possible to tuck into the hot food. I also loved watching those British blokes in the van batter and fry the fish with amazing expertise while always joking about and chatting.
WHAT DOES FOOD MEAN TO YOU?
To me, good food is about people coming together together; it's sharing, happiness, comfort, chatter and laughter.
HOW DID INDIAN SPICEBOX FIRST GET STARTED?
In 2004, I joined a new ad agency in New York and they had a talent contest for new employees. I racked my brain to think of what I could do. The truth was, besides working and cooking for my husband – we had just recently gotten married – I didn't have time for much else. So I took my traditional Indian steel round spice box to the talent show and my talent was a five-minute presentation on Indian spices and basics of Indian cooking.
My colleagues loved it and I was flooded with requests to help colleagues buy spices, create their own spice boxes and even package them with nice Indian cookbooks to give as gifts. I was amazed at how overwhelmed and confused my non-Indian friends and colleagues were by Indian spices and recipes. In fact, we had a really hard time back then finding good Indian cookbooks! This was when I had the idea of creating a kit or set that could give Indian food fans everything they needed to cook Indian food at home. It would include easy recipes and all the spices they needed to cook them. This was when the dream began.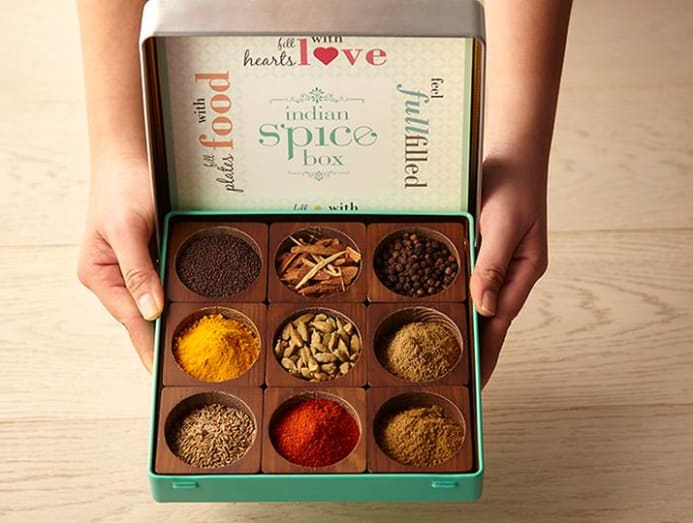 WHEN DID YOU REALISE YOU COULD TURN IT INTO A BUSINESS AND WHAT GAVE YOU THE COURAGE TO WALK AWAY FROM A SUCCESSFUL CORPORATE CAREER?
When I joined Facebook in 2009, new employees were asked to set up a page about a passion or hobby. I set up the Indian Spicebox page. Since 2004, I had been sharing my idea and dream with hundreds of people. A friend designed a logo for me. And I even wrote a business plan.
On the Facebook Indian Spicebox page, I began posting pictures of all the food I was cooking – this was years before Instagram – and people would keep asking for recipes. That was when I got serious about recipe writing and also learned what hard work that process is! But my strength has always been as a writer and before I knew it, I had posted tons of recipes and food articles.
In 2013, after working at Facebook for five years, including a move from New York to Facebook's Singapore office, I quit and worked at a VC for a year. I learned a great deal from young founders and dreamers, and finally in 2014, a whole decade after the birth of my idea, I turned it into a real business!
WAS IT EASY TO ESTABLISH THE BUSINESS? TELL ME ABOUT THE TOUGHEST CHALLENGE YOU FACED.
It's so easy to establish a business in Singapore. In fact, I was shocked at how quick and easy it is. I also had my creative lead by my side from the beginning and he was on board with my vision. He set up a beautiful aesthetic for the brand and continues to design everything we put out there.
It was tough transitioning to a physical product business after being a strategist for 15 years. When you go from working with CMOs to working with spice traders in India and tin manufacturers in China, it is quite a wake-up call. It was, and still is, tough working with suppliers from other countries. Quality and timing are huge challenges, as well as scale and leverage for small businesses like mine.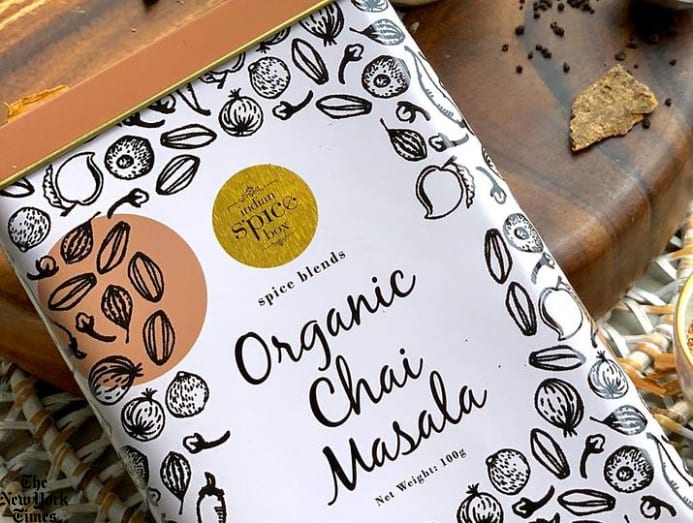 WHO IS INDIAN SPICEBOX FOR? I AM SURE YOU GET ASKED THIS A LOT, BUT WHY SHOULD A CUSTOMER PURCHASE SPICES FROM YOU AS OPPOSED TO, SAY, HEADING TO TEKKA CENTRE OR MUSTAFA?
It is for fans of Indian food who want to find an easy solution for bringing together everything they'd need to whip up an Indian meal at home. They might also be looking for something a bit healthier and a little more family-friendly. They like home cooked food with high quality ingredients. Organic small-batch Indian spices of very high quality are hard to come by and you won't find an all-inclusive organic kit like ours, with recipes too, anywhere! I stand behind the quality of my spices and believe they are simply better.
TELL ME MORE ABOUT YOUR PARTNERSHIP WITH FOOD FOR LIFE VRINDAVAN, PLEASE.
Being able to have a social impact has been such a fulfilling part of running this business. We have worked with Food For Life for the past four years. We contribute to feeding hungry kids in India hot meals via the sales of our products and have funded over 60,000 meals so far. We've also run a number of custom programmes with Food For Life like distributing hundreds of saris on Mother's Day. We've actually just started working with a new partner in India, the Annamrita Foundation, which focuses on providing hot lunches to underprivileged school children. This is a government-supported programme in which every day, nutritious hot meals are prepared in central kitchens, and are then taken to schools so that the children can have a healthy and proper lunch. The aim of this project is to liberate children from the vicious cycle of malnourishment and illiteracy. Our goal is to fund 1 million meals by 2025.
This has been extremely fulfilling for me – to help fill bellies with hot, nutritious food, especially those who need it the most.
YOU HAVE TWO COOKBOOKS OUT. CAN YOU TELL ME ABOUT THEM?
My Cooking With Indian Spicebox cookbook that comes with the spicebox kit, and also sells separately, is self-published. My second book, The Magic Spicebox is published by Scholastic in India, Asia and the UK. Putting a cookbook together is a ton of work. Recipe writing is an art in itself, and then you have multiple rounds of recipe testing, editing, proofing, more editing, food styling and food photography. There are even people specialised in indexing! They are such big endeavours but essential in promoting Indian cuisine and the proper use of spices.
WHERE WOULD YOU LIKE INDIAN SPICEBOX TO BE IN THE FUTURE? WHAT'S THE DREAM?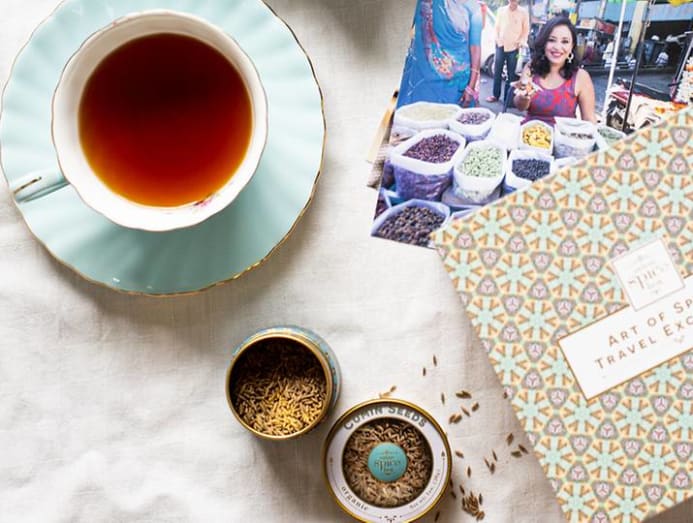 Well, referring back to my work with Food For Life and Annamrita, the dream is to feed millions of hungry children through our work. We have just launched some new products, organic spice blends and a travel retail kit exclusively available on KrisShop, and are looking to launch into new markets. The dream is to scale the brand, launch new products and get into lots of really big, well-known stores around the world.
BESIDES INDIAN FOOD, WHAT OTHER CUISINES DO YOU ENJOY?
I love Lebanese food and actually, Mexican is my favourite!