Creative Capital: This Singapore duo makes swimwear you can wear every day
How Belinda Lee and Ng Su May of PINKSALT created modest yet stylish and versatile swimwear and resort wear that wouldn't look out of place when worn as a bodysuit or cropped top.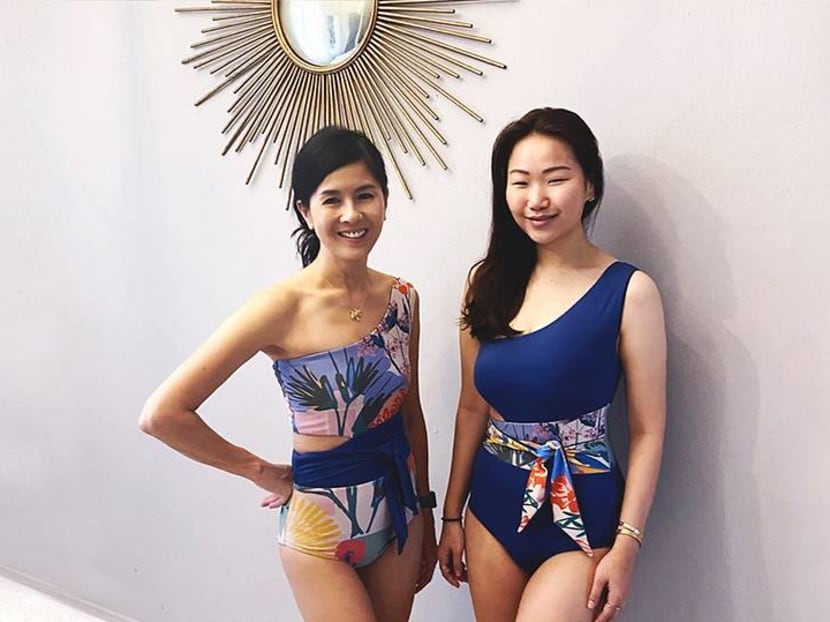 Belinda Lee may be 20 years older than her business partner Ng Su May, but their friendship – forged while studying at Textile and Fashion Industry Training Centre (TaF.tc), the training arm of Textile & Fashion Federation Singapore – turned into a business partnership.

Together, the duo launched PINKSALT, a local swimwear line that offers a comfortable and modest silhouette without sacrificing style. The label has earned many loyal fans, some of whom admitted that PINKSALT swimsuits were the first that made them feel confident and comfortable – exactly what the pair had set out to achieve when they launched the line.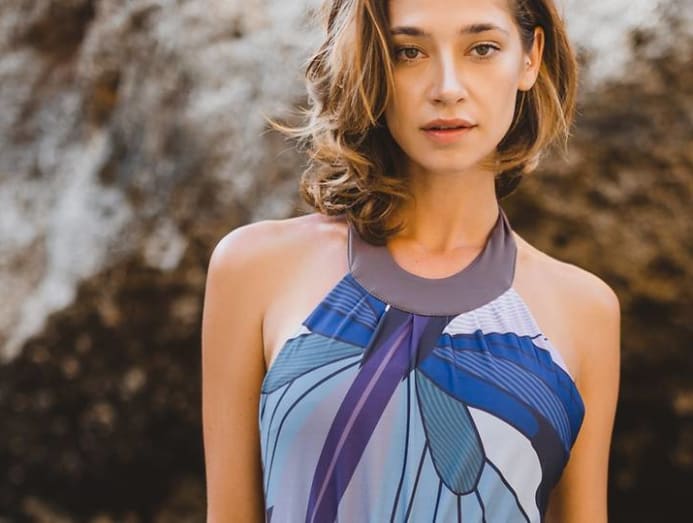 WHAT WERE EACH OF YOU STUDYING AT TAF.TC?

Belinda: I was pursuing a diploma in apparel design and product development. Su was doing her diploma in merchandising and marketing. There were some modules that crossed over in these diplomas and we got to interact during those classes.

WHAT DID YOU DO BEFORE OR WHILE ATTENDING TAF.TC?

Su May: I'd just graduated with a business degree before attending TaF.tc. I've always had a passion for fashion and wanted to explore it further. Starting PINKSALT was my first real job, so it has been a really steep learning curve for me.
Belinda: I paused my career when my family moved to London with young kids. We spent 10 years there and I had the important role of being a full-time homemaker. Before that, I had attained my graphic design degree and had spent over a decade working in the advertising industry, as well as having my own graphic design business.
When we moved to Singapore, I wanted to resuscitate my career. Enrolling in the diploma course was my ticket back into the workplace. I wanted to pursue something that was still in the design arena but that was very different from my background.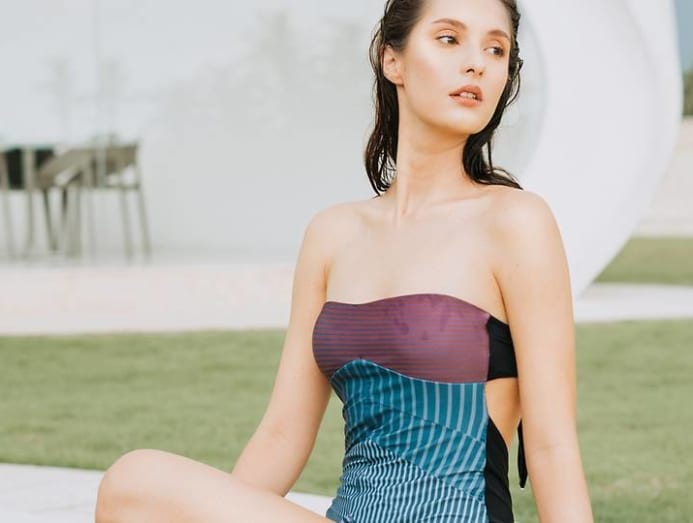 AGE-WISE, YOU ARE TWO DECADES APART. DID YOU GET ALONG RIGHT AWAY? 
Su May: We were in the same group in class and Belinda was the cool mum because she's very westernised and hip. I was very surprised when I discovered her age and found out that she has two teenage boys. She's very young at heart and could easily click with the rest of us.

Belinda: Although I was one of the oldest students in class, I hung out with the young and hip ones. Some of the students were my kids' age but it didn't faze me as I wanted to immerse myself in the local crowd. 
I left Singapore when I was eight and it was important for me to spend as much time as I could to assimilate and understand Singaporeans, no matter the age. Su was definitely one of the hip kids, with her bleached grey hair and cool attitude to match. 
She was one of those students who understood the topics quickly and knew how to easily pass the exams. She was also the most chilled-out student in the class. I knew that if I were to find a business partner, it had to be someone who was the opposite of me and that was Su!

WHICH CAME FIRST: THE IDEA OF WORKING TOGETHER OR THE IDEA OF LAUNCHING A SWIMWEAR LINE?
Su May: Shortly after we finished our diploma courses, Belinda came to me with the idea of starting a swimwear line. I thought that we would make a good team as we had worked well together before at TaF.tc.

WHY DO SWIMWEAR AND WHY THE NAME "PINKSALT"?
Belinda: We wanted a catchy name that was feminine and would also be associated with premium quality. We felt that "PINKSALT" encapsulated these qualities.

Su May: I thought it would be a good business opportunity as I felt that the market only offered string bikinis with very little coverage or sporty Speedo swimsuits. There weren't any stylish options at that time.

Belinda: Swimwear and resort wear in the United Kingdom are seasonal; I was really surprised by the limited swimwear offerings when I came back to Singapore, a tropical island with sunshine all year round. As a mum, I wanted swimwear that allowed me to feel modest, yet feminine and modern, and that was not easy to find in Singapore.
BETWEEN THE TWO OF YOU, WHO DOES WHAT?

Su May: Belinda does all of the design work, from creating the prints for our swimwear and resort-wear to creating collaterals for press and social media. I am in charge of marketing, customer service, finance and managing the website. We both handle inventory and deal with manufacturers as well.
WHAT MAKES PINKSALT DIFFERENT FROM OTHER SWIMWEAR BRANDS?
Belinda: We focus a lot on the versatility of our products, which is why we took a very long time to source for a thicker material. Our swimsuits can be worn as bodysuits, and our swimwear tops can double as cropped tops or sports bras for light activities. We are mindful that they fit better on Asian bodies and provide more coverage.
The designs of our in-house prints are also quite different. They are not repeated patterns but placement prints, and they give a fresher feel to our swimwear and resort-wear. The prints are created specifically to sit on the silhouette we've created to enhance the overall design, making each collection unique and original.
Su May: We took around eight months to conceptualise the brand, design the prints and silhouettes, look for manufacturers, set up our website, visit the production factories and create our first lookbook.

DO YOU FEEL THAT YOU HAVE A HERO PRODUCT?
Su May: We don't have a particular hero product but we do have some best-sellers. The Leia Two Piece and Harper One Piece are our most popular swimwear styles.

Belinda: Our hero product … our partnership! Haha!
WHAT WAS THE BIGGEST SURPRISE SO FAR IN YOUR ENTREPRENEURIAL JOURNEY?

Belinda: Dealing with manufacturers will always be our most harrowing experience! They still surprise us in many ways and it's a constant learning curve when it comes to that part of the business. Managing expectations and having to communicate effectively with our manufacturers are still ongoing.

We had planned to open a retail store as many of our customers wanted to try on our swimwear. We've had to put a pause on that because of the pandemic and will review it next year. In many ways, we are lucky that we did not commit to a retail space in the beginning of this year.
SPEAKING OF THE PANDEMIC, HOW ELSE HAS IT AFFECTED YOUR BUSINESS?
Belinda: It's been tough. We could not have any pop-up events and we usually launch our new collections at Boutique Fair. We had to launch our collections online instead and had to settle for less traction.

The lockdown had a direct impact on our sales figures since people couldn't even touch the swimming pool. Having said that, sales have picked up since staycations became the new holiday norm in Singapore.
WHAT'S THE BEST THING THAT HAS HAPPENED TO YOU SINCE LAUNCHING PINKSALT?
Su May: For me, it was when a customer emailed us to thank us for creating a swimwear that she finally feels comfortable and confident in. That really spurs us on to continue doing what we do.

Belinda: Yes, I love meeting our customers who support us when we do pop-ups, and they come in and talk to us. It is still a thrill for me when I see someone wearing our dresses or, even better, our swimwear with a pair of shorts or skirt. It means that our message as a versatile swimwear brand is making a small mark.
DO YOU THINK LOCAL CUSTOMERS LIKE SUPPORTING LOCAL BUSINESSES THESE DAYS?
Su May: Local customers are definitely more receptive to supporting local brands nowadays,  compared to 10 years ago when local brands were perceived as expensive or not desirable. Some of our local customers actually thought that we were an Australian brand instead. I like to think people are buying our stuff because they like our designs.

WHAT'S IN STORE FOR THE REST OF THE YEAR OR 2021?

Su May: During the "circuit breaker" period, Belinda and I spent a lot of time working out, so we decided to start an activewear line as well. Also, we recently collaborated with another local label, The Missing Piece, and launched a capsule collection of swimwear and resort jackets.

Belinda: We are still keen to find a suitable retail space, where customers can find us and try on our resort wear and swimwear. We are also trying to move our business into a more sustainable space. So, we are looking for fabrics that are more eco-friendly, such as recycled polyester.