Creative Capital: How this former teen mum turned into a multi-hyphenate entrepreneur
She's a singer-songwriter, producer, emcee, brand strategist, photographer, florist, radio DJ and entrepreneur. But Sarah Cheng-De Winne is proudest of being a mother and wife.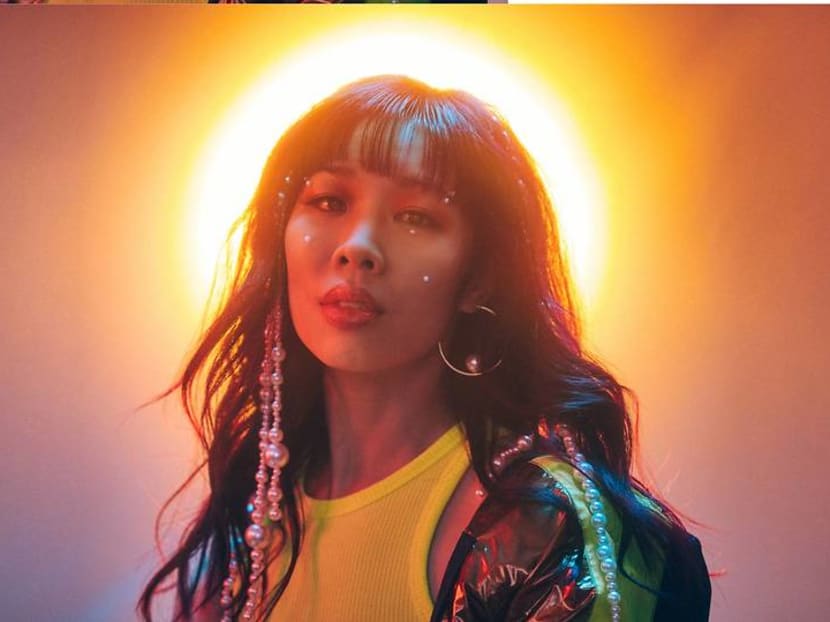 Most people would be content with one achievement and one career path. Not Sarah Cheng-De Winne. To describe it means rolling off a list of professions that most can only imagine having: Entrepreneur, singer-songwriter, producer, emcee and host, brand strategist, photographer, florist and radio DJ.
But of all her achievements, Cheng-De Winne is proudest of being a mother and wife. She has two children, the first which she had when she was in her late teens. Her husband, who married her when she was 18, is a respected creative director.
Despite what many would have seen as a setback, she has succeeded. If anything, perhaps being a young mum has driven her to be more ambitious and to prove to anyone and everyone who wanted to criticise her that she could make it.
2020 marks the 10th anniversary of her professional music career as a published artist. Her first EP was released back in 2010. Her latest single, titled Don't Say It, was recently released on streaming sites. It comes out under a new artistic nom de plume, Sarah X. Miracle, which she has adopted along with a new stylistic vision for her music.
She is also the founder of an uber-popular cross-body phone sling brand Taizjo. Smartly, Cheng-De Winne is embracing her role as a female entrepreneur and connecting with other female founders as a way of differentiating Taizjo from competitors. Her first Female Founders IGTV videos were also published this past week.
ALL KIDS LOVE TO SING. BUT NOT EVERYONE IS REALLY TALENTED. WHEN DID YOU FIRST REALISE YOU ACTUALLY HAD REAL TALENT?
My definitive moment was the year I turned 15. I took part in the school Talentime back in Methodist Girls' School and won both the solo and group categories. That same year, I was also given an opportunity to be a lead student presenter-singer at the annual school concert alongside an alumni figure. That was probably the year I started to intentionally develop more of a solo voice after being in choirs for nine years.
WHAT WAS YOUR FIRST PROFESSIONAL GIG?
It was a yacht gig singing jazz covers that I was invited to be a part of by my guitarist friend, Jonathan Ong. That was so memorable! I also felt a little sick after.
YOU ARE QUITE THE MULTI-HYPHENATE. OF ALL THE THINGS YOU DO, WHAT ARE YOU PROUDEST OF?
I am the proudest of my family. If I had the world, but no one to share it with, what would it be all for? Through the trials of life I'm most grateful that I've been able to journey with my husband Mark De Winne, and grow our personal, professional and passion pursuits together.
WHICH ACTIVITY TAKES UP THE MOST TIME?
I would say it's equally divided now between running Taizjo and creating content as an entertainment personality. That said, over the years, it would cumulatively be raising a family.
TELL US ABOUT RAISING TWO KIDS AS A VERY YOUNG ADULT. HOW DID YOU BALANCE YOUR CAREER WITH BEING A MUM?
Bedtimes have always been a centre-point of the day for both Mark and me. Though when we get extremely tied down with deadlines we take turns to do them. It also helps that our parents are very supportive. It really takes a village to create balance.
We've recently managed to work out a weekend programme with my parents that allows us to have some "me-time" that's sorely missing in the week. Career-wise, I would say that my journey has been an unconventional one. Because I started in media as a radio DJ on 938LIVE (now CNA938), that allowed me to have a flexible routine from the start. You tend to work evenings and weekends in media and entertainment industries.
That allowed me to do things like pick my kids up after school in the middle of the day. I'm grateful for the flexibility in my schedule. But the reality is that balance is an illusion. We work very hard and are very intentional with our children. Recently, we've also realised the importance of having more time with our friends and are inviting them over to our house every fortnight at least. We also have extended family dinners on an almost weekly basis with my parents and siblings.
WHO IS SARAH X. MIRACLE?
The sum of my past, the present that I'm pursuing, and the person I'm becoming. Sarah X. Miracle is an expression of the miracles that have taken place in my life, including having survived a near-death accident in 2012, going through a pregnancy loss and launching Taizjo all in the span of two weeks in November 2019. As well as victoriously having a family and professional life despite starting marrying Mark when I was 18 and being labelled as a "teen mum".
Sarah X. Miracle is also a rebirth. This is the 10th year since my first EP release as Sarah Cheng-De Winne. I want to use this anniversary to take new ground, create a new sound, and relate to a new generation of youths and young adults.
The "X" actually stands for my Chinese name, which in hanyu pinyin is Xue Mei. My Chinese name literally means "snow plum blossom". It's the only flower that blooms in the winter in Chinese culture. It's a miracle, which explains my new performance name. And yes, I'll be releasing some Chinese music soon.
TELL US ABOUT YOUR NEW SINGLE DON'T SAY IT 
Don't Say It is really a song about truth. It's about being able to set up that boundary, and be unafraid to say no. You don't have to be sorry that you don't feel for the other person.
Don't Say It expresses that point in a relationship where the other person might seem to want to go deeper, but you really can't see that happening. It was written based on a good friend's true story –  it inspired me so much, that the chorus hook was down by that same evening after I met her.
It's also representative of the vocal signature I'm developing: layered vocal stacks with both soulful lows and ethereal highs, melded with a deep bass groove that you might want to TikTok to.
IS THE LIFE OF AN ARTIST HARD IN SINGAPORE? IS IT IMPOSSIBLE TO SURVIVE ON JUST ONE'S ART ENDEAVOURS?
I have been creating music for 10 years now, and it's been 99 per cent investment so far. But I believe that I'm at a transition point right now. We're on the brink of many changes and exciting developments in technology and social media that will allow my music to reach more people than 10 years ago.
I'm optimistic that someday, it will become sustainable! I'm not giving up yet. In the meantime, I am fortunate I have other pursuits.
CAN YOU TELL US ABOUT TAIZJO AND HOW YOU AND YOUR HUSBAND STARTED IT?
Taizjo in hanyu pinyin is dai zou – which means to take it with you. What do you take? You can take your dreams and hopes with you. We envisioned this as a brand to empower a new generation of people on the go. We decided to start with phone slings as our first product range because we recognised how so many of us need our phones all the time and then proceed to misplace it.
It was also an experiment for us to put into practice all the things we would tell our clients to do for brand and content creation. My husband Mark is the genius behind some very recognisable brands. We've been quite floored by the response we've received so far. All the content is created in-house, shot by me and Mark, with our amazing team editing and making captions. So far so good. Our experiment is succeeding.
WHAT MAKES TAIZJO STAND OUT FROM THE SEA OF OTHER CROSS-BODY PHONE STRAPS?
Our brand-led, values-first approach to creating content and engaging with our community. In fact, this past week, we have just launched a Female Founders IGTV series where I take my producer-presenter skills to awesome brands who are founded by inspiring women, and we create meaningful, empowering content for our joint audiences.
We are extremely collaborative that way. I love it when everyone wins with great content. Eugenia of Nodspark and Ee-Ling of The Missing Piece were the first two female founders who agreed to be featured, and I'm so grateful they trusted me to make something beautiful with their stories. Product-wise, we're the only phone sling brand that offers customisation and modularity with our NOIR, DAWN and NOIRLUX phone slings. I also dare say that we probably have the widest range of designs available in Singapore.
Moving ahead though - we will be developing other product lines, and we're in the research and development phase now. So Taizjo is not going to be just a phone-sling brand! Watch out, Singapore.
WHAT IS A DAY IN YOUR LIFE LIKE?
Every day is madness! I work more on weekly routines than daily. For example, Sundays are more restful where we do church and errands. Mondays are major meeting days – decisions and briefings – and I try to schedule work lunches on Tuesdays or Wednesdays where I'm discussing creative concepts or meeting new creatives. I have to also check on social media every evening. The Taizjo DM box is essentially a customer service line, and I flag up any issues to the team by the next morning for them to resolve.
We tend to organise shoots for Taizjo once every two weeks in the mid-week mornings, so that Friday afternoons are more open and chill. I also make it a point to pick my son from school at least once a week and bring him to eat his favourite prata. I try to see my personal trainer once a week. In the midst of it all, Mark and I do make it a point to also have a date night once a week or at least some zone-out time. Saturdays, we have kids time where we just hang out, like going to eat ice-cream. We also take walks together as a family one to two times a week in the evening before bedtime. After bedtime I'm usually back at some kind of "work" by default. Even posting on Instagram is work!
HOW DO YOU STAY FOCUSED?
I don't have trouble staying focused. I have trouble getting rest! I tend towards "workaholism" and that is bad for the body and soul. I make it a point to have regularly spiritual input at least twice a week so that I keep my purpose in check.
Having friends or family over and making time for social lunches also keeps me from work.
YOU'VE SPOKEN BEFORE ABOUT THE CHALLENGES YOU HAVE FACED IN THE PAST. DO YOU THINK HAVING COME THROUGH THOSE HAVE MADE YOU A STRONGER PERSON?
Absolutely. We go through challenges so that we get stronger, develop humility, and recognise that there are greater forces besides "me", and learn to be grateful for the things we used to take for granted. Most people in my situation may have thought it impossible to be a young mum and still develop a strong career path. I'm not at the top of my game in terms of entertainment, but I've certainly had the privilege now to serve major brands including Crystal Jade, CapitaLand, Unilever, Luxasia and Aurum Group as a brand strategist cum account director.
That said, my "never-say-die" attitude has also changed over the years to recognise and value the big role that others play in my journey. My major learning these past few years has been on how to manage and empower various, often creative and opinionated, individuals and teams who I'm working with across music, branding and business. You only learn these things with experience.
TELL ME ABOUT EARTH WIND FLOWER. IS THIS ANOTHER NEW BUSINESS OR JUST A PANDEMIC PAST TIME?
I consider earth wind flower a "small business to bless others".
While it certainly developed a little more during the circuit breaker season, it is an exceptional expression of my aesthetic ability and certainly adds value to the lives of others. I go above and beyond what normal people might expect of a bouquet because what I create is meant to bring life, joy and wonder. I don't follow templates.
I create from the impression I have of the spirit of the receiver, and what they might need to receive from the bouquet. I might not be making much money from it, but there will come a time where my massive affinity with flowers is going to dovetail with some other aspect of my life.