Creative Capital: The leathersmith who doesn't accept orders for impulse buys
You won't find samples in Chin Shiying's Senkoubou, a leather-goods atelier that only starts making after an order has been received – and after she has collaborated with you on the design.
Last Christmas, my wife purchased a beautifully-made shoulder bag in a deep, earthy-grey leather that I imagine will age gorgeously. The bag was made by Chin Shiying, the local craftsperson behind the label Senkoubou. We'd seen her bags and accessories online but it was during the last Boutique Fairs that we got to meet her. 
This thoughtful and humble artisan graduated from NAFA (Nanyang Academy of Fine Arts) in 2013 and was the winner of the Most Creative Award at the NAFA Graduation Fashion Show that year. She was later selected as a finalist for the New Zealand-held iD Emerging Designer Awards 2014. 
After gaining experience working for local brands and companies, including SATURDAY, Little Man, and Surrealist Love Scene, and even completing an apprenticeship in Kyoto, she came home to where it all began. Today, Shiying is an adjunct lecturer teaching textile design at NAFA and the owner of Senkoubou. 

TELL US ABOUT YOUR INTEREST IN CRAFTING. WHEN DID IT ALL START?
My mum signed me up for various craft lessons and activities at a really young age to see what I was good at. The enjoyment I derived from the simple act of making things with my hands has never stopped since. In primary school, my hands would be constantly moving while the teacher was speaking. I would be looking at the chalkboard but nothing was actually going into my head!
As a kid, I loved wallets. In my late primary and early secondary school days, you would often find me at The Heeren's The Wallet Shop looking at wallets and figuring out how they were pieced together. When I was even younger, around seven or eight years old, I made wallets out of vanguard sheets, pasted Hello Kitty stickers all over, and gave them to a couple of friends. 
Interestingly, I reconnected with one of them about three years ago and she'd actually used her wallet for a long while before it went missing. It was serendipitous to hear that because I was just preparing to head to Japan for my apprenticeship. I was aspiring to craft and make things that can serve people for a long time.

DID YOU KNOW YOU WANTED TO SPECIALISE IN LEATHER RIGHT FROM THE START?

No, I didn't even know what to do after failing my second year in Millennia Institute. I was trying so hard to stay on the conventionally-favoured route that I lost touch with the arts. It was my mum who suggested applying to NAFA. Going there made me feel capable again.
I actually studied fashion design in NAFA. It was tough with the never-ending workload and deadlines, but having great friends made it a memorable experience. Then, during my graduation trip to Kyoto, my older sister, who was living there at that time, introduced me to Yamochi Masumi, a leathercraft master down her street. 
That was when I remembered and rekindled my love for wallets. So, I enrolled in some of the Kyoto master's workshops. But I didn't know Japanese then and he didn't speak English. We communicated mainly with hand gestures, coupled with some Google translations. But it was the first time I felt capable, relevant, and comfortable in a foreign place.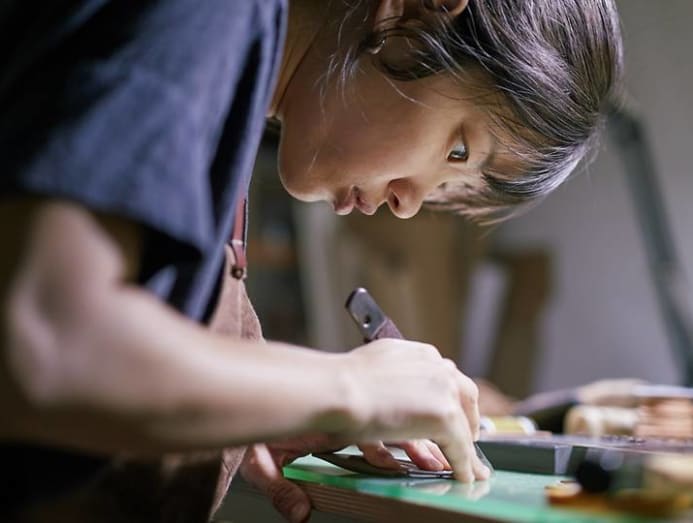 YOU WERE SO SERIOUS ABOUT THE CRAFT THAT YOU SAVED UP AND RETURNED TO PROPERLY APPRENTICE TWO YEARS LATER. TELL US ABOUT THE YEAR YOU SPENT IN KYOTO.
Yes, that initial experience in Kyoto was in 2014 and I returned to Japan for a proper apprenticeship in 2016. It was my first time building a life away from home. Looking back, it was a year of personal growth. Throughout my stay, Yamochi-sensei, his wife Reiko, and their two kids, Sumi and Sui, treated me like family. We could chat about literally everything in the universe. 
Other than leathercraft, my sensei also taught me how to fish, prepare and cook the catch of the day, be in nature. He also taught me to weld metal and carve wood. He and Reiko treated me as one of their own and I was offered an intimate look into their everyday life. The experience has let me witness Mother Earth's beauty and in doing so, I've realised how we've been taking her for granted. It really was the best year of my life.

WHAT DOES 'SENKOUBOU' MEAN?
Senkoubou is romaji for 錢工房. The first character, 錢 (sen in romaji), is also my last name, which originates in Hainan where my dad grew up. 錢 is also "money" in olden kanji, which correlates to the 錢包 or purses I make. The characters 工房 (kou bou in romaji) means workshop or atelier. I want the brand to be a reminder for everyone to use what's in their wallets with a more purposeful approach.

WHAT HAS BEEN THE BIGGEST MISCONCEPTION PEOPLE HAVE ABOUT WHAT YOU DO?
It would be assuming that the brand is inspired by Japan. Yes, I was trained in Japan and I take pride in using tools manufactured in Japan, but I take inspiration from nature's organicity, textures and hues. So, while my brand might have come across as Japanese or Japanese-esque, my aim is to design and make products that people from all over the world understand and find useful in their lives. It's a brand of the Earth.
WHAT GAVE YOU THE COURAGE TO START YOUR OWN BRAND? HOW IMPORTANT IS IT TO WORK FOR OTHERS FIRST?  

I've always been surrounded by people who do business. My parents are signboard makers who raised my sister and I while running a small business. My ex-bosses are all small business owners. Having worked under them made me decide how much control I wanted over my craft. My own journey made me realise that it is difficult to share the world inside your head with your audience if you don't start out small at the beginning.

It was important for me to work for others first since I didn't have sound knowledge in business. I took on different and multiple positions for all the companies I'd worked for, such as pattern drafter, designer, sales executive, operations manager, and assistant buyer. It was a difficult journey having to handle many things at the same time because they were small companies. But I managed to learn a little of everything which, while not ideal, was good enough, I think.

WAS THERE ANY ONE BOSS WHO HAS INFLUENCED YOUR CAREER THE MOST?

Weirdly, every company I started working full-time for folded in one or two years, and I always ended up having to look for a new job. I couldn't help but feel like a jinx back then!
While I was in-between jobs, I would help Jebson, the founder of The Corner Shop at Far East Plaza, by taking on some shifts. He was, and still is, really encouraging and always pushing me to go for my dreams. His kindness and generosity are what I would like to have in my business philosophy.

WHAT'S BEEN THE HARDEST PART OF RUNNING YOUR OWN BUSINESS? AND WHAT HAS BEEN THE HAPPIEST MOMENT TO DATE?

The hardest part is doing it solo. The designing, making and business aspects can be draining, especially when you're someone who just wants to craft. At times, it is hard to see or tell whether a design is complete when you've been looking at it for days or weeks straight. Doing it alone makes you go around in circles a lot. I am thankful for friends I can trust for a second opinion when I hit those walls.

There are too many happy moments, like whenever I see customers' eyes light up when they receive their products. I've met a lot of nice customers and some have even become my friends. Once, I was working at the crafting bench when this kind-looking uncle looked in from outside my studio. He opened the door, popped his head through, and said: "Keep doing what you're doing! It's great!". That was a huge lift for my spirit.
But the most impactful has got to be the brand launch last year when my family and friends gathered in my small studio. It felt like a big cloud of support lifting me up. I can still feel it now when I reminisce.

WHAT'S AN AVERAGE DAY FOR YOU LIKE?

I am awake at 7am but I only really get up at 7.30am. Then, I'll stretch, meditate, and have breakfast. I'll leave the house early if there's no computer work – there is no Internet access at the studio – and reach the studio no later than 10am. The day ends when it's time for dinner or when my brain stops functioning properly.

WHICH DO YOU DO MORE: CUSTOMISED PIECES OR READY-MADE ONES?

Most of my orders are custom-made and designed collaboratively with my customers. There are no ready-made items – only samples from Senkoubou's capsules and collaboration collections as I would like to encourage people to be more mindful of retail consumption. This is to minimise wastage and make sure the product exists with pure intention. It also prevents compromising the raw leather with unintentional handling.
HOW OFTEN DO YOU HOLD WORKSHOPS? WHAT CAN PARTICIPANTS HOPE TO EXPERIENCE?

I usually run three or four workshops during the last two weeks of each month. At the start of every workshop, there is a mini sharing session about the different leathers we use. Participants can look forward to making an item for daily use using the leather-crafting tools and techniques I have learnt from Yamochi-sensei in Kyoto. From there, they will be able to make other leather products using those same methods.

WHAT'S YOUR DREAM PROJECT?

For now, it is to collaborate with a world-renowned luxury brand to build a bridge between small and big businesses doing the same thing, that is, crafting products that transcend time.

WHERE DO YOU HOPE TO SEE SENKOUBOU IN A FEW YEARS?

For my designs to reach a more mature stage and being able to build a tight-knitted team to work with.