Creative Capital: How this serial entrepreneur became a crafty mask-maker
Juliana Yeow's Sutajio is a spin-off from a 30-day project she was working on during the 'circuit breaker' period.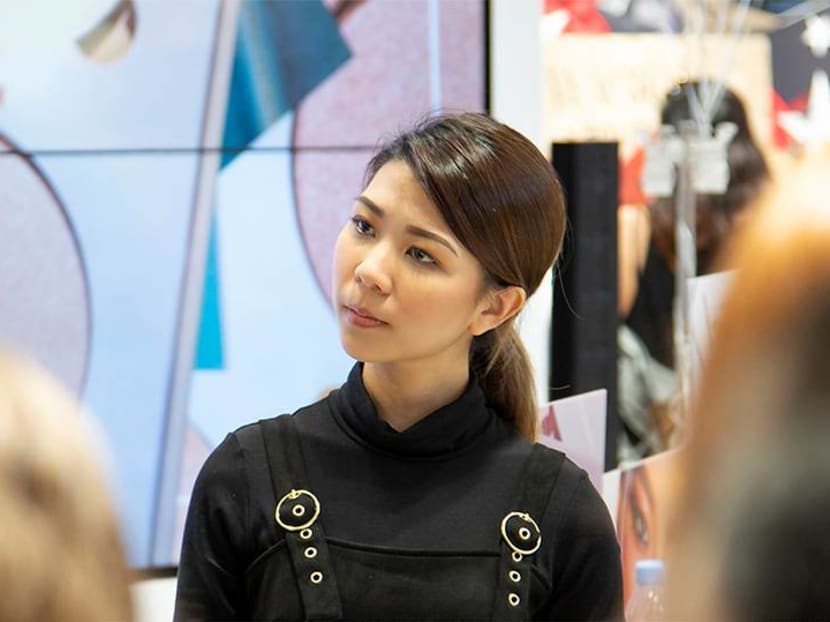 A few weeks ago, as I was perusing Instagram, a friend posted a story about a new and very stylish face mask she was sporting. It was a lovely, tailored mask made from a colourful traditional Japanese fabric with ear loops that were orange.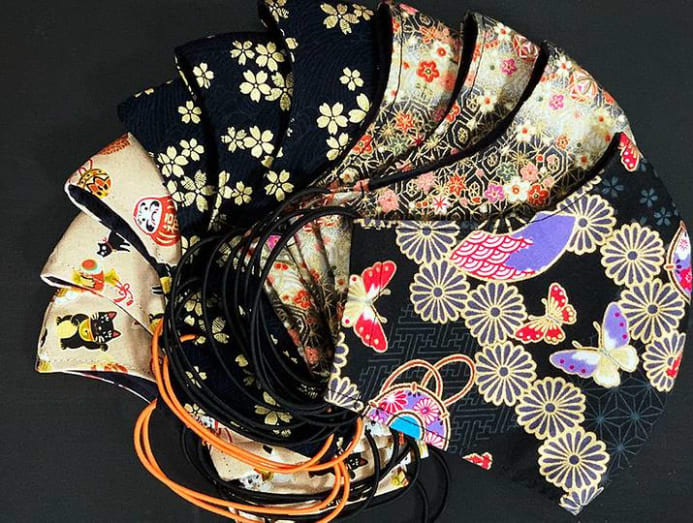 My friend also described it as well-fitted and very comfortable. Wanting to know more, I snooped around and found out that these attractive masks were made locally by one 28-year-old Juliana Yeow.
Most well-known as a freelance host and emcee, Yeow has also been a radio DJ in the past. But what's most interesting about this serial entrepreneur is how she turned into pretty serious craftsperson.
HOW DID YOU START SUTAJIO?
Sutajio is actually a spin-off from a 30-day project I was working on during the initial 'circuit breaker' period. My intention then was just to push myself on the creative front, to design and create new items since live events were a no-go.
The face masks were the second project I posted, and at the time I made just five pieces out of a waterproof nylon material I had at home. My friend, Danli purchased one, and liked it enough to start sharing it with her friends. She got me my first 20 orders or so, and so I do credit her greatly for the existence of the brand.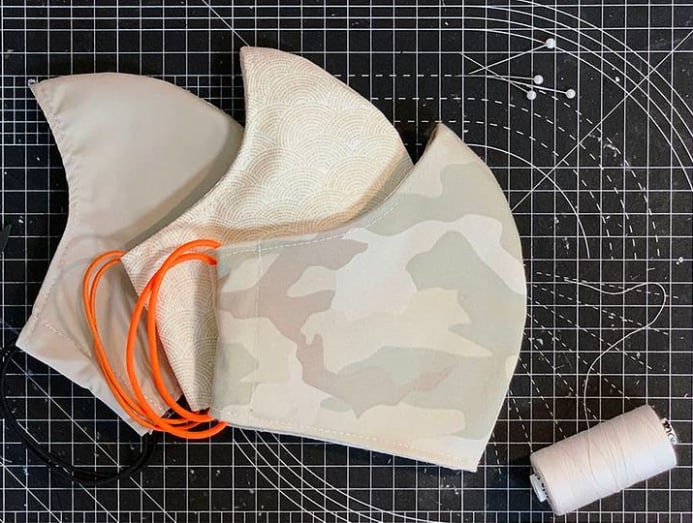 YOU'VE CURRENTLY PAUSED ON TAKING ORDERS, WHICH MEANS THE MASKS HAVE BEEN REALLY POPULAR. WHY DO YOU THINK YOUR MASKS HAVE BEEN SELLING AS WELL AS THEY HAVE?
I'm super heartened by the response I've received for the masks, and it definitely is a combination of different factors leading to that. Face masks are undoubtedly the new necessary accessory moving forward. As it becomes our new normal, I imagine that more and more people would want to express themselves through different designs and styles.
Most of the fabrics I use are imported Japanese cotton that have metallic gold or silver detailing on them, so really, the beautiful prints are the ones that are doing the work. From a product design standpoint, while it's tricky to get a good fit for everyone with just one size, I opted for a higher coverage design coupled with a few additional features – a pocket to slot in an additional filter or surgical mask and adjustable elastic ear loops that allow the mask to fit most female and male faces.

The 3D structure of the mask also creates some room in front of the nose and mouth, making it a little easier to breathe and possible to wear lip balm. Finally, I'm super lucky to have some of my friends share the masks with their community on social media out of their own accord.

DO YOU HAVE ANY PLANS TO TURN THE OPERATION INTO A LARGER AND MORE FULL-TIME ENTERPRISE?
One of the reasons why I had to pause orders was largely because there was a limit to how many I could physically make in a day. Each mask is handmade individually from start to finish by a single person instead of a production line.
Since Sutajio started four weeks ago, I've received help from both Danli and my mum, who help me to cut many of the fabric pieces outside of their WFH commitments. Right now, I have them both help me to cut the fabric pattern pieces on top of their full time jobs while I work on sewing, updating social media, packing and dispatching orders and whatever else that comes with running a small e-commerce business.

This week, I've also reached out to a couple of retired professional and hobbyist seamstresses – most of them elders who are more vulnerable and have to stay at home during this period – as well as others who might have been affected by the covid-19 situation to get them on board and hopefully help to provide some side income.
Currently, I have no plans to go full-time into the mask production business, and I do feel that the demand would be highly dependent on the virus situation overall as well as the habits surrounding mask usage. However, I'm keeping an open mind about things and I'd never say never!
IS EVERY MASK UNIQUE? HOW HAVE YOU BEEN SOURCING YOUR FABRICS?
Every mask is certainly unique because they are all handmade from start to finish! As the pattern pieces are cut out from a single piece of fabric, every mask would have slightly different prints on it compared to if they were just mass manufactured and had the designs printed on.

Since the start of the year, I've actually been working on launching a bag brand and was proactively prototyping at home. During that time, I got to know some of the local fabric suppliers whom I buy my materials from and so I now I can WhatsApp them directly to order my fabrics. Most of them are still pretty traditional businesses so they do not have e-commerce or much of an online presence.
WHERE DO YOU THINK YOUR PASSION FOR HANDCRAFTED PRODUCTS COMES FROM?
I think I've always loved to create! I initially applied to the NTU School of Art, Design & Media with the intention of majoring in Visual Communications but ended up deviating to Product Design after my foundation year.
There is just something wonderful about turning materials which have little function on their own into a product or tangible piece of art. I'm admittedly also very picky about details so where possible, I do like to be personally involved in the making process to have some control over the final product.
CAN YOU SHARE ABOUT YOUR PAST ENDEAVOURS?
Operation Overhaul – which is still running to this day – was the first business I started in 2011 with my childhood friend Roslyn. We both enjoyed crafting and brought different skill sets to the table – she was a graphic designer and I was then studying product design.
As we are a small craft agency providing personalised services to individuals and commercial brands, the both of us were involved in very much every aspect of the business from conceptualisation to production and accounting.

Concreate Goods was my attempt at creating an independent brand after graduating from university. It was a continuation of my Final Year Project, having amassed knowledge and experience of working with concrete as a material for over a year.
As a one woman show, that meant full involvement in all aspects, from making the actual products to packaging design, photography and even setting up shop at local craft markets.
Kisetsu was my first foray into the world of manufacturing original designs and working with factories and suppliers. I worked on the creative direction and rebranding, and was also liaising with new suppliers, manufacturers, and shipping companies as the brand went through some restructuring. In 2019, I also helped launch the Kaizen wallet on Kickstarter, a crowdfunding site, raising over S$78,000.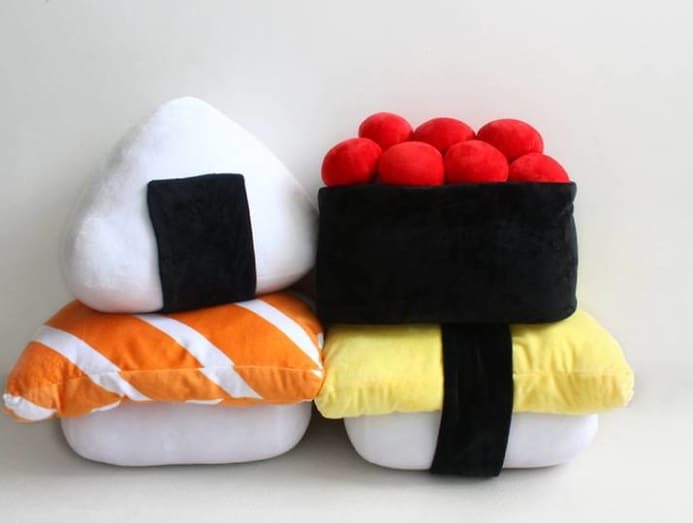 YOU'RE ALSO AN EMCEE, A HOST, A RADIO DJ…
I genuinely love hosting events! Contrary to what people think, it's a lot more than just speaking into a microphone to large crowds in public. It's really all about the people and it is an amazing feeling to know that I get to be a part of a company or brand's vision and help them communicate who they are in an event that usually takes weeks or even months of hard work to put together.
I love that through hosting I get to meet and work with different people every time, and for every event I do, I learn a little more about a particular industry which I never knew before!
WHAT LESSONS HAVE YOU LEARNT AS AN ENTREPRENEUR?
I've never had any formal business training or education, but I've most definitely picked up some lessons through all the trial and error attempts over the years. Although all my businesses have been very small-scale, I'm lucky to have been able to experience different facets of business in each, getting a taste of being a service provider for an international brand, learning about merchandising and distribution for my own handmade products as well as dabbling in production and logistics for manufactured goods.
One lesson would be the importance of negotiation. This is definitely something I'm still working on right now but would be applicable in every business, and especially to a self-employed individual. It was important for me to distinguish what my service or business could bring to the table, and how to protect myself from an unfair deal that might hinder me from growing my business.
I don't think negotiation pertains to just monetary exchange but also to deliverables, timeline and working terms and conditions. Somewhat linked to the lesson above, I definitely also recognise the importance of maintaining business relations whether it's with your client, vendor or business partners.
I've experienced first-hand that when you take the time to connect with your network and find ways to create value in a partnership, that's when you remain top of mind. I personally believe there has to be some level of give and take, and it's not all about the chase to grab the biggest slice of the pie. The hardest lesson for me is learning that time is as important a resource, if not more important, than money.
All my businesses have had very low start-up costs due to their handcrafted nature and well, because I was doing everything myself. While it's not a bad idea to keep expenses low in a business, what I didn't realise was that I was actually paying with time. I've spent the majority of my twenties "always busy at work" but am now working to figure out my priorities, making time for myself, being okay with saying "no" and delegating tasks for more efficiency.