Creative Capital: The young Singapore brewer taking craft beer to new heights
Clive Tan launched Sunbird Brewing Company during the "circuit breaker" as way to showcase local flavours and creative expression.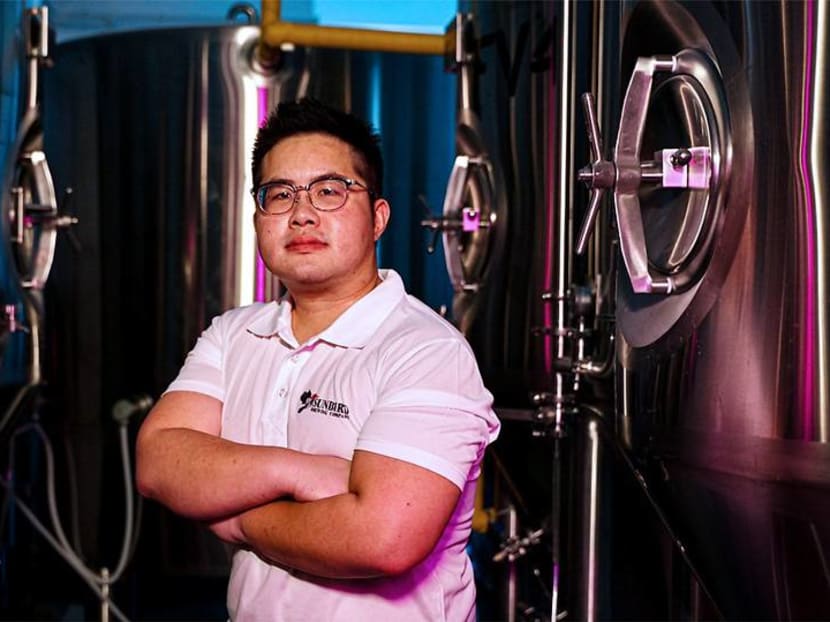 For most of the past year, I have been working from home. That has been really odd. It's only when you are relegated to seeing colleagues' faces only on tiny screens that you realise how much you miss personal interactions and office routines like going out for a meal together or grabbing a coffee.
Work-from-home has led to multiple office bonding sessions in which colleagues dial in to take part in fun activities ranging from Among Us sessions to staff trivia games. On the occasions that I was planning the games, I also felt that it was right to sponsor some prizes.
My favourite prize to send out was a case of Sunbird beer. Beer, it turned out, after a quick survey, was the safest booze to send to colleagues. Not everyone likes cocktails or wine.
I discovered Sunbird while looking for a good local brewery to order from, and quickly fell in love with their packaging, story and product. I also liked that they delivered extremely quickly.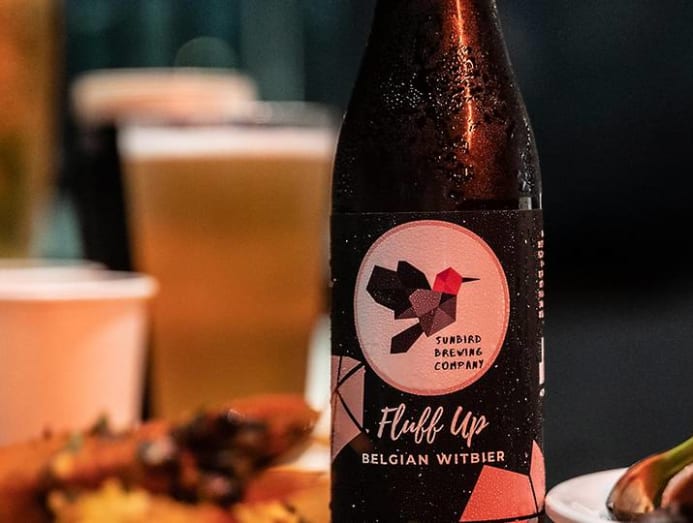 It was only after I had been ordering from these guys for a while that I realised Sunbird was a brand new brand, having been launched right at the start of the "circuit breaker" by Clive Tan, a 29-year-old local entrepreneur.
While young, Clive is a recognised bada** in the local brewing scene, having been the youngest professional brewer in Singapore when he was at Archipelago beer.
YOU OPENED IN APRIL 2020, RIGHT AT THE START OF THE CIRCUIT BREAKER. DID THAT FREAK YOU OUT AND/OR DERAIL LAUNCH PLANS?
The launch of Sunbird Brewing Company had in fact been planned for about a year. We were motivated to go ahead during that difficult period as we wanted to provide a sense of opportunity and hopefulness to beer lovers in the craft beer community, as well as to the community of young entrepreneurs.
WHY THE NAME SUNBIRD? WHAT DOES THE BRAND NAME REPRESENT TO YOU?
Not many are aware that the Crimson Sunbird is the national bird of Singapore. We want to be agile in adapting to changes in the market and have the freedom to produce true-to-style craft beers that can make an impact in Singapore and Asia.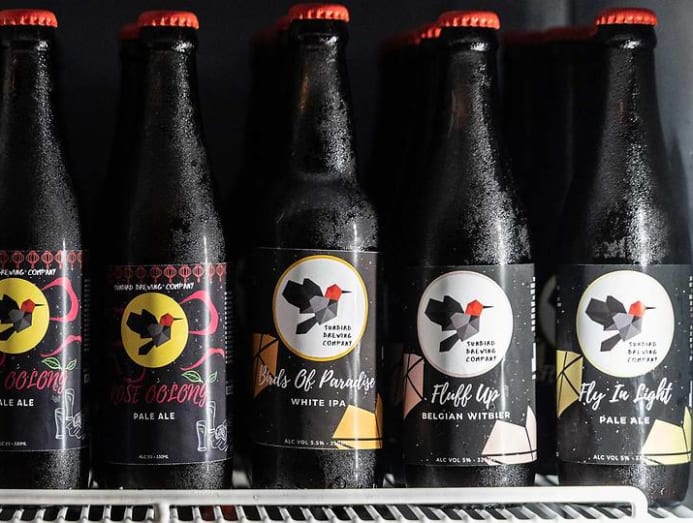 WERE YOU ALWAYS INTO BEER, EVEN BEFORE JOINING THE INDUSTRY?
Yes, I was introduced to craft beer during my university days and was shocked to find how different it tasted compared to commercial beers. So I started reading about it and instantly fell in love with the science behind brewing, which led me to do some home brewing.
WAS THERE AN "AHA" MOMENT WHEN YOU MADE YOUR FIRST BEER? DID YOU KNOW THAT THIS WAS YOUR CALLING?
To be honest, my first brew was done at home and failed (and I also failed) many times subsequently due to several reasons. I honestly never thought that this was going to be my life after that first brew.
YOU WERE HEADHUNTED BY ARCHIPELAGO AND RECOGNISED AS THE YOUNGEST PROFESSIONAL BREWER IN TOWN. DID YOU FEEL A LOT OF RESPONSIBILITY OR PRESSURE BECAUSE OF THAT?
Being the youngest professional brewer at that time was fascinating. What was really special was that I discovered a willingness to share knowledge within the community. I thought it was a rather rare sight considering that we all represent different breweries. But with that in mind, the pressure came from myself because of many factors, such as the difference (between my pay and that of others) within my social circle — I came from an economics and finance educational background; my parents, who at the time were sceptical about my passion; and my own personal goal to open a brewery someday.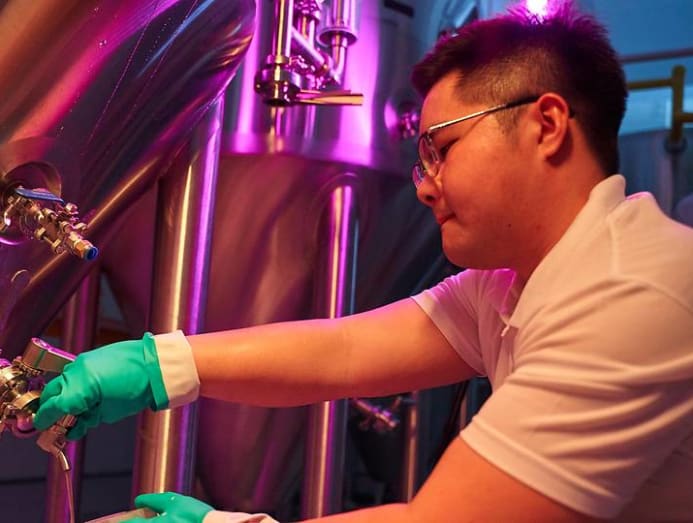 WAS OWNING YOUR OWN BREWERY ALWAYS THE GOAL?
Starting my brewery was a five-year goal I set on the day I decided to join the industry. The vision was clear but I did encounter many obstacles along the way.
I gave myself five years to hone the skills of being a good brewer and also the skill sets needed to run a brewery because, very often, people have the misconception that a good brewer equals someone who is ready to own a brewery. Before the five years were up, I had managed to operate an annual six-digit brewery capacity successfully and I took it as a signal that I was ready to start Sunbird. It took us one year to secure the location, set up the brewery, get the licenses sorted and get the logistics planned out before we launched officially in April last year.
WHAT'S A TYPICAL DAY LIKE FOR YOU? CAN YOU WALK ME THROUGH YOUR AVERAGE WORK DAY?
My day begins at 7am with either a single or double brew, which ends around 2pm or 5pm respectively. Packaging is done during the waiting period while brewing. Delivery starts after the brew and ends around 8pm daily. I have a quick dinner, followed by administrative work until late.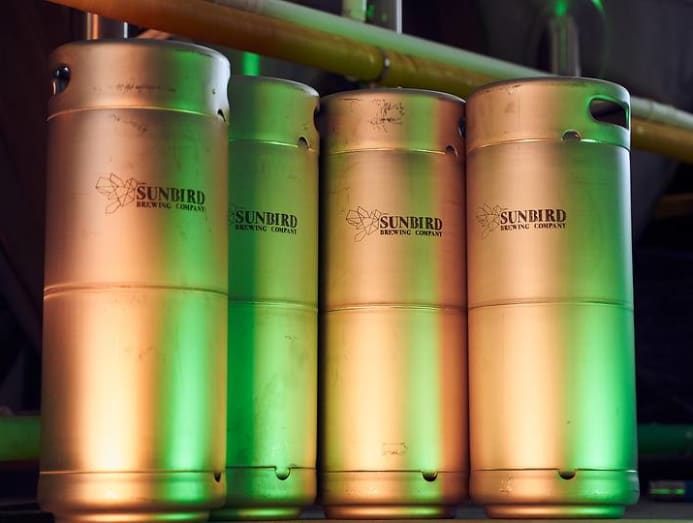 I LIKE HOW INVENTIVE AND PLAYFUL SOME OF YOUR VARIATIONS ARE. HOW DO YOU COME UP WITH DIFFERENT STYLES OR FLAVOURS?
At Sunbird, we strive to create true-to-style craft beers with a modern twist. Our beers are not just for craft beer lovers but also specifically curated for mass consumers who have or have not tried craft beers before. With this in mind, we design our beers in a way that is familiar to local consumers who might take the opportunity to try craft beers for the first time. I believe we are the first local brewery to have a seasonal beer every month with a festive theme tagged to it. My goal as a Singapore brewer is to consistently share my knowledge of craft beers with mass consumers to change the perception of beer, which is associated with commercial lagers.
HAVE YOU EVER TRIED OUT AN IDEA THAT TURNED OUT DISASTROUSLY WRONG?
Fortunately we have not encountered the failed execution of any of our products.
THERE ARE A LOT OF CRAFT BEER BRANDS, BOTH LOCALLY AND GLOBALLY, THESE DAYS. HOW DOES SUNBIRD SET ITSELF APART LOCALLY AND INTERNATIONALLY?
Locally, Sunbird sets itself on the path of always providing a creative flavour with a touch of the local culture. As a consumer-centric brand, we have to always keep up with new consumer behaviours and trends, and listen to and involve our consumers to effectively adapt our products and operation. Our international plan does not differ much from our current strategy. Understanding consumer tastes and making that as important as keeping up our brewing standards will push us further into the region. This was very much shown with our past seasonal, Halloween Party Blood Orange IPA, which won fourth place in the Asia Beer Championship 2020.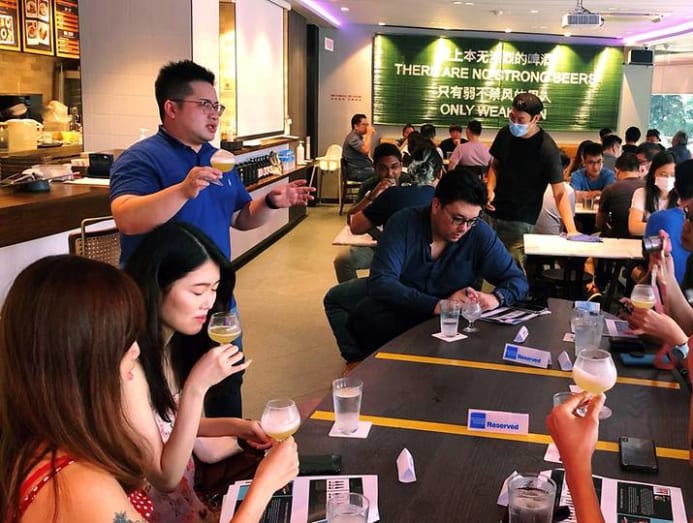 WE'VE SEEN A HUGE RISE IN INTEREST IN CRAFT BEERS OVER THE LAST DECADE. WHAT DO YOU THINK HAS CONTRIBUTED TO THIS TREND?
A large part of craft beer consumers currently and in the future are millennials. As a millennial myself, I always want new products. I admit that I am interested and excited by the latest hype or trend, and am willing to try new things. Millennials' spending power is quite high as well. As more and more craft beer brands are being imported, local breweries will have to target consumers better and more directly to be able to compete with international brands.
IS ONLINE THE FUTURE OF BEER RETAIL?
We cannot predict what consumer behaviour post-COVID-19 will be like, but I believe that online will play a greater role compared to in the past.
IF YOU AREN'T DRINKING ONE OF YOUR OWN BEERS, WHAT DO YOU ENJOY DRINKING?
Personally, I am more of an English IPA or stout kind of drinker, so it would depend on the location and menu.
WHICH OF YOUR OWN BEERS IS YOUR PERSONAL FAVOURITE? AND WHAT IS THE PERFECT FOOD THAT GOES WITH IT?
My personal favourite is Eclipse of The Sun Scottish Ale. This beer is versatile — it pairs well with gamey meat and also desserts like chocolate brownies or cakes.
WHAT'S THE VISION FOR SUNBIRD?
I would love Sunbird to lead the rise in craft expressions within Asia's beer market. Within the next five years, we would like to share the culture of Singapore through our beers in Asia, and thereafter, internationally.