Creative Capital: The candle maker creating beauty with soy and beeswax
Daphne Tan, creator of Candles Of Light, believes that scents are an extension of oneself.
While I have had the pleasure of interviewing many creative friends for this column, none are closer to my heart than Daphne Tan, the perfumer behind Candles Of Light.
Not only is she my wife's cousin, she was also the first hire when my wife and I started The Ate Group, a content and communications agency, some 13 years ago.
In the early years, the agency was tiny. Everyone worked closely together and did whatever was asked of them.
Three early projects for which Daphne was invaluable were the curation of the first Asia collection of Mr & Mrs Smith hotels; the filming of the season finale of Top Chef season seven; and Singapore Take Out, the insane travelling pop-up we ran on behalf of three government agencies in which we brought a shipping container that housed an off-the-grid restaurant kitchen to nine countries, showcasing Singapore's hottest chefs, cooking side-by-side their foreign counterparts.
Without her, none of these would have been successful.
So, you can imagine our surprise when Daphne announced one day that she wanted to leave to pursue studies as a perfumer in Grasse, France. But we gave her our blessing (what else could you give someone who gave you almost a decade of dedicated and loyal service?) and were thrilled when, soon after she returned, started Candles Of Light.
Her first products were pure soy and beeswax candles, infused with botanical scents of her own creation. She only uses pure botanical and all-natural ingredients.
Today, the business includes scented room mists, perfumes and home scent elixirs. And while her business is still young, she has collaborated with a wide range of brands, from local Matter Prints to Lexus.
Here, in CNA Lifestyle's series, where we speak with creatives making their mark in Singapore, Daphne discusses her work.

CONGRATS ON YOUR SUCCESS. DO YOU CONSIDER YOURSELF AN ENTREPRENEUR OR A CREATIVE FIRST THESE DAYS?
At first glance, I don't feel like either label really fits.
In my head, the idea of an entrepreneur is a fast-paced mogul running a series of companies that get millions in funding … not me. Well, not yet at least. I'm just doing my own thing and trying to continue finding my way with that.
Creative? That's also a pretty loaded term. But if you distill the word "creative" down to someone who creates things, then yes, I suppose I identify myself more with being a creative because that's what I do. I create candles and scents.
WHAT HAVE YOU LEARNED IN RUNNING YOUR OWN BUSINESS?
That the only constant is change, and learning to be comfortable with being highly uncomfortable. I went from being an employee with a fairly specific job scope and a regular pay check, to having to do everything, from invoicing to  sales to execution to deliveries and more.
So, if you're reading this and you're still waiting on a response from me, I apologise and I will get back to you as soon as I can!
I've also learned to tread lightly and not take things too personally. I was watching some old footage of an interview with Oprah filmed years ago, right before she launched the Oprah talk show.
While she had such conviction that the talk show would do well, what struck me most was her saying, "well even if the show doesn't do well, I will do well, because I am not defined by this show but by how I live my life and treat the people around me", So powerful, and so true.
Today, I believe everything happens in its own time. I keep reminding myself that Vera Wang only started her bridal business when she was 40. It isn't impossible nor too late for anyone.
What I am working on now is learning how to do more by letting go. I'll keep you posted on that one.
WHAT HAS BEEN THE TOUGHEST CREATIVE CHALLENGE YOU'VE FACED SO FAR?
To cut out unnecessary noise, and really focus on what I see ahead for the brand and how to get there.
People will give you lots of unsolicited advice. "Have you thought of doing this?", "You should totally do that."
And therein lies the question: Do I focus on breadth and expand the product range outwards, or focus on depth and expand downwards?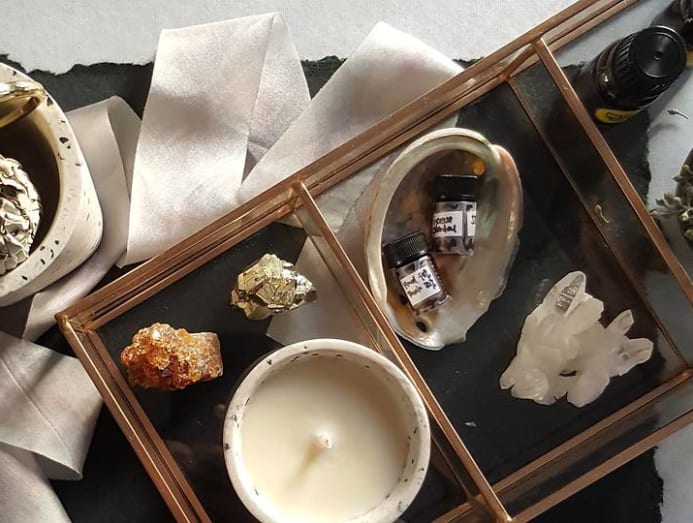 SO, WHAT ARE YOU WORKING ON RIGHT NOW?
I'm in the process of adding a few more things to the home scent range, and working on focused capsule collections of tchotchkes and wares for the home.  I'd love to work more on creative corporate projects as well.
WHAT ARE SOME OF THE THINGS THAT INSPIRE YOU?
Nature, travel and food.
I started my career working a lot with food and one thing I distinctly remember is being fascinated with flavours and flavour combinations, trying to dissect what was in the dish, why it worked or why it didn't.
Being out in nature is so important for the creative process because it allows me the opportunity to think and smell and dream.
Travelling, reading about history – nerd alert! – and because all these experiences somehow amalgamate into a creation.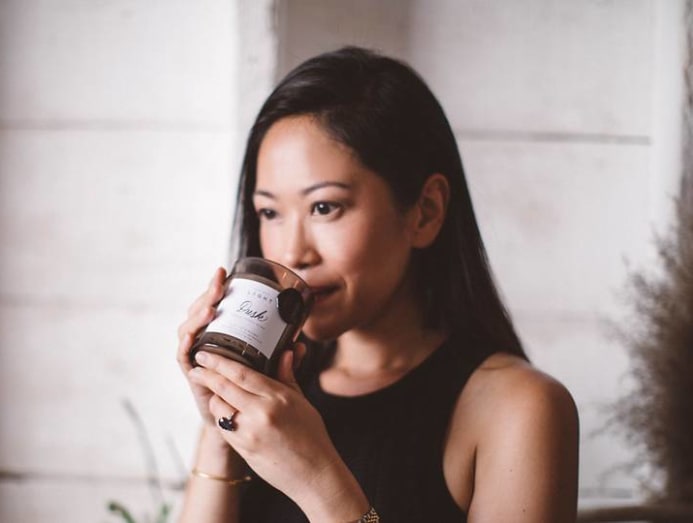 WHAT IS YOUR PERSONAL FAVOURITE SCENT?
Le Labo. I love Rose 31 and Santal 33 even though it is so basic and Brooklyn. But super classic and good.
On me, right now, is Perfumer H's Musk. It's more sheer powdery than musky, with notes of iris, violet, ambrette and heliotrope. I bought it in London in the thick of winter and could barely smell it in the shop, which made it a bit of a wildcard choice at the time. Thankfully, it's perfect for Singapore's tropical weather; it's not distracting at all which would be a problem given my work.
I'm big on perfumes that smell like an extension of yourself. You should wear the perfume, the perfume shouldn't be wearing you. Does that make sense? I love the effect of perfume settling on warm skin.
WHO IS YOUR OWN DESIGN OR CREATIVE HERO?
Oprah! She is a legend.
Creatively from a perfumer's perspective, Douglas Little from Heretic Perfumes. He's the force behind GOOP's range of natural perfumes, and a bunch of other super cool and unusual projects.
And the husband-and-wife team from scent brand Mad Et Len, for their impeccable attention to detail and craftsmanship.
Lyn Harris (of Miller Harris fame) who started Perfumer H is a big inspiration as well. She is the first classically trained female nose in the England. 
HOW DO YOU FIND NEW FANS AND CUSTOMERS? 
Via Instagram, word of mouth, and through pop-ups.
WHAT ARE SOME OF YOUR THOUGHTS ON THE FUTURE OF RETAIL?
While I can't speak for all retail, I think stores of origin and provenance are still going to drive how and why we purchase. Also, collaboration, because we've seen by now that there is great value in that, and I love the idea of building a community over competition.
WHAT IS YOUR HERO PRODUCT?
The Dawn And Dusk candles. They were the first two scents I've ever created and they started me on naming my core range according to different times of day.
I think both scents are really comforting in their own way, and it's nice to have a scent accompany you in your daily rituals.
IF YOU COULD BE DOING ANYTHING ELSE, WHAT WOULD IT BE?
As much as I love what I do, I'm the kind of person that thinks every other job out there is super fascinating and interesting.
Right now, if I wasn't doing what I'm doing, I would be restoring old churches or training to be an archaeologist. Or working with food, because that to me feels like home.