Creative Capital: This Singaporean multi-disciplinary artist take visual arts to the next level
Winner of Mnet Asian Music Awards' Best Visual and Art Director of the Year, 27-year-old Tan Yang Er helps Singaporean talents such as Jasmine Sokko, Narelle Kheng and Michael Chiang engage audiences through visual storytelling.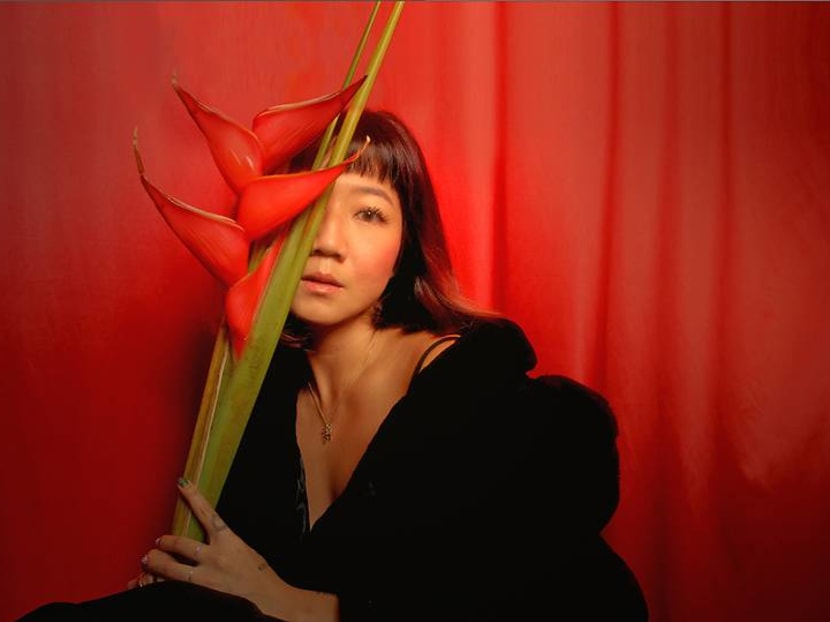 There are some artists whose works are in your face. Because of the nature of their work, they take centre-stage, and are the stars of their own shows. Then there are others who, while equally talented, work very hard behind the scenes to help support and build the experiences that captivate your imagination.
One such local creative is 27-year-old Tan Yang Er. You may not know her name but if you're a local music fan, media consumer or theatre buff, you may have seen her work. This stylish and outgoing creative has fast become the go-to art director for the new generation of music stars. Tan was responsible for art directing Jasmine Sokko's Hurt music video. She's a frequent collaborator with local pop icon Narelle Kheng, and she was behind the production design of the TV adaptation of Michael Chiang's Mixed Signals. She's won awards for her art direction while also maintaining her own art practice.
PEOPLE DESCRIBE YOU AS A MULTI-HYPHENATE, BUT HOW DO YOU SEE YOURSELF?

I am a 21st century Renaissance woman. I love the concept of a Renaissance person or polymath. So I would love to bring that back.

WHEN PEOPLE ASK YOU WHAT YOU DO, WHAT DO YOU TELL THEM?

It usually starts with an embarrassed laugh, then I ask for their patience as what I do is quite a mouthful. I've gotten better over the years – describing the different situations I find myself in. From film production to installations, to commissioned artworks that span across different medium.

HOW DID YOU START WORKING ON PRODUCTION DESIGN AND ON "SPATIAL TRANSFORMATIONS"?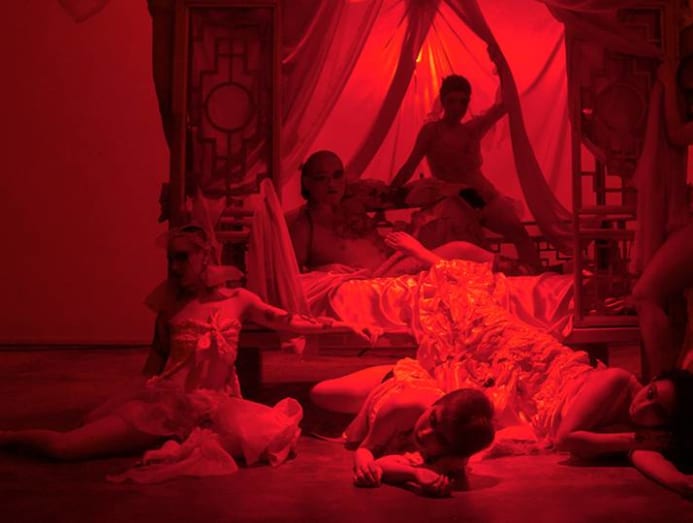 From playing lots of Sims as a child. I got so hooked on building and decorating the homes – with the help of a cheat code that gave me access to unlimited funds – that by the time I could move the Sims in, I was too tired to continue.

The very first time I used Google Sketchup for my spatial/production design drawings, I realised it felt more familiar than I had expected. I could go at it for hours without leaving my seat, and I loved being able to translate what I saw in my mind into 3D walkthroughs that I could share. It really helps to have a vision that everyone can partake in accurately, and not just in words.

WHAT WAS THE VERY FIRST PROJECT YOU WORKED ON?

During the second year at NTU (School of Communications), I was involved in the freshman camp. A friend from the video team asked if I would be interested in transforming a part of the school into a circus. I saw that as both daunting and challenging as the transformation stretched across multiple floors. With the help of my peers, we made it come to life by being extra scrappy and creative with resources. We enjoyed it so much that we kept the set even after the shoot, and shared it with the new juniors as part of their experience.

HOW DID YOU KNOW THIS IS WHAT YOU WANTED TO DO AS A CAREER?

I enjoyed many aspects of the experience. I attach emotions to experiences and this was definitely one of exhilaration, nervousness and affection. Also the identity of the space – a school I love – and the people that made it happen. While I cannot say I knew with certainty then that this was the path I was going down, I will say I loved it enough to do it again.

HAS YOUR CAREER BEEN ORGANIC SO FAR?

On the outside – even to myself at times – it all looks organic. But upon rigorous reflection, I realised that it was equal parts organic and intentional. Following my heart led me to something I value. But beyond that, the setbacks I faced turned into lessons. So while it looks as if I am bouncing off the walls, I am in fact deliberately creating a room of surprise.

YOU HAVE A DEGREE IN COMMUNICATIONS. HOW HAS WHAT YOU STUDIED INFORMED YOUR APPROACH TO YOUR WORK?

Thinking and caring for the audience is something I carry throughout the entire process. My background in Communications taught me to value and be comfortable with asking questions about the audience. If I toss an idea, hopefully someone catches it.

WHAT IS YOUR CREATIVE PROCESS LIKE?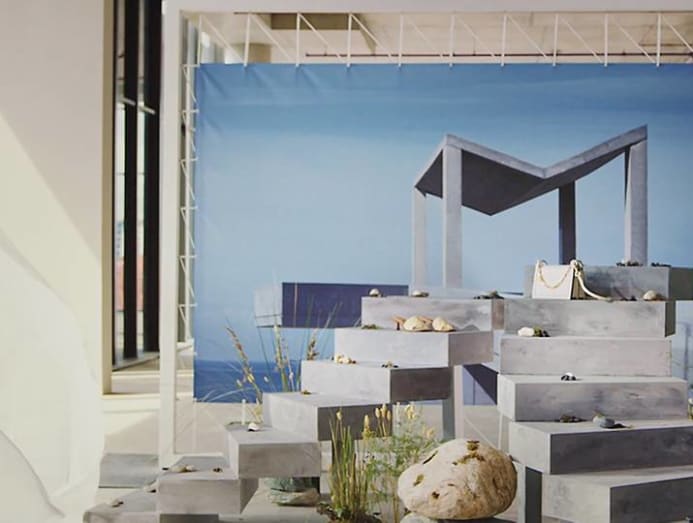 It starts by imagining how I would like the audience to feel. With commercial work, the end objective is to persuade or to convey, so the emotional reward helps as a goal for the team to stay on the course. With my art practice, I aim to present and ask questions, and to be brutally honest with myself. The conceptualising unfolds from either starting points and mostly with words to describe, then sketches and or or colours palettes.

WHAT IS EASIER AND ALSO MORE ENJOYABLE, THE CONCEPTUALISATION OR THE ACTUAL PRODUCTION PERIOD?

I think both reap very different forms of rewards – like a farmer who enjoys faithfully sowing the seeds and anticipating, yet by the end of the season, harvesting is a whole other joy of its own. Conceptualising allows me to dream, to learn from research – things that in my daily life I would never have thought about – to draw up new possibilities. Production leads me to people I normally would not have the opportunity to meet. I also love the process of witnessing drawings becoming reality. It is all very thrilling.

WHAT'S BEEN THE MOST CHALLENGING PROJECT TO DATE?

For the most part of 2019, I was working on TV Series Mixed Signals as the production designer/head of art department. It was challenging in terms of endurance, given that it was a long form production. It was physically, mentally and emotionally trying. But I also had the best rewards I could ask for – the people that I got to work and grow with are keepers for life.

YOU TAKE ON COMMERCIAL JOBS AS WELL AS HAVE YOUR OWN ART PRACTICE. DO YOU THINK YOU WILL ALWAYS BE DRAWN TO BOTH OR DO YOU WANT TO EVENTUALLY FOCUS PURELY ON FINE ART?

My goal is to be able to swim comfortably amongst the two. I think there are great values in each that I would like to bring along with me, and hopefully thrive in the grey.

WERE YOU A CREATIVE KID? WAS ART AND CREATIVITY ENCOURAGED AT HOME?

I was a very bored kid – mostly left on my own or with adults that I had nothing to do with. My older relatives became a large part of my environment, they worked in the media industry and hearing them talk about it bred a sense of familiarity to the work. But my immediate home was a very quiet one – my parents had a lot on their plate after their divorce. I suppose I was also too feisty to be limited.

WERE THERE EVER TIMES IN WHICH YOU DOUBTED YOUR DECISION TO BECOME A FULL-TIME CREATIVE?

More than I can count. But I believe doubts don't necessarily signal something bad, it doesn't have to be shunned. It means we care enough about what we do and enough to be afraid of losing it. Doubts lead me to question – work identity vs self-identity. And it is important to try and understand which part of the work am I doubting and why. Sometimes it is as practical as income, can I actually make a living out of this work? What would be enough for me?

YOU HAVE A WELL-KNOWN CREATIVE CIRCLE OF FRIENDS. HOW MUCH INSPIRATION COMES FROM BEING SURROUNDED BY AND SUPPORTED BY OTHER CREATIVES?

Lately, I'm starting to think that inspiration feels more like encouragement than a spark of an idea. An encouragement of hope to keep believing that what each of us is doing matters. And in a community of like-minded people – and that means they don't have to necessarily be working in the creative industry, they can be from F&B or from other walks of life – I often find myself seeing that hope in my friends. And almost like they are holding up a mirror, these friendships fill my heart, and in this way, they inspire me.

HOW WAS 2020 FOR YOU?

To put it simply, I'm grateful to still be alive, healthy and able to continue making work.

WHAT ARE YOUR PLANS FOR 2021? ANY EXCITING PROJECTS YOU CAN SHARE?

I recently stumbled upon pottery, and began committing more than I thought I would. I'm not sure where it's going exactly yet, but I'm already learning many lessons that I can apply in my other areas of work. I suppose it's the bloom of a new relationship with a new medium, and that's always exciting. Apart from that, I've been keen on pursuing a Masters in Fine Arts at Parsons New York. I will get on that when the world is feeling better.