Creative Capital: Singapore's youngest enamel artist creates bespoke pieces for Southeast Asian royalty
And Charlotte Hoe could be the country's last torchbearer for this painstaking craft.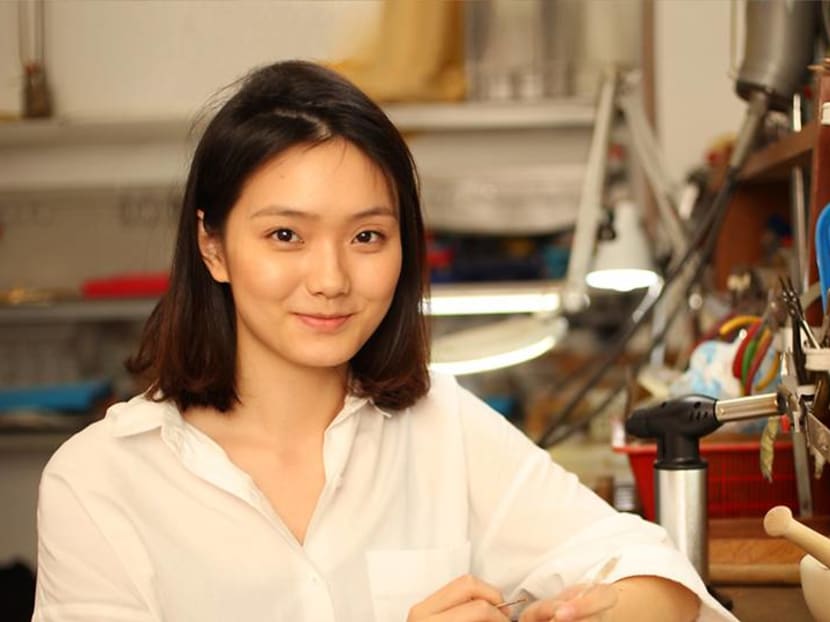 Say Charlotte Hoe and even though the name may not ring a bell but what's noteworthy is that Hoe is one of the very few enamel artists in Singapore. 
Enamelling is an art form that practises zero tolerance for error. For the last five years, the 26-year-old artist has made this precise art form both her passion and her profession.

Like her peers, Singapore's youngest enamellist loves to travel, enjoys water sports, loves food and has a close relationship with her family. But unlike her peers, her family members are who she calls her colleagues. Hoe's father owns Royal Insignia, a specialty studio that handmakes medals, royal regalia and diplomatic gifts. Her older sister runs business development for the company while Hoe has made her name as the company's enamellist.

DID YOU ALWAYS KNOW YOU WOULD WORK FOR THE FAMILY?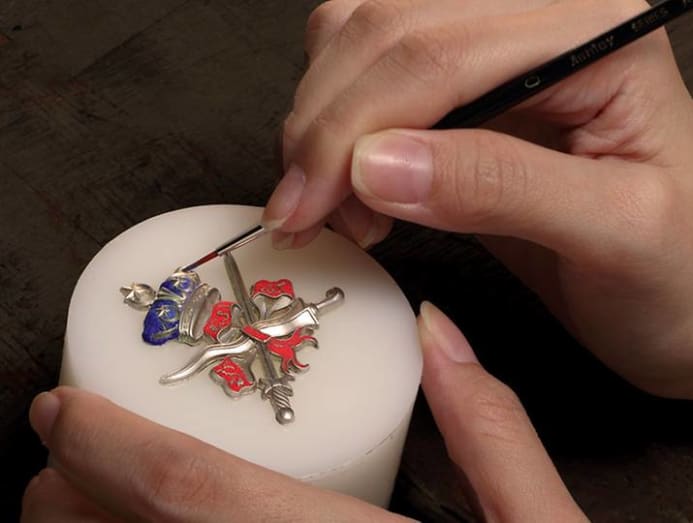 Crafting and working with precious stones and metals were constant elements of my childhood. I grew up listening to stories of my dad's fascinating visits to palaces and watching him and his craftsmen mull over their next bespoke gift commission.

Growing up, I was always surrounded by all these beautiful objects, I knew that I wanted to be a creator but I wasn't entirely certain it would be with the family. It wasn't until I graduated from design school that I realised, quite by chance and, that all the skills I had picked up so far had groomed me into the perfect candidate for my dad's workshop.

WHAT DREW YOU TO ENAMELLING?

The funny thing is that enamelling wasn't something that appealed to me from the get-go. I was introduced to the art form by my dad. Our company, Royal Insignia, works with enamelling extensively for the bespoke gifts that we craft for royal families in SEA. 
In the absence of enamelling masters in Singapore, my dad would search for enamelling resources online to elevate the skills of our craftsmen. At some point, he started to bribe, threaten, and coerce me into practising enamelling with our craftsmen.

I wasn't terribly interested in the craft back then because most of the enamelling our workshop handled at the time was single toned. It looked deceivingly easy but it wasn't until I began exploring the form more extensively did I realised we were merely scratching the surface of the craft's possibilities. 
Many of the old masters before us, for example, the Russian jeweller Faberge, or French father of modern jewellery Rene Lalique, were practising very complex forms of enameling. Enamellists today are still grappling to match the standards of these old masters. The thought that I could one day create masterpieces like them was massively exciting. That convinced me to undertake this career.

HOW DO YOU BECOME AN ENAMELIST?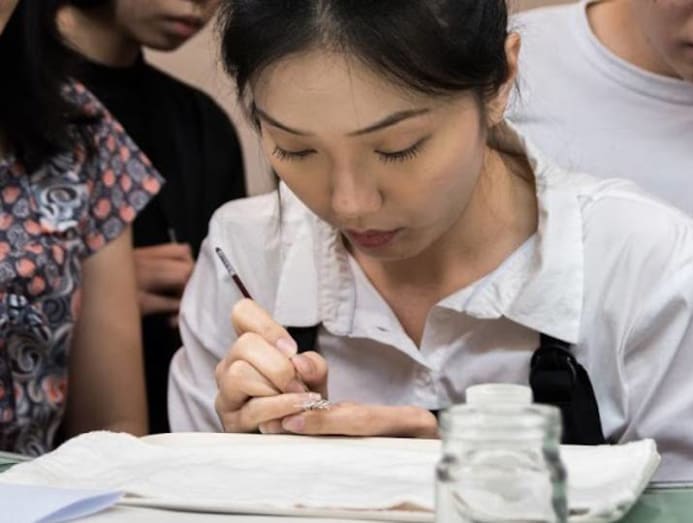 The basic techniques of enamelling are easy enough to grasp. It is essentially the application of powdered glass onto a metal surface and then fusing the glass particles at temperatures above 800 degree Celsius. An experienced enameller is one with a thorough understanding of materials. Different colours burn at different temperatures; different metals react with the colours differently; etc. Training to be an enameller is not training per se but extensive experimentation with the materials on hand. It's a long and painstaking process but once mastered, he/she can begin to manipulate the materials and this opens up the door for endless design possibilities.

ARE YOU ONE OF THE LAST ENAMELISTS IN SINGAPORE?

Yes. It's a real pity but we don't see many enamellists in Singapore. The few enamellists we have don't practice my favourite plique-a-jour (French for 'let in light') technique. Enamel powder is applied to a backless metal frame to achieve a stain-glass effect.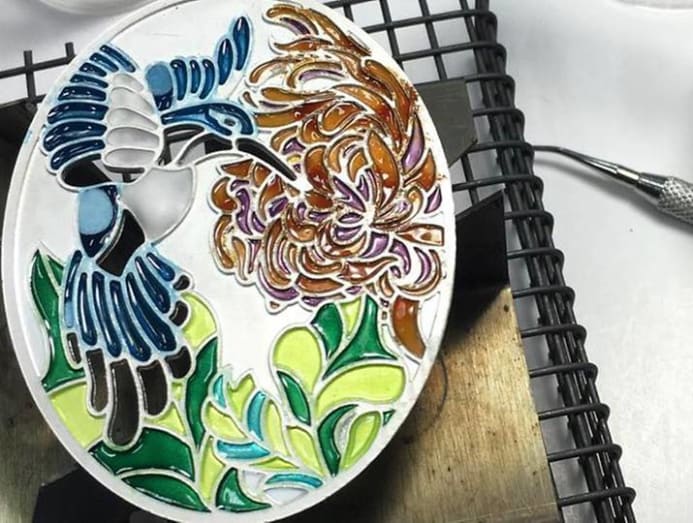 Let's face it. Enamel work is very painstaking which is partly why there are so few of us. Enamel is such a fragile material to work with. Anything and everything can go wrong during the process. The metal surface might warp when heated. A minute too long in the kiln and the tone can go way off. Try to cut corners and not grind or wash your enamel powders thoroughly and you might find dark specks tainting the surface of your work. And if by some sheer miracle everything goes according to plan and it is finally time to plate your enamelled piece, the plating solution might actually crack the enamelled surface.

Enamelling is also ghastly expensive. The best powders are sourced from the UK and Japan. Most students of enamelling begin with enamelling on copper but you cannot obtain the same colour vibrancy so one has to ultimately progress to silver and gold. I'm fortunate enough to be able to tap on the resources of Royal Insignia. Our workshop is equipped with everything one would need to practice enameling. I cannot imagine how challenging it is for students without these resources.

YOU ALSO GIVE WORKSHOPS?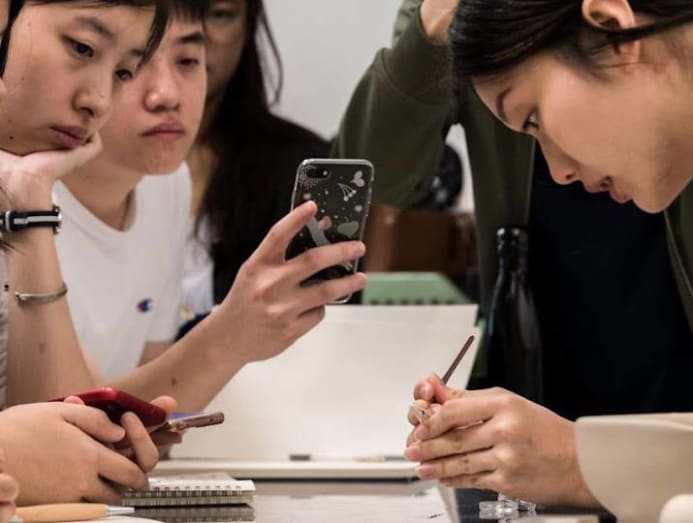 Yes, I have taught a series of workshops at the Nanyang Academy of Fine Arts. The students I taught were already familiar with the basics of enamelling, courtesy of their jewellery design backgrounds but I was really keen on giving them the opportunity to enamel on silver sponsored by Royal Insignia.

Typically, my classes aim to equip students with the foundations to create their own enamel work at home. They'll select a technique that they are interested to master and the classes will help them understand how to manipulate the different materials to achieve the desired effect.

For beginners, I usually suggest cloisonne or champeleve. In cloisonne, metal strips are soldered onto a metal surface to create cells that are subsequently filled with enamel powder. Some of the exquisite enamelled watches by Van Cleef & Arpels are prepared using the cloissone technique. Champeleve is when cells are carved into a metal surface and filled with enamel powder. Most of the enamelling work you see on antique clocks are prepared using the champleve technique. For more seasoned students who are just about to embark on an elaborate enamel project, I offer one-to-one guidance on design considerations and technical executions.

WHAT KIND OF WORK DOES ROYAL INSIGNIA SPECIALISE IN?

For the past two decades, we have been designing and making medals and bespoke gift items for royal families and heads of state. These gift items are presented at royal coronations, royal weddings, jubilees and diplomatic visits. Some of the more iconic events we have been involved in include the coronation of Sultan Ibrahim of Johor and the 2017 Golden Jubilee celebrations of the Sultan of Brunei.

Royal Insignia also has a small publication arm that publishes books that chronicle the history and evolution of our customer's regalia and diplomatic gifts. Since our customers are mainly royal families, these books provide fascinating insights into how royal courts operate.

Recently, we established a restoration and conservation department. The department focuses on helping our customers restore and conserve the regalia and diplomatic gifts they have received over the centuries, keeping these historic pieces in good condition so that they may tell of the events of our time. One of the most exciting projects that we're working on now is the restoration of Johor's royal regalia. This is the first time in history that the regalia is leaving Johor. The mace and krises are all crafted out of solid gold and have some amazing enamelling details.

WHAT'S YOUR DREAM PROJECT?

With enamelling, the more three-dimensional the surface is, the more technically challenging the project becomes. My dream project would be to be able to create a range of vessels, like trinket boxes or vases, completely out of enamel using the Plique-a-Jour technique.

YOU SEEM TO HAVE A PASSION FOR BOTANICAL PIECES?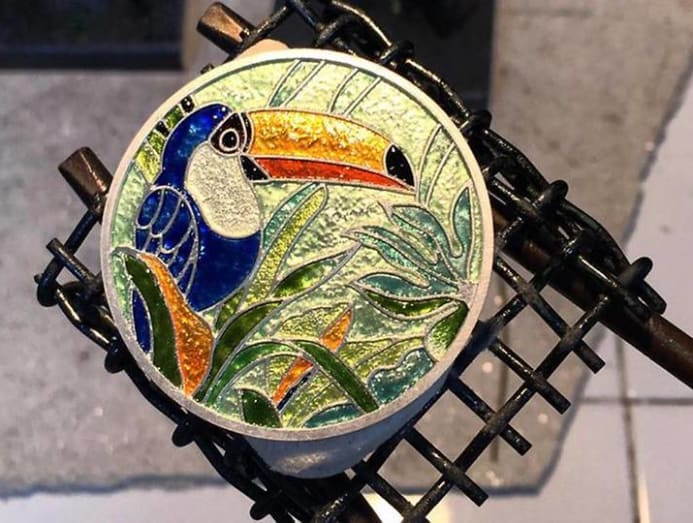 Most of my personal projects revolve around flowers, birds or insects because of my interest in botanical painting. In both enameling and painting, colour gradations and water control is of paramount importance. Working on my botanical paintings has helped me develop a more acute sense for colours and better hydration control.

WHAT MADE YOU DECIDE TO DABBLE IN F&B?

While Royal Insignia's bespoke gifting business remains lucrative, we're painfully aware that the business isn't scalable or sustainable. Unfortunately, the young monarchs who will soon take over their thrones have no patience for bespoke or diplomatic gifts that are the result of careful design considerations and painstaking craftsmanship.

We wanted to diversify the brand but retain what we're good at doing which is luxury gifting. Gourmet chocolates are the perfect luxury gift. My siblings and I brought in the Laderach Chocolatier Suisse brand – it took us three years before opening at the Jewel and then at Takashimaya Food Hall. This move allowed us to move from bespoke luxury to the world of masstige which is infinitely more scalable and sustainable.

HOW HAS THE PANDEMIC AFFECTED BOTH OF YOUR BUSINESSES?

Not so much for Royal Insignia. While some of the royal or diplomatic celebrations have been cancelled or postponed in light of the pandemic, gifts are still required so business is still streaming in. However, the pandemic put a stop to all manufacturing work in April and May so we did lose precious time.

For the chocolatier, both our stores have been closed since April. But there is a silver lining. Prior to the pandemic, we were exploring ways to make e-commerce a bigger focus in our overall sales strategy but were concerned that Singaporeans would be hesitant to purchase luxury chocolates online. The pandemic has made online shopping a way of life and, in some ways, has paved the way for us to ramp up our online activities.