Creative Capital: The Singaporean who crafts guitars and teaches you how to make your own
Adam Chan, 50, is the guitar maestro you go to if you want a customised, made-in-Singapore instrument that he says is benchmarked against the best in the world.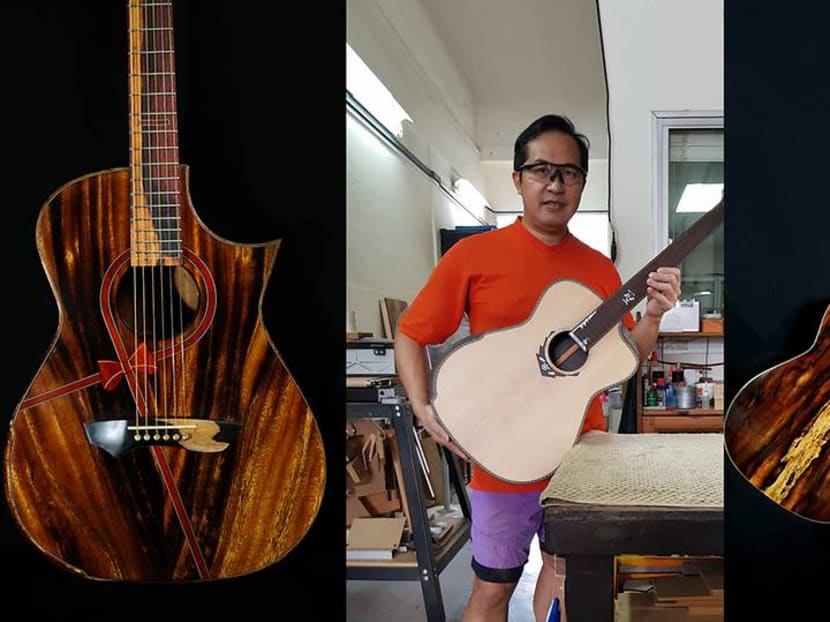 Most of the world's famous instrument names have historically been European, such as Italian violin makers Stradivari and Amati. For guitarists in more modern times, Les Paul, Paul Reed Smith, Tony Zemaitis, and Leo Fender are global names spoken with reverence.

Here, in Singapore, one former engineer is hoping to win over the Asian audience with his own creations. Adam Chan has been repairing guitars professionally for 10 years, and for the last three, he has been selling his handmade guitars. 
Priced from S$5,300 and up, they aren't starter pieces. But for passionate guitarists looking to commission something special, Adam may just have what they are looking for.

TELL US A BIT ABOUT YOU.

I am a regular Singaporean guy who is hitting the half-century mark in November. I grew up in a family of five in a tiny HDB flat. While my parents are not highly educated, they taught my siblings and I two important attributes: Discipline and respect. I also grew up learning to share things, space, and time with my siblings because it was necessary.

My father was a professional woodworker and watching him work was what familiarised me with the concept of making things. That was likely the first seed that was sown in me that would eventually lead me to my chosen profession.
DID YOU PLAY THE GUITAR GROWING UP? 

Even if I wanted to, it wouldn't have been realistic as my family couldn't afford to buy me a guitar. So, I did the next best thing when I was serving National Service. Using the allowance I was given, I bought an acoustic guitar in 1991. It was a Yamaha. Learning to play the guitar let me express my love for music and as the years passed, my curiosity in guitars grew.

WHAT TRAINING DID YOU UNDERGO TO LEARN TO MAKE GUITARS? 
I underwent an intensive two-week guitar-building programme and was guided by a master luthier to build a steel-string guitar using science and craftsmanship. I should emphasise that this programme begets fully varnished guitars; there are only a few programmes in the world that can teach you that. 
Although I didn't get to make most of the guitar parts then, assembling my instrument was already overwhelming. Back then, I was a green horn armed with only my passion for making things. It was grossly inadequate in meeting the demands of making a steel-string guitar. In fact, I came to believe that passion, while useful, is fleeting and unstable to be the cornerstone of any serious entrepreneurial journey.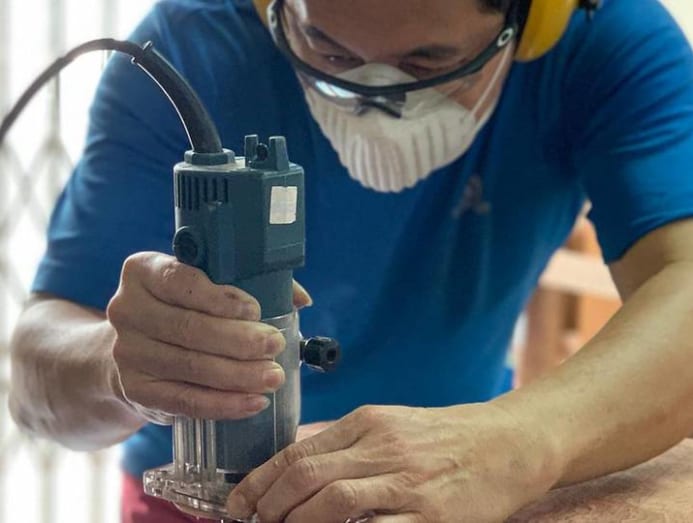 WHAT IS IT ABOUT GUITARS THAT APPEAL TO YOU?

The underlying appeal for me is that I get to make something. Having said that, a well-designed guitar possesses a special aesthetic appeal. After all, the body design of a steel-string guitar was inspired by the curves of a woman's body. 
When I first started out, I would constantly ask what constitutes beauty? I began to explore products that possessed curves and lines that were evergreen. You know, things like a Ferrari sports car. I didn't know a single guy who wasn't attracted to a Ferrari. 
The design of perfume and hard liquor bottles was another. Figuring out why these things are aesthetically pleasing became a quest. I wouldn't say I have discovered the holy grail but the search has equipped me with an adequate "feel" to sense the harmony and flow in curves and lines. The acid test was implementing this "feel" in the body shape of my guitars.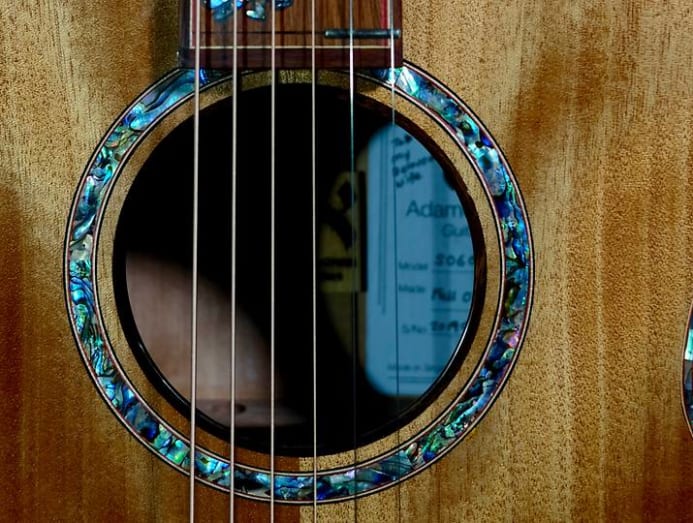 TELL US MORE ABOUT YOUR GUITARS. WHAT MAKES THEM DIFFERENT?
I wanted to make guitars that would fit our Asian frames better. So, the design of my guitar bodies is no bigger than the typical classical guitar body (classical guitars are smaller than the industrial standard). But the challenge with a smaller guitar body is sound projection; typically, the bigger the guitar, the bigger its sound. 

There are a few ways of working on a guitar's top board to ensure it produces good tonal quality. It can be done through science, that is, using measurements and testing. Some use only intuition. I guess there is no correct or right way as long as your instrument sounds great. 
Even though I'm an engineer by training, I don't rely too much on science. That said, it is imperative to understand the physics in acoustic guitars in order to intuit anything at all. Without getting too technical, let me say that I am able to make smaller guitars sound loud and good.
IS EVERYTHING MADE BY HAND?
Some guitar makers go to the extreme of only using hand tools to make their guitars. But whether your guitar is 100-per-cent made by hand or not has nothing to do with how good it sounds and its overall quality. I think the creative spirit behind using these tools is more important than staying on the narrow path that was probably only relevant in the past.
WAS IT SCARY TO START A BUSINESS FOCUSING ON GUITAR MAKING? 

In 2010, I began to transition from my day job by providing guitar repair services. It was in 2014 that I decided to do it full time. The three years were tough because of the substantial drop in income. 
But it wasn't scary though. I used the time to work on designing my own steel-string guitar. There were no big, difficult moments but I was conscious about maintaining sufficient funds to pay all the bills. So I had to trim my lifestyle to make it work. 
Was it tough? People might call it a personal sacrifice but I thought of sacrifices as necessary and inevitable. Children in Congo working in cobalt mines are living harder lives. So who am I to complain?
WHAT ARE PRICES LIKE FOR YOUR WORK?

There are two series: Premium and standard. The premium series start from S$6,500 and the standard series are from S$5,300 to S$5,800.

WHAT HAS BEEN THE BEST AND MOST SURPRISING THING ABOUT BEING A BUSINESS OWNER?

My friends would make envious remarks about me being a business owner because they thought that meant I could do whatever I wanted, whenever I wanted. But certain business processes are compulsory; in fact, I was never more disciplined in my life. I was sharper and clearer in perceiving things that would affect my business and my life. Being dutiful and taking care of my responsibilities had never been easier once I had clear goals. Overall, I think I grew in wisdom and maturity.

HOW HAVE YOUR CUSTOMERS FOUND YOU?

You know, I have never actively tracked how they have located me but I get the impression that it is mostly through social media and word of mouth.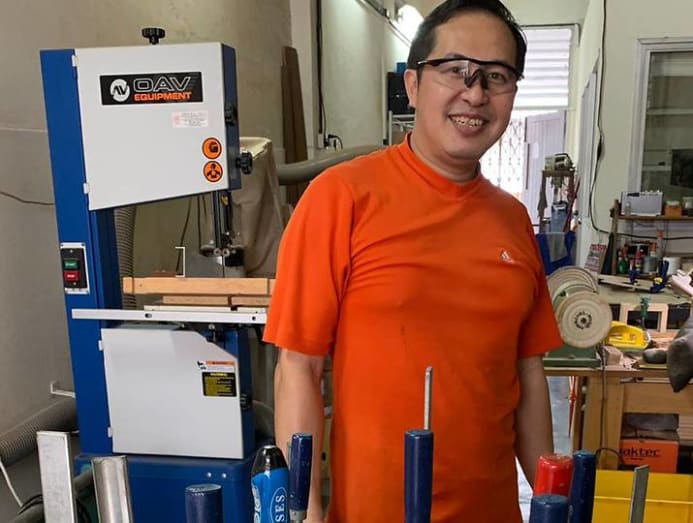 DO YOU HAVE A CERTAIN KIND OF CUSTOMER? HAVE YOU NOTICED SOME STRIKING COMMONALITIES?

I haven't set a filter to keep some customers out and lure others in. But those who don't understand and appreciate craftsmanship, or are bargain hunting are unlikely to become my customers. Things evolve naturally based on price and attention to quality. Also relationship. In China, my customers would make time to have meals together before they commit to a purchase. These customers are interested to understand the kind of "craftsman spirit" I possess. 
In Singapore, there are those who would make a personal call at my workshop to chat about guitar making. Broadly saying, my customers are able to appreciate craftsmanship; they possess certain levels of purchasing ability and they are people with mature insights. 

DO ALL OF YOUR COMMISSIONS FOLLOW CERTAIN MODELS THAT YOU HAVE DESIGNED OR DO YOU GET SOME CRAZY REQUESTS?

Currently, there are three models available: S0607, S0605C and S0601. All commissioned jobs follow the body shape of these models. Customers are free to select the type of wood and inlays on certain parts of the guitars. 
Crazy requests? To be honest, anyone who contemplates ordering a handmade guitar is usually very passionate about the instrument – and maybe a little crazy. I've had customers ask for so many ornamental features that the guitar looks cluttered. A guy once requested for jewels to be fitted on the guitar. If it can be done without compromising the quality of the instrument, I don't mind trying.

TELL US ABOUT THE WORKSHOPS YOU RUN.

There are two types: Under Guitaring Passionately, there is a suite of four hourly courses designed for busy Singaporeans. They are held on Saturdays in my workshop. These courses require only basic skills. Then, there is the AdamCHAN Guitars guitar-making class. The aim is to build an acoustic guitar in 18 days. This is a lot more intensive and requires greater technical skills.

WHAT GUITAR THAT YOU HAVE MADE ARE YOU PROUDEST OF TO DATE?

My first one that was built in my workshop. It bore all the mistakes and lessons that were important to my growth as a guitar maker.

HOW DO YOUR GUITARS FARE AGAINST THOSE MADE BY LARGE OVERSEAS COMPANIES?

Whatever high qualities that are professed by large companies are always tied to volume, cost control and speed.

Standardisation became a priority to control cost, and marketing, in turn, became a necessity in convincing the market that their products are of high quality. I am not saying that they are otherwise; it is more of a question of how much value can these companies afford to pack into each guitar given the scale of production. 
My guitars' build standards are benchmarked against the best in the world. I have travelled and participated in guitar shows over a number of years. I have observed and learned from other guitar makers, who are the best in their respective classes, and translated their insights into my benchmarks for designing and building my guitars.

ARE YOU THE ONLY PERSON IN SINGAPORE DOING WHAT YOU ARE DOING?
I have heard of a few other individuals who make guitars locally. In the past, a friend of mine tried making classical guitars as a career. It didn't take off and he is now back to guitar repairs. To my best knowledge, I have yet to hear of another person who operates at my activity level.

IF YOU WEREN'T MAKING GUITARS, WHAT DO YOU THINK YOU WOULD BE DOING?

Making something else.