Creative Capital: This young-at-heart 'mumpreneur' is a role model for other mothers
Founder of Oh Happy Fry, Rae Yun's design caught the eye of children's book author and chef Annabel Karmel who curated it for a minimalist kids restaurant in Dubai.
Among a certain group of Singaporean mothers, founder of Oh Happy Fry – an online store that hawks "beautiful things for little people" – Rae Yun's advice is gospel.

Her stamp cookie recipe is considered by many home bakers to be perfection. Her family's travel albums shared on Instagram are prized for her off-the-beaten track recommendations on everything from hotels to restaurants to things to buy.

But it is her children-related content that earned her a legion of followers. From how to cut your child's hair to how to get your kid to wear a mask – helps that she curates the cutest masks, to how to get your three-year-old involved in tonight's dinner – she designed a bear-shaped placemat that caught the eye of children's book author and chef Annabel Karmel, this child-whisperer has got it down pat.   

WHAT MOTIVATED YOU TO START OH HAPPY FRY?
I started the business six years ago, after having my first child. Trendy baby apparel and cool home decor wasn't commonly available in Singapore back then. I found myself shopping for everything online from overseas labels and ended up paying hefty shipping fees. I soon made friends with many Etsy makers and started customising small batches of clothing.

HOW DO YOU SOURCE FOR PRODUCTS?
Most of the brands that we stock are labels that I use. When we first started out, I would spend hours scouring online for brands but these days we get emails from brands asking if we would be interested to stock them.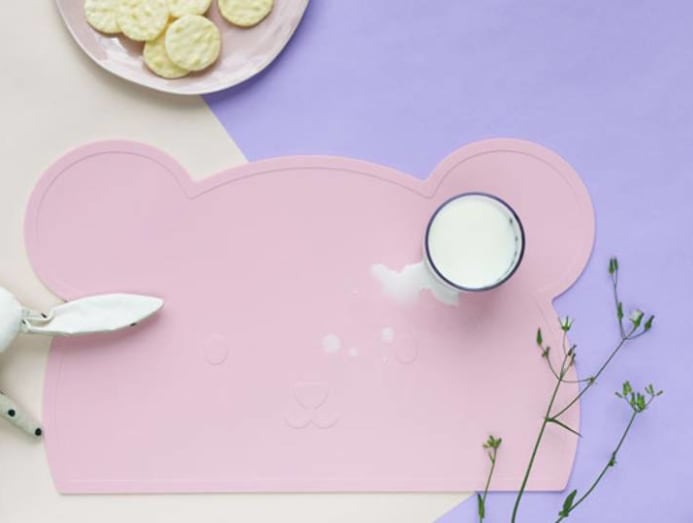 I designed a silicon, bear-shaped placemat that is stocked in Japan, Korea, Australia, and the US. Children's book author and chef Annabel Karmel curated the placemat for White + The Bear, a minimalist kids restaurant in Dubai.

I have always had a creative streak, I would sew hair ties and scrunchies to help raise funds at school. I hope to explore the creative side as the business grows.

HOW HAPPY ARE YOU WITH OH HAPPY FRY?
To be honest, I'm not very ambitious when it comes to growing the business. I've been asked why I'm not on Lazada or Shopee but my goal is not in selling a few more plates but rather to become the place that people go to when they need pretty and functional kids products.

The general assumption is that running an online business is easy – You just have to take pictures and post on social media. But the truth is that the children's e-commerce market is very saturated.

BESIDES RUNNING THE BUSINESS, DO YOU WEAR OTHER HATS?
Oh Happy Fry has opened doors for me, leading to some brand partnerships and endorsements. In order to do that without conflict, I started a personal account on Instagram (@theramengirl).

ARE YOU WORRIED ABOUT SHARING SO MUCH OF YOUR PERSONAL LIFE?
My personal account is somewhat like a behind-the-scenes look at Oh Happy Fry. I feel that people connect best with other people, not with a business so I try to give my followers and potential customers a sneak at who they are buying from and the creative ways my family uses the products. I also share quick tips and how-tos in order to establish trust.

HOW HAS THE PANDEMIC AFFECTED YOU AND YOUR BUSINESSES?
Thankfully, being an online business with low overheads, we have not been badly hit. Nonetheless, this pandemic has changed our lives, made us sit down and think about what is essential and what isn't.  I've been dedicating more time to be with the family and have also started taking better care of my health.

Good health, peace of mind and maybe a vaccine for Covid-19.