Creative Capital: The vegan baker whose chocolate cupcakes inspire rave reviews
Former corporate professional Jane Tan produces allergen- and intolerance-free cakes so that no one ever gets left out during a celebration.
I have never been a huge chocoholic. My wife, daughter and younger son are, though. So I am always on the lookout for nice, yummy, well-made chocolate treats to buy for them.
Recently, a friend started telling me about his favourite chocolate cupcakes. Actually, he didn't just tell me. It was more akin to a Southern Baptist testifying before God in a Mississippi church. He was that enthusiastic in his praise. I was almost expecting him to do a backflip and start speaking in tongues.
What interested me most – about the cupcakes, not my friend's enthusiasm – was that the cupcakes were vegan, gluten-free and contained avocado.
Curiosity piqued, I dug up a little more information on ROA, founded two years ago by 39-year-old Singaporean Jane Tan. The various reviews and testimonials I found equalled my own friend's unbridled love for Ms Tan's cakes, so much so that I reached out to her to chat.
HI, JANE. TELL ME ABOUT YOUR LIFE BEFORE ROA. WHAT DID YOU DO?
I was working in a local bank as a HR professional. Prior to that, I was also a flight attendant at a local airline for a short period. I was adamant about wanting to travel all over the world after university. I've always enjoyed exploration and whenever I travelled, I sought out delicious pastries and desserts.
WERE YOU ALWAYS A FOODIE?
Yes. I was brought up to enjoy all kinds of cuisines. My dad would bring us to eat at various places, from the finest exotic restaurants to the most delicious hawker fare. We were raised never to be picky with food and learnt to enjoy all kinds. That being said, I never once thought I would be making pastry full-time.
WHAT PROMPTED YOU TO MAKE THE SWITCH TO PASTRY? LEAVING THE CORPORATE WORLD TO GO TO CULINARY SCHOOL IS A PRETTY BIG DECISION. WAS THERE A CATALYST?
I had been working in the bank for about five years and I felt like I had explored enough to figure out corporate life wasn't what I wanted. During that time, I had already been baking a lot for various charity events and also taking small-time orders for friends and family. All that made me seriously consider going to culinary school. Coincidentally, soon after I got married, I knew it was a good time for me to make the switch, before kids and all. It was now or never.
TELL ME ABOUT YOUR TIME IN SYDNEY. IT SOUNDS LIKE YOU WORKED WITH SOME AMAZING AND WELL-KNOWN CHEFS.
It was an incredible experience. The intensive training at Le Cordon Bleu gave me a good foundation in the science and art of baking. It also trained me in the basics and techniques of the pastry world.
Workwise, being completely new to the industry, I decided that I had to start out as a waitress at a local Australian cafe, just to get my hands dirty and to learn from the ground up. But a few months in, I managed to wheedle my way into the kitchen. I guess it was sheer hard work and determination – and knocking on many doors – that eventually helped me to land a full-time job at one of the top cake designers in Australia, Faye Cahill Cake Design.
I also worked alongside and assisted chefs like Australian representative Andre Sandison during the training sessions for the Asian Pastry Cup – and yes, he won it! Stints with other celebrity chefs like Luke Ngyuen and Adriano Zumbo also exposed me to how professional kitchens are managed at the highest standards. I wanted to get as much exposure as possible, so I held down multiple jobs – three at a time even – and sometimes even worked without pay. But the experience was invaluable and I came back with a lot of knowledge that couldn't be bought.
DID YOU KNOW, WHEN YOU CAME HOME, THAT YOU WANTED TO START YOUR OWN BUSINESS RIGHT AWAY?
When I first came back to Singapore, I had a baby! Taking care of a newborn meant I had to put my career on hold. However, the passion in me was so strong that five months after I gave birth, I was back to baking for others. That's when I started my first home-based business making celebration cakes for people. It grew rather quickly and soon, I was booked out 12 months in advance. I knew then that running my own business was truly fulfilling and my calling.
WHAT IS THE STORY BEHIND ROA?
While making cakes for a lot of people, especially young kids, I kept getting requests from parents to omit certain ingredients like sugar, eggs or nuts, as they or their kids were allergic, or they just wanted to follow a certain diet. I used to turn them away as I didn't want to compromise the taste. Omitting ingredients changes the taste and texture of a cake drastically. But it was when my own goddaughter Emma was allergic to four out of the top five most commonly found allergens – nuts, eggs, gluten and dairy – that I knew I had to do something. I truly wanted her to enjoy a delicious cake. I also knew at the back of my mind that many others like her would appreciate it.
I UNDERSTAND THAT PERFECTING YOUR VEGAN CHOCOLATE CAKE RECIPE TOOK NINE MONTHS. WHY WAS IT SO DIFFICULT?
It was difficult as it was more than just switching out ingredients with substitutes. For example, changing butter to margarine would have been a quick and cheap fix. But nutritionally, that's not great. The exploration in search of more wholesome ingredients, like avocado for example, meant a lot more work and a lot more testing to perfect the cake.
The biggest challenge was making the product gluten-free. If you are into food science, you may know that wheat flour contains gluten and is what gives cakes their light springy texture. Often, gluten-free products are thought of as dry, hard and dense as common substitutes are nuts, beans and chickpeas. I was adamant about wanting to make a light, fluffy cake without any artificial stabilisers. I used my own flour blend consisting of four different natural, gluten-free flours – potato, corn, rice and tapioca. This meant a whole lot of testing as each flour has different binding and raising properties.
Even after the initial launch of the product, I continued to get feedback from paying customers, and I kept tweaking the recipe. For example, instead of canola oil, which is what we used to blend with our avocados, I switched to rice bran oil. I learnt from my customers that canola actually isn't the healthiest product – it is highly processed. There's nothing like truly listening to your customers and embracing ongoing change positively.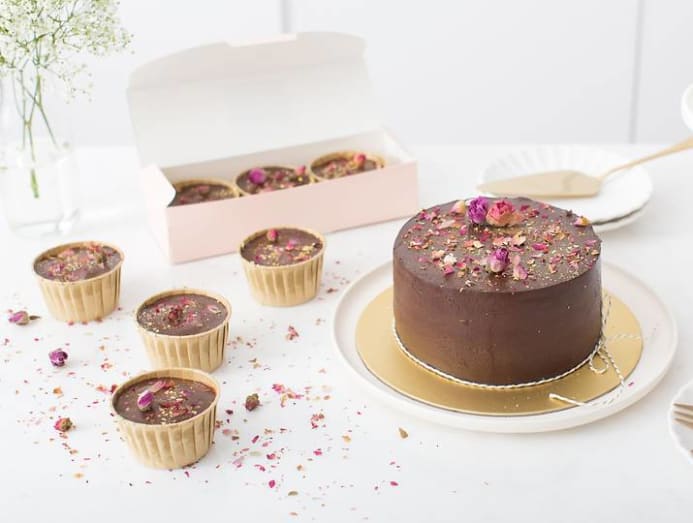 SO, WHAT IS THE SECRET TO WHY YOUR CAKES ARE SO GOOD? OR IS IT REALLY A SECRET?
The secret is truly in the high-quality ingredients used. There are really no two ways about it. You are what you eat, and your taste buds know it. I get customers telling me they go, "Mmmm" when they taste our cakes because they instantly know that we use good quality chocolate.
It also helps that the people who make the cakes are a bunch of very positive and happy individuals. The old adage about the food being as good as the emotional state of the chef is very true. Happy chefs make delicious food! Our team is a truly bonded group and we are usually in the best of spirits. I think this really helps, too.
WHEN YOU SET ABOUT TO CREATE THE CAKE FOR YOUR GODDAUGHTER, WERE YOU ALREADY THINKING ABOUT A NEW BUSINESS AND A NEW MARKET SEGMENT, OR DID IT ALL HAPPEN ORGANICALLY?
When the cake was so well received, it felt very heartwarming. The turning point was when I had some friends who said, "Finally, a birthday I can actually enjoy!" Instinctively, I knew that many others would appreciate this. More than that, it was a great way to be inclusive. This kind of cake means no one gets left out of enjoying a celebration because of food allergies and intolerances.
BY THE NATURE OF YOUR INGREDIENTS, YOUR CAKES ARE VEGAN. DO YOU THINK VEGAN BRANDS GET A BAD RAP?
I think the term "vegan" evokes a love-hate emotion for a lot of people. The problem is an old-school mindset about alternative proteins – think mock vegetarian meats – or eating only salads. The misconception that vegan food is bland and tasteless can put many people off. Thankfully, this is all changing, with many new, upcoming, awesome-tasting brands that wow people all the time.
When it comes to dessert and cakes, I find that it's a lot less intimidating as most cakes are already vegetarian to begin with. But when you say vegan – no butter or eggs – some people can be skeptical. I always joke that all I need to do is to get some of my cakes into their mouths, and the rest will be history. Thankfully, many positive online reviews have helped and my business has grown organically. We have been blessed with great word-of-mouth since Day One.
WHAT'S YOUR IMPRESSION OF THE PLANT-BASED MOVEMENT HERE? IT FEELS LIKE IT'S GROWING RAPIDLY.
Definitely! The fact that so many new, alternative protein brands are growing right here in Singapore is a telling sign. That an increasing number of eateries have plant-based options on their menus shows growing demand. As someone who is largely plant-based myself, I often keep a lookout for options and am usually pleasantly surprised to find that eight out of 10 places do offer some form of plant-based alternative – even if it's something as simple as soy or oat milk for your coffee.
WHAT IS A TYPICAL DAY LIKE FOR YOU?
After the morning mum duties, I often head to the kitchen to check in with the team. Once I know that the operations are running smoothly, I attend to all my messages and emails. I also do taste tests on batches of cakes made. Then it's usually meetings with clients and suppliers until the end of the day, when I have to resume my parental duties. Once my two girls are in bed, I continue to oversee the operations and planning for the day or week.
WHAT PART OF YOUR WORK DO YOU ENJOY THE MOST?
I actually love brainstorming ideas. These days it is split between growing the business – I'm on the lookout for potential collaborations – and thinking of new flavours and products for the coming year.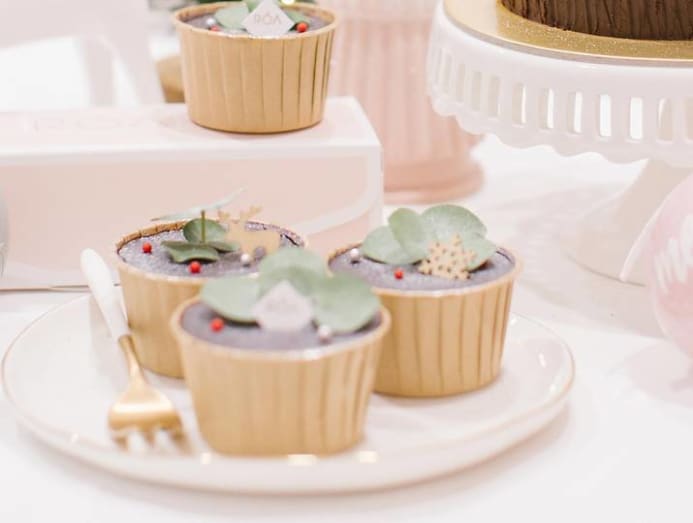 ANY REALLY REWARDING MOMENTS SINCE STARTING ROA THAT YOU CAN SHARE?
There have been three times when I have had people tell me their cakes made them tear up! Tears of joy, thankfully. I distinctly recall one lady who came to pick up her cakes during Christmastime and described the first time she tried my cakes, which had been a few months prior. She had just had bloodwork done and been told by doctors to avoid a whole range of foods. When she finally found my cakes at a cafe that sold them and tried a slice, tears rolled down her cheeks. Her story made my hair stand, and my own eyes welled up. She was so glad that she could enjoy desserts again. What an emotional ride it was for her, and for me, too.
WHAT HAS BEEN YOUR HERO PRODUCT?
The bestseller is our Midnight Classique cupcake. This is the best size for eating enjoyment and can be stored easily. I guess it's versatile as you can enjoy it as a regular cupcake or warm and serve it as a decadent lava cake. I often hear of people enjoying it close to midnight whenever they want a treat to wind down at the end of a long day.
 
ARE YOU DOING ANYTHING COOL THIS YEAR THAT YOU WANT READERS TO KNOW ABOUT?
We are planning a whole new range of desserts, such as chocolate cake truffles. We are also exploring different styles of celebration cakes to cater to a wider audience. While we innovate, we will of course stay true to what ROA stands for: Desserts that are ethically made, luxurious and delicious, and don't contain dairy, eggs, nuts, soy or gluten, the five most common food allergens.