Creative Capital: A Kuala Lumpur knife-maker turns ordinary steel blades into art
Banker by day, artisan by night, Kumar Muthusamy is the man behind Vicious Tools, one of Southeast Asia's best kept secrets.
In Southeast Asia, high-end custom knife-makers are a rare breed. The artisan behind Vicious Tools, a Kuala Lumpur-based knife-making outfit, is Kumar Muthusamy. 
A banker by day and a celebrated knife-maker by night, Muthusamy has the uncanny ability to turn ordinary steel blades into refined folders, tactical knives and chef's knives.
HOW DID YOU GET INTO KNIFE-MAKING? 
I started [knife-making] eight years ago. My wife and I had our first child so I wanted to stay home more, giving up my then-favourite activities – biking, paintballing and diving. Making knives kept me busy at home.
DID YOU START AS A KNIFE COLLECTOR?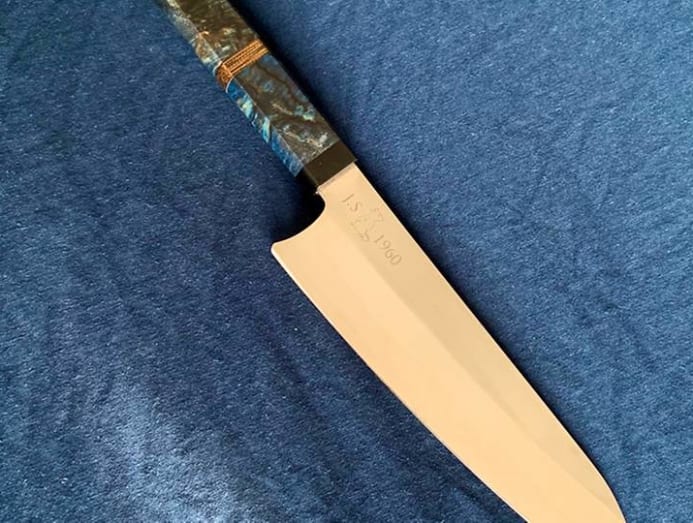 I've always been interested in knives. I got my first knife as part of my Scouts troop kit. What made knife collecting challenging is that the knives I ordered from overseas usually get stopped by Customs and subsequently, returned to sender. After one too many such incidences, I decided to make my own.
WHAT'S THE APPEAL OF A HANDMADE KNIFE AS OPPOSED TO A MASS-PRODUCED ONE?
Well, you can buy an off-the-rack suit or you could get a bespoke one. Knives are the same. You can go for a run-of-the-mill unit but a handmade custom knife made to your specification and preference is next level.
The technical difference comes from the heat treating process: Mass produced knives are heat-treated to factory specifications and some processes may be dropped to save cost and to speed up runtime. A custom handmade knife is painstakingly heat-treated by the maker. My heat-treat process takes over two days to complete.
HOW DID YOU LEARN THE CRAFT? 
By reading books and watching tutorial videos on YouTube. The book 50 Dollar Knife Shop by Wayne Godard was particularly helpful, it was instrumental in helping me set up my workshop.
ARE YOU DONE LEARNING TECHNIQUES AND TRICKS?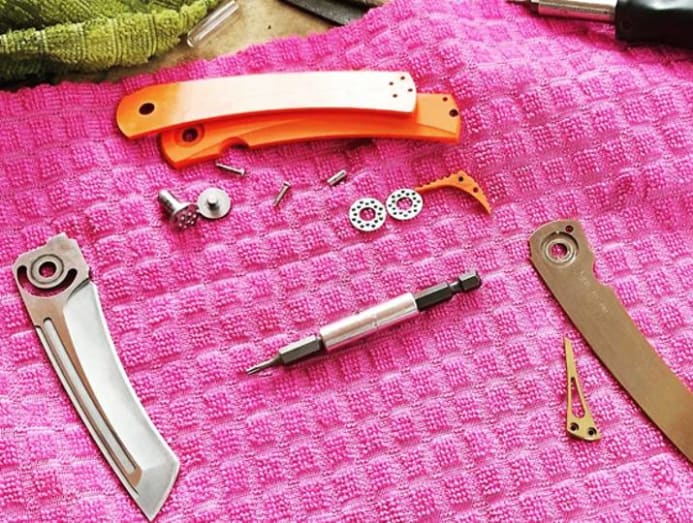 This is an art in which you learn new things daily. There are so many different ways to do a particular process. I'm constantly refining the process and method that best suits my style.
TELL US ABOUT THE FIRST KNIFE YOU MADE?
I didn't have any equipment back then so I ended up spending two weeks filing the bevel of the knife with a file. I never finished that knife. I still have it though. It is a good reminder of how hard it is to make a knife without a grinder.
SETTING UP A WORKSHOP IS EXPENSIVE. HOW DID YOU KNOW YOU LOVE THE CRAFT ENOUGH TO INVEST IN THE NECESSARY TOOLS? 
When I first started out, I invested in cheaper tools. But as the orders grew, I started investing in tools to help me make knives in-house end-to-end. Eight years on, I now have a near-perfect workshop.
WHAT IS THE PROCESS OF DESIGN AND SMITHING LIKE?
I design my knives with the user in mind. I hope that my knives are the first one the user reaches for, be it hunting, cooking or even just as an everyday carry. That said, the main thing I consider is how does it feels in the hand and how it functions.
I used to design by first sketching them out on paper before committing to steel. These days, I design on Autocad software and 3D-print a sample before I commit to steel. This way I can make tweaks and adjustments more efficiently while ensuring that no steel is wasted, thereby keeping cost low.
HOW DID COLLECTORS FIRST START BECOMING AWARE OF VICIOUS TOOLS?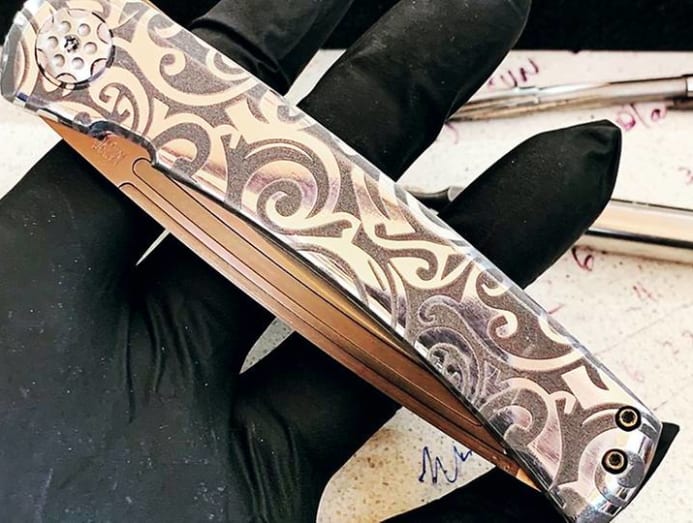 When I started making knives, I was a member of the Malaysian Knife Forum. There weren't many knife-makers on the forum back then but there were a lot of collectors. I was one of the first to start the knife-making thread; there was a lot of interest. That led to visibility as a knife maker.
WHICH DESIGN ARE YOU MOST PROUD OF?  DO YOU HAVE A SIGNATURE BLADE?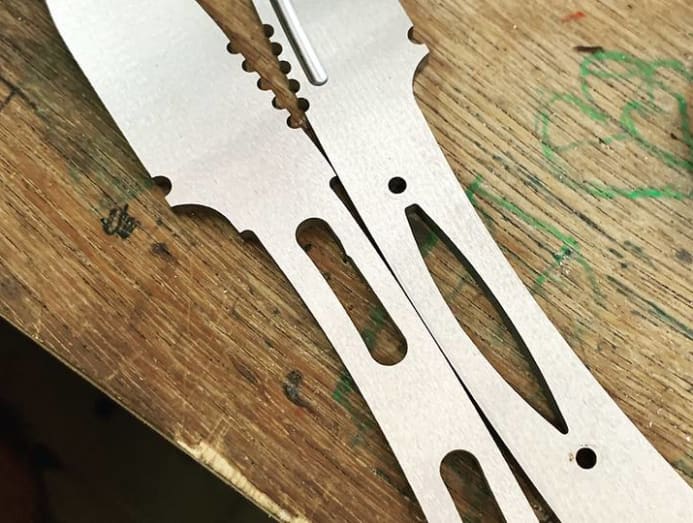 I'm most proud of the Hyperion folder. The unique blade looks like a small wakizashi. Not many makers make it in this style. It's hard for me to say if this is my signature blade since I have designed and made hundreds of knives over the years.
WHAT'S THE USUAL PROCESS OF CONSULTATION AND ORDERING?
Often, clients approach me with a design they saw. But I make it clear that I would rather not copy another knife-maker's design. Mostly I work with traditional knife designs which we tweak to a modern solution. A lot of my clients allow me to be creative. 
There are regular discussions on how the design is panning out and regular updates of the progress on the make. I rarely take custom orders now unless the design is challenging and is worth the effort.
HOW LONG SHOULD A CUSTOMER EXPECT TO WAIT?
That depends on the number of orders I have, as well as, the availability of materials. Plus, knife-making is not my day job. I only get round to knife-making when I have free time.
HAVE YOU BEEN APPROACHED FOR COLLABORATIONS? WHO WOULD YOU LIKE TO WORK WITH?
I have had a few local collaboration over the years. The latest one was with Outdoor Gears Malaysia and The Polished Edge. I would love to collaborate with Snecx Tan who is arguably one of the best folding knife-makers.
WHAT WAS YOUR FAMILY'S REACTION WHEN YOU FIRST STARTED MAKING KNIVES?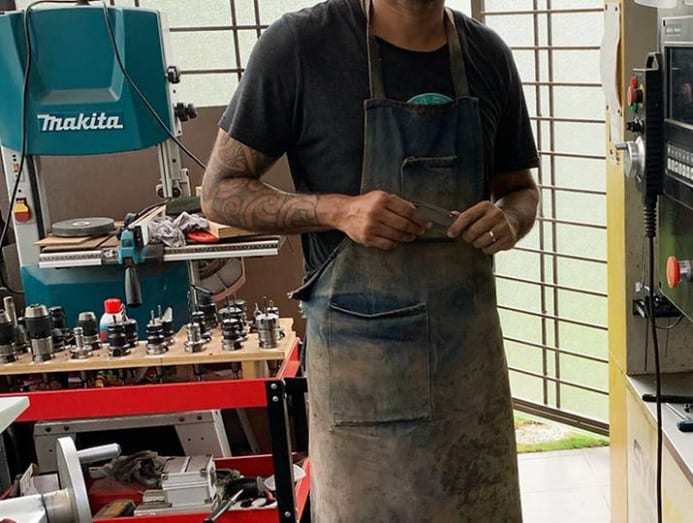 She's happy that it kept me occupied. As the business grew, she became even more supportive. Now, she's the one who pushes me to get my orders done on time. Our lives now work around my knife-making schedule. I am still trying to get her to step in the workshop but that's another story altogether.
YOU ARE A BANKER BY DAY. WHAT DO YOUR COLLEAGUES THINK OF THIS OTHER SIDE OF YOU?
They are quite intrigued by the whole process and how I make knives. One of my best supporters is my boss Omar. Over the years, he bought many knives from me for his friends and family. I made a chef knife for him last month and he has already put in another order.
WHAT'S THE PLAN FOR VICIOUS TOOLS? WILL YOU ONE DAY HANG UP YOUR BANKER'S SUITS AND GO FULL TIME?
For now, the plan is to build the brand. I hope to associate my knives with quality and durability. Who knows, maybe in five or 10 years, I may just have the courage to hang up my suit for a work apron.