Custom shoes made out of McDonald's BTS Meal boxes? This Singaporean artist nailed it
Looking for a crafts project to complete with all the BTS Meal wrappers you have?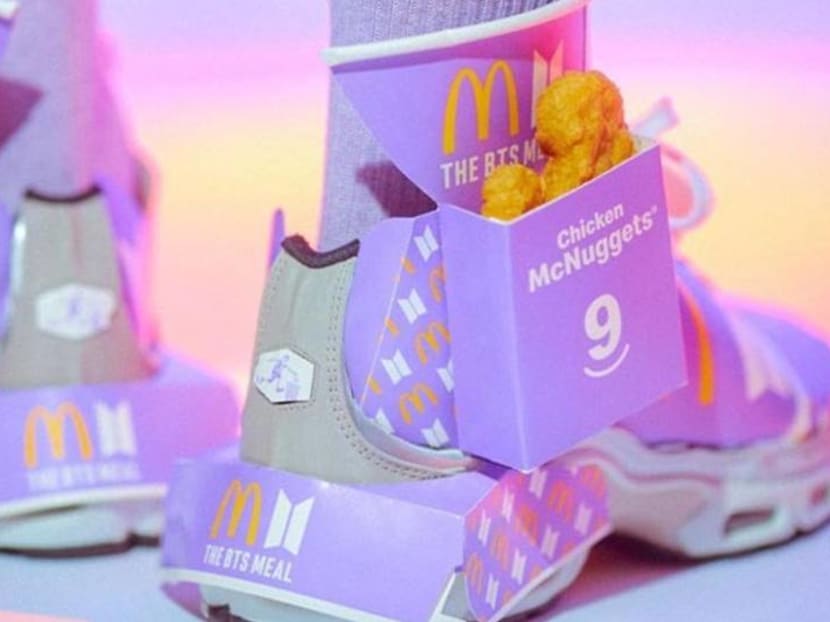 So you braved the virtual queue on Monday (Jun 21) to get a taste of the hotly anticipated McDonald's BTS Meal. If you're not a fan of the K-pop group and not planning to frame the BTS packaging for posterity – or sell them on Carousell – don't just throw them in the trash. Use them to unleash your creativity instead, like Singaporean visual artist and fashion designer Josiah Chua did.
Chua turned the purple BTS-branded Chicken McNuggets box, drink cup and sauce tubs into a pair of custom sneakers, and we have to say, they look, well, Dynamite.
He posted his handiwork on Instagram on Tuesday and has received thousands of likes and lots of positive comments for the pair, including from Singapore celebrities Benjamin Kheng, Jasmine Sokko and Jean Danker.
The shoes come with "a pocket for your nuggets on the go!", Chua wrote in his Instagram caption.
Chua told CNA Lifestyle that he ordered the BTS Meal because it had just launched so he and a friend wanted to "check out what's the hype about".
He said the project was impromptu and he just went with the flow. The whole process, which used up packaging from six meals, took four to five hours, including cutting, patterning, constructing and photographing the final product. He even posted video clips of the shoes being made on his IG stories.
He added that he knew he wanted to make a pair of sneakers because he had some leftover soles from another creative project.
Chua said he hasn't received feedback from the K-pop stars or McDonalds but "many platforms have shown love to the custom design and reactions have been overwhelming".

He's not the only person who has upcycled the BTS-themed packaging and turned them into something new. We've also seen tutorials on how to make a bucket hat out of the paper bag and a keychain from the sauce tubs.
If you're not in the mood for crafts though, you can always just buy some McDonald's BTS merch – including hoodies, tote bags and a purple bathrobe – available on the Weverse app.
The BTS Meal is available in Singapore via delivery services only from McDelivery, GrabFood and foodpanda for S$8.90 a set. You get the band's "signature order" of a nine-piece Chicken McNuggets set with sweet chilli and Cajun sauces, large fries and a large Coke. The meal doesn't come with the BTS-themed paper bag, though. Sorry ARMYs.