Baker boy: How Lion Mums' Narain went from actor to Brownie Boy
Television actor Narain is sweet on brownies – baking delicious chocolate treats is his way of de-stressing after a hard day's work.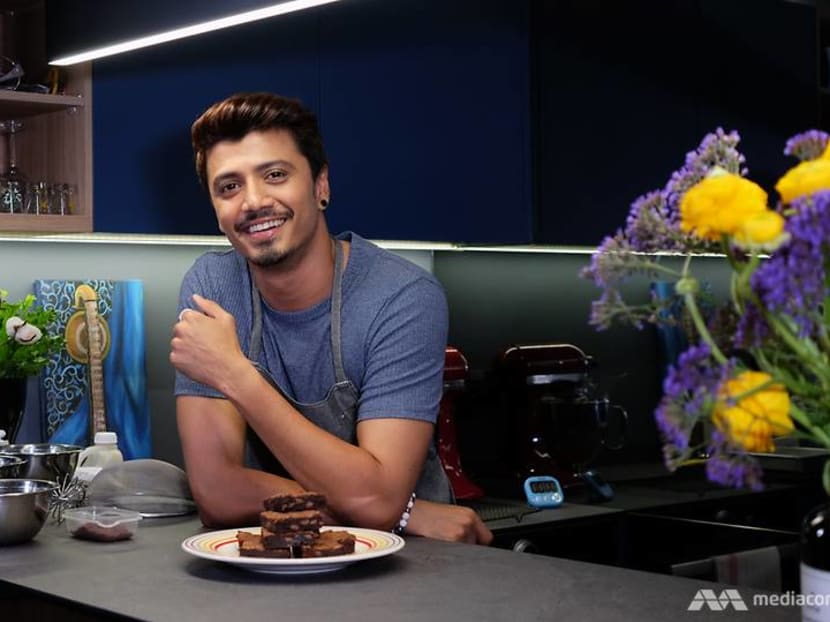 You might find Narain familiar thanks to his TV roles in shows such as Lion Mums on Channel 5, or Bimbanggal and Thaalam Indian Beat on Vasantham. But what you might not know is that not only is he easy on the eye, he's also sweet in the tooth.
Instead of putting his feet up when he gets home from a long day at work, he puts his oven mitts on and gets cracking for his online business, Brownie Boys, for which he personally bakes all the orders in his kitchen at home.
His love for sweets and baking was cultivated since he was a child, helping his mum and aunts make cookies and other sweet treats for Deepavali. In National Service, he started baking brownies for his friends' birthdays as a way to save money on gifts. 
All that led up to the founding of Brownie Boys 10 years ago. "The name came about because I'm brown and I'm a boy," quipped the former aircraft engineer, whose full name is Subramaniam Narainda.
The name came about because I'm brown and I'm a boy.

Brownies became his specialty because "many home bakers were selling cupcakes, and I didn't want to do the same. I like to always be different. I personally like brownies and I've converted a lot of my friends who used to think brownies were too sweet and dry. I know what a good brownie should be – dense, fudgy, chewy and chocolatey."

So dedicated is the 38-year-old that four years ago, he enrolled in a part-time course at culinary academy At-Sunrice and obtained a certificate in baking and pastry.
And even though he sometimes has to spend his nights baking to fulfill orders – he also bakes for large-scale events such as weddings – he never finds it a chore. 

"After a hard day's work… Even after 12 or 14 hours of shooting… Sometimes I'm tired to the bone, but I'll be like, 'Okay, I have an order to bake for, and it has to go out tomorrow.' I'll be in my zone – take my ingredients and pan out, bake, shower, and then go to sleep happy. I've never once dreaded baking. I guess that's when you realise it is really a passion. I really do love it."
Anything and everything that has chocolate in it – I'm sold.

Chocolate, he says, is his first love and his ultimate weakness. "Anything and everything that has chocolate in it – I'm sold. I also have a weak spot for anything that's rich in butter or almonds."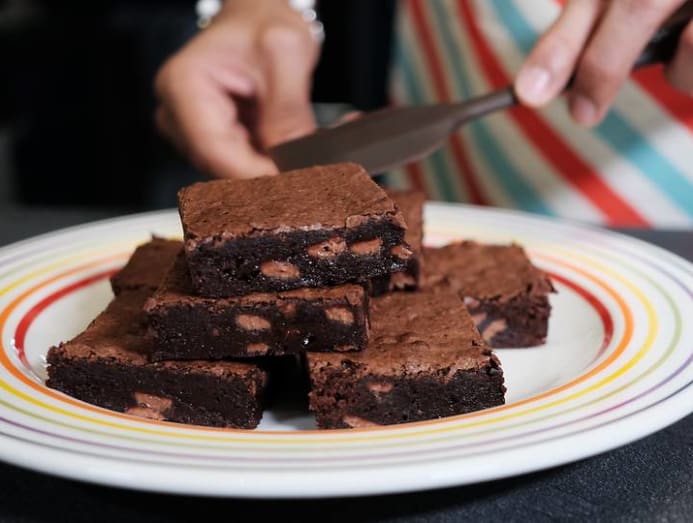 It's hard to tell from his fit physique, but it's true. "I work out hard so that I know I can afford to cheat," he said. "I'm not just a sweet-toothed guy who loves and appreciates desserts – I appreciate all kinds of food as well. I'm a greedy glutton. And when I go on holiday, my diet goes on another holiday. It's all about balance – if I really want to indulge in and appreciate food, then I also have to work out and stay in shape."
What would you have to do to score brownie points with Narain? The answer is almost too simple, he said: Smile from the heart. "I can tell when someone's smile is sincere," he insisted.
Well, that's easy, then – just take a bite out of a brownie and you'll probably feel sweet and gooey inside, too.
Catch Narain in Lion Mums Season 3 starting Apr 22, 9.30pm on Mediacorp TV Channel 5 and Toggle.