Creative Capital: The Singaporean artist drawing wild reactions for his strange illustrations
You might have seen his commercial works for SG50 and SMRT, but A Good Citizen's Dan Wong's personal illustrations are even more compelling.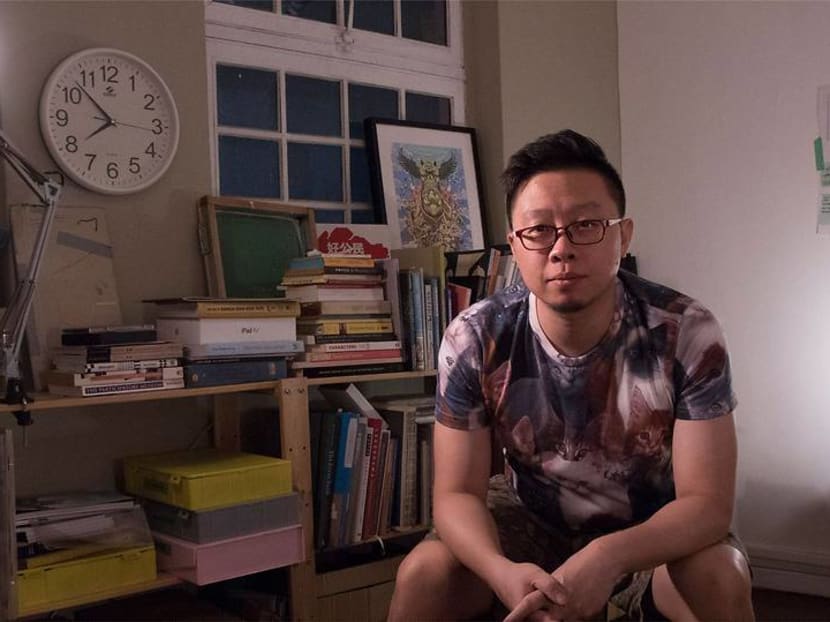 The first time I saw one of Dan Wong's illustrations, I did a double-take. While the 36-year-old Nanyang Technological University (NTU) grad produces a large amount of commercial artwork and illustrations for a wide range of commercial clients, his fine art pieces are very graphic.
These works are usually very busy, cluttered with people, animals and sometimes even mythological creatures interacting in a specific setting – which itself could range from a classroom to Mount Olympus. Look closely and you'll see couples having sex, screaming at or killing each other, and dozens of other things even stranger and more unique. Each work is compelling but grotesque.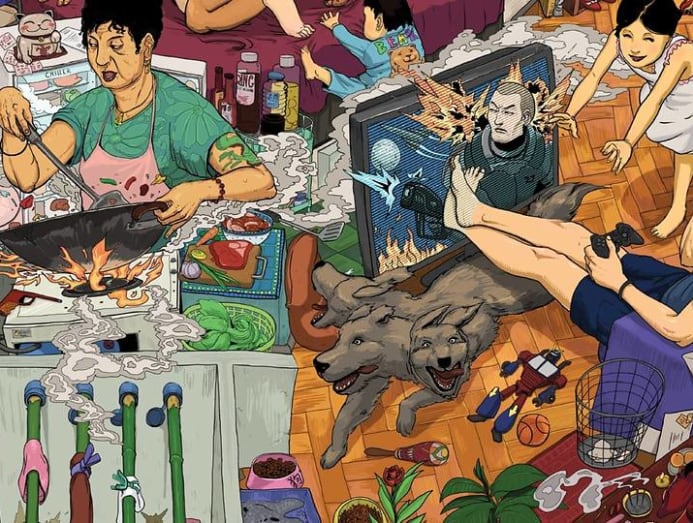 If I had to suggest a comparison, I'd say Dan's work read to me like a mash-up of Chapman Brothers, Robert Crumb and Milo Manara. The works are beautiful, while busy – and they have a very specific point of view. Each one is a clear commentary on a social or political issue.
Given the nature of Dan's fine art pieces, he's collected by a small and discrete circle of appreciators. His other works, however, can be seen everywhere, and has been part of the SG50 celebrations and included in SMRT commissions. Like many working artists, in order to be able to produce the work that means the most to him, he has to take on commercial projects. Dan, who's also behind the art collective A Good Citizen, is obviously very good at it. I thought it would be fun to catch up with this very interesting artist.
HOW DID YOU END UP BEING AN ARTIST?
Actually, I wanted to be a famous actor when I was a kid! However, growing up, I realised that only a very few people in the world actually become famous actors.
I entered a polytechnic that teaches Digital Media Design and originally thought to learn 3D so that I could sell my work online. Thanks to the influences of many talented illustrators, I started to grow a love for illustration and learnt I could tell stories through the medium, which could illicit the same reactions from audiences that I always desired through performance.
DID YOU GET EXPOSED TO ART EARLY AS A KID?
I grew up hating authority and hating school, but the thought of rebelling against the system overtly would disappoint my parents too much. So I found smaller, less noticeable ways to rebel. One of these ways was vandalism. I would draw small, vulgar drawings in the school toilets in barely noticeable areas. I guess that was the start of my artistic career. It was only during polytechnic that I would grow a love for illustration.
IS ART EDUCATION SOMETHING YOU ARE PASSIONATE ABOUT?
Yes, fervently! I absolutely enjoyed myself during university, where I was learning about art history, graphic design, and the various circles and fields that my craft could be applied towards. It was like polytechnic, but far more conceptual and experimental, as opposed to rote learning. I also teach part-time at NAFA (Nanyang Academy Of Fine Arts). I hope that my enthusiasm for working as a commercial and fine art illustrator rubs off on the kids.
CAN YOU TALK ABOUT A GOOD CITIZEN?
A Good Citizen is an art collective that focuses on satirical illustrated content about issues in sunny Singapore. We seek to entertain, provoke, and perhaps give voice to the frustrations of living in everyday Singapore through humour. We work mostly at night.
This is not to be confused with the similarly sounding A Good Citizen, an illustration house that does commercial work in the day. Does that sound confusing?
WHAT'S THE TOUGHEST PART ABOUT BEING AN INDEPENDENT ARTIST?
I never know when my next paycheck is coming. Life is a constant battle to acquire paying jobs and executing them. I'm also my worst critic and constantly beat myself up because I often feel my work is shoddy, terrible and sub-par.
YOUR PERSONAL WORK SEEMS TO BE LADEN WITH SOCIAL AND POLITICAL COMMENTARY. WHAT DO YOU HOPE TO SAY THROUGH THESE WORKS?
I believe that I share many of the common concerns of the average Singaporean. And as a good citizen, it is my right and entitlement to voice out about what I perceive to be incorrect or lacking in my country. However, as an artist, I try to temper my frustrations through the vehicle of humour so that I can not only bring issues up, but can also be entertaining while doing so. I sometimes liken myself to a court jester – the fool who makes the court laugh and is therefore allowed to criticise his king and express opinions that are contrarian.
ASIDE FROM SOCIAL ISSUES AND POLITICS, WHAT INSPIRES YOUR WORK? 
Pop culture. I consume large amounts of fantasy, sci-fi and horror content from both the Western and Asian spheres. This includes mediums like comics, anime, and definitely video games. I often fall deeply in love with something only to be coldly indifferent to it quite soon after. Just to name a few things I'm in love with now: An incredibly talented Korean artist named Kim Jung-gi; an intellectual property called Warhammer 40k, an eclectic, grim dark mix of fantasy and science fiction; and a comic called Oh Joy Sex Toy that reviews sex toys.
WHERE CAN PEOPLE SEE YOUR WORK AND HOW CAN COLLECTORS FIND YOU?
I have displayed my works at various galleries for one-time exhibitions but most of my work can be found on Facebook. Liking the Facebook page will also keep collectors and audiences abreast of the exhibitions I sometimes curate or take part in. Alternatively, one can just google "Dan Wong"; most of the results should display different facets of my work.
IS SINGAPORE A GOOD PLACE TO BE A WORKING CREATIVE?
I've not worked in many countries before so I won't be able to compare if the creative industry is better here compared to other countries. I'm quite certain that the issues that plague our industry, like long working hours, low pay, awful clients, and the general lack of respect for creatives, is common all around the world.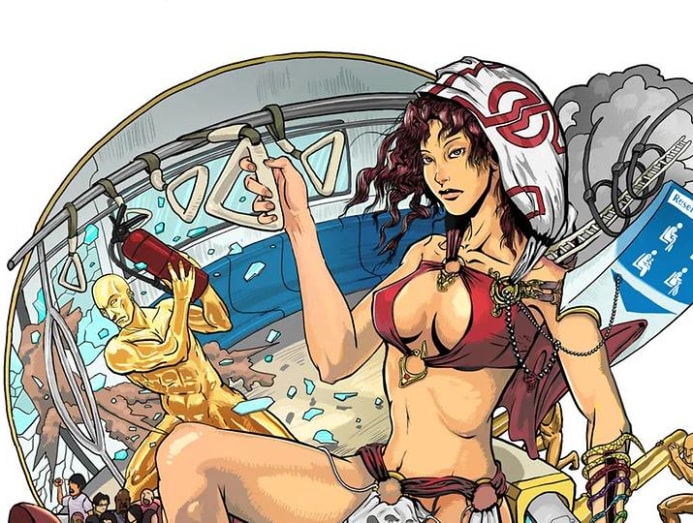 What I can say is that the typical Asian parent will tend not to approve of a career in the creative industry. With the sole exception of architecture, because that can pay really well and is respectable.
YOU SEEM TO TAKE ON MANY KINDS OF PROJECTS. WHAT DO YOU ENJOY THE MOST?
Despite the variety of illustrative content that I do, I really do enjoy entertaining audiences and provoking reactions from them. As long as I'm working in the medium of illustration and entertaining people, as long as the work that I'm involved in has that potential to do that, then I'm enjoying myself.

WHAT'S THE COMMERCIAL PROJECT TO DATE THAT YOU ARE PROUDEST OF?
During the SG50 heyday, a close friend and I did an exhibition for the National Library Board which involved making fun beanbag depictions of Singaporean stereotypes. We worked with different local artists to put their illustrations on these giant fluffy beanbag shapes that kids and adults could kick and bounce on. I felt that the exhibition made fun of Singaporeans in witty, light-hearted and cheeky way. And most importantly, it was entertaining to the people who interacted with them.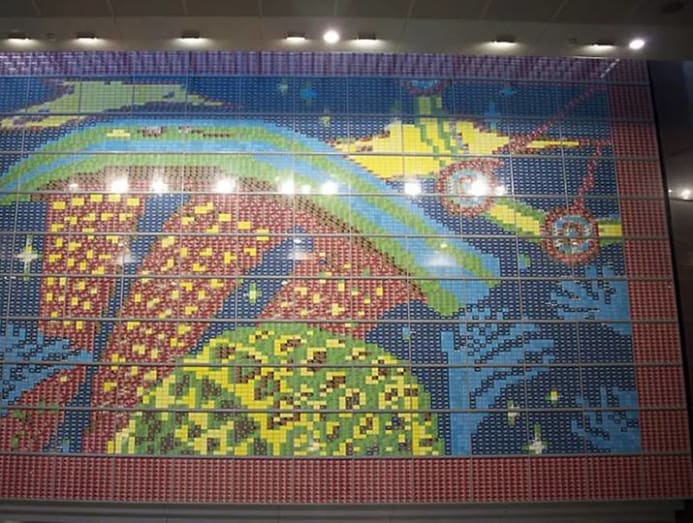 Alternatively, we could talk a bit about the artwork I did with my friends at SCYA (Singapore Contemporary Young Artists) at Marina South Pier. These are giant, somewhat abstract, murals made up of thousands and thousands of old EZ-link cards. While not the most striking or provocative, the good thing about creating artwork for SMRT is that the artwork will be there to stay, from now till even after the apocalypse.
ARE THERE CERTAIN KINDS OF PROJECTS YOU JUST WON'T DO?
When I first started, I would accept everything regardless of the timeline or the price negotiated. Content didn't really matter then. I was a drawing mercenary and would draw whatever for money. When I became slightly more established, I started to pick and choose, rejecting work that weighed too heavily on the timeline or that would only bring in peanuts. Now, I have a couple of apprentices and I have started accepting everything again. I guess I've come full circle.
IF YOU HAD THE LUXURY OF ONLY PRODUCING FINE ART, WOULD YOU WALK AWAY FROM COMMERCIAL WORK ALTOGETHER?
This is a hard question. While I would initially say yes, I have worked with some lovely clients and the work from those projects ended up being so much greater than the sum of our parts. I think I would do mostly fine art, and then cherry pick the best clients for commercial work.
WHAT'S NEXT? WHAT ARE YOU WORKING ON?
There's a heavy focus on comics for me this year. One of them involves an online comic as part of the Singapore Bicentennial Movement about how the port of Singapura, then part of the Johor Sultanate, was razed to the ground by an Acehnese fleet. Plenty of fighting, cannons and politicking. There may some black magic as well. I'm very excited about this one, so keep a lookout for it at year's end!