Daniel Craig on James Bond: 'Hopefully someone completely reinvents it'
In a Singapore exclusive, the actor tells CNA Lifestyle about his advice for the next 007 actor, his most painful stunt and his "emotional" last day on the set of No Time To Die.
Almost 16 years and five blockbuster spy films later, Daniel Craig is officially saying goodbye to Bond, James Bond.
No Time To Die – the 25th film in the hugely popular film franchise – marks his swansong as the suave and sexy 007.
For the 53-year-old Craig, playing Ian Fleming's ageless super-spy with the ability to fight megalomaniacs using ridiculously cool gadgets, driving the most glorious cars and wearing the sharpest of suits and shoes must have been a journey of unbridled cinematic fun.
With No Time To Die, that's 16 years and 5 films as the famous Agent 007. Daniel Craig looks back at his time playing Bond– from an accident involving his teeth on the first day on set at Casino Royale to breaking Dave Bautista's nose in Spectre.
But most importantly, Craig has cemented his legacy as the actor who brought James Bond to a 21st century audience, winning over fans from all over the world who loved his vulnerable take on a seemingly indestructible character.
Craig has arguably changed everything fans know about Bond by imbuing the franchise with new life.
So what does he think defines his tenure as 007 for the last 16 years?
"Oh gosh I don't know, I mean that's a hard one for me to answer. I mean, I just hope that (the Bond films I did), they stand up, you know?" he told CNA Lifestyle. "I've got no ambition for it. It'd be nice to think people will watch them in the future. But they're just… you know? I did my best. I tried to give it all I could."
He continued with a smile: "Each generation has their favorite Bond and I hope that continues. I hope the next generation has their Bond and people will look back with fondness."
Actor Rami Malek talks about how surviving the challenge of playing Queen's legendary frontman Freddie Mercury in Bohemian Rhapsody gave him the confidence to be James Bond villain Safin in No Time To Die. Also: Who's his favourite Bond villain of all time?
And what sage advice does he have for the next person to step into those shiny 007 shoes? "There's no advice except just do the best job you can," he replied with a smile.
"And just be as good as you can be. I tried to leave in a good place, so (they should) just try and leave it in a good place!"
And no, Craig doesn't have any secret tips not because he doesn't want to share. He simply thinks it's all about putting a different spin on things.
"Hopefully, someone will come along and completely reinvent it," he said with a wry smile.
As much as he was known for bringing a real humanity to the larger-than-life character, Craig revealed that he enjoyed doing the stunts just as much as the dramatic scenes.
"That is what's so amazing about the job!" he said. "I get to do both. I love doing it all!"
And looking back, Craig had his fair share of injuries. The most painful stunt that he can recall turned out to be one of the "silly things".
"It's never the big ones that are painful," he reminisced with a laugh. "It's the silly, small things that become painful! Like I lost the top of my finger on a door! Now that was really painful! It's just one of many but that really stung!"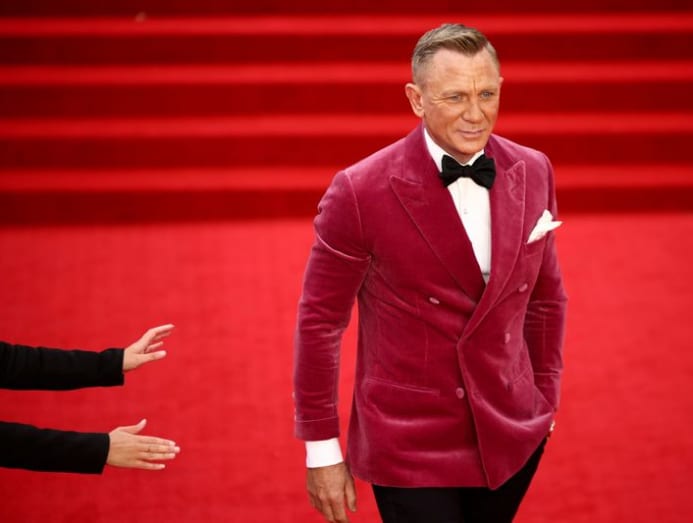 Craig admitted that the last day on the set of No Time To Die was a "very emotional" one.
"It was also a very lovely experience because I was able to share it with so many of the people I've worked with over the past 15, 16 years," he said wistfully. "So yeah it was very special."
But there must have been tears, given all that Craig has been through over the years.
"It was hard not to be kind of emotional about it," he confessed.  "I tried not to but it's a big deal. It doesn't make you less tough if you cry, that's for sure."
No Time To Die is out in cinemas now.