David Beckham spotted helping staff move furniture after Singapore event
Fellow panellist at the Adidas event, Jade Rasif, shared the anecdote on Instagram. "The personification of my favourite quote, 'Work hard, stay humble'."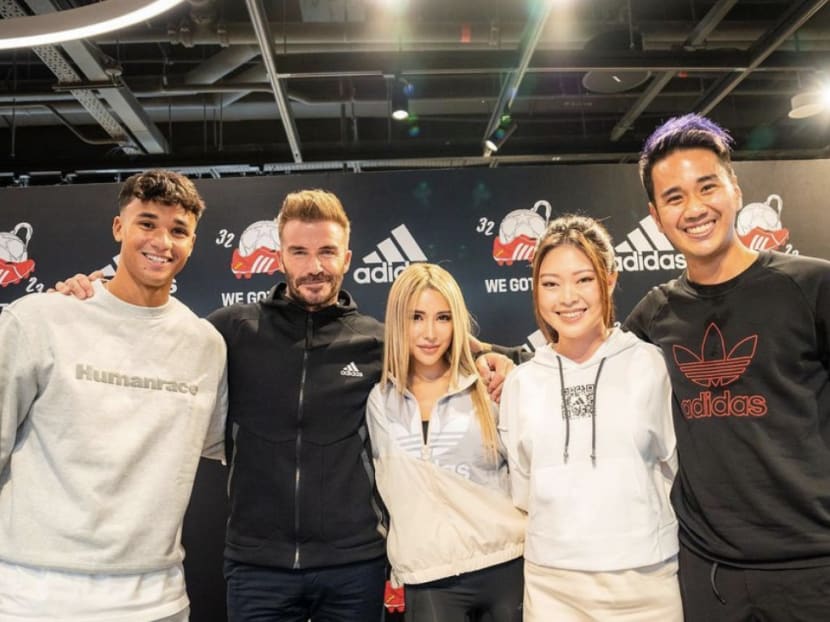 We know him as a football star, businessman, celebrity dad and international brand ambassador, but it appears David Beckham hasn't let all that fame get to his head. 
Beckham was in town on Jun 17 for Adidas Singapore's We Got This Talk Show 2.0, an exclusive event which saw him share with around 200 attendees how he overcame the odds to reach his achievements. 
Local footballer Ikhsan Fandi, DJ Jade Rasif and influencer Christabel Chua (also known as @bellywellyjelly) joined the 47-year-old former footballer on the panel, which was hosted by 987 DJ Joakim Gomez.
Rasif, 28, shared her thoughts on her fellow panellist in an Instagram post on Jun 18, expressing how he had left a deep impression on her.  
She said: "When it was time to clear the stage, David saw the staff lifting the chairs to clear the stage. I noticed he left the line-up, and when I turned around I realised he was helping the staff move the furniture.
"Although he was not meant to host a meet-and-greet, he took photos with every person in the room, and shook every hand. After the show he proceeded to walk outside the store centre to greet the fans waiting outside and to thank them for their support."
Although Adidas Singapore had issued an advisory to the public to deter them from crowding at its Brand Centre in Orchard, where the exclusive event was taking place, numerous fans were reported to have shown up to catch a glimpse of the Becks. 
Rasif added in her Instagram post that Beckham sought out her and Chua for a chat before going for his next appointment that day. She added: "This was after taking a red-eye flight into Singapore and moving straight to back-to-back appointments. 
"The personification of my favourite quote, 'Work hard, stay humble'." 
Beckham also joined Adidas Singapore's exclusive We Got This football clinic on Jun 18 at The Arena Singapore, where he coached and spoke to 100 youths and athletes with disabilities.