Dax Shepard denies cheating on wife Kristen Bell with Julie Andrews' granddaughter
Kayti Edwards claims to have had a fling with Shepard when he was already seeing Bell.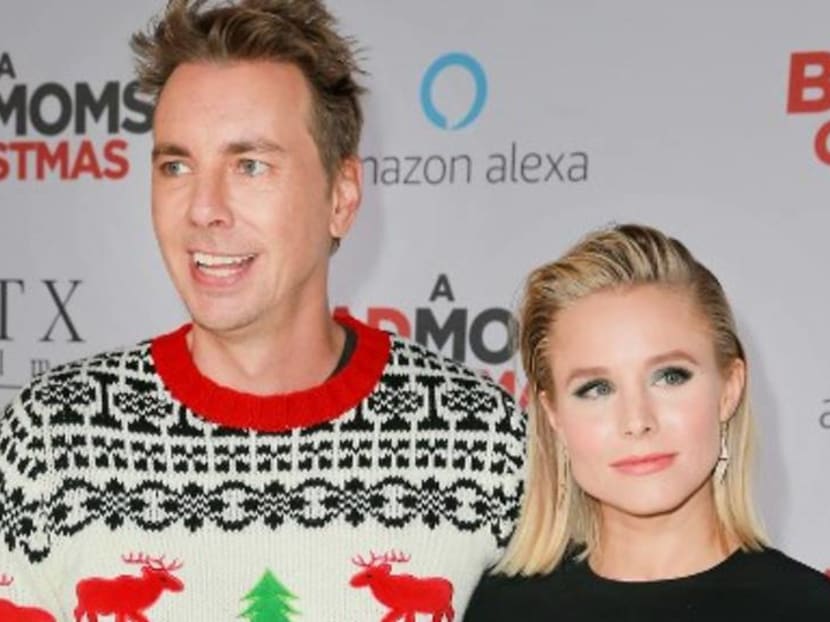 An article in the Daily Mail on Thursday (Dec 13) reported that Dax Shepard and Julie Andrews' granddaughter Kayti Edwards had spent a "passionate" night together when he was two years into his relationship with Kristen Bell, who is now his wife.

Shepard and Bell met in 2007 and married in 2013. They have two daughters together, Lincoln, five, and Delta, three.

According to the Daily Mail, Shepard and Edwards first met in 2005 and had gone on a few dates but the relationship didn't take off. It was a chance meeting at a Hollywood party in late 2009 when the fling began.

"There was a photo booth and I remember people were standing in line for this photo booth. And Dax grabbed me and was like, 'Let's pick this up where we left off', and he threw me into this photo booth with him," she alleged.

In the photos that Daily Mail obtained, the pair was making out as the flash went off in the photo booth. But when they came out of the booth, Edwards said Shepard had looked shocked. "He realised that there was a screen on the outside, so everybody standing in line had just seen us making out in a photo booth and we quickly waited for the pictures and he grabbed them and we scurried off," she said.

Edwards said Shepard handed her the photos, saying, "I can't take these home, you better hang onto them".

"I did not have any knowledge of who he was dating or even if he had a girlfriend. But he seemed too scared about it. He just kind of was like 'Oh crap, why didn't I realise that there was a screen'," said Edwards.

Nevertheless, the duo left the party together and went to the house that Edwards was house-sitting in Hollywood. 

It was around six months to a year after the hook-up that Edwards realised who Shepard's girlfriend was. "I don't really keep up with Hollywood stuff, so I didn't even know who she was until Frozen came out," said Edwards of Bell, who voiced the character of Princess Anna.

Shepard has come out to set the record straight on Instagram with the message: "Hey Daily Mail, that photo is 13 years old, not 9. Also, Kayti has sold stories to tabloids about Matthew Perry, Jack Osbourne, Kid Rock, and now me. I look forward to her next one. Fingers crossed it's about my #1, Brad Pitt :)."

Bell seems to be unfazed by the news, at least on social media, sharing a selfie on Thursday (Dec 13) of "what your face looks like when you find out that @sarabareilles has written a song especially for u on a super secret project".

Earlier this year, Edwards gave an interview about her relationship with Matthew Perry. She was also spotted in the news with Jack Osborne. Another report blamed her for the relationship troubles between Kid Rock and fiancee Audrey Berry, suggesting she had been the rock singer's mistress for 10 years.

"Jack Osbourne has been a friend of mine since I was 20 and he was 16, maybe younger," she said in the article. "I was not the cause of his marriage fail. We just simply had lunch. And it turned into maybe I was the reason (for his split), which we have only been friends.

Edwards added: "Tabloids have painted me out to be this Hollywood home-wrecker, you know, the mistress, but they don't know the back story, they don't know the truth. The same with Kid Rock. Kid Rock and I dated before he was with this woman and before I was married, we dated and remained friends. So it's a big stretch to say that I was his mistress for 10 years when I only saw him a couple of times."