Golden boy: Success can't steal actor Desmond Tan's heartland soul away from him
Desmond Tan on what his inner beng is like, why he no longer wears Chang beer tank tops, when he learned the value of money and what he would do if he were President.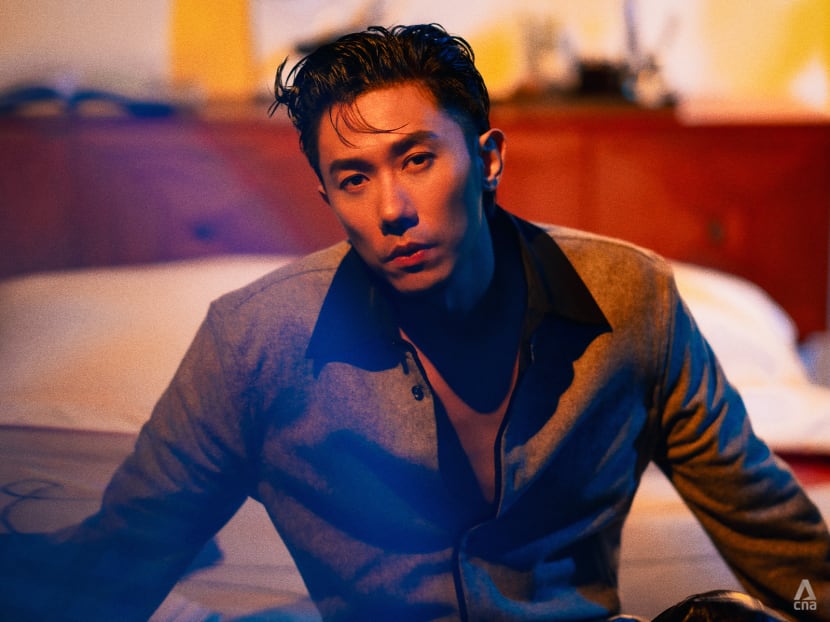 We know Desmond Tan as an A-list actor, fashion clotheshorse and devoted dog dad. But, it turns out, that's just scraping the surface. In a mathematical self-assessment, the 37-year-old revealed, he's "almost 100 per cent Singaporean boy-next-door" and – wait for it – "40 per cent beng".
So "ah beng", in fact, that even his colleagues did not recognise him when he was in character for the upcoming new drama All That Glitters, in which he plays a struggling job drifter who eventually strikes it rich but at the expense of his personal relationships.
For his character's stint as an air conditioner repairman, he wore a grey polo tee, loose-fitting jeans, a fanny pack, chains and an earring, and a wig of longish brown hair, "basically a very F4 or Ekin Cheng kind of vibe". "People really thought I was there to fix the aircon," he said.
Even in real life, "My wife makes fun of the way I talk and walk in my flip flops when we go to the market. She says, 'Can you not be so beng in the way you walk?' I say, 'I don't know leh, this is me, what.'"
Because of "my work and my relation with high fashion, and how people see me through social media and photos, sometimes people feel I'm very far from them," he mused. But the truth is, one of his favourite things to do is to "walk through the wet market, purchasing groceries" and chatting with the meat and vegetable sellers – almost like, er, a ministerial meet-and-greet, minus the kissing babies part.
"I always tell my wife, 'If I wasn't an actor, I could see myself being a politician'," he joked. "As an extrovert, I enjoy talking to people and bringing smiles to the faces of people I meet, tickling them a bit… like the General Elections or the Presidential Elections!"
And if he were running for President, what would his campaign slogan be?
"My symbol would be a durian!" he immediately piped up. And, "I will make sure we have a public holiday called Barbecue Day," he said, going off on a long rant in the stilted language of politics about how barbecues at East Coast Park bring people from all walks of life together "while struggling to start the fire".
Okay, Desmond, you get our vote.
ALL THAT GLITTERS IS NOT GOLD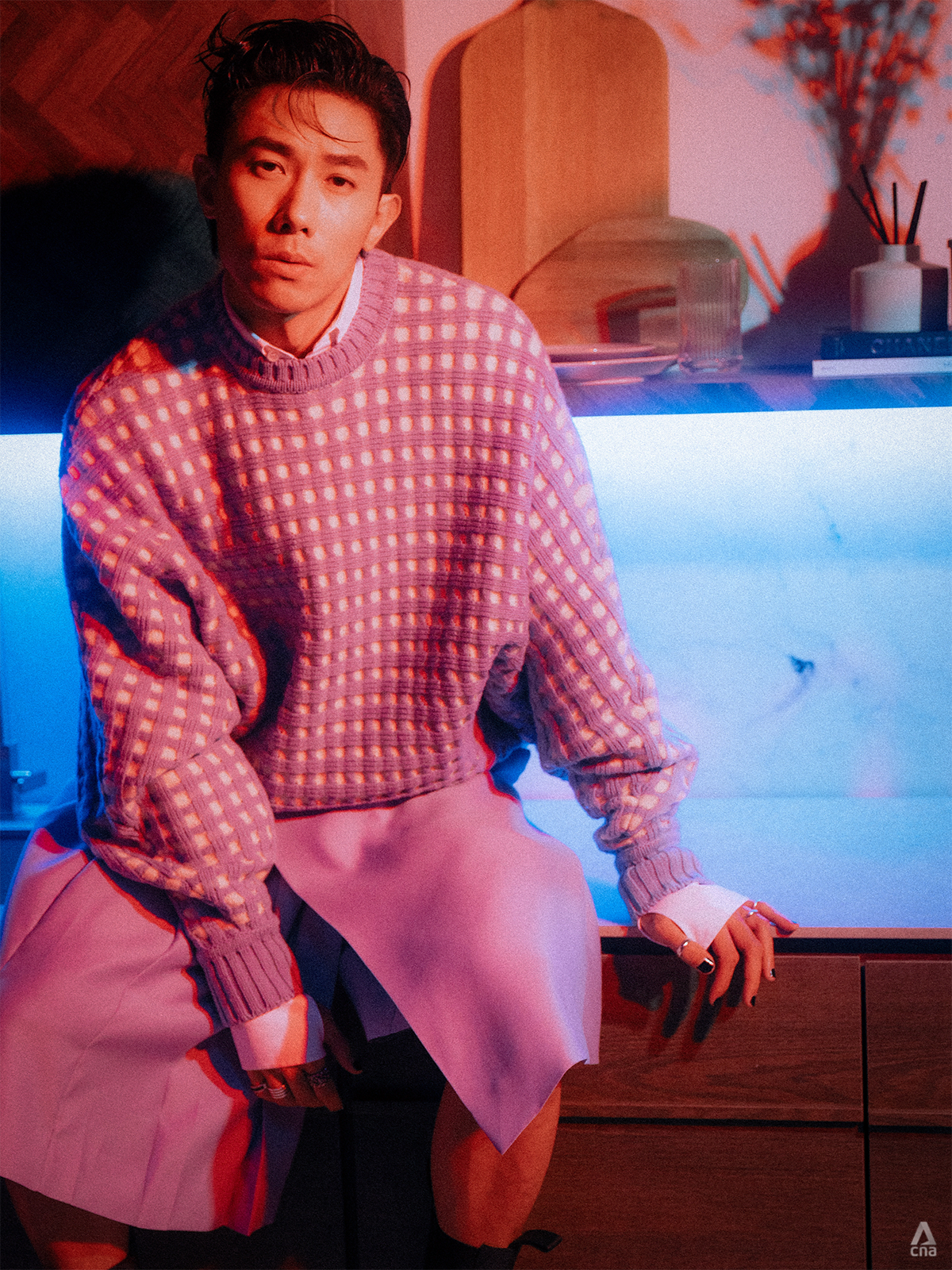 Until he got his acting break as Star Search 2007's runner-up, Desmond was a heartland boy holding his own in some rough neighbourhoods.
"I grew up in a very humble estate and I never really thought about how much I could earn in life," he recalled.
"In the Tanglin Halt area, there were fighting bengs, the kind you don't want to look at, get into a staring incident with and get beaten up for nothing by.
"Even when I moved to a new estate, Jurong West, in my secondary school years, there were many gang fights. There were people being beaten up outside my school and running into school with their heads bleeding. At neighbouring schools, people were even killed in fights."
But Desmond himself "was a model student. I was a class monitor for all four years of my secondary school life. I figured out how to get into trouble but still be in the good books of teachers. I developed a high EQ to get through all kinds of situations, and had good relationships with real ah bengs in school," he said.
He also formed lifelong friendships through being a boy scout, spending his weekends kayaking and playing soccer with them. "Even up until now, my inner circle consists of this group."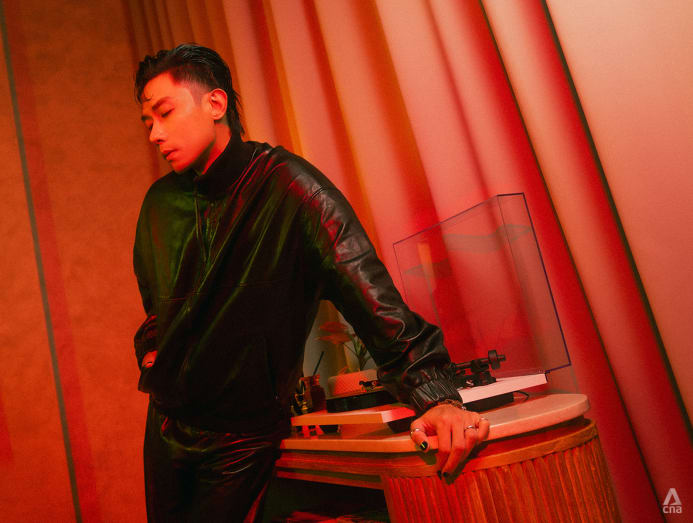 Scout activities also awakened him to the value of money.
"We had a Scouts donation draw every year. Being competitive by nature, I worked my ass off. We had to go to people's houses to do work for them. I worked until nightfall. I was the top earner for a couple of years. That's when I realised that making money was fun," he said. "The money didn't belong to me, but I realised that as long as we are willing to work hard, we will be rewarded."
He also discovered that "I'm not a lazy person. I don't mind working hard when I enjoy the process. That's when I set my mind to look for something interesting and pursue it. Money drives me – I realised the harder we work, the more we get rewarded. And currency in life is not money but the hard work you put into what you want to accomplish. For example, if you want to build your body, you'll have to spend hours in the gym."
CNA Lifestyle sat down with Desmond Tan, who shared what his life is like outside the celebrity spotlight –from his memories growing up in Tanglin Halt to his regular visits to Tiong Bahru today.
After he was discovered through Star Search, "I took a very basic pay" as a part-time actor while earning his degree in real estate management. "I wanted to go straight into acting and forego my uni education, but my boss told me, 'No, go back to school'," he said.
It paid off when he graduated and drew his first payslip as a full-time actor, and "it was above the average" of graduates from his university.
What did he do with your first paycheque? "I think I had no time to do much. The moment I finished my studies, I landed my breakthrough role (in A Song To Remember). Then, it was one role after another for the next decade, even up until now. I was caught up with people's expectations of me as an actor. I don't think I spent that money in a special way. I don't think I bought anyone anything or splurged on drinks, partying or a holiday. That money is probably still sitting at the base of my bank account."
THE BEST THINGS IN LIFE
When he was in the army, he'd set the goal of becoming a millionaire by 31. And now? Well, suffice it to say that "sometimes, we realise that the dreams we had are not the biggest dreams. I love the fact that when we are caught up with what we love doing, we eventually look back and think, 'Wow, we have reached the dreams we thought were far-fetched.'
"To me, what's crucial is what is next after you've achieved your goal. If you can't deal with that, you might fall into a comfort zone and lose your drive in life. That's when you get lost or feel lethargic. You go around without a target, like a headless chicken."
What's next for him is "looking at doing more projects in diff places", to gain exposure and hone his craft as an actor. "The more people you meet, you get inspired along the way."
If he could go back in time and speak to his younger self, though, "I would ask young Desmond to buy Bitcoin right at the start," he quipped. "That would have been an easy way to make money."
Who manages the finances at home? "I leave everything to my wife. I've always felt that to be in a relationship, you need full openness. And really, as an actor, especially when you're on a project like All That Glitters, your everyday is just working 15 to 18 hours. I leave it to my wife because she has more time compared to me."
As for his personal bills, "I pay everything by GIRO. In the past, I liked to look at every statement on my bills, like an old man. When I'm into a character, I always forget to pay bills. GIRO is my way to go. This is adulthood, right?"
His wife, though, is "the one who taught me not to spend mindlessly," he said. When he was younger, he was "always buying weird stuff" on his travels, like refrigerator magnets, Zippo lighters and erasers. "I was into Vitasoy merch and Coca-Cola merch," he laughed. And, "You know when Singaporeans go to Bali or Bangkok, they have to buy a Singha or Chang Beer singlet? I was one of those people, as well."
He eventually realised, helped by some judicious words from his wife (then his girlfriend), that those things eventually collected dust in his closet.
Now, "When we travel as a couple, we only buy one item that represents that holiday. That became a fun thing as well." For example, during their last trip to Amsterdam, Desmond really wanted to visit the Van Gogh museum, but tickets were sold out. His wife managed to find some last-minute tickets online, making his day. They bought two prints at the museum shop, which now take pride of place "in a very important room in my house – the toilet".
Just like more things doesn't equal more value, often, happiness doesn't have a price tag. On his days off, Desmond loves hanging out at hawker centres and markets, saying hi to people he meets. "A simple remark can make someone's day. I, too, have good and bad days. Sometimes, a simple gesture like a waiter or someone saying something nice, makes the day a little easier to go through. Some people might need the extra joy."
Catch All That Glitters starting Sep 18, weekdays at 9pm on Channel 8 and available on demand for free on mewatch.
Senior editor: Serene Seow; creative director: Chern Ling; senior producer: Lindsay Jialin; photography: Walter Tan/Assemblyclan; styling: Daryll Alexius Yeo; hair: Ryan Yap/Passion; grooming: Melissa Yeo; fashion assistance: Crystal Lim