Donald and Ivanka Trump meet K-pop band EXO in Seoul
The Korean stars and "Nation's Pick" public ambassadors presented the Trumps with a signed copy of their album Love Shot.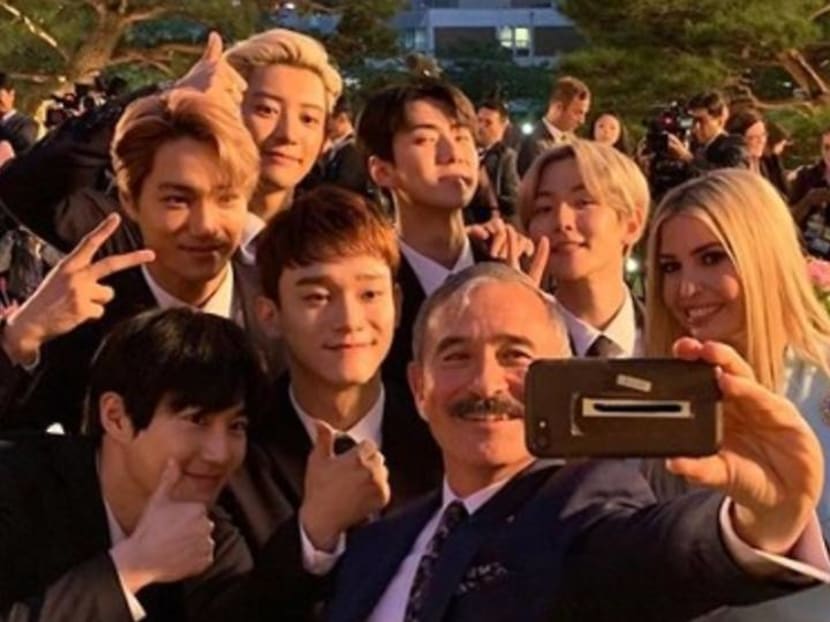 US president Donald Trump and his daughter, Ivanka, have met with K-pop band EXO during a state dinner at the "blue house", the South Korean presidential palace where president Moon Jae-in lives. President Moon said he had invited the band as Ivanka was a fan.
Ivanka confirmed she became a fan of the K-pop stars after watching them perform at the closing ceremony of the 2018 Winter Olympics in PyeongChang, South Korea. She was reported to have said at the time: "My kids are huge fans. I can't believe I'm meeting you."
During the event, the Trumps also met the South Korean first lady, the foreign minister and former Ladies Professional Golf Association champion Se-ri Park.
The K-pop group also presented Ivanka with a signed copy of their album, Love Shot, for her daughter's upcoming birthday. They were selected as the "Nation's Pick" public ambassadors in 2018 by the Korea Tourism Organization.
The meeting has drawn mixed reactions from fans, with some expressing pride that EXO was chosen to represent the country, while others were not pleased that their idols had met with the US president.
One fan commented on EXO's Instagram post of the meeting: "They're very mature and generous. We know that they do not share any idea with President Trump, so please do not hate them for this meeting."