Inside Dota 2's TI11 finals in Singapore: Cosplay, tears and war on the battlefield
What was it like to attend one of the largest esports tournaments in the world right here in Singapore? CNA Lifestyle asked a Dota 2 noob to check out last weekend's The International 11 event.
As I made my way up the stairs to the Singapore Indoor Stadium on a blisteringly hot Saturday morning, I heard one of the largest esports events in the world even before I saw it.
A thundering roar of "oohs" and "whoas" from the crowd greeted me as I walked inside and the momentary darkness gave way to a sea of red and blue lights, and gigantic screens suspended above the main stage in the centre, each around the size of a double-decker bus.
It was the start of the final weekend for The International (TI), the annual flagship tournament for the multiplayer online battle area video game Dota 2. And it was being held in Singapore for the very first time, with the finals held on Oct 29 and 30.
For a game that means Defence of the Ancients 2, it seemed quite appropriate to feel like I had walked into the Roman Colosseum full of highly excitable spectators. Highlights from past editions flashed on the screens to throaty cheers from some 12,000 people who'd packed themselves in to watch the highest level of Dota 2 gameplay.
And this year was pretty special for those living in this part of the world. Since its inception in 2011, past TIs have been held mostly in North America or Europe. The closest it had come here was back in 2019, when Shanghai played host.
It was enough for at least one fan to book his ticket here pronto. "It's like, 'oh shit, I can actually go there'," remarked Leonides Balauitan, 25, who flew in from the Philippines.
"It's a dream (come true)."
VIRTUAL BLOODBATH
For the uninitiated, huge esports tournaments like TI can be difficult to figure out much less follow. Luckily, this Dota 2 noob dragged along David, a friend who patiently acted as a personal commentator/guide/translator as we settled into our seats in the upper gallery.
So here's what I learned: At its core, Dota 2 is basically two teams duking it out on a virtual battlefield. There are five "heroes" on each side and the objective is to destroy your enemy's base before they can do the same to yours. What people came here for, I gathered, was the spectacle of a fight between the teams. Like I said, Roman Colosseum.
It was this potential for a virtual bloodbath that drew a crescendo of cheers as the first two teams that day entered the stage area – Team Aster from China and Team Liquid, comprising four Swedes and a Finnish player.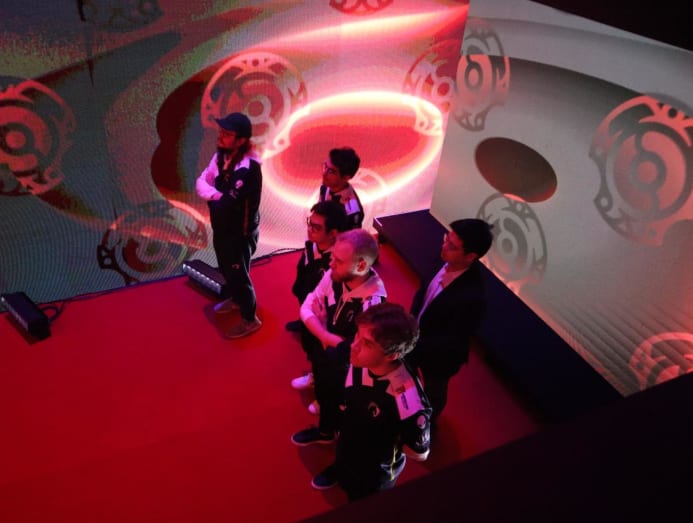 After taking their seats and checking their equipment (much like pilots completing a pre-flight checklist), the first of three games began, with Team Liquid drawing first blood. Cue: Deafening roar from the crowd.
Eventually, Team Aster got eliminated and we moved on to the next face-off, between Team Secret and Tundra Esports, whom I was told was one of the favourites to win this year.
And I didn't need David to tell me they were good. During the matches, statistic would pop up on the screen, showing the odds each team has of winning.
Earlier on, I had a chat with Thomas Esser, the director of Global Sponsorships at SAP SE. The German software company partnered with Valve, the company behind both Dota 2 and The International, to provide real-time analyses on matches, teams and players.
In recent years, data and analytics have become even more integral to the esports viewing experience, helping fans (and noobs like me) appreciate the game a little better.
"Those insights bring the game to life and deliver a compelling experience to the fans watching across the globe," Esser shared.
I don't know how much effect this had on Team Secret's morale, but Tundra Esports had been given a "99 per cent" chance of bagging this game.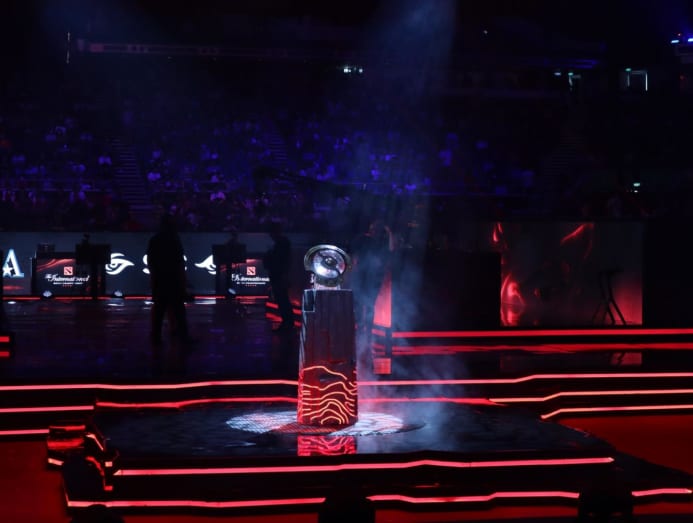 Despite the statistical improbability of an upset, fans will be fans. And there was one Team Secret supporter at the back who refused to give up, shouting his lungs out even as the crowd went quiet while his team got dismantled.
"I've supported Puppey (a player on Team Secret) since TI1," said Lin Tun, 28, from Myanmar, a wee bit breathless. For fans like him, these players have been part of their lives for more than a decade.
After an intense three games, Tundra Esports claimed victory, bringing an end to the day. And I was pumped for more.
"WAR ON THE BATTLEFIELD"
The following day, Sunday, felt different. The crowd's energy was still there but there was also a palpable sense of anxiety. For the teams playing today, it was do or die.
First up, Team Secret was back to square up against Team Liquid. The former ultimately won two games to one and there was an emotional moment as the camera zoomed in on one of the latter's players, Lasse "MATUMBAMAN" Urpalainen, wiping away tears.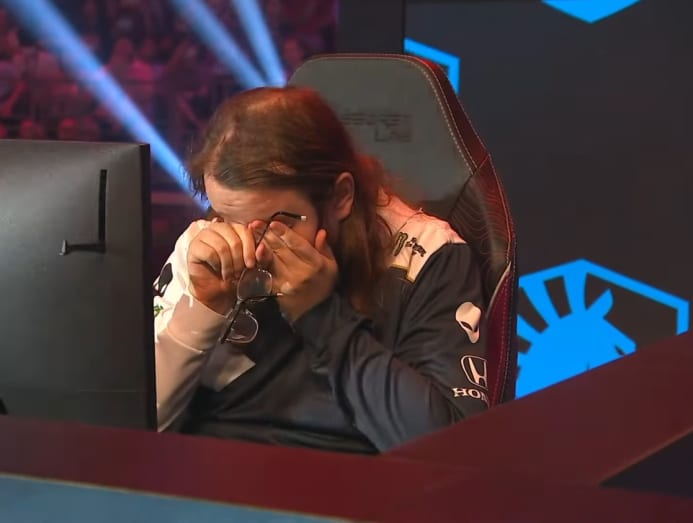 Chants of "MATUM" immediately echoed throughout the stadium for the Finnish player – a fan favourite who's had a nine-year-long career. The defeat marked the end of his professional journey and he's retiring after the tournament.
"I feel like I've been in a war on the battlefield of Dota 2. I think I just need to relax a little bit," he shared during the post-game interview. "Dota brought pure happiness for myself. It gave me purpose and defined me as a person."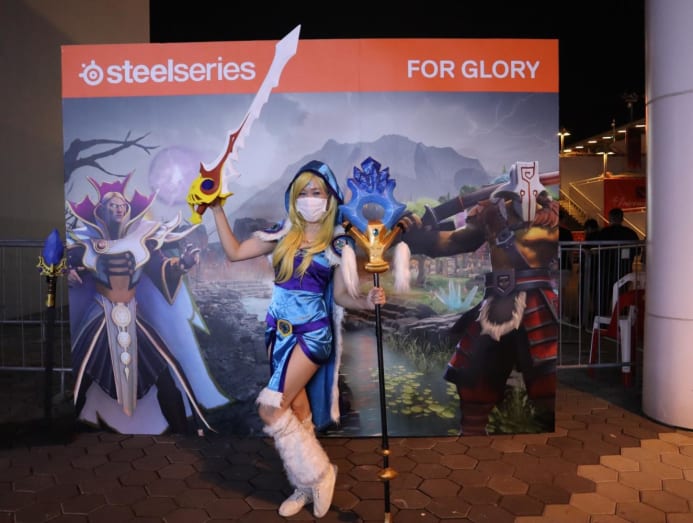 It was a reminder that there's more to the game than just playing it day in and day out. And for some fans, this meant showing their passion in other ways – such as dressing up.
There were many cosplayers at TI and one of them was Yip Sze Yan, a 36-year-old Malaysian going around as the character Crystal Maiden.
"I think she's the most beautiful hero," said Yip, who's been playing Dota for almost 18 years. Attending her first TI in person was something to tick off her bucket list. "For me, playing Dota is a very nostalgic thing that will be very close to my heart for a long time."
THE FINAL SHOWDOWN
After all those people donning costumes, losing their voices while shouting, and shedding tears, we finally arrived at the highlight of the weekend – the best-of-five showdown between Team Secret and Tundra Esports, where the winner walks away with a little more than US$8.5 million (S$12 million) in prize money.
For Team Secret, it was payback time after losing the day before. For the crowd, it was an excuse to do a, ahem, Kallang wave. And as it rippled through the stadium, you couldn't help but join in. It was so infectious that even those completely new to the game were swept up in the fever.
"The whole crowd and the atmosphere's really good," said Crystal Dang, 25, who doesn't play Dota 2 but gamely joined her boyfriend, Daniel Tu, 26, who does. "Even if I didn't know what was going on, the energy around me made it so much more hyped."
Tu, who's from Australia, joked that the tournament had even inspired Dang to learn more about the game. "I asked her to name 10 heroes and she could totally do it," he laughed.
On paper, Team Secret was the only team in the tournament with the slightest chance of beating Tundra Esports, given their previous close encounter. But it became apparent rather quickly, however, that that wasn't going to be the case.
The latter put on a clinical masterclass of Dota 2, locking out all attempts by the former to claw their way ahead. During the third game, the dreaded (or otherwise) graphic pops up again. Team Secret had a 34 per cent chance of winning – their best in the entire series so far.
And that was all they were going to get as Tundra Esports dispatched their opponents with ease. And when the winners dealt the finishing blow to take the series 3-0, the stadium erupted.
Fans jumped to their feet as Tundra Esports' players walked forward to lift the Aegis trophy. Sparklers, almost blinding, popped up from the floor and a deluge of confetti fell from the ceiling.
Tundra Esports had written their names in the history books not just as the winners of this year's TI but also as one of the best teams to have played the game. And after a two-day crash course on Dota 2 and learning how much it meant to many, this noob didn't need a friend to explain that to me.