Creative Capital: Jazzing up old neighbourhoods and brands with street art
Singaporean creative collective DPLMT (pronounced "diplomat") is responsible for the wall murals you see at *Scape, on brands such as Adidas, and even augmented reality exhibits at the Art Science Museum.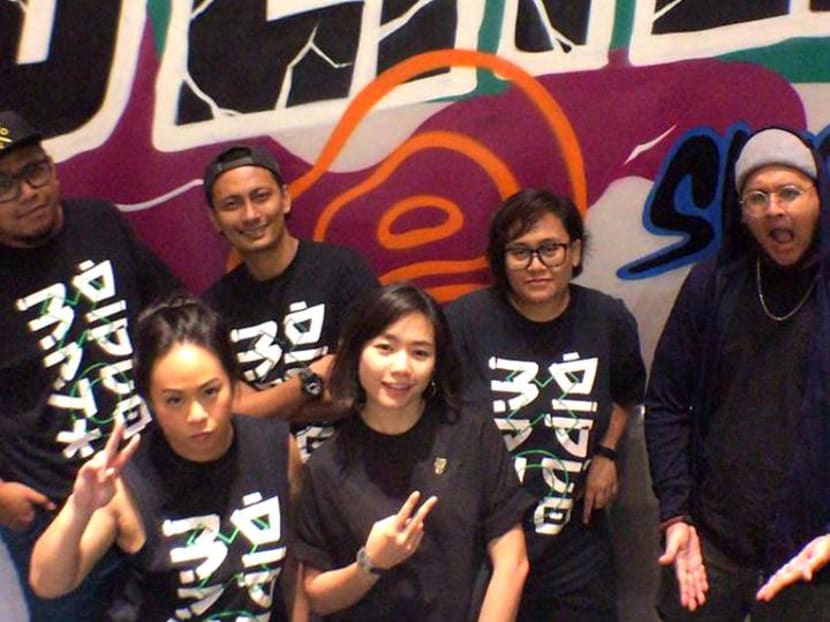 Their names are Araikreva, EBAO, The Terror Troopers, Myl, and KAT. And no, they aren't video game characters or members of a postmodern music group. They are artists and graphic designers who have come together to work on corporate commissions and artworks. And together, they are DPLMT (pronounced "diplomat"). 
As DPLMT, they're best known for street art and murals, and clients have included Adidas, MediaMonks, and Bricklane SG. Most recently, they have been experimenting with augmented reality to make their pieces more immersive. 
One artwork that showcased this new area of exploration stunningly was titled The Mount That Keeps Growing. Commissioned by The MeshMinds Foundation, the work exhibited at the Art Science Museum in March was a commentary on the growing mountain of waste produced by modern society. 
DPLMT's spokesperson is Raihana Abdul Rahman, who prefers to go by her artistic nom de plume Araikreva or Arai for short. She is an illustrator, artist, and urban artist, and parents might recognise her work from the illustrated book Elizabeth Meets The Queen: A War Heroine's Journey written by Gwen Lee. 
Here's what DPLMT's spokesperson has to say about the creative collective. 

WHO IS DPLMT AND WHAT DOES IT DO?

DPLMT is a multi-disciplinary art collective formed one evening in a now-defunct cafe in Serangoon in 2017 by me (Raihana aka Araikreva), Iqbal (EBAO), Shakir (The Terror Troopers), Kath (Katkucing) and Shamyl (Myl). It started as an avenue for the team to work on mural projects together. Our first commissioned wall came that very year. It was a 20m-long mural for a Japanese restaurant called Don & Tori.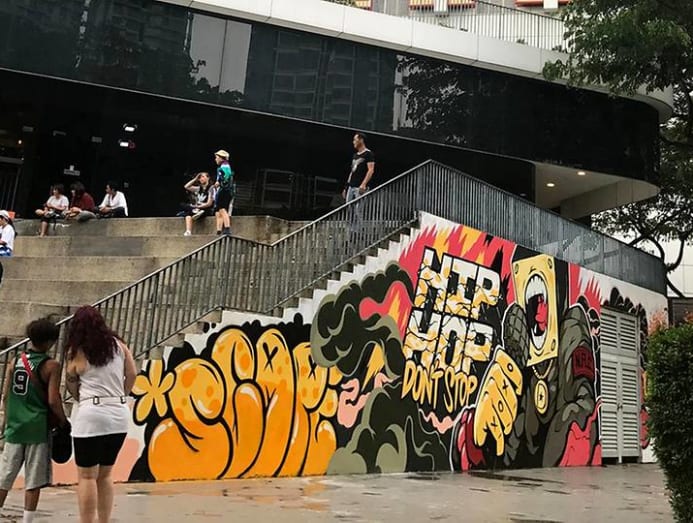 For me, DPLMT is a dream team because each individual has a special skill set. That allows us to explore and expand on any medium that we want to utilise. I am glad that the four of them feel the same way.

Since then, DPLMT has worked with various companies and brands to create what we call "experimental visual solutions". Our philosophy is to infuse our cultural heritage and experiences into experimental art practices, such as immersive experiences and augmented reality.

WHEN AND HOW DID ALL OF YOU MEET? WAS IT LOVE AT FIRST SIGHT?

Our shared passion for working on murals and street art was the catalyst. Some of us were colleagues in the same design agency, and some of us occasionally met up to draw or work on our art together. It wasn't really love at first sight but we felt that as a collective, we're better able to learn from each other's experiences and collaborate on projects we want to work on.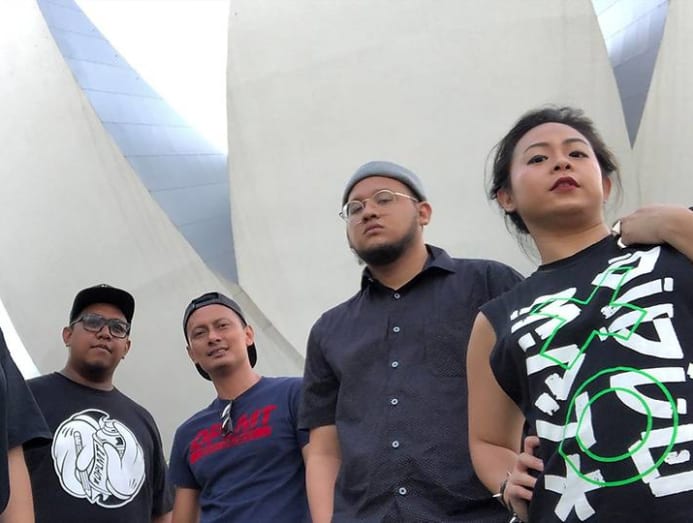 HOW DID YOUR WORK EVOLVE FROM STREET MURALS TO BRANDED EXPERIENTIAL WORK? WAS THAT SOMETHING YOU ANTICIPATED AND WANTED TO HAPPEN? 

The evolution of our work comes from both the collective and individual strengths of DPLMT. We have this insatiable hunger to experiment and try various techniques and mediums. When you put yourself out there, you are always bound to get interesting projects. 
I am grateful that we met MeshMinds, which gave us the chance to work with augmented reality for the Art x Tech For Good exhibition in January this year. Technology and art are moving closer together and we felt that this is an area that we should take heed of and explore further. From there, we decided that it would be good to work on experiential projects as we want people to immerse in our art. You might say that we are moving towards more commercial projects but our primary objective is to always work on fun projects.

HOW IS DPLMT RUN? 

We take turns to lead projects. Whoever is liaising with the client will be the one leading that project. The rest comes in to support. Even though we may not run DPLMT like a traditional business, it is importance to give the client confidence in us. So, we try to handle processes as professionally as possible.
WHAT WOULD BE THE DREAM PROJECT FOR DPLMT?

There are many projects we would love to work on. From a large-scale mural as tall as a 12-storey building to collaborating with a famous streetwear brand, working on visuals and curating an art installation for events like ComplexCon, SXSW or Wonderfruit, we want to work on them.

WHAT WAS THE TOUGHEST PROJECT TO DATE?

A tough project in our opinion is something that requires a lot of physical effort or a really complex execution process. Working on a really large wall when the weather is extremely hot and erratic can be tough. We've had a few of these incidents but as a team, we always pull through. You just have to have each other's back.

WHAT DO YOU HOPE PEOPLE WHO VIEW YOUR WORKS REMEMBER ABOUT THEM?

We are advocates of the cultural aspects of our Malay archipelago, and we hope that one day, art from this part of the world will be admired overseas in the same way that people here admire Japanese and Korean visual arts.
Even though we've been working on murals and projects for almost two years, we have yet to lock on a distinct style. But we hope that people will remember the experience of interacting with our works. I hope audiences appreciate how we express and tell stories. 
TELL US MORE ABOUT YOU. DO YOU CONSIDER YOURSELF AN ARTIST?

I would prefer to call myself a creative as I like to dabble in various mediums. I was trained as a traditional artist but I immersed myself into many different crafts over the years. 
My love for cartoons guided me when I was learning how to draw. I was self trained until secondary school when, for the first time, I had access to materials that allowed me to take my training a bit further. But I graduated with a business diploma from Ngee Ann Polytechnic instead, and worked as a marketing coordinator for three years. 
I had always wanted to be a professional creative. I could not work on art or design projects just as a hobby. So, I attended art school at the Nanyang Academy Of Fine Arts (NAFA) and graduated at age 30. While it was a long journey to become what I am today, I have no regrets. 

IS IT DIFFICULT TO BE A PROFESSIONAL CREATIVE IN SINGAPORE? WHAT ARE THE COMMON MISCONCEPTIONS?

There will always be challenges for any professional creative. You have to put yourself out there by getting to know other creatives and potential clients. You need to find ways to make people remember your work. It's important to continue to create exciting content to keep people interested.

The biggest misconception about being a creative in Singapore is that it's a useless profession or it is essentially career suicide. If you feel strongly that you produce good work, you have to put in the hustle and take that leap of faith. 
People also think that we have a lot of time on our hands. Because our work is our passion, people assume that what we do is easy. It's not. It can take time. Lots of it.
DO YOU THINK SINGAPORE AS A CITY EMBRACES THE ARTS?

Yes, I believe that the people here believe in creating a place where creatives can express themselves. There will always be communities in every country open to the arts and encouraging artists to create their own movements.

WHAT'S THE ONE CHANGE YOU'D LIKE TO MAKE REGARDING NATIONAL POLICY TOWARDS THE ARTS?

If this change could be permanent, it would be to work with the government agencies to embrace street art more. By increasing the number of walls street artists can paint on, we can give more neighbourhoods a change of scenery. 
Street art shouldn't be seen as graffiti or vandalism but as a form of expression meant for the public. Street art is also important because to me, it is a documentation of the neighbourhood's stories and history.

WHAT'S NEXT FOR DPLMT? 

We have yet to have our first DPLMT exhibition, so stay tuned for that. We are also looking forward to projects that are beyond Singapore, hopefully in Japan or somewhere nearby like Indonesia or Thailand. We are always seeking innovative ways to express our art. The most important thing is for us to stay true to DPLMT's tagline, GO JE, which means "just go".