Drew Barrymore vs Jennifer Aniston: Who's better with Adam Sandler?
One Twitter user had suggested that Sandler and Aniston were a better movie couple than Sandler and Barrymore, causing Barrymore's fans to tweet their support for the "OG" pairing.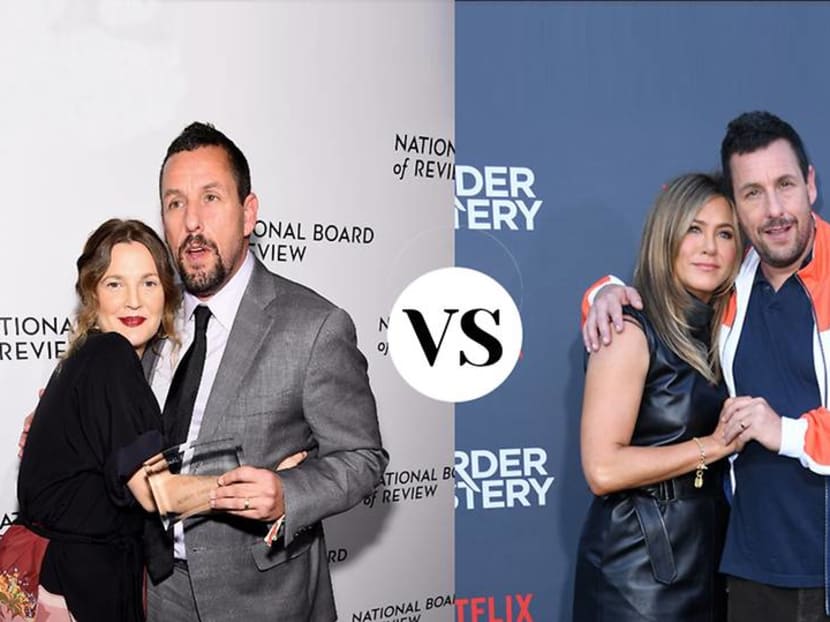 Actress Drew Barrymore found herself trending on Twitter on Sunday (Jun 7) and it's for a cute reason – fans were standing up for her after one Twitter user suggested that Adam Sandler and Jennifer Aniston made a better movie couple. 
The fan had tweeted on Saturday: "Name a better duo in movie (sic) than Adam Sandler and Jennifer Aniston. I'll wait."
That seemingly innocent tweet got Barrymore's fans worked up with one person tweeting in support of the pair, "Adam Sandler is best with drew barrymore everyone knows this."
Barrymore and Sandler had acted in several movies together, starting with 1998's The Wedding Singer. They also appeared opposite each other in 2004's 50 First Dates and 2014's Blended.
Another fan wrote that they go together "like peas and carrots" while another said, "THE AUDACITY! This couple is OG."
One fan was just happy that Barrymore "isn't trending for the myriad of reasons I could have imagined she was trending."
The other actress in question, Aniston, has starred with Sandler twice: In 2011's Just Go With It and last year's Murder Mystery.
The 53-year-old actor has been friends with both actresses for a long time.
In a 2018 interview, Barrymore revealed that she and Sandler text all the time about "their next thing."