Ed Sheeran, Courteney Cox recreate Ross and Monica's Friends dance routine
David Schwimmer was nowhere in sight as Cox reenacted the "Routine" with singer Ed Sheeran, complete with a hilarious ending.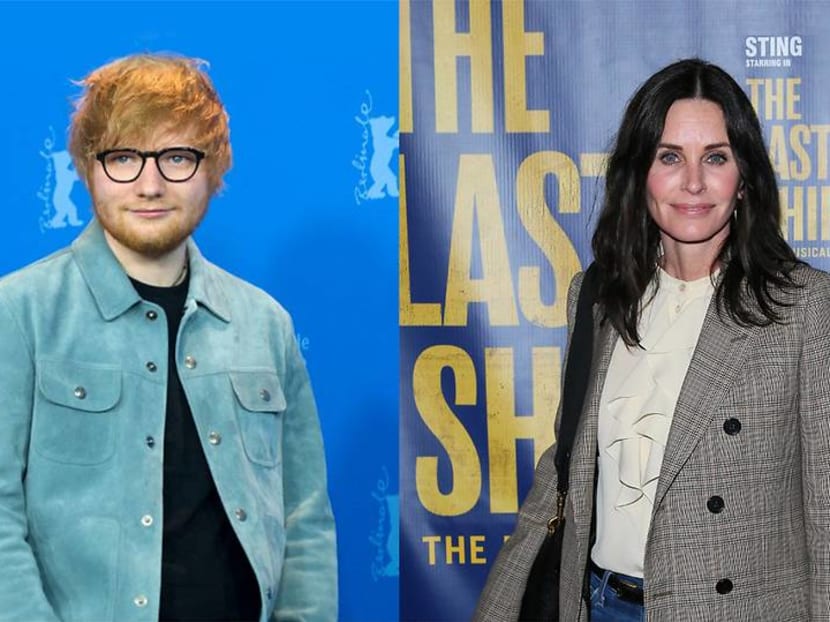 Amidst the buzz of the much-anticipated Friends reunion special last week, it appears singer Ed Sheeran staged an unofficial reunion of his own.
Sheeran got together with Friends star Courteney Cox – who played Monica on the iconic sitcom – to recreate the "Routine".
For the uninitiated, that's the dance routine that Ross (David Schwimmer) and Monica performed in Season 6 Episode 10 at Dick Clark's New Year's Eve countdown party taping, titled "The One With The Routine".
For their part, 56-year-old Cox and 30-year-old Sheeran nailed it – except for the ending where they toppled to the ground instead of the more graceful end in the original where Ross manages to catch Monica as she jumps on him. 
The Shape Of You singer captioned his Instagram post, "Had a reunion of our own this weekend" and he also added hashtags #TheRoutine, #IKnow, #Friends4eva and #ObviouslyBetterThanRoss.
Cox captioned her post: "Just some routine dancing with a friend…".
Fans and fellow celebs flooded both posts with comments, with several wondering if the duo had broken the Internet with their post.
Big Bang Theory and The Flight Attendant star Kaley Cuoco wrote, "THIS IS EPIC", while One Republic singer Ryan Tedder said, "Neeaaaaaarly perfect mate".
Model and actress Cara Delevingne, who made an appearance on the Friends reunion special dressed in Rachel's pink bridesmaid dress and as the Holiday Armadillo, commented with three heart emojis.
Ben Winston, who directed Friends: The Reunion, told The Hollywood Reporter's TV's Top 5 podcast that he did float the idea of Cox and Schwimmer reenacting the dance during the TV special but the stars couldn't remember the moves and didn't want to do it in front of an audience.
Watch the original "Routine" to see who did it better.