Eddie Murphy shows off 10th child – 3-week-old Max Murphy – on social media
The latest addition to the brood was born on Nov 30 to Murphy and his fiancee Paige Butcher.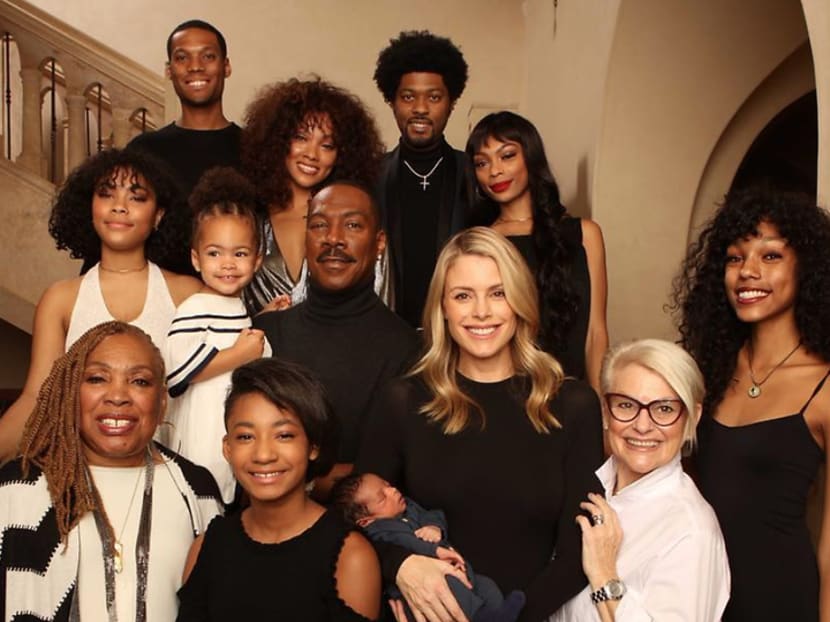 Three-week-old Max Charles Murphy made his global debut – as kids are wont to do these days – on social media. His half-sister Bria (Murphy's eldest daughter) posted an epic family picture on Instagram.

Oblivious to what was going on around him, little Max appeared to be snoozing as he was cradled by his mother Paige Butcher, an Aussie native from Perth.

In the picture, mother and child are surrounded by Murphy's nine other children: Eldest son Eric, 29; Bria, 29; Christian, 28; Miles, 26; Shane Audra, 24; Zola Ivy, 19; Bella Zahra, 16; Angel Iris, 11; and Izzy Oona, 2 1/2, who's Max's older sister. The other children are from Murphy's four ex-wives. Also in the shot are Murphy's and Butcher's mothers.
Little Max was born on Nov 30. According to Murphy's publicist, the infant weight six pounds 11 ounces (just over 3kg). His middle name, Charles, is a tribute to his uncle Charlie Murphy, who passed away from leukaemia in Apr 2017.

When Murphy and Butcher announced their pregnancy in Aug, sources told People magazine that the couple were elated with the news, as they were hoping for a younger sibling for Izzy Oona.

"Paige loves being a mom and is very involved," the source revealed.

"They live a pretty low-key life. They are all about family. Paige is very close to Eddie's kids. They are a very special and happy family. They vacation and spend holidays together."

The couple first met 12 years ago on the set of Big Momma's House 2, but only began dating in 2012.