'I stand by Ellen': Talk show host Ellen DeGeneres' wife Portia de Rossi defends her
The actress also thanked fans for their support in a recent Instagram post. DeGeneres is facing complaints of a hostile workplace environment after some past employees spoke up.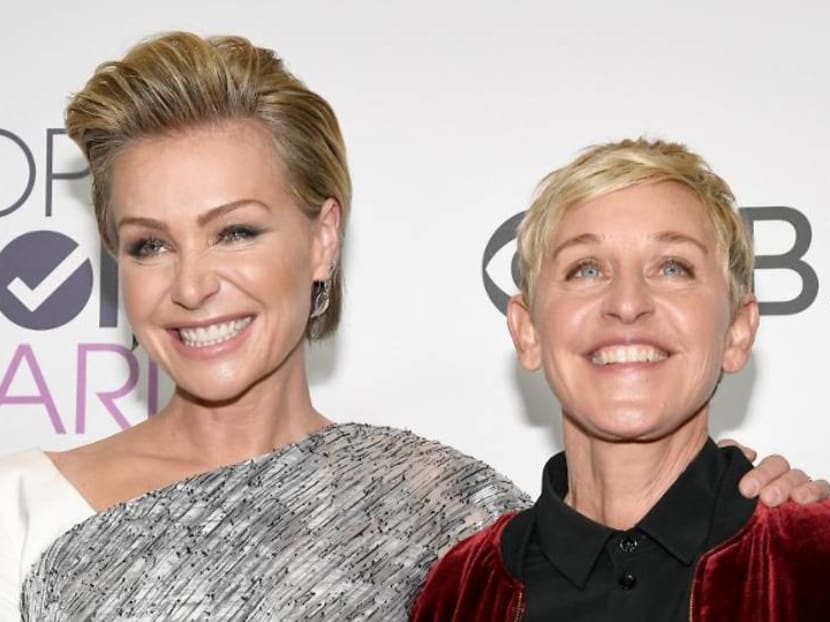 Portia de Rossi has addressed the scandal that has hit wife Ellen DeGeneres' popular daytime talk show.
The actress, who married the 62-year-old DeGeneres in August 2008, posted on Instagram on Monday (Aug 3) an image that had the words "I stand by Ellen".
She also added in the caption: "To all our fans....we see you. Thank you for your support. #stopbotattacks."
The 47-year-old de Rossi is not the only celebrity standing by DeGeneres. Music mogul Scooter Braun has also tweeted his support, writing that the host "is a kind, thoughtful, courageous human being who stands for what is right and highlights on her show the best of us. She has helped change the views for equality."
DeGeneres is facing allegations that the workplace environment behind her successful talk show, The Ellen Degeneres Show, is "toxic".
Several past employees spoke to Buzzfeed in July with complaints of racism, intimidation and a toxic work culture.
A couple of celebrities have also waded into the scandal, seemingly confirming the allegations. Everybody Loves Raymond actor Brad Garrett posted on social media that it was "common knowledge" that people were treated badly on the set and that he knows more than one person who was "treated horribly by her".
The show is now undergoing internal investigations and Warner Bros Television said in a statement that it had already identified "several staffing changes" as well as "appropriate measures to address the issues that have been raised."
According to The Hollywood Reporter, one of three executive producers, Ed Glavin, was the source of many complaints and would be leaving the show soon.
Meanwhile, another executive producer Andy Lassner shut down talk online that the show might be cancelled. Lassner responded to a tweet by a follower who wished him well should the show go off the air, saying, "Nobody is going off the air."
DeGeneres herself broke her silence on the matter last week when she apologised to her staff for the state of affairs through a letter. She wrote, "As we've grown exponentially, I've not been able to stay on top of everything and relied on others to do their jobs as they knew I'd want them done. Clearly some didn't. That will now change and I'm committed to ensuring this does not happen again," she wrote.
The Ellen DeGeneres Show has been on the air since 2003.