Rapper Eminem questioned by US Secret Service over threatening Trump lyrics
He had rapped about dropping a hot coffee pot on the president and about having Ivanka Trump in the trunk of his car.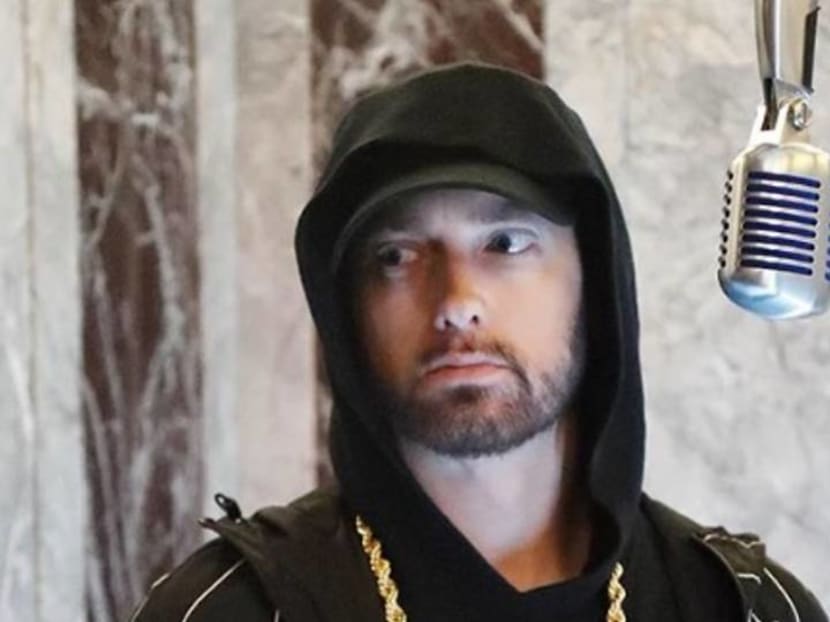 Rapper Eminem was interviewed by US Secret Service agents over lyrics that appeared to threaten President Donald Trump and his daughter, Ivanka.
This was revealed by Buzzfeed News on Oct 24. The site had obtained 40 pages of documents after filing a Freedom of Information Act request with the Secret Service last year.
The song is question is Framed, from Eminem's 2017 album, Revival, which featured the line: "Donald Duck's on, there's a Tonka Truck in the yard / But dog, how the f***is Ivanka Trump in the trunk of my car?"
He was also questioned about a freestyle he did at the BET Hip Hop Awards that year where he rapped: "That's an awfully hot coffee pot / Should I drop it on Donald Trump? Probably not / But that's all I got 'til I come up with a solid plot." 
Eminem himself made mention of the fact that he was questioned by the Secret Service in his song The Ringer, from his 2018 album, Kamikaze.
In that tune, he sang: "Cause Agent Orange just sent the Secret Service / To meet in person to see if I really think of hurtin' him / Or ask if I'm linked to terrorists / I said, 'Only when it comes to ink and lyricists.'"
However, at that time, the Secret Service refused to confirm that they had met with the rapper, leading Buzzfeed to put in their request for information.
According to the documents, Eminem, whose real name is Marshall Mathers, was characterised as "exhibiting inappropriate behaviour" and that he "threatens protectee" through his rap.
The documents also revealed that the investigation took place because "a concerned citizen reported Marshall Mathers the rapper 'Eminem' had a new song called 'Framed' with an inappropriate comment towards President Donald Trump and a threatening comment towards Ivanka Trump."
However, it turned out that the "concerned citizen" was an employee of entertainment portal TMZ who was seeking a comment from the Secret Service: "I want to know if your agency is investigating Eminem for his threatening lyrics about First daughter Ivanka Trump."
The report concluded that the rapper's case would be "non-referred", meaning it would not be referred to a federal prosecutor.
And that was how the Slim Shady met the Secret Service.