From Jackson Wang and Post Malone to Robbie Williams, I watched almost all the F1 concerts this year
This CNA Lifestyle writer spent many hours over three days watching almost every main stage act at the Singapore F1 Grand Prix 2023. His feet may be hurting but his spirits remain high. 
As someone who has spent a lot of money on concerts this year, I knew my wallet needed a break but my body was unwilling. I think concerts are an amazing way to destress after a tough week at work and seeing artistes that close, without having to camp at airports, is exciting.
So naturally, I leapt at the opportunity to cover the entertainment portion of this year's Singapore F1 Grand Prix for CNA Lifestyle. 
Three nights of concerts and I get to take some time off to recover from all that excitement? Sign me up, please.
Full disclosure, unlike all the other concerts I've been to this year, I was unfamiliar with 90 per cent of this year's entertainment line-up. I had zero expectations and was simply there to enjoy the ride.
I'm happy to report that after three days, I came out of the experience with busted eardrums, close-to-crumbling legs and the knowledge that I had witnessed three of the best nights of music this year.
DAY 1
The main stage acts for the first day were all artistes from American music company 88rising which thankfully meant I didn't have to traverse the different zones. At 5.40pm, I arrived at the Padang Stage, decked in Crocs and joggers – the perfect battle armour to withstand mosquitoes and six hours of standing.
I ended up being a few rows away from the stage which gave me a magnificent view. If this was an ordinary concert, my spot was Cat 1 VIP easily. What followed for the next 50 minutes was me mindlessly watching the practise race on the jumbo screen. Admittedly, I didn't know what was going on. All I knew was that I was looking at fast things going vroom.
Finally, at 6.30pm, the first act was ready – officially kicking off my three-day mission.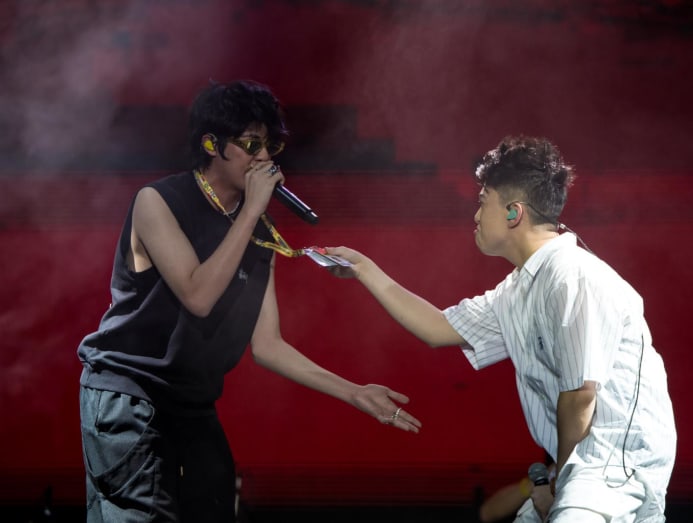 1. WARREN HUE
I know it's a weird compliment to give a rapper, seeing that it's their job and all, but Warren Hue has a seriously good flow. The Indonesian rapper gave the crowd a much-needed adrenaline shot with songs such as Runaway W Me, Omomo Punk and In My Bag – spitting out bars at Hamilton-esque speeds.
Unfortunately, his set was among the shortest – clocking in at only 10 minutes. However, that was understandable given the sheer number of artistes scheduled to perform that day.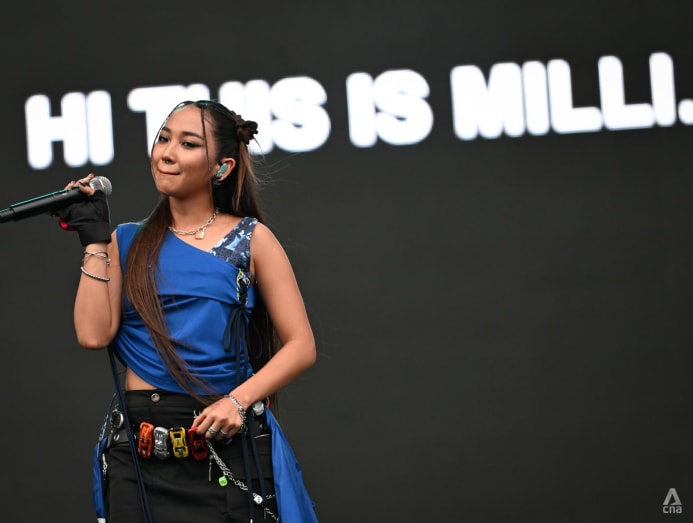 2. MILLI
The Thai rapper officially has a new fan in me. Milli's set was nothing short of an extravaganza, complete with pyrotechnics, dancers and a DJ. She blended Thai and English verses so masterfully that I genuinely couldn't tell which language I was listening to at certain parts. All I knew was that she was out to entertain.
Her crowd work deserves praise too. Her energy and interactions got the crowd hyped up, even if some of us weren't familiar with her songs. A cute moment during her set was when she showed off her belt, made with toy cars, with such gleeful pride.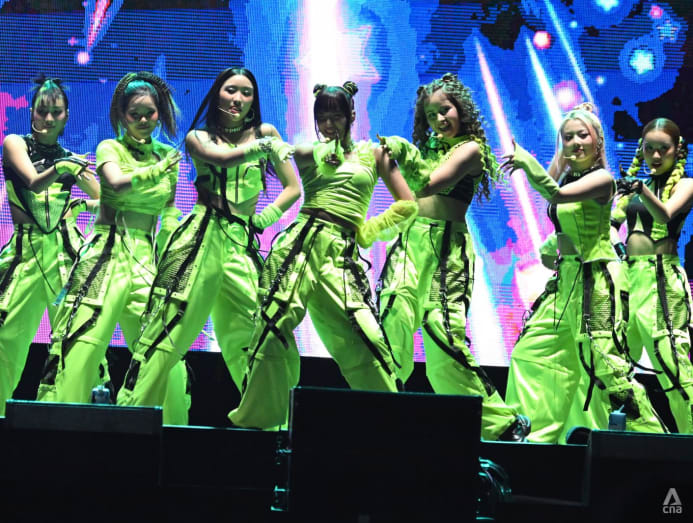 3. XG
After a one-hour break which saw most of the concertgoers standing in place, the festivities resumed with Japanese girl group XG. I realised, a few minutes before XG's set, that most of the attendees were here for the group as this was what the view suddenly looked like.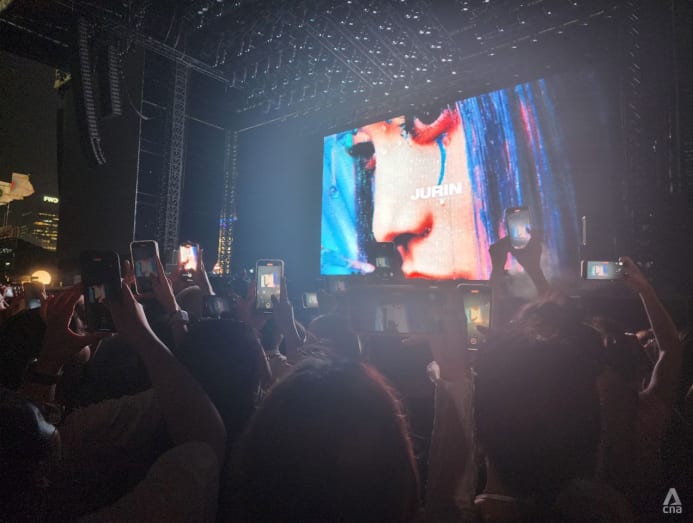 Surrounded by a sea of banners and phones, I knew my eardrums were in for a ride. And I was right.
From their first song that night, Mascara, to their member introductions, XG had the crowd hollering. A buff-looking man next to me even burst out in shrieks every time his bias, Harvey, appeared on screen.
The ladies of XG themselves were fantastic. Their dance movements were synchonised to a T and each member had the opportunity to display her charms. Even though it's been barely a year since the group debuted, judging by the audience's positive reception, XG is fully ready to stage a solo concert in Singapore.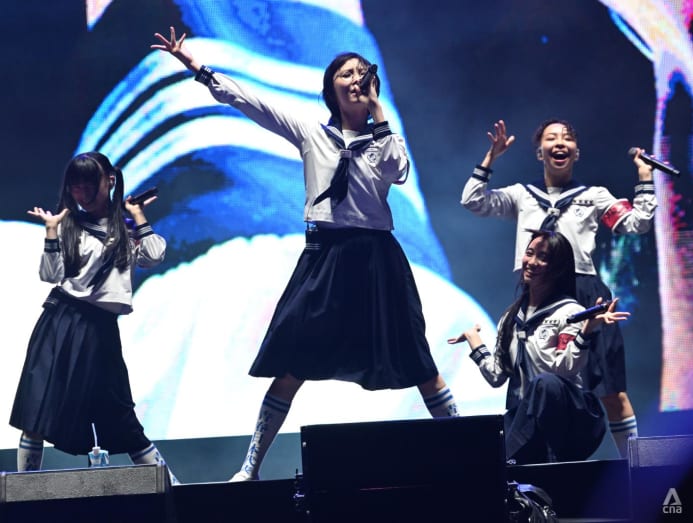 4. ATARASHII GAKKO!
If you asked me to name the one act that probably converted the most attendees into becoming new fans, I would go with Atarashii Gakko!. Their performance was absolutely insane, in the best possible way. The moment this Japanese girl group started their set by somersaulting into a human pyramid, I knew I was about to witness poetry.
What followed next were five songs that showed off their rambunctious energy. Even though the bespectacled Suzuka did most of the singing, the other members held their own by contorting their bodies in all sorts of exaggerated poses and dance movements. 
Suzuka, with her incredible charisma and rocker screams, had the crowd in the palm of her hand – making them head bang and chant in Japanese. After Atarashii Gakko!'s performance, a group of newly-converted fangirls near me kept praising their energy, saying how it was the best performance they had seen so far.
5. BIBI
Everyone needs to watch Bibi perform live at least once in their lives. The South Korean singer effortlessly controlled the crowd with her husky vocals and mesmerising dances, slaying all the songs in her setlist.
The energetic and captivating performer turned into a shy and endearing 24-year-old during her talking segments – sheepishly apologising for saying "bad bitch" (the transliteration of her hit song Bibi Vengeance) and admitting to fans that even though she had a song called Kazino, she has never actually stepped into a casino. 
All in one, Bibi definitely gave one of the best sets that night. 
After Bibi's performance came another hour of waiting. By that time, I had inhaled enough smoke and fumes to trigger a fire alarm. As such, I voluntarily gave up my prime Cat 1 VIP spot in exchange for a view from the back of Padang Stage, an ice-cold bottle of water (at S$3 a bottle, no less) and a whole lot of fresh air.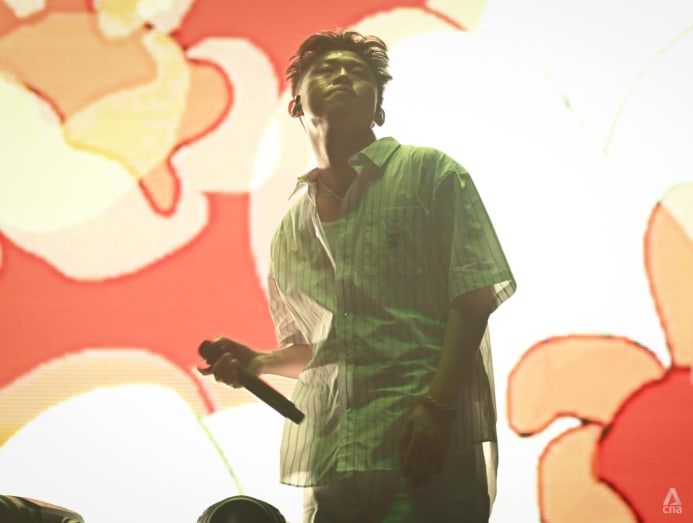 6. RICH BRIAN
Maybe it was because I was further from the stage now but the light works of Rich Brian's stage were immaculate. Different colours synced to different beats of his songs, creating a visual spectacle that highlighted the Indonesian singer-rapper's soothing vocals.
His performance of Drive Safe was one of the more memorable moments that night, with him looking into the camera for an extended period of time – creating a somewhat intimate vibe.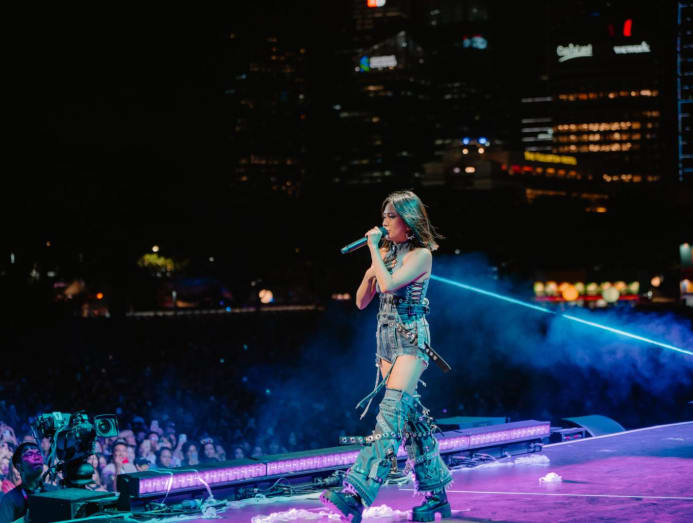 7. NIKI
The Indonesian singer-songwriter started her set in a big way, launching loads of confetti (which she hilariously got caught in) before enchanting attendees with her soulful voice. Her performance of the song High School In Jakarta was hauntingly beautiful and got the crowd swaying.
8. JACKSON WANG
After Niki's performance, the screen showed the words "Up Next: Jackson Wang", drawing the loudest screams I had heard so far that night. Shrieks and cheers were even coming from the back – all the way at the food stands. 
In the minutes leading up to the Got7 singer's show, there was a drastic change in the audience demographic. Families and older folks slowly left, presumably to avoid rushing for the last train, as crowds of young women swooped in to nab their spots – with some clutching their Ahgabongs (Got7's light sticks).
After several minutes, Wang appeared on stage to huge applause. Performing a selection of tracks from his hugely successful world tour Magic Man, Wang put his idol training to great use. He gave his all for each and every song, whether it was the hypnotic Champagne Cool or the titillating Greedy – the latter performance drawing a wave of gasps as Wang's female dancer gyrated on him.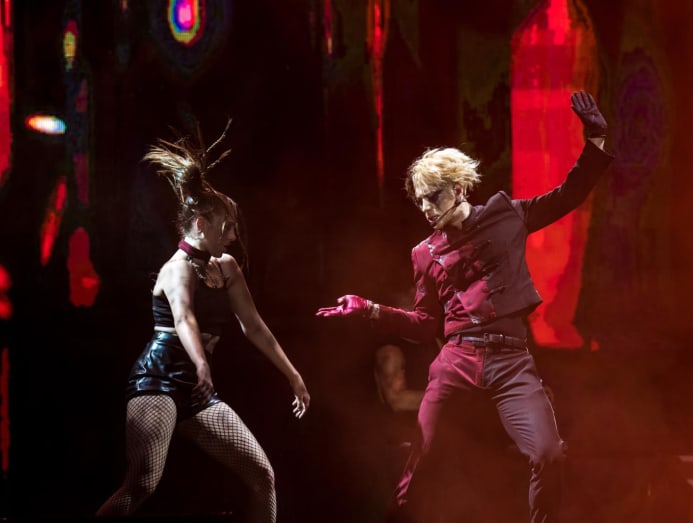 Jackson Wang was visibly exhausted after a few songs but still kept the energy up as he interacted with the audience. It would seem that after days of making random appearances throughout Singapore, such as in heartland cafes, Wang has picked up a new favourite word: Kiasu.
Admittedly, he hasn't quite gotten the hang of using the word properly ("Let's make this a kiasu night, tonight") but he still delivered one of the best stages on Day 1.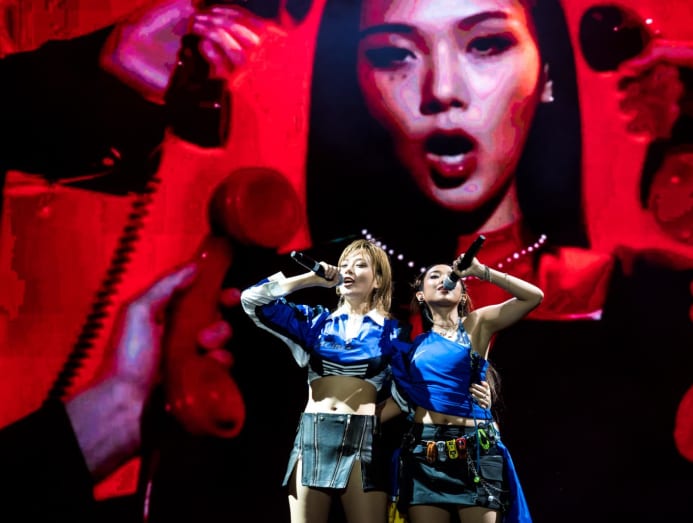 Five minutes after the end of Jackson Wang's show, the stage suddenly lit up again. Turns out, there was a surprise medley performance and attendees rushed back to the Padang Stage, especially after seeing that Bibi and Milli were performing a duet of their hit song The Weekend. 
The party was clearly far from over as next up was Atarashii Gakko! who drew the loudest cheers as they returned with another over-the-top performance. The night finally ended on the highest of highs as Warren Hue, Rich Brian and Jackson Wang serenaded the crowd with California.
At this point, I would like to graciously thank the organisers of F1 Singapore and SMRT because the journey home from Padang was smoother than almost any other concert I had been to.
DAY 2
The second day of concerts saw me starting my mission at Zone 1, the Wharf Stage. I'm sure those of you who've spent your weekend at F1 can agree: The difference between the stages is like night and day. 
If the Padang stage was a boisterous child at a birthday party, the Wharf stage was its comforting cousin. I personally preferred the layout of Zone 1 as it was close to the Singapore River, lending some calming vibes. Plus, the food stalls here were right next to each other, unlike Zone 4 where you'd have to go on a trek just to see all the food options there.
But hey, back to the concerts.
1. THE KOOKS
After the previous day was all about the millennials and Gen Z-ers,  Day 2 was all about Gen X. The attendees at The Kooks' concert were markedly older, which meant they knew the concept of personal space, that is, I had loads more breathing room. This was great as Day 2 also had the honour of being very hot and humid.
The Kooks themselves were fabulous. The English band powered through their one-hour set comprising new and old songs including Westside, Junk Of The Heart and Naive. Vocalist Luke Pritchard's vocals did not waver one bit as he belted out banger after banger, before ending the set by joking that the band would be taking an ice bath.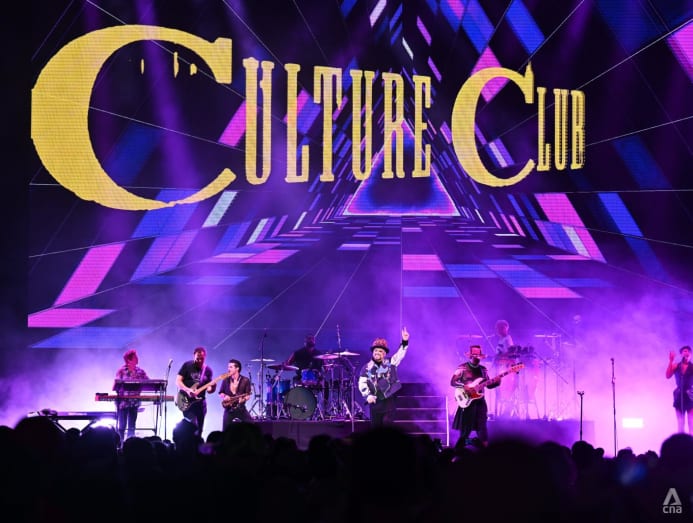 2. CULTURE CLUB
After growing up perfunctorily listening to their songs in my mother's car, I finally witnessed Culture Club live before my eyes and they were a revelation. Boy George is the king of crowd work, dishing out zinger after zinger such as "Heat is the enemy of fashion".
His best liner that day was when he jokingly admonished a man who kept yelling for Karma Chameleon with: "Have you no class?"
The pop culture icons enchanted the somewhat older crowd with their signature mix of pop and reggae tunes including It's A Miracle and Eyeliner Voodoo. The backing band also deserves a round of applause as they made their instruments sound alive. Major props especially to the drummer and saxophonist who mesmerised the crowd with their skills.
If I had to give an award for The Most Feel-Good Concert at this year's F1, it would definitely go to Culture Club. I saw a man who looked to be in his 70s move like he was a teenager as he was dancing with his wife. I saw a group of men huddled up watching the Liverpool-Wolves game while singing along to Culture Club. It truly felt like a festival where everyone was having a good time.
Culture Club's official set ended after an hour and the group left the stage. Immediately, everyone screamed for an encore. It was almost as loud as the screams at Jackson Wang's concert. Thankfully, the group acquiesced and a few minutes later, they were back (with a costume change to boot) and finally performed Karma Chameleon to the delight of many, including the guy Boy George previously admonished.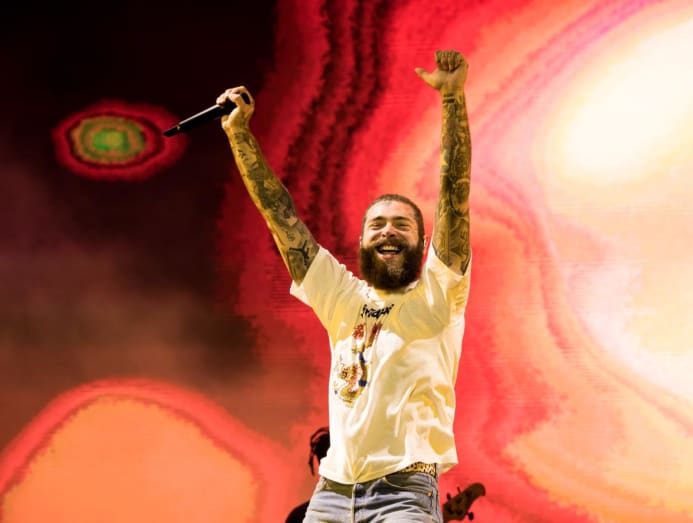 3. POST MALONE
As it turns out, Boy George wasn't the only flamboyant entertainer that night. Post Malone conquered the Padang Stage with a flamethrower-filled rock opera that saw almost every F1 ticketholder descend onto the area. It was seriously packed.
The show started with a breathtaking string performance that seamlessly segued to a rock version of Better Now. Decked in a Singapore souvenir tee, Post Malone was a case study in the duality of mankind: Bringing the house down with his explosive performances and then charming the audience with his effervescent personality during his talking segments.
Throughout his set, Post Malone made multiple references to his newborn daughter, saying how she has changed his life which drew a bevy of awws and oohs from the audience. The rapper was clearly at a good place in his life, constantly smiling and sending out positive affirmations every chance he got.
At about 11.35pm, Post Malone ended his set and left the stage, drawing the loudest cheers I had heard thus far. Yes, even louder than Jackson Wang. 
The thing is, they weren't cheering for Post Malone. Instead, the crowd were all singularly cheering for Sunflower – his highly-acclaimed single from 2018's Spider-Man: Into The Spider-Verse. 
The screams that emerged when Post Malone finally returned to perform the song remain in my eardrums even as I'm writing this article.
All in all, Day 2 had some of the best performances throughout the entire three-day festival.
DAY 3
Admittedly, I was exhausted by this day. My feet were killing me and all I wanted to do was rest at home and watch Blackpink's final Born Pink concert. However, my mission was more important and I had to push aside all my pain. So once again, I made my way to the Wharf Stage.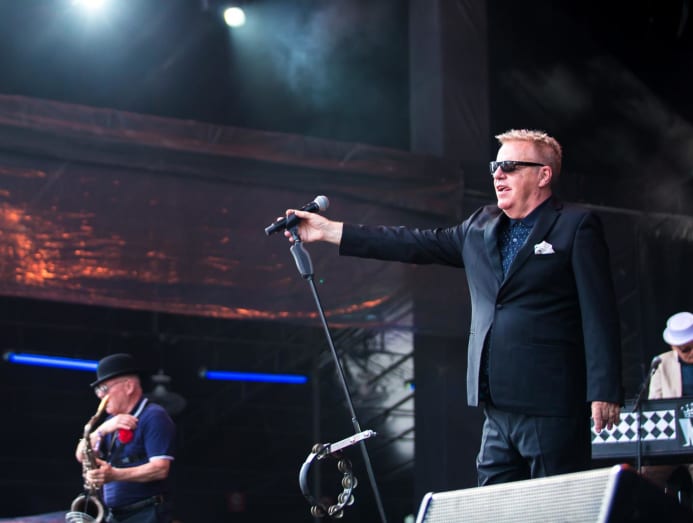 1. MADNESS
Madness proves age is just a number. The English band, despite being on the older side, had boundless energy as they sang hits such as It Must Be Love and even led the crowd to a countdown during one of their songs.
2. KINGS OF LEON
Watching Kings Of Leon perform was like watching a continuous playlist of their music videos because they barely stopped to take a break during their 75-minute-long set. The American rock band was laser-focused as they thrilled the crowd with songs like Closer and Need Somebody.
 
3. ROBBIE WILLIAMS
Look, I think by now everyone reading this article can tell that the amount I write for each act is directly correlated to how much I personally enjoyed their performance on that day. So let's just get that out of the way. With that in mind, be prepared to read a Shakespearean soliloquy for Robbie Williams' show.
Before Sep 17, Robbie Williams wasn't someone I actively listened to. Like, I knew some of his songs but they weren't exactly on my Spotify playlist. After Sep 17, I will willingly buy Cat 1 VIP + Meet & Greet Experience tickets for a Robbie Williams concert. The man is simply a bona fide entertainer.
Williams' show was equal parts concert, comedy show and TED talk – each component excelling wonderfully. His concert also saw the highest number of attendees – all of whom were running on a high after Carlos Sainz's win, which helped with the cheery vibes.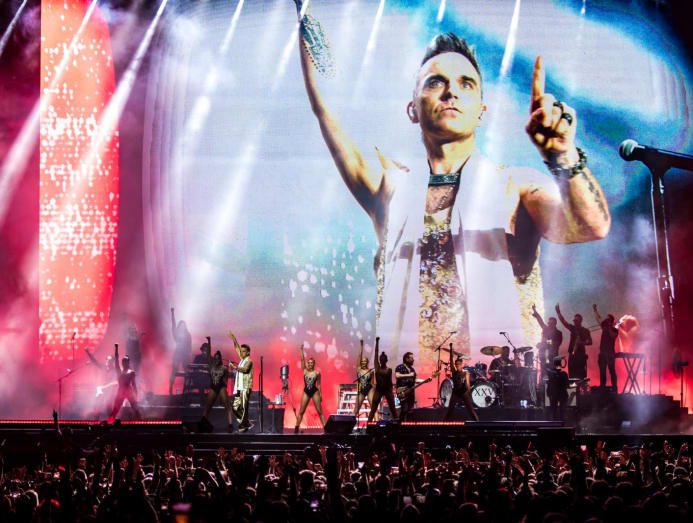 The English singer would intersperse fun facts about his life between songs and would even take the time to roast audience members and himself. Within the first hour, attendees got to know his thoughts on Take That frontman Gary Barlow, their first music video Do What U Like (which he called the "worst video ever") and details of his split from the group.
A key highlight of this particular show was his interactions with Stewart – a concertgoer in the crowd who looked to be in his 50s – who clearly did not know most of Robbie Williams' songs. Throughout his entire set, Williams would find the time to mess with Stewart such as making him sing along to Strong (which of course, Stewart struggled with).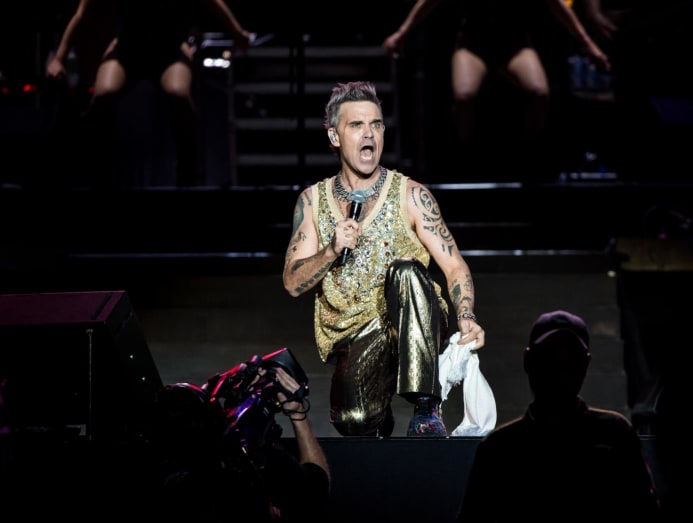 Performance-wise, Robbie Williams was a powerhouse – his strong vocals shining through in songs such as Don't Look Back In Anger, Back For Good and Rock DJ. During his encore, Williams showed his vulnerable side as he thanked the crowd firstly, for giving him energy as he "was genuinely going to pass out" and secondly, for supporting him through his insecurities. The night ended with a sing-along session of his signature hit Angels.
Thus, my three-day mission came to a close in the best possible way. Here's to next year's F1 concerts.