How did JJ Lin, Rui En, Taufik Batisah and other stars commemorate National Day?
Some sang, some danced and one actress reminisced about the time she offered to sing the national anthem for a stranger at a US airport.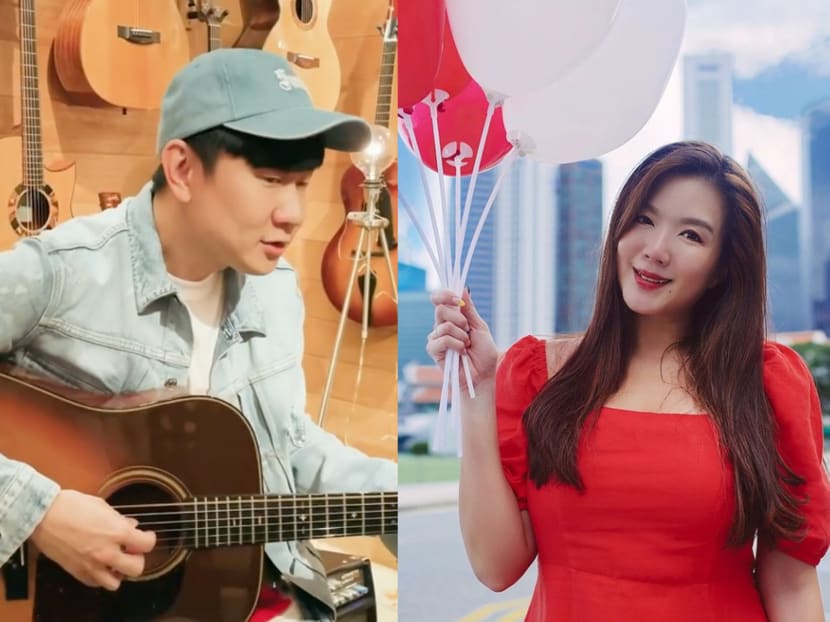 These Singapore stars got in the mood to celebrate National Day on Aug 9 – and also helped spread the cheer on social media.
We had some dancing, some singing and more than a few decked out in red and white. Here's what celebs such as JJ Lin, Fann Wong, Taufik Batisah, Zhu Houren and others did to commemorate the nation's 56th birthday. 
JIN YINJI AND HER HELPERS DANCED THEIR HEARTS OUT
We've all seen this queen move and she's back with a funky dance to BTS' Permission To Dance with her two helpers.
The trio rocked the national colours in front of the Singapore flag, what more can we ask for?
TAUFIK BATISAH REMINISCES WITH REACH OUT FOR THE SKIES
Our Singapore Idol legend posted a throwback of him and Rui En performing the 2005 National Day song. He wrote, "Throwback to the good ol' days. Anyone remember this song?".
How can we forget this iconic tune? We even know the dance by heart.
DJ Joakim Gomez commented: "Manifest this brother. 20th anniversary is in 4 years. NDP2025."
RUI EN OFFERED TO SING MAJULAH SINGAPORE FOR A STRANGER AT US AIRPORT
The newest member of celebrity Instagram shared a heartwarming experience she had with a US-based Singaporean woman she met while the actress was travelling in New York City.
Rui En was on a trip with DJ-comedian Dennis Chew when the Singaporean abroad recognised him and they all chatted. The actress offered to sing the national anthem for the homesick woman but the latter said, "Please don't, I'll cry", while already tearing. 
What a touching encounter. 
FANN WONG'S DOUBLE CELEBRATION
What's better than one birthday? Celebrating two birthday bashes! The 50-year-old star's son, Zed, shares the same birthday as Singapore and the actress threw him a little party with a massive Coastal Village cake. 
Zed's father, Christopher Lee, is not in town as he's currently overseas, but he still made it into the family picture through Fann's editing skills. 
ZHU HOUREN DOES VIRAL NATIONAL DAY DANCE
We've all seen the TikTok dance to this year's National Day song, The Road Ahead, and of course celebrities are jumping on board with the trend.
Actor Joel Choo posted a video of him and his father dancing, or more like boxing, to the music. It gets more aggressive with each beat and we can't help but enjoy the dynamic between the father-son duo.
Who needs the gym when you can work up a sweat doing this?
JJ LIN GRACING US WITH NATIONAL DAY SONG MEDLEY
The Mandopop superstar dedicated a medley of Home, Our Singapore, and The Road Ahead to Singapore and blessed all our ears.
"Happy 56th Birthday Singapore, glad to be home to celebrate with family and friends, and to be reminded of the strong fortress of love and support all around!"
And we're glad to have him back in town, too. 
SUHAIMI YUSOF'S ONE-MAN SHOW
The 51-year-old actor and comedian performed We Will Get There and it is a showstopper. Decked out in red and white, Suhaimi stood in front of a virtual background that features kampungs, the Singapore skyline, and even the poster of Police & Thief, while belting out the tune.
There's plenty of dramatic expressions, harmonies and hand actions – and he looks like he's having a good time.